Dylan Minnette And Marley Shelton Honor The Legacy Of Scream And The New Film - Exclusive Interview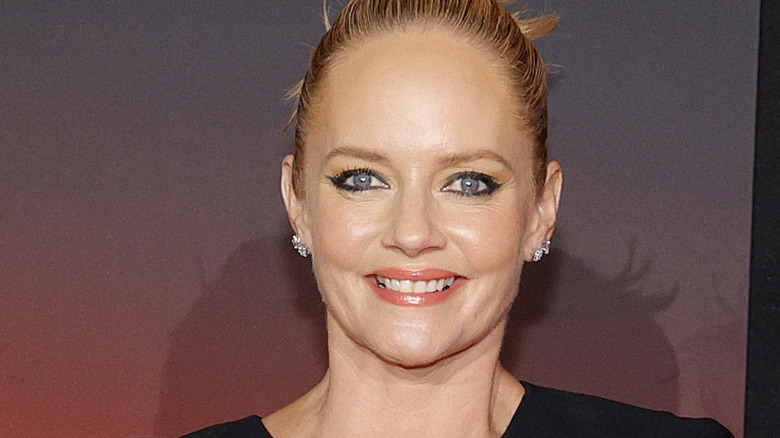 Amy Sussman/Getty Images
When it comes to Woodsboro natives, there's no job more dangerous than being a teenager or a member of law enforcement when there's a rogue Ghostface on the loose. Marley Shelton's Deputy Hicks comes onto the "Scream" scene in the fourth movie, solidifying her role as Dewey's protégé. Now, over a decade later, she's the one keeping Woodsboro safe in the 2022 film "Scream" — all while looking after her teenager, Wes (Dylan Minnette). 
Both actors are no stranger to the horror genre, with Shelton's work as Dr. Dakota Block in "Planet Terror" and "Death Proof" and Minnette's roles in "Let Me In," "Don't Breathe," and "Supernatural." Outside of "Scream 4," Shelton is best known for playing Kristin in "Never Been Kissed" and Chloe in "Bubble Boy." Meanwhile, Minnette has amassed quite a large following for movies like "Prisoners" and "Alexander and the Terrible, Horrible, No Good, Very Bad Day" along with his work on shows like "13 Reasons Why" and "Prison Break." 
During an exclusive interview with Looper, Dylan Minnette and Marley Shelton revealed their memberships in the "Scream" fandom and what it was like forging their mother-son relationship on screen. Shelton also revealed what it was like following in David Arquette's footsteps as Woodsboro's protector. 
Scream's biggest fan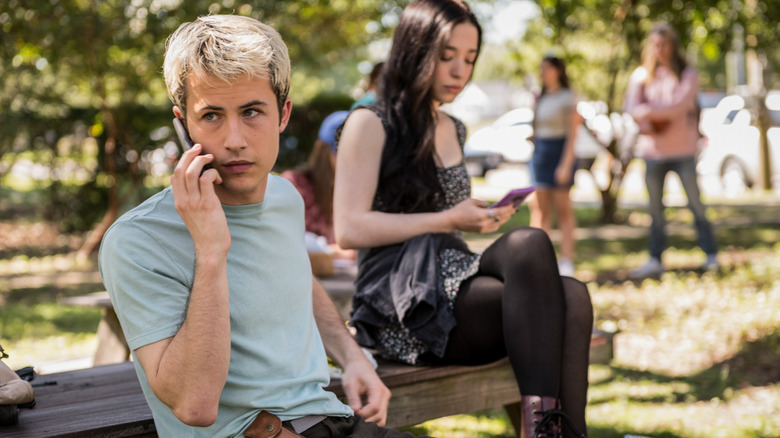 Paramount Pictures
Dylan, you've done a whole lot of horror projects in your catalog of work, from "Let Me In," "Don't Breathe," and "Supernatural." How does "Scream" stand out from these roles, and were you a fan of the original when you signed on?
Dylan Minette: I think that's why "Scream" stands out for me is because those were all great projects, and I was so thrilled to be a part of those as well. I forgot about "Supernatural," that's funny ... I am such a huge fan of the franchise, and the original "Scream" is my favorite horror film in general, and it has been for a while. To jump into something that I already care about so much and I would be excited about either way, without a doubt, is a new feeling for me. I just feel very fulfilled and excited.
Marley, you're the new deputy in Woodsboro, and David Arquette took Dewey's deputy role to icon status in the first "Scream" and beyond. Was it at all nerve-wracking to take on a similar role, and did he give you any advice about keeping the streets of Woodsboro safe?
Marley Shelton: [Laughs] Well, first of all, I'm no longer deputy Judy Hicks. I am Sheriff Hicks. I am now the boss lady. I got promoted since the last movie, and they're big shoes to fill, I must say. I think Judy, she loves being a cop so much. She loves her job in law enforcement, and I think she's thrilled to have the Sheriff's hat on. I'm not going to give anything away plot-wise about David's character's reaction to my status, but I can speak for myself, I can speak for Judy that she loves it.
David Arquette: A Woodsboro icon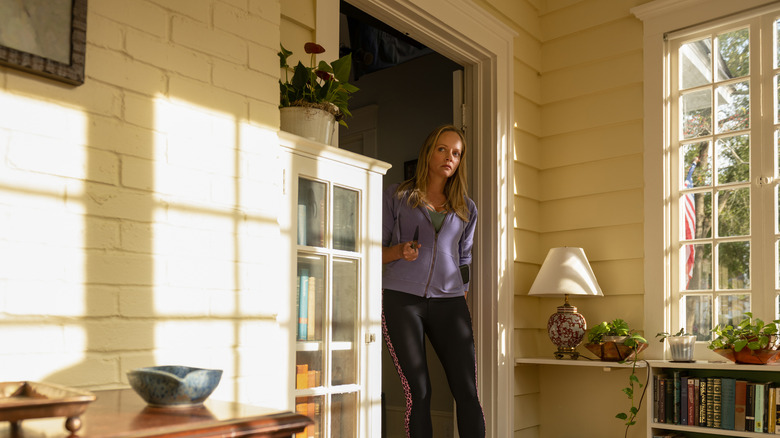 Paramount Pictures
What was it like getting a chance to work with him?
Shelton: Oh, I think David is incredible. He's so talented and such a great guy. I was a huge fan of his character, watching the "Scream" movies like everyone else in the theater. When I got to be a part of "Scream 4," I was over the moon and a little bit starstruck with David and Courteney [Cox] and Neve [Campbell].
We don't get a whole lot of development between parents and teens in the "Scream" franchise, but it is a nice addition of relatability to the movie. What was it like working together to develop that bond and that child/parent relationship?
Shelton: I think it was pretty built into the story that Dylan's character is somewhat of a mama's boy, and I'm an overprotective helicopter mom and an uber cop — so that's a pretty hardcore combination for any kid to have to deal with. I think we just took that and ran with it.
"Scream" premieres exclusively in theaters on Friday, January 14, with early screenings taking place on Thursday.