Why Wes From Scream Looks So Familiar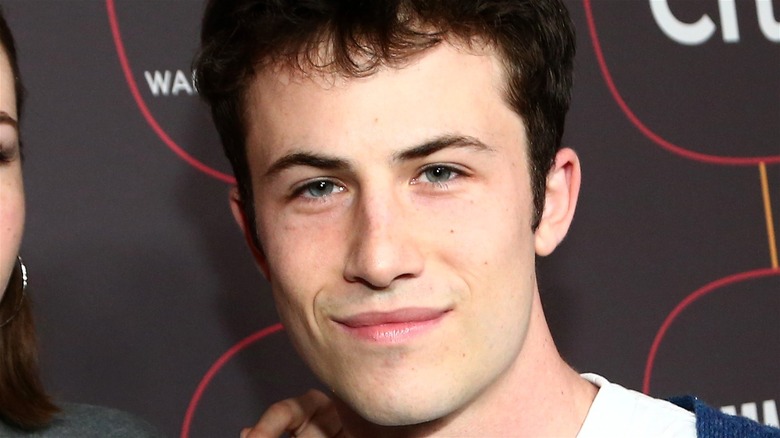 Tommaso Boddi/Getty
In the latest installment of Paramount's "Scream" franchise, simply titled "Scream," the film series returns to the seemingly sleepy environs of Woodsboro just in time for the 25th anniversary of the Loomis-Macher murders that started it all. A new string of killings begins, and Ghostface seems to be targeting relatives of his previous victims. Fans will be introduced to a smorgasbord of new teenagers, all of them trying to avoid becoming the masked, knife-wielding menace's latest victims. As always, Sidney Prescott (Neve Campbell) will lead the charge and try to figure out who's hiding under that hood.
Chief among those teenagers is Wes Hicks, a Woodsboro resident who is quite possibly named after "Scream" director Wes Craven. Wes is the son of Judy Hicks (Marley Shelton), now Woodsboro's sheriff. Both Wes and Judy are prime targets for a killer like Ghostface, and the mother-son duo will likely spend the entire movie trying to dodge the killer's knife. 
But who portrays Wes? If you're a fan of horror films or television dramas, he's likely quite the familiar face. 
Dylan Minnette started as a child actor and eventually showed up on Lost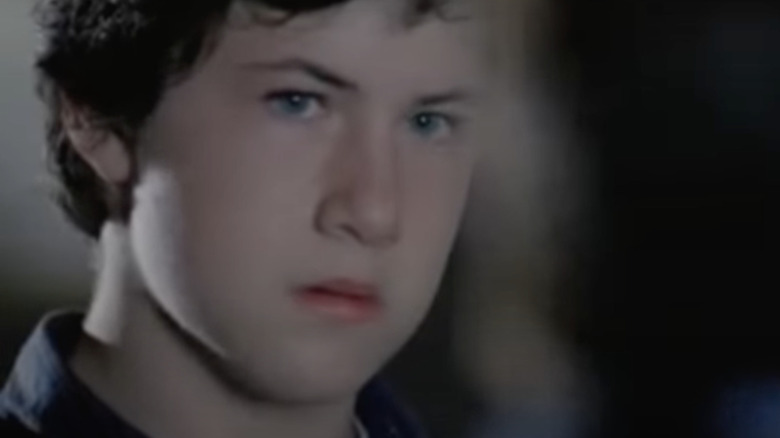 ABC
Dylan Minnette became a working actor at the age of seven, per his IMDb profile. The young performer's first credited role is as a kid version of Charlie Harper (played by Charlie Sheen as an adult) in the legendary CBS sitcom "Two and a Half Men." Minnette then appeared on television shows such as 'MADtv" and "Greg and Josh" and showed up in the film "Fred Claus" in a minor role before landing his first regular recurring part as a younger version of Michael Scofield (Wentworth Miller) in the Fox drama "Prison Break." He pops up in five episodes. 
Minnette is Iggy Thistlewhite in NBC's TV movie version of "The Year Without a Santa Claus" in 2006.  He then landed his first major role in a movie — the direct-to-DVD Disney release "Snow Buddies," where he played Noah. He appears as David Shephard, son of Jack Shephard (Matthew Fox) and Juliet Burke (Elizabeth Mitchell), in five episodes of ABC's "Lost" during its "side-flash" season before joining his first drama as a regular cast member.
He was Holly Hunter's nephew on Saving Grace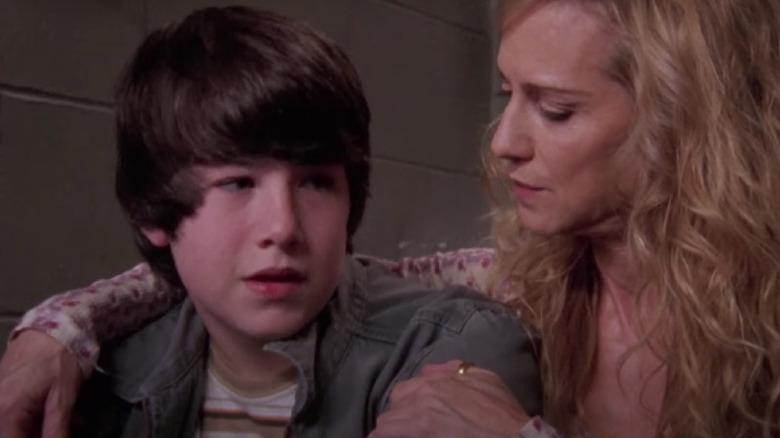 TNT
Dylan Minnette shows up as Clay Norman on the TNT drama "Saving Grace." Clay is the son of Mary Frances Norman (Caitlin Dulaney), the sister of series protagonist Grace Hanadarko (Holly Hunter). Grace is a hard-living police detective with a trail of bad decisions and barely healed emotional wounds behind her. She finds herself subjected to the ministrations of Earl (Leon Rippy), an angel, who keeps trying to encourage Grace to clean up her life and live the right way, only to be met with recalcitrance by the fiery Grace. The show lasted for three seasons, and Minnette appears in multiple episodes throughout the show's three-year run.
Clay and Grace are very close, bonded by the loss of Mary Frances, who dies in the Oklahoma City bombing long before the series begins. He lives with his father, Doug (Chris Mulkey), but often spends time with his aunt. Due to their relationship, Clay tends to become a target for the many people who want to harm Grace and once even had a bomb strapped to his chest by a wannabe murderer.
After "Saving Grace" was canceled in 2010 (via TV Series Finale), Minnette hard further guest-starring roles on "Medium," "Lie to Me," and "Law and Order: Special Victims Unit." He also appeared four times on "Men of a Certain Age" as Reed.
Minnette played a middle school bully in Let Me In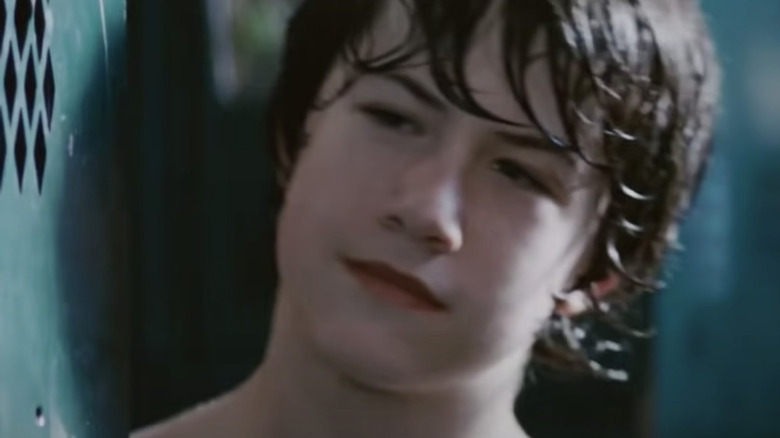 Overture Films/Relativity Media
Dylan Minnette next portrayed Kenny — ringleader of a circle of bullies and the antagonist opposite the movie's hero, Owen (Kodi Smit-McPhee) — in 2010's "Let Me In." In this English-language remake of the Swedish horror hit "Let the Right One In," Kenny meets the same fate as the Swedish version of his character: He's dismembered by Abby (Chloë Grace Moretz), Owen's vampiric new friend, after trying to drown Owen in a swimming pool. "Let Me In" is certified fresh by Rotten Tomatoes, where it holds an 88% critical score and 76% audience approval score. Per Box Office Mojo, it made over $27 million on a $20 million budget.
Minnette next appeared in 2012's "Awake," an ambitious NBC drama that lasted for only one season. He portrays Rex Britten, son of Detective Michael Britten (Jason Isaacs). The Britten family is involved in a car accident, and that wreck causes reality to splinter into two possible futures for Michael — one in which his wife Hannah (Laura Allen) survives, and one in which Rex does.
The young actor then appeared in the Josh Brolin-Kate Winslet romantic drama "Labor Day" as a high-school-aged version of Winslet's character's son, Henry (played as an adult by Tobey Maguire). He also plays Anthony Cooper in Disney's 2014 adaption of "Alexander and the Terrible, Horrible, No Good, Very Bad Day."
He acted alongside Jack Black in Goosebumps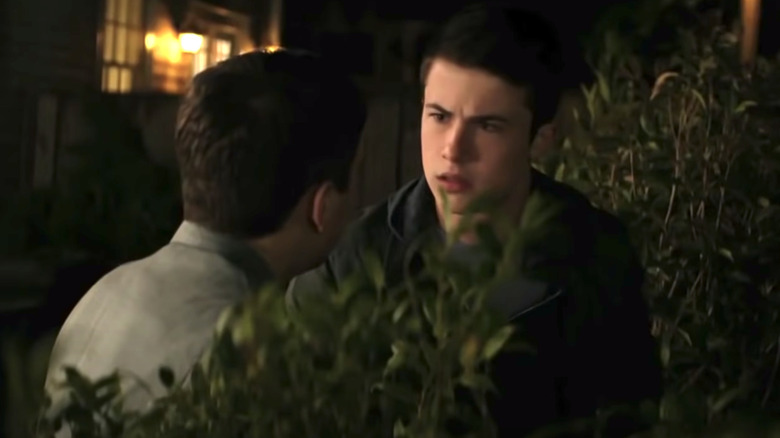 Columbia Pictures/Sony Pictures Releasing
After a two-episode stint on "Agents of S.H.I.E.L.D" as Donnie Gill and six appearances on ABC's "Scandal" as Jerry Grant Jr. in 2014, Dylan Minnette took on a major supporting role in the Jack Black horror-comedy film "Goosebumps." The feature is based on R.L. Stine's book series of the same name for teens and featuring Black as a fictionalized version of Stine. 
Minnette plays Zach Cooper, a new kid in town who moves in next door to Stine after a death in his family. Zach manages to make some new friends and even attracts the attention of Hannah (Odeya Rush), Stine's daughter. Disaster strikes when Stine's creations escape the bounds of fiction thanks to some careless snooping done by Zach and his buddy Champ (Ryan Lee). As the monsters make their way into the real world, Zach, Hannah, and Champ must team up with Stine to get the creatures under control, put them back into the reclusive author's books, and seal off the fictional world from the real one.
To wit, Minnette is no stranger to the actual Stine's literary world. He also appeared in two episodes of "R.L. Stine's the Haunting Hour." According to the actor's IMDb, he showed up in the 2011 episode "Brush with Madness" and later, the 2013 episode "Funhouse."
He left horror fans gasping for air in Don't Breathe
Dylan Minnette took on his first grown-up role in Fede Álvarez's 2016 horror-suspense hit "Don't Breathe." In the film, he portrays Alex, one of three 20-something burglars who makes the mistake of breaking into the home of a blind man rumored to be hiding a major payday of $300,000 in a safe. Alex is attracted to his fellow thief, Rocky (Jane Levy), who plans on using the money to escape her abusive home life with her younger sister, Diddy (Emma Bercovici). Unfortunately for Alex, Rocky, and their shady collaborator, Money (Daniel Zovatto), Norman Nordstrom (Stephen Lang) is a Gulf War veteran with many skills who also happens to be hiding an incredibly ugly secret in his basement.
Though Alex survives for a majority of "Don't Breathe," he's shot down by Norman and leaves Rocky to face Norman alone. While the horror hit that earned nearly $158 million worldwide (via Box Office Mojo) introduced Minnette to adult audiences, the 25-year-old actor has continued to play teenagers on and off since.
Minnette is a scene-stealing lead on Netflix's 13 Reasons Why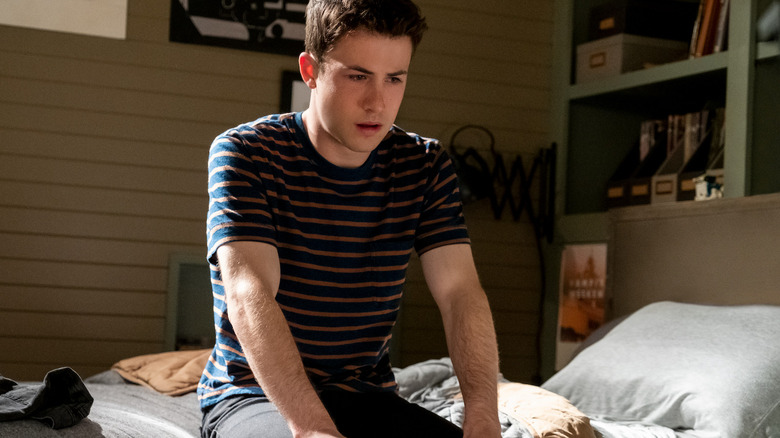 Courtesy of Netflix
Dylan Minette's next major role was in the controversial Netflix teen drama "13 Reasons Why" (via CinemaBlend). He plays the series' protagonist, Clay Jensen, for 49 episodes and four seasons. 
On the Netflix series, Clay has a crush on Hannah Baker (Katherine Langford), whose death by suicide haunts Clay and his high school classmates. He is the one who listens to the audio cassette tapes upon which Hannah recorded the events leading up to her death, which include her rape by all-star athlete Bryce Walker (Justin Prentice). The fallout over Hannah's tapes becomes widespread as her parents sue the school for wrongful death. Eventually, Clay and his classmates must cope with Hannah's posthumous revenge, trying to grow into functional adults — and better people than they once were.
Aside from "Scream," Dylan has one more project slated for 2022. He's set to play Tyler Shultz in Hulu's miniseries "The Dropout," which follows the rise and fall of Theranos founder Elizabeth Holmes (Amanda Seyfried), per Deadline's August 2021 announcement.
If you or anyone you know is having suicidal thoughts, please call the National Suicide Prevention Lifeline​ at​ 1-800-273-TALK (8255)​.
If you or anyone you know has been a victim of sexual assault, help is available. Visit the Rape, Abuse & Incest National Network website or contact RAINN's National Helpline at 1-800-656-HOPE (4673).