This Tanner Buchanan Fight Scene In He's All That Reminds Us Of Cobra Kai
This content was paid for by Netflix and created by Looper.
Tanner Buchanan probably doesn't need to fight to win over any crowd these days, but it certainly doesn't hurt that he has some skills to show off when the occasion calls. His bright smile is still his biggest flex, of course, but there have been plenty of other occasions when he put some of his other muscles to work, giving audiences a master class of martial artistry on-screen.
Fans of Buchanan's work in "Cobra Kai" will no doubt be familiar with many of his moves. The actor stars in the hit series as Robby Keene, the estranged and troubled son of Johnny Lawrence (William Zabka), who's first introduced to karate by Daniel LaRusso (Ralph Macchio) and his Miyagi-Do. Over the course of the show, Robby has proven to be a fierce competitor, both on the mat and off, which means Buchanan's ability to hold his own in a moment of conflict is rarely ever in doubt. And that's true no matter who he's portraying.
So, in "He's All That," when his character, Cameron Kweller, faces a new opponent who totally underestimates him, Buchanan gets another chance to shine with his signature skills. Even though Cameron doesn't have a ton in common with Robby, personality-wise, his ability to maneuver a major takedown is just as on point. Here's a deeper look at the Tanner Buchanan fight scene in "He's All That" that reminds us of "Cobra Kai."
Something worth fighting for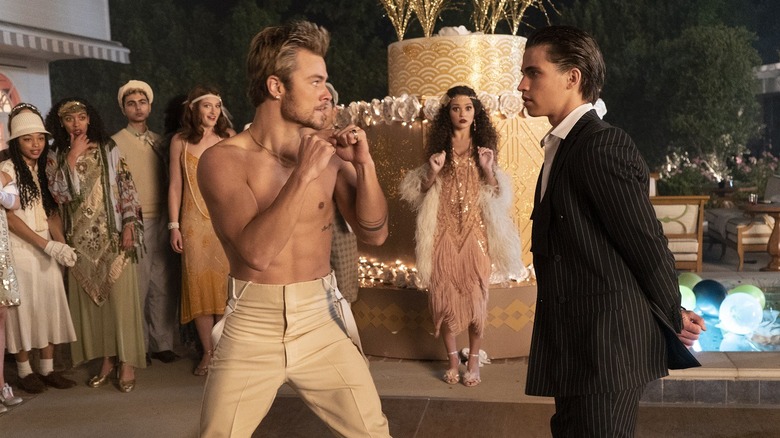 Kevin Estrada/Netflix
In "He's All That," Cameron Kweller is hardly the kind of guy you'd expect to see squaring up with the most popular kid in school at a lavish party. He purposefully exists under the radar of the cool crowd, and when he's been bullied by Jordan Van Draanen (Peyton Meyer) in the past, he's basically taken those blows and moved on with his quiet little life. However, after he's befriended by it-girl influencer Padgett Sawyer (Addison Rae), who's secretly taken a bet that she can turn him into a prom king, Cameron begins to explore the world of high school elites at her side.
This ultimately lands him in a vintage zoot suit, with a new 'do, escorting Padgett to a swanky Roaring '20s-themed birthday party alongside his best friend, Nisha (Annie Jacob), and his social media-obsessed little sister, Brin (Isabella Crovetti). Now, Brin has long been an admirer of the people at this party, including Padgett's music video superstar ex-boyfriend, Jordan, so this moment of access to the high life is something of a dream come true for her.
Unfortunately, Brin quickly finds out what a jerk Jordan really is, and Cameron steps up to defend her against her arrogant attacker right in the middle of the party. Thanks to his mistreatment of Cameron, Padgett, and now Brin, Jordan really has it coming at this moment, and Cameron is finally ready to stop sitting on the sidelines.
A familiar philosophy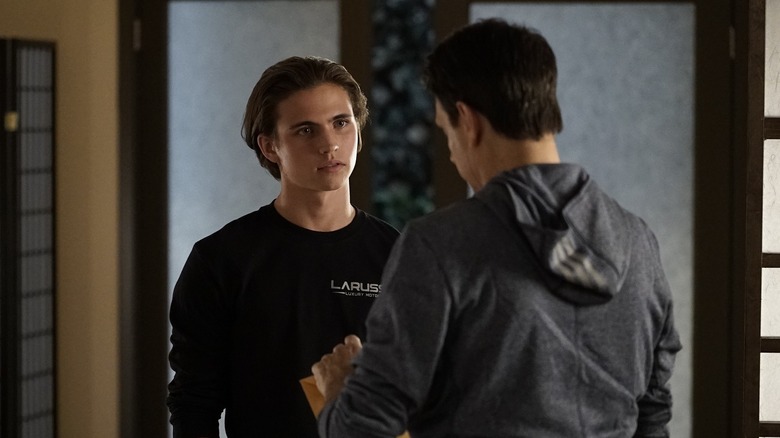 Jace Downs/Netflix
One of the first things "Cobra Kai" fans are bound to notice about Cameron's fighting style in this scene from "He's All That" is that he immediately adopts a defensive posture that allows, and even encourages, Jordan to flail around the pool deck for a while. He even starts by using his words as the first shield, mocking Jordan for dramatically taking off his shirt. This means that Cameron would likely become a member of the Miyagi-Do school of karate, which sees fighting as a means of defense, not offense, against bullies. As Cameron easily ducks and weaves through Jordan's efforts to punch him, it's clear that Tanner Buchanan took the lessons of his first on-screen sensei to heart.
Of course, staving off an attacker isn't enough to end the fight, so eventually Cameron has to bring his own flurry of fury to the moment, and when he does, his moves would definitely make Robby's father, Johnny Lawrence, and subsequent sensei, John Kreese (Martin Kove), proud. He isn't fully immersed in the "strike first, strike hard, no mercy" mentality of the Cobra Kai dojo, but he certainly doesn't hold back with his impressive kicking skills and tackling techniques. He might not be the one to start a fight, but just like Robby, Cameron can certainly finish it.
Practice makes perfect
Netflix
Perhaps it's no surprise, but Buchanan got to draw on a lot of his experiences portraying Robby while preparing for Cameron's big showdown at the soirée. For starters, since Buchanan began training in martial arts for "Cobra Kai," he's made a point of mastering his spinning back hook kick, and in this "He's All That" scene, Cameron treats Jordan to a taste of his shoe using that specific move. Buchanan was also already well-versed in working with stunt coordinators to create key moves that looked amazing on-screen but didn't actually hurt his co-star in the scene. Plus, his overall commitment to fitness for the ongoing martial arts series meant he was already equipped with the endurance to shoot such a technique-sensitive sequence.
The sight of him fighting in a suit in "He's All That" may also ring familiar with "Cobra Kai" fans who checked out the action in the most recent season. Though Buchanan certainly found the business of fighting in a suit to be "decently hard" for the film — after all, a suit has much less room to move than the traditional gi he usually wears — he also found it "fun to be all fancy." And he got to gussy up again for a pivotal showdown in Season 4's prom episode, which found him fighting alongside Tory (Peyton List) against Sam (Mary Mouser) and Miguel (Xolo Maridueña), right next to a different but similarly lavish little pool party.
In both moments, Buchanan got to feed off of the energy of the crowd, and the actor has admitted that filming a fight scene in front of other actors helps to fuel his momentum, saying, "Fighting definitely enhances our performance. It's really fun because the crowd gets going crazy, and it gets you really riled up, and you have all this adrenaline. I feel like it comes across really well on camera." Indeed it does!