Sidney Poitier's Most Underrated Film Is This Ensemble Action-Comedy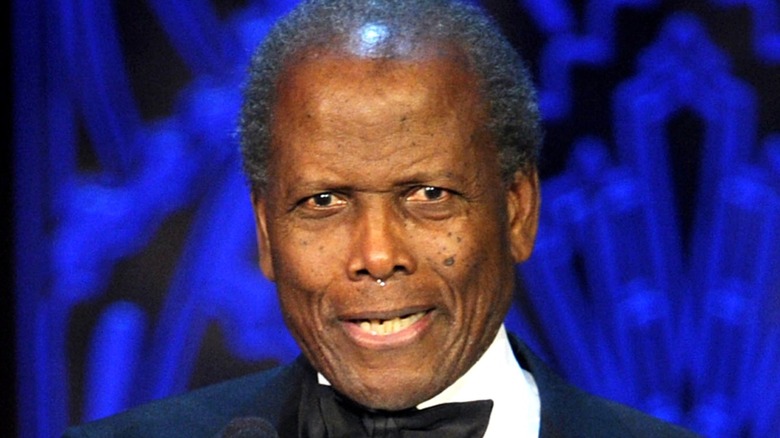 Kevin Winter/Getty
As an actor, writer, director, philanthropist, and ambassador, Sidney Poitier leaves behind an indelible stamp on our artistic, cultural, and social landscape. For most he will undoubtedly be remembered for his barrier-breaking Hollywood career. Poitier was twice honored by the Motion Picture Academy of America in his lifetime — first in 1963 for "Lilies of the Field," beating out a high-caliber field of nominees that included Albert Finney, Richard Harris, and Paul Newman to become the world's first ever African American to win Best Actor (via IMDb). The Academy recognized Poitier again in 2002 with an Honorary Academy Award for contributions to the film industry.
As the world mourns the loss of this true cultural icon, people will no doubt look for ways to honor and remember his legacy. And there can be few better places to look than the man's on-screen oeuvre, which includes a string of groundbreaking and iconic performances in features such as "The Blackboard Jungle" (1955), "The Defiant Ones" (1957), "Porgy and Bess" (1959), "A Raisin in the Sun" (1961), "In the Heat of the Night" (1967), and "Guess Who's Coming to Dinner" (1967).
There are also some lesser-known and often overlooked gems in Poitier's later output that will reward a revisit. One in particular features the always on-form Poitier playing alongside a rich ensemble cast that includes the likes of Robert Redford, Dan Aykroyd, and River Phoenix.
Sidney Poitier played an ex-CIA agent in Sneakers
The 1992 action-comedy "Sneakers" features Sidney Poitier as a member of a crack team of specialists that gets paid to test security systems. The team gets into hot water when their lead Marty Bishop (Robert Redford) is blackmailed by NSA agents into stealing a mysterious black box from a mathematician. It turns out the agents who hired the team have gone rogue, the box is a game-changing cryptographic device that can hack every security encryption on earth, and Bishop is being framed for the murder of the mathematician. "Sneakers" blends espionage, caper, and heist elements into a smart and fast-paced adventure movie.
As former CIA security analyst David Crease, Poitier plays alongside a host of high-grade Hollywood talent including fellow team-members Dan Aykroyd as conspiracy theorist Darren "Mother" Roskow, River Phoenix as tech wizard Carl Arbogast, and David Strathairn as blind "phone phreak" David "Whistler" Emery. And the supporting cast is equally strong further down the roster; Ben Kingsley plays Bishop's villainous former partner, Mary McDonnell appears as Bishop's ex-girlfriend, James Earl Jones plays an NSA team lead, and character actor Stephen Tobolowsky puts in one of the best supporting turns ever as Dr. Werner Brandes.
Well worth a revisit, "Sneakers" is an enjoyable and relatively light romp to complement some of the weightier entries in Sidney Poitier's unassailably impressive filmography.