The Devastating Death Of Sidney Poitier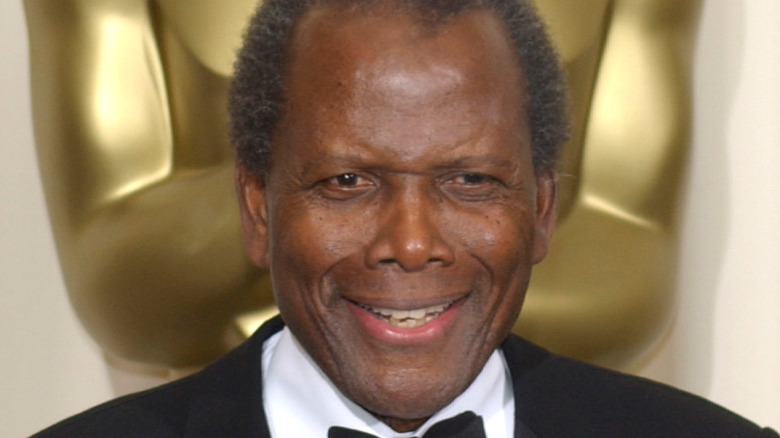 Shutterstock
Sidney Poitier, the first Black male to win the Academy Award for Best Actor for his work in "Lilies of the Field," has died at 94 on January 7, 2022, as reported by NBC News. Poitier leaves behind his wife, Joanna Shimkus, whom he had been married to since 1976. The couple had two daughters together — Sydney Tamiia and Anika. He had four children from a previous marriage — Gina, Sherri, Pamela, and Beverly. Gina died in 2018.
The sad news was released by the Bahamian Minister of Foreign Affairs Fred Mitchell, though very few details are available at this time. The minister did not offer a statement to accompany the news, nor did he provide any context or additional information about the potential cause of death.
Sidney Poitier broke barriers and left behind one riveting performance after the next. It's difficult to quantify his massive contributions to the performing arts, but his impact will not soon be forgotten.
Sidney Poitier valued respect throughout his life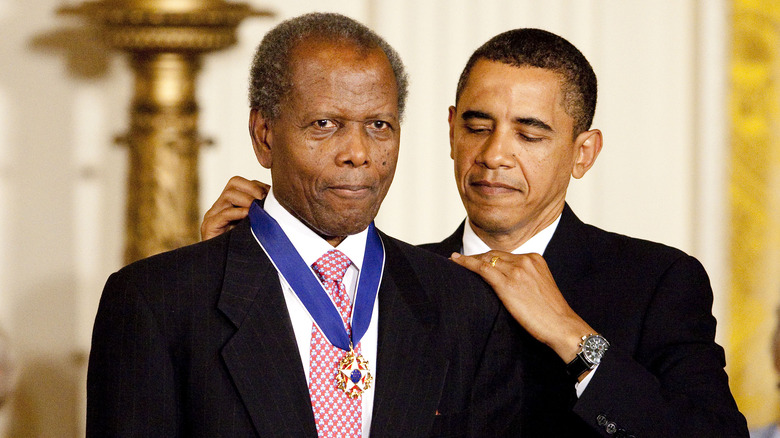 Bloomberg/Getty Images
Sidney Poitier was born on February 20, 1927 in Miami, Florida. He spent much of his youth in the Bahamas where his parents owned a farm on Cat Island. After reaching adulthood, he moved to New York City and began receiving acting lessons at the American Negro Theater in exchange for janitorial work (via Biography). He earned widespread acclaim for his Broadway performance in "Lysistrata," and from there, he became an iconic figure in 1950s and '60s films. After a breakthrough performance in "The Defiant Ones," Poitier went on to star in "Porgy and Bess," "A Raisin in the Sun," "Guess Who's Coming to Dinner," and numerous others.
Poitier acted less frequently in the '80s, '90s, and '00s, but he left behind a legacy that continues to loom large. Poitier seldom gave interviews in his later years, but he did sit down with Oprah Winfrey in 2000 to discuss his life and his plans for the future. He reflected on his life and his philosophy, leaving behind these wise words: "I have this feeling that life is so magically created that if I respect it, that respect will come circling back to me in ways I don't even know."
Sidney Poitier lived a life of quiet dignity, leaving a considerable impression on all who knew or had the privilege of working with him.