Here's Where You Can Stream Full House In Its Entirety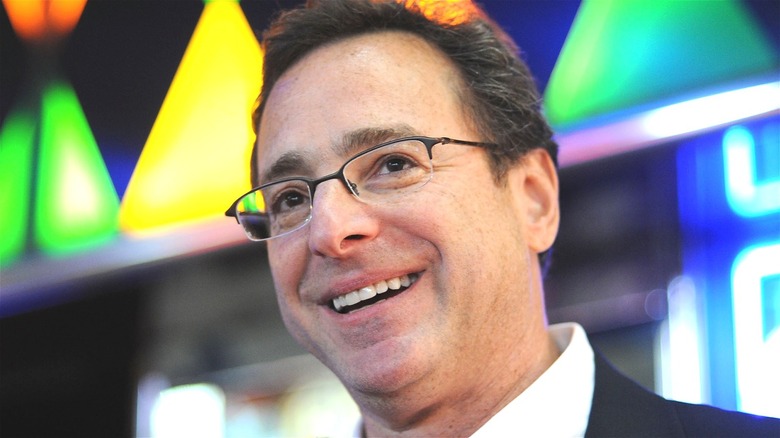 Bryan Bedder/Getty
In the wake of the untimely passing of Bob Saget, fans of the popular ABC sitcom "Full House" might be wondering how they can see the whole show from start to finish. Saget was one of the leads of the beloved show, playing the quintessential TV dad-type from 1987 until the series wrapped in 1995. To this day, the late actor and stand-up comedian is primarily remembered from his time on "Full House."
The TGIF staple follows daytime talk show host Danny Tanner (Saget), a widower coping with single parenthood after his wife, Pam, is killed in a shocking car accident. His close friend, stand-up comic Joey Gladstone (Dave Coulier), and his brother-in-law, ladies man rock-and-roller Jesse Katsopolis (John Stamos), move into Danny's home to help him care for DJ (Candace Cameron Bure), Stephanie (Jodie Sweetin), and Michelle (Mary-Kate and Ashley Olsen). Time passes, the girls grow up, and Jesse finds true love with Danny's "Wake Up San Francisco" co-host Rebecca Donaldson (Lori Loughlin), with whom he has twin sons named Nicky and Alex (Blake and Dylan Tuomy-Wilhoit).
Here's where you can watch the Tanner family grow up as you stream all eight seasons of "Full House."
You can watch Full House on HBO Max
The entirety of "Full House" is currently streaming on HBO Max at no additional charge to current subscribers. For those who want to add the streamer to their current platform, HBO Max is offered as part of a subscription package to DirecTV and DirecTV U Verse subscribers, and the ad-supported version of the platform is available to Cricket Wireless subscribers with a $60 a month plan. Hulu also offers a free seven-day trial of the streamer, while Roku offers a free 30-day trial of the service upon the activation of a new Roku streaming device. You can also get HBO Max for free with some AT&T plans. Otherwise, subscribing to the streamer will cost you $9.99 with ads or $14.99 a month for their ad-free plan, per the HBO Max Help Center page.
If you want to see "Fuller House," the "Full House" sequel series that follows the adventures of the now-grown Tanner girls (minus Michelle), you're going to have to shell out for an extra subscription. The five-season long series is only available to watch on Netflix. Current subscribers can fire up the show any time they want. However, if you don't have a Netflix subscription, you'll have to consider shelling out for the Basic ($8.99/mo.), Standard ($13.99/mo.), or Premium subscription ($17.99/mo.) tier.