The Jarring Way AFV Fans Learned Of Bob Saget's Death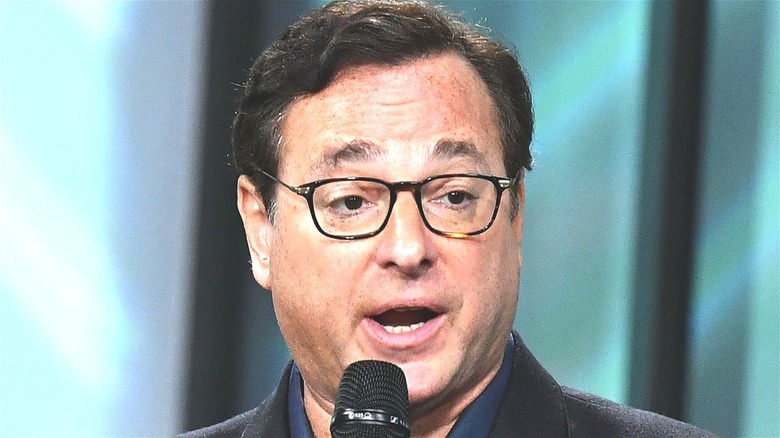 Slaven Vlasic/Getty
Legendary stand-up comedian and actor Bob Saget has died at age 65. While Saget was primarily known for his iconic role as Danny Tanner, the single father to three girls on the family sitcom "Full House," the actor had a long, celebrated career in a wide variety of projects. One of his most notable, long-running gigs was as the original host of the video clip show "America's Funniest Home Videos" from 1989 to 1997. Over the course of eight seasons, Saget hilariously showcased the embarrassing mishaps of everyday Americans caught on physical tape — long before the days of YouTube and viral videos — for the amusement of a studio audience and devoted viewers at home.
Saget passed the baton to hosts John Fugelsang and Daisy Fuentes, who would only host the show for a year before Tom Bergeron took over as the next long-standing host from 2001 to 2015. "America's Funniest Videos," or "AFV" as it's now known, still airs to this day and is hosted by Alfonso Ribeiro of "The Fresh Prince of Bel-Air" fame. And for fans of a certain age who still watch "AFV," they were informed about Saget's shocking death in a particularly gut-wrenching way.  
ABC interrupted America's Funniest Videos to break the news of Saget's death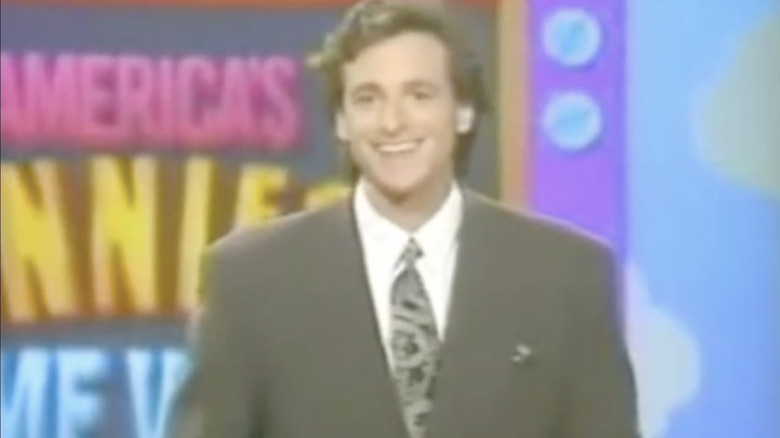 ABC
On January 9, ABC interrupted its East Coast broadcast of "America's Funniest Videos" to announce that Bob Saget had died, according to Yahoo News. This was surely a shocking moment for any fan watching who remembers Saget's tenure as the original host of the program. Some took to Twitter to express how jarring the announcement felt. "Real life is stranger than fiction," wrote @CLERodB, continuing in a second tweet, "They came on with a special news report as the winner was being announced. It's sad news. The timing was beyond strange." User @twistedperceptn wrote, "I was sitting on my love seat watching 'AFV,' of all shows, when ABC interrupted with a special report about Bob Saget. I started tearing up, and I'm shook AF right now."
While Saget retired from hosting the program in 1997, he returned to "America's Funniest Videos" several times to the delight of fans. He co-hosted the 20th anniversary special with Tom Bergeron in 2009 (via Entertainment Weekly), in addition to the 30th anniversary special alongside Bergeron and Alfonso Ribeiro in 2019 (via Movieweb). Saget also made a quick cameo appearance to celebrate Bergeron's last episode as host in 2015, which saw him driving off in a golf cart with Bergeron into the night (via TV Tropes). To mark the loss of Saget, Bergeron tweeted a video of the moment, writing, "For my very last @AFVofficial, I asked my friend for a special favor. He said yes. I'm forever grateful." Shortly before, he tweeted, "Just heard the news. Devastated. I'm going to miss you, my friend."