The Money Heist Connection You Never Noticed In Netflix's Elite
Netflix
Spanish teen crime thriller "Elite" is far from your typical high school drama series. The Netflix show, which is gearing up to air Season 5 this year, centers around the lives of students at the, well, elite high school of Las Encinas. It might look like your classic teen series on the surface — telling stories about relationships, mysterious crimes, and the perils of fitting in. But class division, an atypical timeline, and an ever-rotating cast of characters and crimes make the show stand apart from its counterparts. And it's clearly paying off — Netflix has already green-lit a sixth season and three short stories in the "Elite" universe. 
There have been several characters throughout the timeline of "Elite." Some die, some go missing and some move on (sometimes, against their own will) to new lives away from Las Encinas. But looking back at the various cast members throughout all of the episodes of "Elite," there have been a handful of actors that are familiar faces to Netflix subscribers who are fans of another Spanish-language series, "Money Heist."
Elite featured several Money Heist mainstays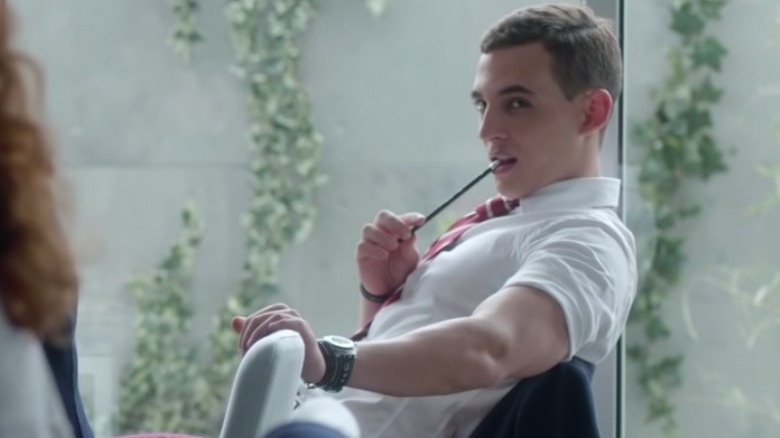 Netflix
When looking back at the early days of "Elite," there were quite a few central characters featuring actors plucked straight out of the "Money Heist" universe. The easiest pair to recognize from their "Money Heist" fame are Nano, portrayed by Jaime Lorente López, and Christian, portrayed by Miguel Herran. The friends find their way to Las Encinas and are no strangers to trouble. If you're a "Money Heist" fan, you will quickly notice that Herrán portrayed the naive love interest of Tokyo/Silene Oliveira (Úrsula Corberó) named Rio/Aníbal Cortés. And Lopez took on the role of the hot-headed Denver/Daniel Ramos, who had a tumultuous relationship with Stockholm/Mónica Gaztambide (Esther Acebo) and was the son of Moscow/Agustin Ramos (Paco Tous). 
However, one "Money Heist" actor that you may have not noticed in "Elite" was María Pedraza, who took on the role of Marina in Season One of "Elite." Marina's tragic life was cut short in Season 1 when she was murdered by Polo (Álvaro Rico Ladera). Marina's time on the show was marked by her relationship with Nano, which was doomed from the start. In "Money Heist," Pedraza can be remembered for her role as Alison Parker, the daughter of the British Ambassador to Spain. She was a key hostage in the first bank heist at the Royal Mint of Spain. However, in "Elite," Parker's character arguably has an even wilder story arc.