What You Need To Remember Before Watching Elite Season 4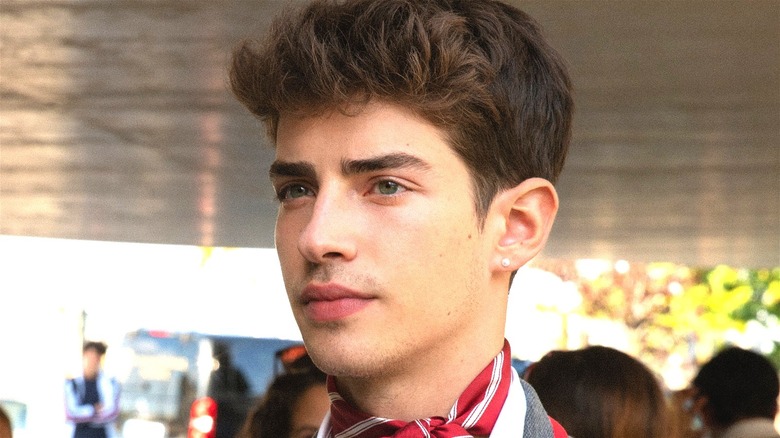 Netflix
As fans of "Elite" are no doubt keenly aware, the Spanish teen drama is about to return with a vengeance. Season 4 of the Netflix original series drops on June 18, and if the previous seasons are anything to go by, things at Las Encinas elite school will continue to be reliably volatile. 
"Elite" is a curious mix of traditional school drama and out-and-out thriller, with a mystery that unfolds across two different timelines. It also likes to throw a whole lot of interesting social themes in the mix, and the show's subject matter is often far deeper than the kind of soap opera fluff the uninitiated might expect. There's no reason to assume that the show's fourth season is any different in this regard, so before you jump in a whole new series of twists and turns, here's a quick reminder of the latest events in Las Encinas. Let's take a look at what you need to remember before watching "Elite" Season 4. 
A concluded storyline and a cast shakeup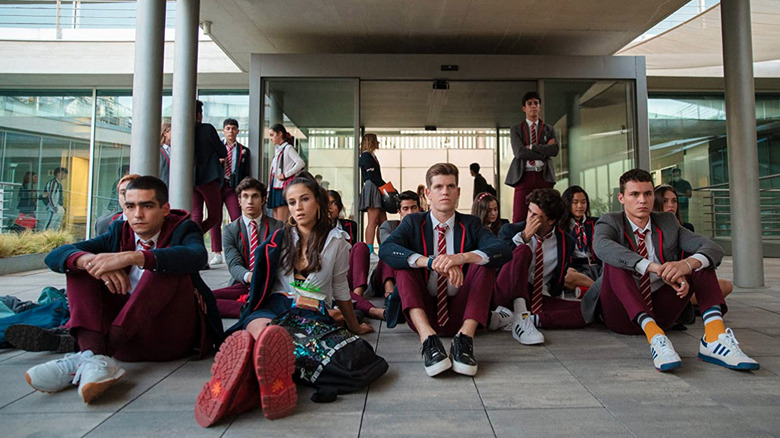 Netflix
The final episodes of "Elite" Season 3 essentially wrap up the show's long-running conflicts and mysteries. Polo (Álvaro Rico), who himself killed Marina (María Pedraza), accidentally died by Lu's (Danna Paola) hand. Everyone at the scene agrees to cover for her before going about their own, separate ways. As such, the story seems to be over for Lu and Polo — as well as Nadia (Mina El Hammani), Carla (Ester Expósito), and Valerio (Jorge López). As a post on the show's Instagram revealed, it looks like all of these characters are gone from the teen show. 
With that, it seems that the show's central conflict between the rich kids and the transfer students has largely run its course, though some scholarship kids — namely, Samu (Itzan Escamilla) and Cayetana (Georgina Amorós) — still remain. However, the latter's attempts to passing herself off as a rich kid are largely over, and the former has his own family hassles. Other major characters who remain within the pull of Las Encinas include Rebeka (Claudia Salas), Guzmán (Miguel Bernardeau), Omar (Omar Ayuso), and Ander (Arón Piper), per the show's official Instagram. 
All of this makes it seem that Season 4 might begin in an uncharacteristically serene situation. While the customary background radiation of relationship and family drama no doubt remains, the new episodes might be something of a fresh start — though one with a shared dark secret, courtesy of the Polo cover-up. The character whose circumstances have taken the most drastic turn is arguably Cayetana. The girl who idolized the rich kids and pretended to be one for so long is starting Season 4 as the new housekeeper of Las Encinas, which should make for some pretty interesting plotlines. 
Fresh turmoil and new characters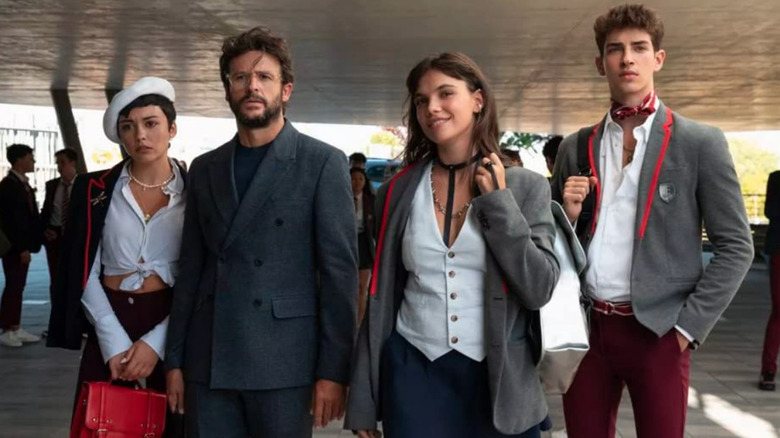 Netflix
The end of Season 3 gives no indication of how "Elite" Season 4 intends to keep the show's multiple-timeline structure running, but since Season 5 is already on the way (per Deadline), you can probably expect a new mystery that may well stretch over multiple seasons. Exactly what everyone will be up to this time is a mystery of its own until the season drops — but if you had to hazard a guess, it may very well have something to do with the new major characters, whom you meet in the official trailer for Season 4.  
The season will introduce the new director of Las Encinas, Benjamín (Diego Martín) — a hugely successful businessman whose wealth overshadows the existing characters, according to Deadline. Benjamín takes over the facility in order to bring his three unruly children – Ari (Carla Díaz), Mencía (Martina Cariddi), and Patrick (Manu Rios) — into the fold. As Entertainment Weekly notes, this batch of characters that might rank among the richest people in Europe will seriously disturb the dynamic of the remaining familiar faces. 
Another interesting new student is an actual royal, Prince Phillipe Von Triesenberg (Pol Granch). Interestingly, the trailer teases a possible "Cinderella"-style romance between him and Cayetana. All in all, it looks like the fans are all set for another season of surprisingly socially cognizant teenage turmoil.
"Elite" Season 4 is available for streaming on Netflix on June 18.