Why Casper From Invasion Looks So Familiar
Co-creators Simon Kinberg and David Weil's story about the desperate decisions made by various people in response to a planetary invasion (the aptly titled Apple TV+ series, "Invasion") debuted in the fall of 2021, and distinguished itself by foregrounding "human trauma" (via The Verge) over alien weaponry and spectacle. Not unlike (in fact, pretty much exactly like) "War of the Worlds" — Epix's recent reimagining of H.G. Wells' "The War of the Worlds" — the series follows a handful of survivors around the world as they claw their way through the "claustrophobic moral choices" associated with such an immediate threat to humanity's survival (via Roger Ebert).
The series stars Golshifteh Farahani ("Paterson"), Shamier Anderson ("Goliath"), and "Deadpool 2" star Shioli Kutsuna, as well as a number of other familiar faces, including a cameo by "Jurassic Park" hero Sam Neill. But if you're one of the many who tuned in to see humanity face yet another threat to its very existence, you may have noticed that the young character of Casper — who is, (again...) basically a hybrid of "War of the Worlds" characters Emily and Sacha — is also portrayed by an actor who is fast becoming a household name. Despite beginning his career little more than five years ago, the actor behind Casper, Billy Barratt, has already amassed an impressive body of work, and appeared alongside some serious Hollywood heavyweights in the handful of years since he began acting. 
Billy Barratt starred alongside Jeremy Piven in Mr. Selfridge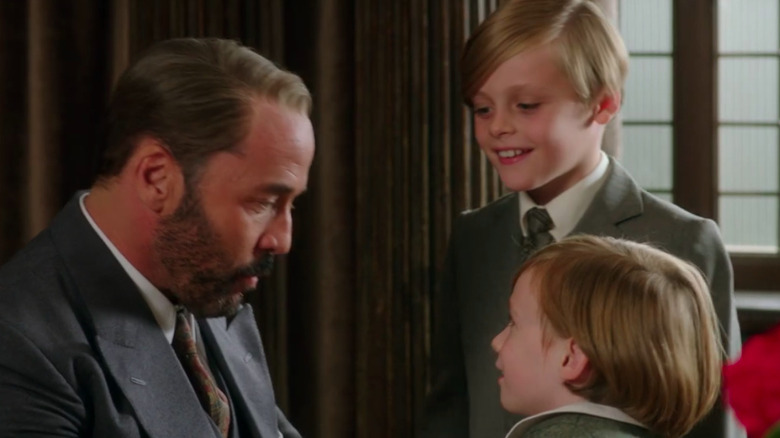 Amazon/PBS Masterpiece
The eventual International Emmy Award winner and "Invasion" actor kicked-off his career alongside "Entourage" and "Serendipity" star Jeremy Piven, in Andrew Davies' interpretation of the story behind the real-life founder of a famous London department store, "Mr Selfridge." The PBS Masterpiece series (wherein Piven played the titular role of Selfridges' founder, Harry Gordon Selfridge) ran for four seasons, and saw Piven draw once again on his slick but irresistible charm and ability to market anything to anyone, not unlike his "Entourage" character Ari Gold.  
Barratt joined the show in its final season, portraying one of Harry's grandchildren, Ralph Selfridge, the offspring of a son with whom Piven's character has a conflicted and tense relationship. The series also starred "The Great" star Sacha Dhawan, "Mansfield Park" actor Frances O'Connor, and Mimi Ndiweni ("The Witcher"). Although Barratt's character delivered few lines and popped up in just four episodes, it's hard not to wonder if his magnetic depiction of innocence in an otherwise sticky and often ugly world didn't help his being cast in his next project, another period piece that dealt with complicated (to say the least) family dynamics.
Billy Barratt went even further back in time for The White Princess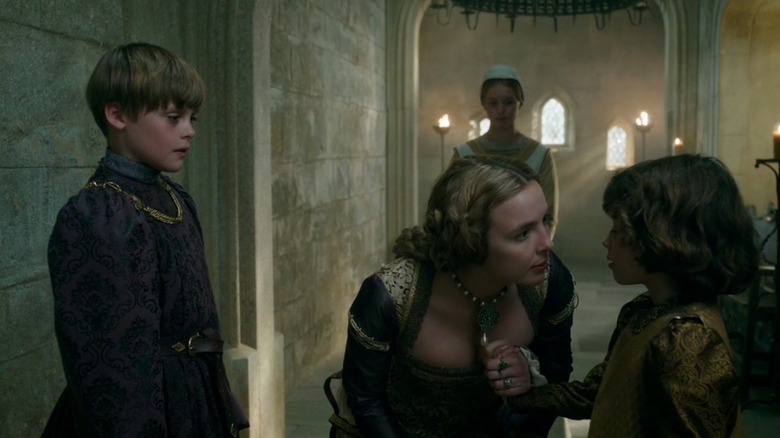 Amazon/STARZ
George R.R. Martin may have based some of the characters and storylines for his fantasy narrative on the real-life War of the Roses, but author Philippa Gregory's novels took the royal conflict and its repercussions in another direction entirely, adding unconfirmed but entirely plausible layers to everything we think we know about the mid-to-late fifteenth century Civil Wars and the Tudor dynasty they birthed. Seeing the potential for television success, STARZ scooped-up Gregory's historical fiction dramas and created from them "The White Queen" (the story of Elizabeth Woodville), and "The White Princess" (the story Elizabeth of York), as well as "The Spanish Princess" (the story of Catherine of Aragon). 
In "The White Princess," Henry VII's wife — whose marriage to the first Tudor king legitimized his reign — is portrayed by "Killing Eve" and "The Last Duel" star Jodie Comer, and her son Arthur (whose untimely death would lead to younger brother Henry VIII's bloody reign and all that it entailed) is portrayed by none other than Billy Barratt. The actor appears in four out of eight episodes in the Women's Image Network Award-winning series (via IMDb), and his wide-eyed portrayal of the guileless Arthur makes the young prince's death in "The Spanish Princess" (and in history) all the more devastating. For his next project, Barratt would once again find himself in another era, this time traveling back to early twentieth century London, and making the leap from the small screen to the silver screen.  
Billy Barratt opened Mary Poppins Returns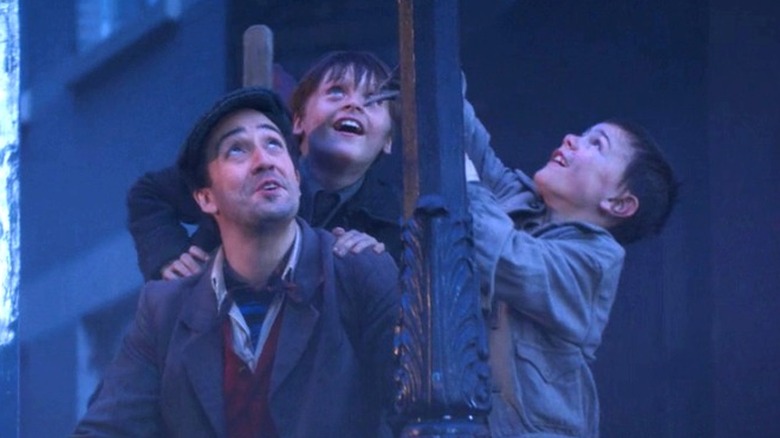 Disney+
Barratt's scene in 2018's "Mary Poppins Returns" may have been brief, but it kicked off the film's first musical number, and saw the young actor make his feature film debut alongside some serious star power. And that's saying a lot, given that the actor had already starred alongside the likes of Jeremy Piven and Jodie Komer by the time 2018 rolled around.
In director Rob Marshall's ambitious, Oscar-nominated follow-up to Robert Stevenson's 1964 classic ("Mary Poppins"), "Hamilton" writer and star Lin-Manuel Miranda plays Jack — a former apprentice to Dick Van Dyke's beloved Bert who serves as a kind of reincarnation of the latter in Marshall's film. Although Miranda was already a Grammy, Tony, and Emmy award-winning artist, actor, and composer by the time he tackled the role of Jack in 2018, the film marked his biggest motion picture debut to date, and his performance would garner him a litany of further awards and nominations (via IMDb). 
Though Barratt and Miranda don't share a whole of screentime in the film, Barratt does add to the inspiring message behind lamplighter and eternal optimist Jack's opening number, and the former's next major project would involve another contemporary singer and songwriter (albeit in a kind of roundabout way).
Billy Barratt played a small but pivotal role in Blinded by the Light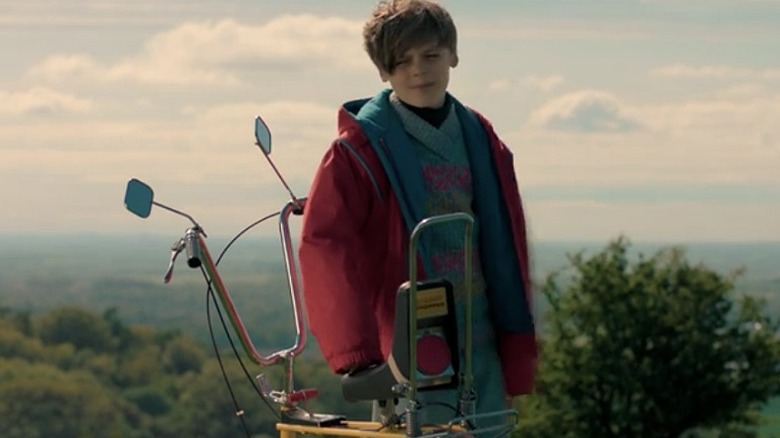 Amazon/Entertainment One Films
"Blinded by the Light" — director Gurinder Chadha's critically lauded 2019 adaptation of journalist and Springsteen lover Sarfraz Manzoor's memoir — cast Billy Barratt in the (younger) role of lead character Javed's (Viveik Kalra) best friend. Though most of the film follows a teenaged Javed and Matt (Dean-Charles Chapman), it opens with a flashback to the duo at the age of 10, wherein Javed is portrayed by Ronak Singh Chadha Berges, and the young Matt by Barratt. The film is set in 1980s England, and it takes its title from aspiring writer (and fictional reimagining of Manzoor) Javed's love for "The Boss" and his music. Though Javed was born in England, as the son of Pakistani immigrants, he struggles to come to terms with his identity in a nation hit hard by the recession and imploding with nationalist fervor and racist propaganda and violence. In the working class Springsteen, Javed finds an unlikely kindred spirit, because, as Sheila O'Malley writes in her review, he "never knew music could be like this, that music — made by an American guy from some place called New Jersey — could speak so directly to him, the son of immigrants in far-away England" (via Roger Ebert).
In his performance as the young Matt, Barratt helps lay the groundwork for the meaningful dynamic Javed and his friend, for whom he'll later provide the lyrics to a series of New Wave tunes. The two boys share a birthday, and while Matt gets a fancy new bike, Javed is gifted with a Rubik's Cube. The latter's disappointment is quelled when Matt gives him a diary he received that he didn't want: "I'm going to write in it every day," says the young Javed. It's an important scene, and one that foreshadows Javed's future love of the written word as well as his relationship to and with his friend. 
Billy Barratt was a Responsible Child
His already prolific portfolio of period pieces notwithstanding, Billy Barratt's best known performance came in 2019, with director Nick Holt's and writer Sean Buckley's based-on-true-events television film, "Responsible Child." The heartbreaking BBC Two film straddles two timelines, one of which follows twelve-year-old Ray McCullin (Barratt) and his twenty-three-year-old brother Nathan (James Tarpey) as they struggle to survive their mother's abusive boyfriend Scott (Shaun Dingwall). The other timeline follows Ray's trial for the murder of Scott, and the pre-pubescent killer's equally traumatizing and gut-wrenching experience with the UK justice system. As The Guardian's Lucy Mangan explains, the film is "built around one extraordinary fact — that, in England and Wales, children as young as 10 can be tried for murder as if they were adults." Though the film takes its inspiration from a number of real-life cases, its central narrative most closely resembles the relatively recent case of brothers Joshua and Jerome Ellis, who were convicted of murder and manslaughter, respectively, for stabbing their abusive stepfather to death in 2013 (via HITC). 
Barratt took home the Best Performance by an Actor award at the 2020 International Emmys, and he was nominated for a National Film Award for Best Newcomer (via IMDb). Mangan called the actor's performance "credible and heartbreaking," and noted that the young star was the same age as his ill-fated character. Barratt's next project would place him a far less contemporary context — and see the actor transition from BBC Two to FX — but his moving and memorable turn as Ray is inarguably what helped propel him to stardom with "Invasion." 
Billy Barratt gave a classic character a backstory in FX's A Christmas Carol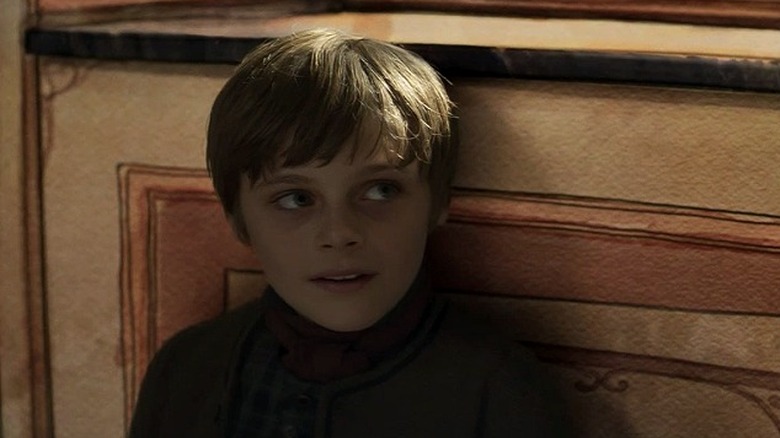 Amazon/FX
In 2019, Barratt portrayed a young Ebenezer Scrooge in Steven Knight's unapologetically grim interpretation of Dickens' classic story for FX. In keeping with the almost compulsory 21st century need to give villains a sympathetic backstory, Knight's adaptation of "A Christmas Carol" provides audiences with a glimpse into the psychology and trauma behind the miser's hatred of the holiday. In a flashback to Scrooge's youth, we learn that the child's father pimped his young son out to a predatory boarding school master every Christmas, in exchange for the (implied) pedophile's waiving of the school's fees. Eventually, Scrooge is rescued by his sister and mother in the wake of his father's death, but he never learns of sister's courage and sacrifice — the true Christmas miracle, the movie tells us — and instead becomes a violent and hateful psychological terrorist himself as he grows older. 
The adaptation received lukewarm reviews, with Roger Ebert's Nick Allen referring to it as "three joyless hours of watching an adaptation try to justify its edginess," and audiences giving it a score of just 56% on Rotten Tomatoes. Nevertheless, Barratt gave a compelling performance in the almost egregiously gothic spin on the story, and he managed add some semblance of dimension to what critic Daniel Feinberg called "an ill-paced, ill-focused version" of the tale that "very much isn't for children ... and probably isn't really for adults either" (via The Hollywood Reporter). In his brief but important scene in the film, Barratt demonstrated what a young and gifted actor can do to ground an otherwise unhinged story, and it seems his talents didn't go unnoticed by the team behind "Invasion."