The Unusual Way Lin-Manuel Miranda Helped Shape Encanto's Characters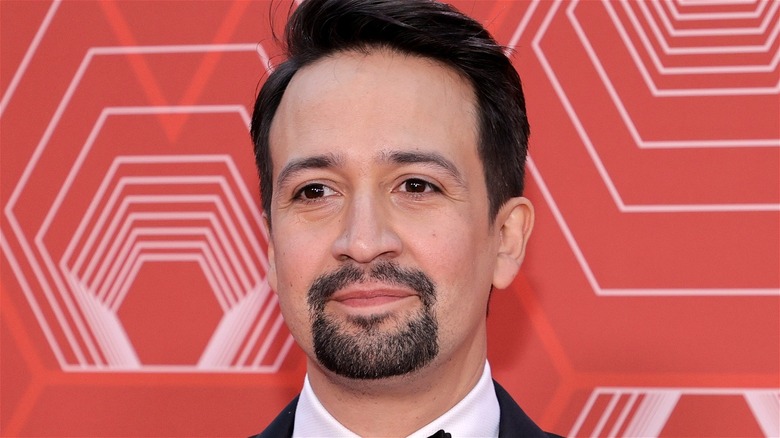 Jamie McCarthy/Getty Images for Tony Awards Productions
There's no question that musicals are Lin-Manuel Miranda's thing. He catapulted into mainstream consciousness with his smash hit Broadway musical "Hamilton," for which he wrote the book, music, and lyrics, and played the titular character. He also created "In the Heights" and composed music for a couple of films in the "Star Wars" sequel trilogy and Disney's animated movie "Moana."
Now, in 2021, Miranda has teamed with Disney again to write the music for the upcoming animated film "Encanto," which will be released in theaters on Nov. 24. It follows the extraordinary Madrigal family, who live in a magical house hidden in the mountains of Colombia, where every child has been blessed with a unique gift — from super strength to the power to heal. Yet within the family is Mirabel, the only ordinary child ... and despite her lack of a supernatural ability, she just might be the one who can save her family, and their way of life, when the family's magic is put in danger.
Starring Stephanie Beatriz, Wilmer Valderrama, and John Leguizamo, "Encanto," will feature eight original songs in both English and Spanish. But beyond writing those songs, Miranda also helped shape the characters. During a recent press conference for the film, directors Jared Bush ("Moana," "Zootopia") and Byron Howard ("Zootopia," "Tangled"), co-director and co-writer Charise Castro Smith ("Raya and the Last Dragon"), as well as producer Clark Spencer ("Zootopia," "Wreck-It Ralph") explained why that's such an unusual occurrence.
Lin-Manuel Miranda was one of the first people aboard the Encanto team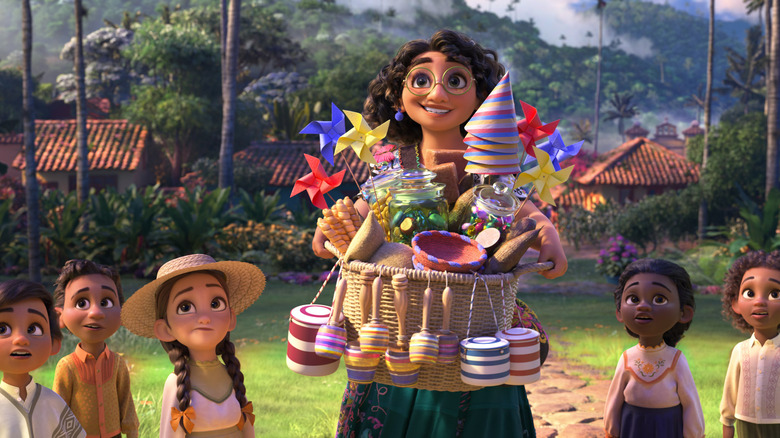 Disney
Miranda came aboard the production of "Encanto" as far back as 2016 (via Vulture). He even went scouting in Colombia with the filmmakers before any big moves were made in terms of story, images, or songs. And in that sense, Miranda had a much bigger hand in shaping the overall film — not just the music — than most songwriters do.
"It's unusual to actually have your songwriter come on so early in the process, to have your songwriter go on the research trip, to have your songwriter actually be a part of developing what the story is going to be," said Clark Spencer. "That gave Lin such a great ownership and grounding in what he wanted this film to be. He wasn't just being given, 'Here's the area of the film where we think they should sing a song'. He has it instinctively in his own heart because he's been such a collaborator from the very, very beginning."
In terms of just how influential Miranda was on the film, Charise Castro Smith said, "Lin was incredibly helpful in shaping these characters, and the musical styles that he chose for each of the character's songs influenced the way Jared and I wrote those characters. And then that kind of flowed back into Lin's songwriting. It was really a deep collaboration between the music and the scripts."
Lin-Manuel Miranda had a big influence on the movie's direction and characters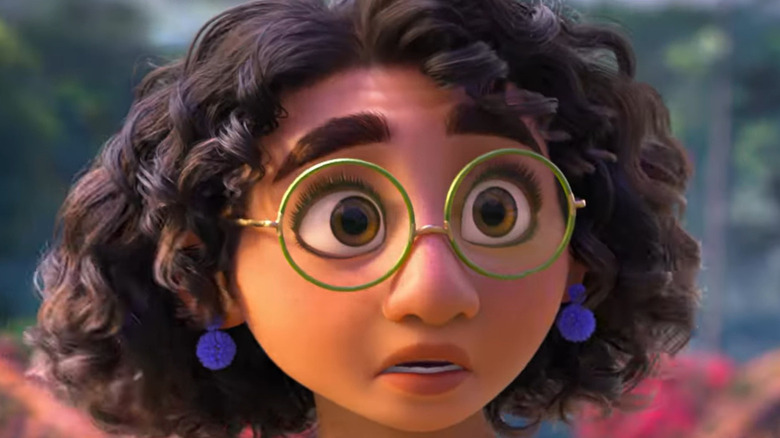 Disney
Others echoed these thoughts. Jared Bush said, regarding Miranda's influence, "It wasn't just, 'we have an idea for a song' and then Lin wrote a song. It went back and forth. And Charise and I were constantly inspired by Lin's ideas in terms of what the characters might sound like, putting that back into the script, seeing how that then changed the story and changed the characters. It was this ongoing evolution, a circular process, that was incredibly fun."
Despite it being a film, the process of Miranda writing the songs for "Encanto" should have been very familiar to him. "It was very much like workshopping a Broadway show — we were able to go back and forth with Lin and talk about, well, she could sing here or she could not sing there," said Byron Howard. "Sometimes those moments stayed and sometimes they changed to a bit of dialogue. And we're very thankful for what he gave us in that respect."
"Encanto" will be released in theaters on Nov. 24.