Channing Tatum Agreed To Do 21 Jump Street Under One Condition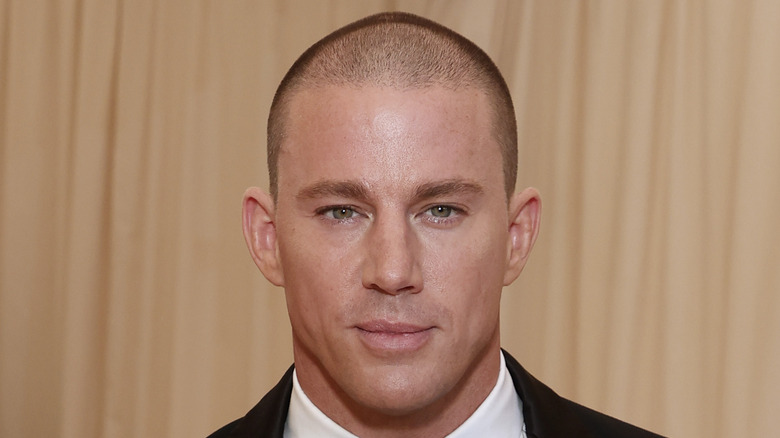 Arturo Holmes/mg21/Getty Images
Jonah Hill and Channing Tatum's "21 Jump Street" movie, loosely based on the television series from the late 1980s starring Johnny Depp, went over pretty well with fans and critics (via Rotten Tomatoes). At the box office, the film grossed over $201 million worldwide on a $42 million budget (via Box Office Mojo). Both the television show and the movie follow the same general premise, with young-looking cops going undercover as students at a high school to bust crimes occurring within school walls. Tatum and Hill played Jenko and Schmidt, respectively, a pair of rookie officers who used to attend the same high school before joining the force, and who are now assigned to go back as part of the Jump Street unit.
Throughout the film, Schmidt and Jenko hilariously relive some of the awkward, traumatic, and trying times of being a teenager. At the end of the film, the two end up completely foiling a drug ring through befriending students who are involved with a dangerous supplier. "21 Jump Street" was even such a success for Sony Pictures that they released a sequel, "22 Jump Street," in 2014, which sees Schmidt and Jenko head to college to foil more crimes during Spring Break.
While both Hill and Tatum have starred in comedies before, Hill began his career in the genre, unlike Tatum. In fact, Tatum was initially hesitant to take the role of Jenko, and it took Hill to convince him to do it — under one condition.
Channing Tatum made Jonah Hill promise to make him funny
While honoring Jonah Hill at 2018's Wall Street Journal Magazine Innovator Awards, Channing Tatum recalled the first conversations that he and Hill had about making "21 Jump Street" (via Page Six). According to Tatum, it was Hill's idea, and he even called him up saying that he had a "terrible idea" for a movie. Hill then pitched it, only for Tatum to agree that it was terrible — which was exactly why he was in. Obviously, it worked out and "21 Jump Street" was, and still is, a huge success, but Tatum also revealed the one condition he had for Hill in order for him to commit to the project.
Tatum explained, "I did only have one condition on doing '21 Jump Street.' I had never done a comedy before, and naturally was terrified ... and I guess people laughed at my movies but probably not intentionally. So I made Jonah promise me that he was going to make me funny, and he promised. So I consider myself one of the first people that he's directed as Jonah Hill the director."
Tatum's comment about being one of the first people that Hill has directed is in reference to 2018's "Mid90s," the award-winning film that served as Hill's directorial debut, which came out around the same time as the Wall Street Journal Magazine event (via IMDb). Although Tatum has not officially been directed under Hill (yet), "21 Jump Street" certainly benefited from Hill helping Tatum with the humor.