The Unexpected Jonah Hill Comedy Lighting Up The Netflix Top 10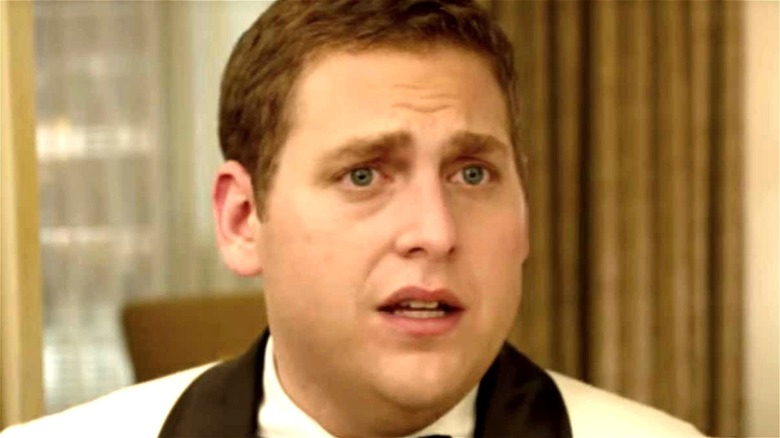 Columbia Pictures/Metro-Goldwyn-Mayer
If your goal is to keep your finger on the pulse of the public's latest cravings, then Netflix's Top 10 list isn't a bad place to look. As new titles get added or removed, and people remember the things they used to enjoy watching, the Top 10 list shows exactly what's on other people's minds. This week, it seems to be an old classic from the filmography of Jonah Hill.
Hill's goose has laid its fair share of golden eggs over the years, from his time co-starring alongside Russell Brand and P-Diddy in the rocking adventure-comedy "Get Him To The Greek," to his early roles in films like "Superbad" and "The 40-Year-Old Virgin." However, the movie that's lighting up the No. 3 spot in Netflix's top 10 is unexpected for a Jonah Hill comedy, though perhaps not unsurprising. After all, "21 Jump Street" is one of his most popular movies.
Tatum and Hill is a combination people still love
So wait, why is "21 Jump Street" making it to Netflix's top 10 so unexpected? It's the first movie under his "Known For" section on his IMDb page. Well, simply put, it's unexpected because, at this point, it's a fairly old part of this filmography. The first "21 Jump Street" film came out in 2012, almost a decade ago, and since then Hill has had no shortage of hits. His live-action appearances in "Wolf of Wall Street," "This is The End," and (obviously) "22 Jump Street" all came years after Hill teamed up with Channing Tatum for one heck of a buddy-cop movie.
However, it's exactly that which gives "21 Jump Street" such lasting power. As they adapted the original 1987 series to the modern-day, they created a piece of comedy gold. Plenty of great moments occur as Hill and Tatum's adult detective characters, Morton Schmidt and Greg Jenko, infiltrate a high school drug ring, but accidentally become subject to the chaos of teenage drama. The film even spawned its own meme. And with supporting roles from Ice Cube, Brie Larson, and Dave Franco and cameos from original series stars Johnny Depp and Peter DeLuise, the cast is rounded out by all types of clever and talented individuals. The point is, it certainly isn't a stretch to think that this film has outstayed its welcome. Hence, why Netflix still has Hill and Tatum's faces on its Top 10 listing.