Mary Mouser Gushes Over Andrew Garfield's Love For Cobra Kai - Exclusive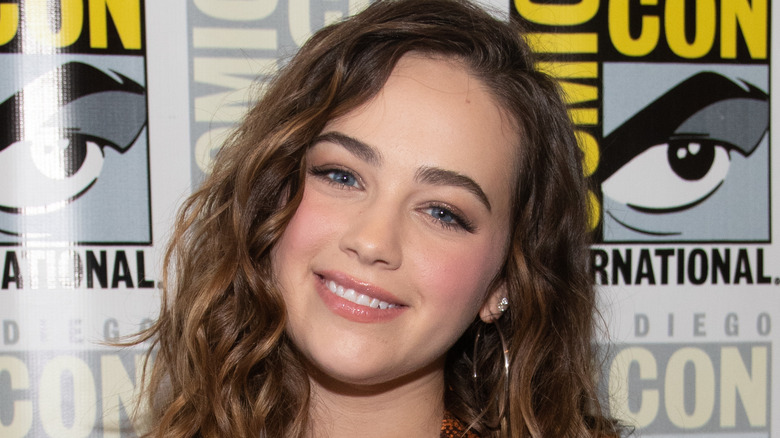 FlickDirect Inc/Shutterstock
"The Karate Kid" spinoff series "Cobra Kai" has become a streaming juggernaut after its debut on Netflix in 2020, and after a year-long wait since Season 3 dropped, fans are finally being treated to Season 4. Among the massive "Cobra Kai" fanbase are people in the entertainment industry, including "Spider-Man: No Way Home" and "tick, tick ... Boom!" star Andrew Garfield, who was surprised by Netflix in November when the streamer got word of his love for the series.
In a video posted on the Netflix Film Club on its YouTube Channel, Garfield is shown reacting to greetings by several "Cobra Kai" cast members — including Ralph Macchio, William Zabka, Jacob Bertrand, and Peyton List — who thank him for being a big fan of the show. Kicking off the greetings, though, is Mary Mouser, who stars as Daniel LaRusso's (Macchio) daughter, Samantha. Because Garfield said he was desperately waiting for the debut of Season 4, Mouser noted, "I'm hoping this video holds you over!" Plus, in a small teaser for Season 4, Mouser also told Garfield he could "definitely anticipate more kicking, punching and general badassery that comes along with 'Cobra Kai.'"
Garfield reacted in disbelief to the shout-outs from the "Cobra Kai" cast, laughing with joy throughout. By the time the greetings wrapped up, the actor was left in tears by the gesture.
Mouser couldn't believe that Garfield was that big of a fan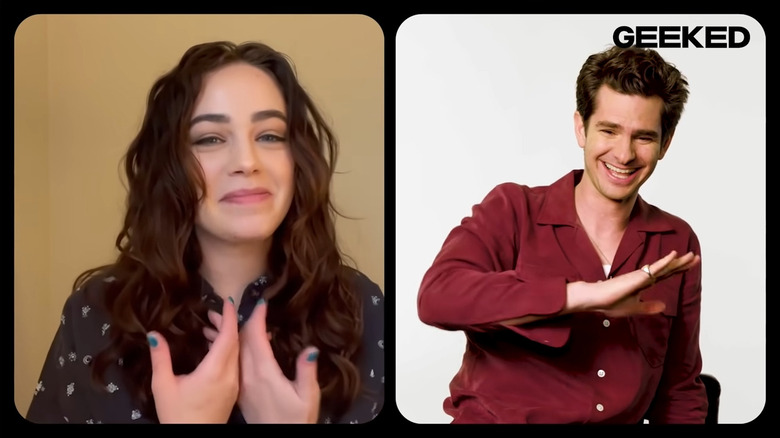 Netflix/YouTube/Geeked
In an exclusive interview with Looper for "Cobra Kai" Season 4, Mouser admitted that she had no idea just how much Garfield was into the series. Seeing his reaction to the greetings, however, changed all of that.
"Oh my gosh. I thought it was a joke. I got an email that was like, 'Hey, Andrew Garfield's a big fan [of the show] and we would love to make a video for him,' and I was like, 'Oh yeah, sure. Maybe he mentioned it in passing. Maybe he just kind of likes the show or something. I don't know. It just seems too cool to be true,'" Mouser recalled for Looper. "I was like, 'It's got to be a joke, right?' And then we made our video and he was so excited to see it, and we were so excited about it. It was so exciting and cool!"
"Cobra Kai" isn't the only thing on Netflix that has Garfield thrilled. His new Netflix original movie "tick, tick ... Boom!" — a look at the creative genius of late Broadway composer Jonathan Larson before he wrote the classic "Rent" — has earned Garfield's portrayal of Larson several Best Actor nominations from various film critic groups. In addition, Garfield is considered a frontrunner for a Best Actor Oscar nomination by industry trade publications The Hollywood Reporter and Variety.
"Cobra Kai" Season 4 is now streaming on Netflix.