Cobra Kai's Mary Mouser Talks Samantha LaRusso's Dilemmas In Season 4 - Exclusive Interview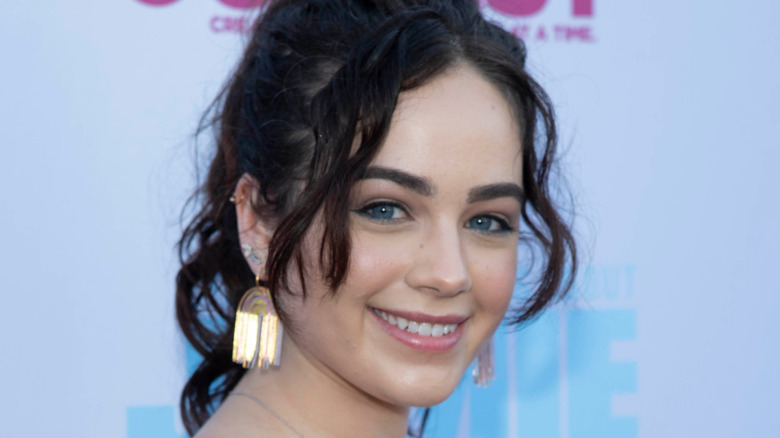 Eugene Powers/Shutterstock
While "Cobra Kai" has been anchored by the stars of the original "Karate Kid" — Ralph Macchio, William Zabka, and Martin Kove — there have also been plenty of breakout stars on the hit Netflix series, including Mary Mouser, Tanner Buchanan, and Xolo Maridueña. Mouser has amassed more than 50 roles since her career kicked off in earnest in 2004, and in the ensuing years, she's landed roles in such high-profile series as CBS' "NCIS" and ABC's "Body of Proof." 
Despite an already impressive resume, there's no question that Mouser's biggest role to date is Samantha Russo, the martial arts-gifted teen daughter of former All-Valley Tournament champ Daniel LaRusso (Macchio) and Daniel's wife and business partner Amanda Russo (Courtney Henggeler). While Samantha has done her best to follow her father's lead and learn the ways of his late friend and karate mentor, Mr. Miyagi (Pat Morita), it's becoming apparent in the upcoming fourth season of "Cobra Kai" that the teen possibly wants to carve out her own path.
Debuting on Netflix December 31, "Cobra Kai" Season 4 finds the unlikely pairing of Daniel's Miyagi-Do and Johnny Lawrence's Eagle Fang dojo, as they attempt to shut down menacing sensei John Kreese and his Cobra Kai dojo. Now under the tutelage of two different sensei, Samantha begins to questions her father's methods as she begins to learn a decidedly different approach from Johnny.
In an exclusive interview with Looper, Mouser discusses the conflicts Samantha faces in Season 4 of "Cobra Kai" and reveals some of the behind-the-scenes action of the series. Mouser also mulls over how a certain skill she learned on the series could give her a leg up for a future role as a revered Marvel superhero.
Mouser loves how Sam continues to grow throughout the series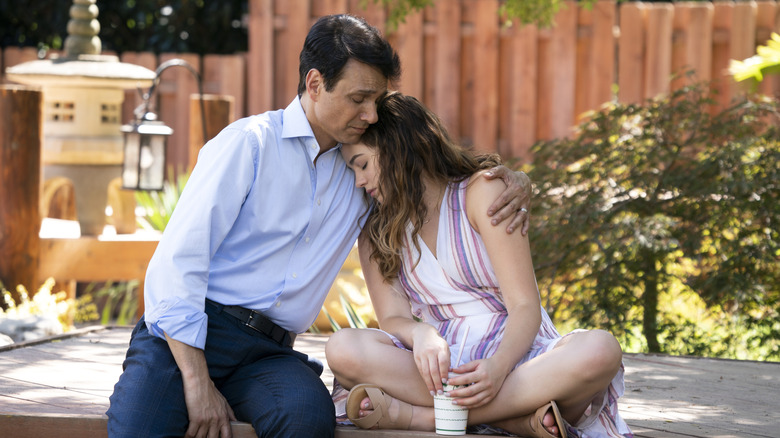 Netflix
You have a lot going on in this fourth season of "Cobra Kai," and one of the biggest issues is what's happening between Sam and her parents. Now, granted, kids have disagreements with their parents all the time, but there's something more significant going on here because all of a sudden, it's about Sam finding and following her own path instead of going on the path that her parents want. That has to be such of a thrill to play, given that your character really has grown in depth and complexity throughout this entire "Cobra Kai" saga.
Yeah, definitely. I was jokingly talking about this with some of my castmates. It's just crazy to think where we all started with these characters. When you take on a role you really get some information, but a lot of times, especially for that first audition, you get a couple sentences. You get somebody who says, "This is this person's kid" and "This person's sister" and "This person's girlfriend," and "Go for it." Going from that to where we are now is just kind of crazy. I feel like this part of Sam's life is so fun to play into ... Of course, for me, it gives more time to work with Ralph and Courtney, who are just the best scene partners.
She's established a true family bond with her screen parents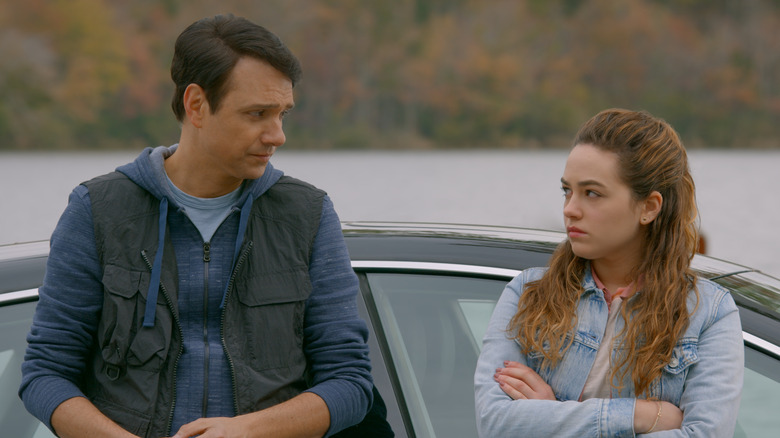 Netflix
I was wondering about that, because obviously it must be a little difficult when Sam has to butt heads with her parents. But off-screen, do you feel you've formed a family bond of sorts with Ralph and Courtney? They just come off to me as such positive influences.
I definitely do. I'm very grateful to get to work with them. They're just such kind and yes, incredibly talent people. They welcomed me into their world, which has been so nice. We joke around a lot, too. There are some moments there, especially like a moment in Season 4 between Daniel and Samantha that really cracked me up. In between takes, Ralph said, "If my daughter really ever said that to me, I would not be saying this back to her. I'd be saying a whole different thing." That's funny to play all that up. [Laughs]
Learning from two different senseis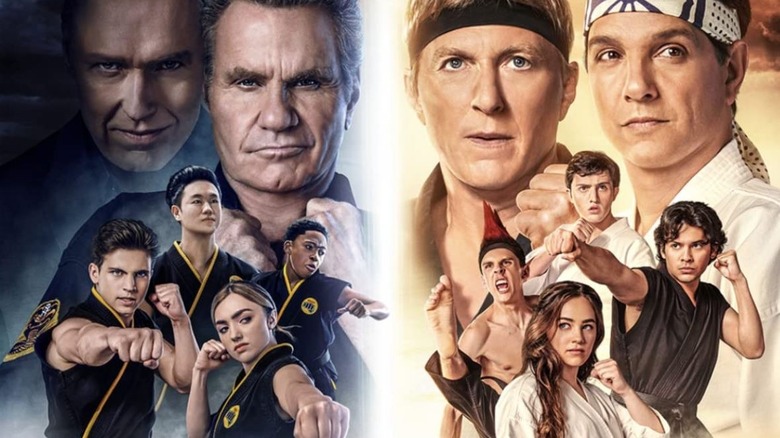 Netflix
It seems as though the karate you're learning this season more complex since you're working with two sensei with Daniel and Johnny. Since Samantha is expanding her techniques, could you personally sense how much more skilled you were becoming?
I feel like I have been putting in as much work as possible. I've been grinding away at it for a couple years now, but we got with the new stunt team this year, and I think I just clicked right away with my amazing stunt double and our stunt team. They really took me out of their wing this last year. I also was excited to bring the series over to Netflix and excited to bring it to a new audience. I've taken it seriously from day one. I was there every single day in the literal sense of my training, and [for] the off-camera side of my training, I was there at minimum two hours a day, sometimes four hours a day, at least five days a week. A lot of times we were doing weekends, too, just getting in as much training as humanly possible.
I don't think I was thinking of it as, "Man, I'm going to get really good after all this." It was more like, "This is so important to me, and I want to do it as much justice as possible, so I'll put in as much work as I possibly can — and hopefully that turns out well." It ended up helping bring me to a different level that I'm still grateful for, and it's awesome. Because then, it plays out just perfectly timed with the idea of Samantha learning a couple of different styles, and how that would've impacted her karate abilities.
Zabka's retro-Johnny keeps the cast entertained, Mouser says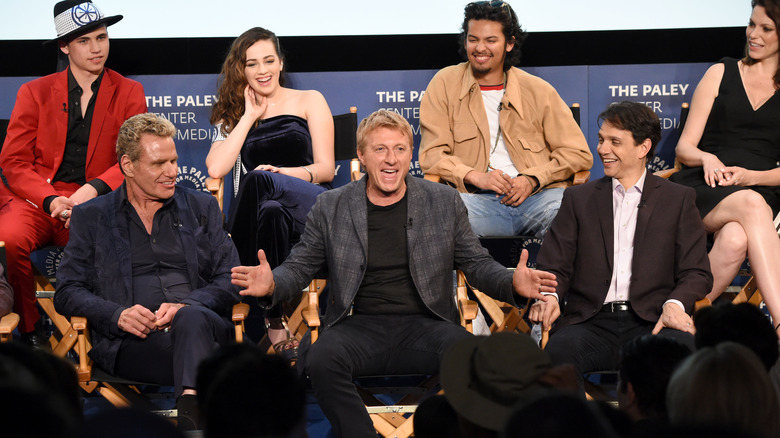 Michael Kovac/Getty Images
Because Daniel and Johnny are joining forces this season, you are getting a lot more time with William Zabka. To me, Johnny is easily one of the funniest characters in the series because he's so mentally stuck in the 1980s, he's so out of touch with today's times, and he's so blunt in his observations. Is William just as funny off-screen as he is on?
Oh my gosh, yes. He cracks me up. I mean, he's one of the nicest people, but there's so much of his just retro Johnny badass-type vibes in him that it's just so funny sometimes how much they parallel one another. He's so awesome, and yeah, he keeps us very entertained.
As for your fight scenes — especially the stuff you do with Peyton List — they're so amazing and they become more complex as the season progresses. There are going to be shots where they're going to, things are going to get pretty intense and maybe one of you is going to accidentally land a blow that you didn't intend. Does that happen on occasion?
Oh, definitely. We are all still actors first and learning martial arts second in terms of order of events. I've been acting a whole lot longer than I've been doing martial arts and I think that's the majority of us. So, [we've definitely] gotten our bumps and bruises along the way, but ... you learn quick, you get hit in the head and next time you learn, "Don't be there." You get your head out of the way.
Preparing for the arrival of Terry Silver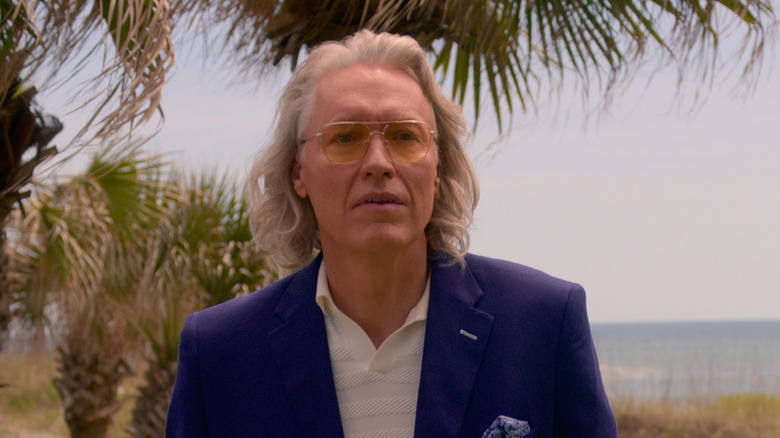 Netflix
One thing that I've always loved about the series is how it's cleverly tied up loose ends from the great "Karate Kid" films. Now, with Season 4, you have Thomas Ian Griffith joining the cast from "The Karate Kid: Part III." Did you watch that movie to prepare yourself for the season, to watch it in a way to inform you to the overall plot of "The Karate Kid" saga?
Oh yeah. When I initially booked the role, I sat down and watched all the films, getting myself ready, just to start to be a part of the world and the franchise, and I've gone back several times since then. Our writers and our creators are geniuses with tying in all sorts of little Easter eggs and also the big pieces to the original material, and bringing it to life again. It's something they're so great at. So, I'm constantly looking for those, going back and trying to find them. And so, I've re-watched the film several times throughout the years and definitely coming into Season 4, knowing that we would have another legend among us was intimidating in the best way.
About that Andrew Garfield Cobra Kai video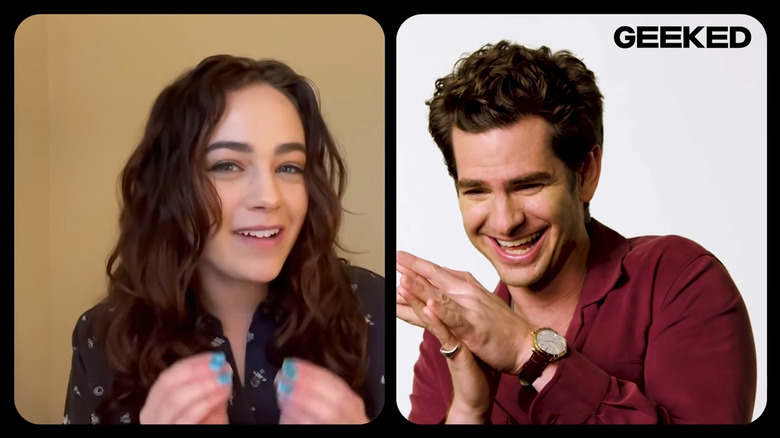 YouTube/Netflix/Geeked
Part of your job includes some really fun things that you probably don't expect, and I love the video you and your castmates made for Andrew Garfield after he revealed that he was such a big fan of "Cobra Kai." How thrilling was it to learn first of him being a fan, but then making the video and seeing his reaction to it?
Oh my gosh. I thought it was a joke. I got an email that was like, "Hey, Andrew Garfield's a big fan of 'Cobra Kai' and we would love to make a video for him," and I was like, "Oh yeah, sure. Maybe he mentioned it in passing. Maybe he just kind of likes the show or something. I don't know. It just seems too cool to be true." I was like, "It's got to be a joke, right?" And then we made our video, and he was so excited to see it, and we were so excited about it. It was so exciting and cool!"
Could Marvel's Elektra being in Mouser's future?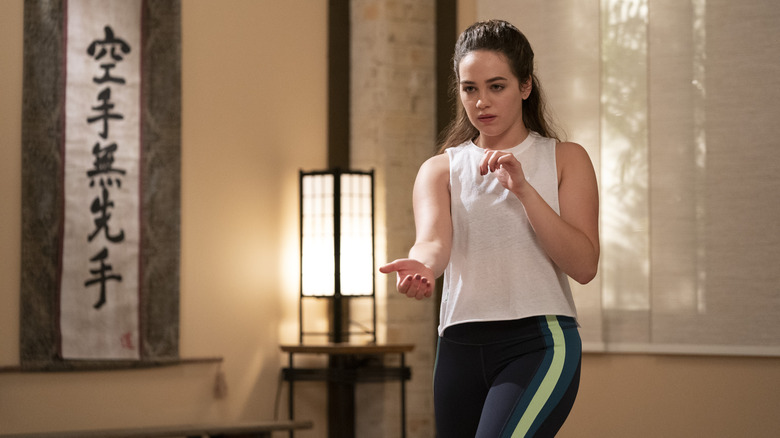 Netflix
With the martial arts skills you've acquired on "Cobra Kai," including your work with the sais, I'm thinking that sets you up for a superhero role, Mary. Are there any characters in the DC or the Marvel cinematic universe that you would love to play?
Oh, that's an interesting question. I don't know if there's a very particular character, but I know that's a realm I want to tackle. Seeing it in modern media, getting to see more and more of women, female superheroes or I should say superheroes, regardless of their gender, just getting to kick ass in that way is something that I have never thought I could attain as growing up. But now, getting to train and actually feeling like, "Okay, I can see that I can be capable of this." That's a big time want for me. So, I don't have a name of a character I want to play yet, but I'm pretty open.
Well, certainly with the work with the sais on "Cobra Kai," I would say you're up for Elektra to take on Daredevil at some point!
[Laughs] That would be awesome. I mean, I'm not going to lie, but that was the running joke. After they prepped me with the sais — I remember I got them in hands on February 2nd — and then I performed my scenes with them. What you see in the performance was actually was a couple of minutes longer than what ended up making it in the shot. Every time I did this one pose, [everybody was like], "Strike your Elektra pose! Strike your Elektra pose!"
Mouser would love to star opposite Kristen Stewart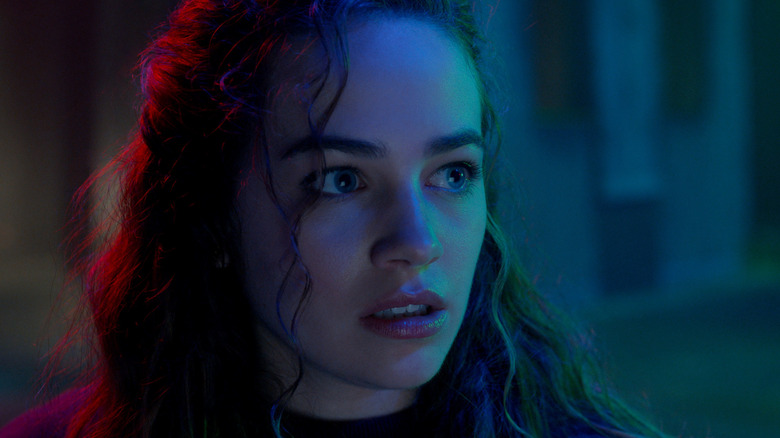 Netflix
I am so impressed how you've compiled more than 50 acting credits in your career already, and you've acted on some pretty amazing shows and movies. I would imagine that "Cobra Kai" has opened up some huge doors for you already, but if you're given your pick now, are there any specific actors or maybe director that you'd like to work with?
I've [jokingly] had a running bucket list for acting since I was young and superheroes are obviously on there, but in terms of actually people to work with, I'm pretty openly a huge Kristen Stewart fan. So, I would love to get to work with her someday in whatever capacity.
Because you're part of the "Cobra Kai" world, maybe "The Karate Kid" movies may be up there on your all-time list of favorite movies. But apart from those, do you have an all-time favorite, a movie that may have inspired you to do what you do? Yesterday, for example, I talked with Tanner Buchanan, and was surprised to hear that "Singin' in the Rain" was the movie that did it for him. Is there an all-time favorite that you have that got you on your path?
I feel like I love what I do in general, and I love getting to consume all different types of media in terms of figuring out what I love to watch and what I would love to do. But no, I think I'm a super-true audience member when it comes to that kind of thing. I even have a hard time looking at watching a movie through that lens, even though I know what goes on behind the scenes. I know how it all comes together. I still am very caught up in the magic of it. So, for me, there's not one particular thing where I was like, "Oh, acting. That's what I would do," because I consume it and I think in the way of like storytelling. My all-time favorite movie that I go back to time and time again is "Twilight." So maybe that's it.
Connecting with Cobra Kai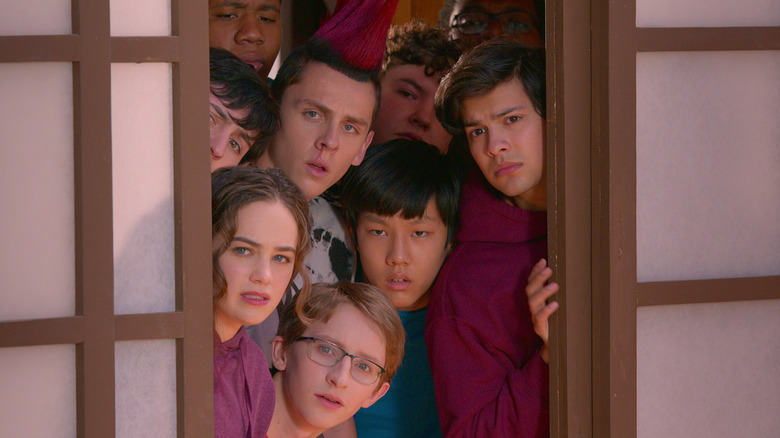 Netflix
One question I've had as a critic over the years is, "What connects audiences to a particular piece of work?" and I think it's probably relatability. So, I'm wondering, what is it that you think connects audiences to "Cobra Kai?" Obviously, have this great underdog story going on, but there's just so much more than that. What is it, if you could boil it down, do you think that makes "Cobra Kai" resonate with people?
For me, I think my interpretation of what it might be is really that it resonates with so many different people because there are so many different people to connect with. There are so many different perspectives to explore, with so many different walks of life for everyone within the world to connect with.
I think everybody can find their person and their story and who they are. That's the thing that I love most about "Cobra Kai." I think for me is the thing that is the selling point to people is that the show exists in gray areas. There's just no black and white, and there's no good guy or bad guy anymore. It really dives into the reality of life, which is just that we all have good guy and bad guy in us, and how those different parts are playing with one another and interact with other people who are also on the same journeys. I think there are just so many open doors there for people to connect with different people in different ways.
"Cobra Kai" Season 4 debuts December 31 on Netflix.
This interview was edited for length and clarity.