Fans Of NCIS And NCIS: Los Angeles Just Got Some Devastating Production News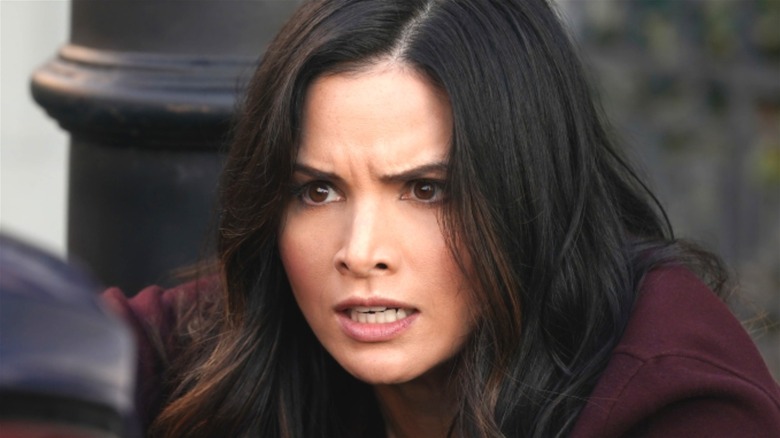 Sonja Flemming/CBS
Hollywood is entering another period of difficulty and uncertainty thanks, once again, to the COVID-19 pandemic. 
Due to the ongoing Omicron surge, film and TV release dates are being delayed again (via Variety), and now, entire productions are starting to get shut down. The LA County Health Department has reported several outbreaks over the past two weeks at notable studios, including Warner Bros. TV (via Deadline), which reported 13 positive cases. Deadline also reports that "further production delays and shutdowns across Hollywood" are expected to hit the industry in the coming weeks as the winter COVID surge continues to take its toll.
Now, the latest seasons of "NCIS" and "NCIS: Los Angeles" have reportedly hit some pretty big snags, with production on both shows being halted due to COVID-related issues (via TVLine). The shows are just the latest television programs to get pushed back in recent weeks because of problems stemming from the Omicron variant.
NCIS and NCIS: LA's productions have been shut down
According to Deadline, production on "NCIS" was ultimately shut down following a positive COVID test among the show's cast and crew. Sources told the outlet that the person who tested positive is believed to be a cast member, though, it's unclear who. As for "NCIS: LA," production was simply stopped out of an abundance of caution because the show is apparently far ahead of its schedule. The series is expected to begin filming again in February.
The good news is that, according to Deadline, many of the recent COVID-related delays aren't expected to last long, including those being overseen by studios like Disney, Amazon, Universal Media Studios, Warner Bros. TV, CBS, and Netflix. TVLine, meanwhile, reports that the "NCIS" and "NCIS: Los Angeles" production stoppages are not expected to affect the series' on-air schedules. To make matters even better, the "NCIS" and "NCIS: Hawaiʻi" crossover that was supposed to be filming right now is currently still in production, with a CBS source telling TVLine it is still being filmed in Hawaii.
Unfortunately, fans will just have to wait to see how these temporary shutdowns ultimately affect "NCIS," "NCIS: LA," and the franchise as a whole.