Here's What The Critics Are Saying About Peacemaker Season 1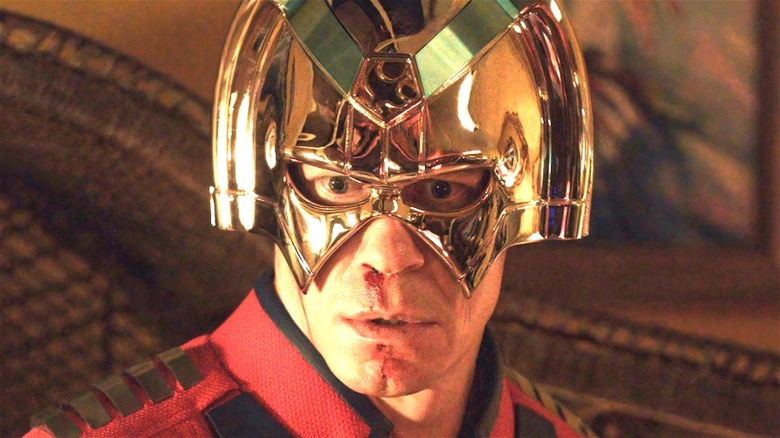 HBO Max/DC Entertainment
Reviews for the James Gunn series "Peacemaker" have started to trickle in ahead of its January 13 debut on HBO Max, and much like its titular antihero, there's apparently a lot to like — and abhor — about the "The Suicide Squad" spin-off. 
"Even in a wildly oversaturated market for tales of hypermuscular men and women punching their way to justice, Peacemaker stands out," wrote Alan Sepinwall in his review for Rolling Stone. "You'll wanna taste it, even the parts that are in incredibly bad taste," he went on, calling the show a "gloriously goofy sendup and a sincere character study rolled into one." 
Last time viewers saw John Cena's Peacemaker aka Chris Smith, he was walking the line between DC Comics hero and full-blown villainy after taking the life of Joel Kinnaman's Rick Flag in the final act of Gunn's "The Suicide Squad." In "Peacemaker," the babbling brute is back and on a new mission per the orders of Viola Davis' Amanda Waller, but there are a few things different about him. 
We learn more about his backstory and get to know the character on a more personal and emotional level, much to some viewers' dismay. "Peacemaker is definitely a less bombastic series, dealing more in relationships than action overall," wrote Carly Lane for Collider. "But it might have also proven more successful if it wasn't so focused on trying to render its lead more of a likable douchebag." 
Here's what else critics are saying so far about the series, which currently holds an 80% score on Rotten Tomatoes. 
Peacemaker is good, but holds too much back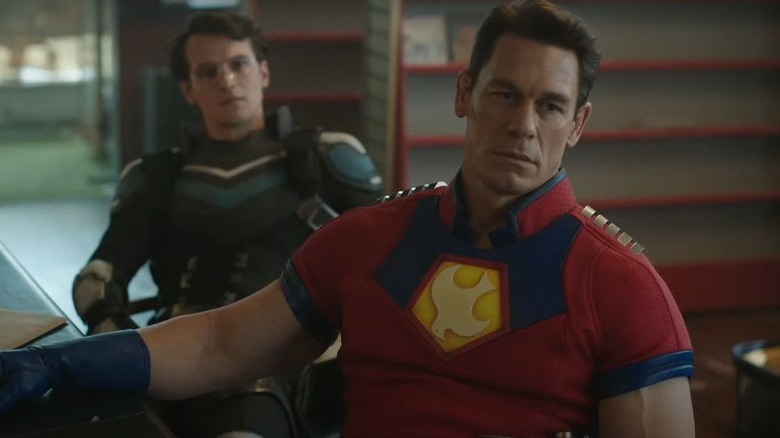 HBO Max/DC Entertainment
So far, the overall consensus from critics on "Peacemaker" has been positive. But in each review, there's been one constant critique: not enough action or edginess — most especially, from Peacemaker. 
"Peacemaker loses too much of the darkness that made him compelling in the first place," wrote Angie Han in her review for The Hollywood Reporter. "[James Gunn] makes the character more likable, at the cost of making him less interesting," Han added. 
"What makes Peacemaker such an interesting and compelling character is his unrepentant awfulness, and the series choosing to back-pedal on what could be considered his defining traits only makes for an aggressively fine follow-up," wrote Collider's Carly Lane. 
When it comes to the action in "Peacemaker," it's obvious that Gunn didn't have as much to work with financially as he did making "The Suicide Squad." Fred Topel from the United Press International wrote, "The Peacemaker series feels mostly like the Suicide Squad comedy scenes without the big action of a $100 million studio blockbuster." Topel went on, "Peacemaker's action falls a notch below the likes of The CW's Arrowverse superhero shows. Fight scenes are not as clear or epic as The CW pulls off weekly in several superhero shows. However, on HBO Max, the fights are punctuated by the absurd violence that computer generated visual effects allows." 
In spite of all this, critics ultimately believe there's enough creative meat on the "Peacemaker" bone to leave viewers satisfied for an entire season.
Peacemaker is the James Gunn entertainment that fans need right now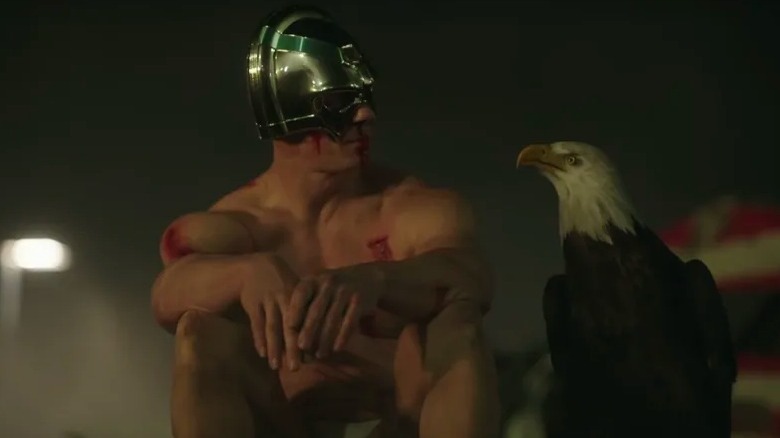 HBO Max/DC Entertainment
When it comes down to it, James Gunn's "Peacemaker" isn't supposed to be a show that's perfect. And that's what makes it so perfect for some. 
"Self-conscious but never smug, sociopathic and yet also sweet, and timely if never preachy, it's the very sort of no-holds-barred, tongue-in-cheek endeavor that's become Gunn's specialty," wrote The Daily Beast's Nick Shager. 
"Between the blood and guts, the slapstick, the political satire ... and the musical digressions ... there is a lot going on here," explained Alan Sepinwall for Rolling Stone. "Yet the series functions as a sincere character study of its flawed hero — and the unfortunate souls who have to work alongside him — just enough for the joke to never quite wear thin."
As for some of the biggest highlights for Gunn's new series, critics have propped up its character dynamics, opening credits sequences and numerous appearances by Peacemaker's pet eagle, Eagly, as perfect examples of the director's over-the-top, yet satisfying, vision. 
"It is essentially an Eighties-style music video," Sepinwall said of the intro. "With the homicidal title character, played once again by John Cena, and his supporting cast performing a choreographed dance number on a neon-lit stage while the Norwegian glam-metal band Wig Wam's song 'Do Ya Wanna Taste It' shreds in the background. It's the kind of inspired gag that makes a mockery of the Skip Intro option, remaining a delight every single time it comes up. But then, the same could be said for ol' bucket-headed Peacemaker himself."