Is There A New Episode Of Saturday Night Live On Tonight? (January 8, 2022)
Over the past two years of the COVID-19 pandemic, the entertainment industry has struggled to adapt, with film and television productions forced to rely on reduced crews, bubbled shooting locations, and other safety guidelines. As a live sketch show, "Saturday Night Live" has become a bellwether of sorts for the state of the crisis. In March 2020, the show did not produce new episodes and resumed in April with three remote episodes shot on the video conferencing app, Zoom. When "SNL" did return to Studio 8H at 30 Rockefeller, it was with a limited audience of healthcare workers, according to the New York Post.
By the middle of 2021, the show had returned to its former glory, with vaccinations allowing for the most restrictive COVID safety measures to be abandoned and for a full audience to return to the studio for the majority of Season 47. But recently, the wave of infections caused by the Omicron variant of the virus has once again upended life in New York City. As cases surged, "SNL" aired its final episode of the season, which was hosted by Paul Rudd, without live-action sketches, a musical guest, or an audience (via NBC News).
With so much uncertainty, viewers are wondering whether there will be a new episode of "SNL" tonight.
'SNL' will air a rerun from 1995 tonight, hosted by David Alan Grier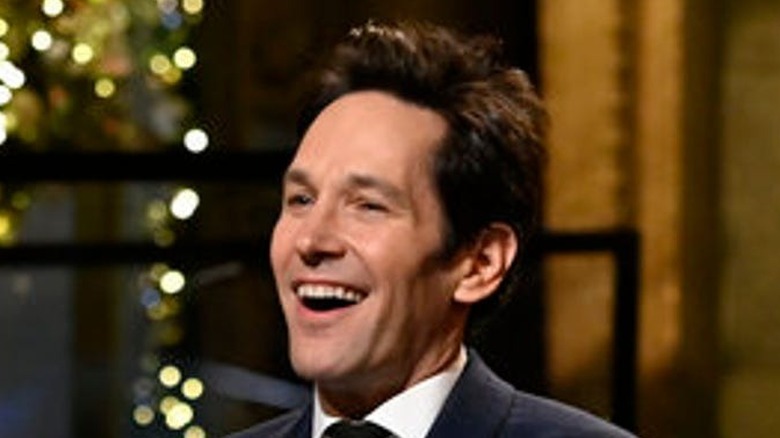 NBC
While it remains unclear whether "Saturday Night Live" would be able to shoot a new episode this weekend, the show is on hiatus between seasons and would not air anything new, even in the absence of a COVID spike. The Paul Rudd-hosted episode that aired on December 18, 2021, and contained no live sketches or musical guest was the final episode of the year, but it will not be the final episode of the season. Earlier this week, "SNL" announced via Twitter that "West Side Story" star and "Hamilton" alum Ariana DeBose would serve as host with musical guest Roddy Rich when the series returned on January 15.
In lieu of a new episode, the NBC schedule time slot will feature a rerun of a classic episode from 1995. The episode, hosted by sketch comic David Alan Grier, features Australian rock band Silverchair as its musical guest. The episode comes from Season 21, which included legendary cast members such as Will Ferrell and the late Norm MacDonald along with writers such as Steve Higgins and Adam McKay, the latter of whom is currently enjoying a wave of success with the Netflix release of his political satire film, "Don't Look Up."