Read This Before You See Don't Look Up
This content was paid for by Netflix and created by Looper.
You might not think a major media tour would be the biggest priority for people who foresee a potential world-ending crisis, but in "Don't Look Up," that's exactly what our heroes must focus on during a catastrophic crisis. The film centers on a pair of low-level astronomers who discover a planet killer-of-a-comet that's heading straight for Earth, and after facing some serious indifference from the White House, the pair must make it their mission to convince mankind of this danger through any means necessary.
The comedy-drama film features many of the most decorated actors in Hollywood taking on staggeringly original roles, with an Academy Award-winning writer-director behind the lens. And even though the story is completely terrifying due to the Mount Everest-sized space rock on track to collide with Earth, the movie is also shockingly hilarious. So before the film arrives to select theaters on December 10 and hits Netflix on December 24, here's a look at what you should know about "Don't Look Up."
The supernovas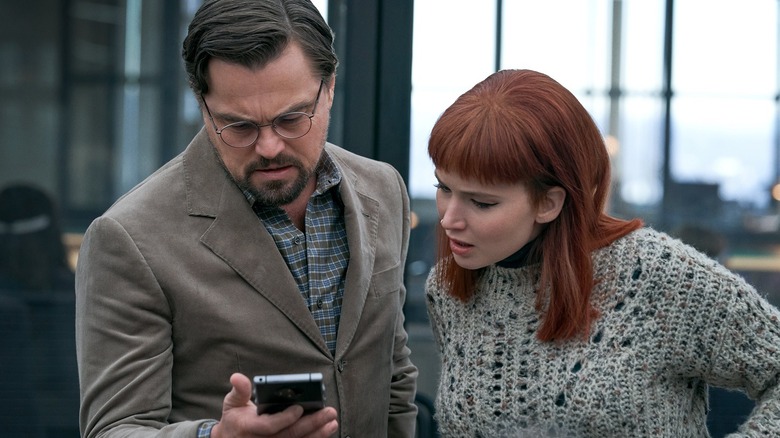 Niko Tavernise/Netflix
It's fitting that a film about a celestial disaster would feature so many of the world's biggest stars. In the role of Kate Dibiasky, an astronomy graduate student who helps discover the comet and its collision course, we've got the exceedingly watchable Jennifer Lawrence. The actress got her start on television series such as "The Bill Engvall Show" before hitting the big screen, and it wasn't long before critics took notice. Her leading performance in the gritty 2010 drama "Winter's Bone" earned her an early Academy Award nomination, and she soon became a household name for her blockbuster roles in franchise films like "The Hunger Games" and "X-Men: First Class." She then won an Oscar for her performance in 2012's "Silver Linings Playbook" and continued to frequent the awards season circuit with her work in "American Hustle" and "Joy."
Joining her at the top of the cast list is Leonardo DiCaprio, another once-in-a-generation talent who portrays Kate's professor, Dr. Randall Mindy, who must help Kate tell everyone about the very real danger posed by this comet. DiCaprio also broke out in a big way after getting his start on the small screen in series like "Parenthood" and "Growing Pains." His childhood performances in films like "This Boy's Life," "What's Eating Gilbert Grape," and "The Basketball Diaries" made him a must-watch right from the start, and he soon became a true hit-maker in films like "Romeo + Juliet," "Titanic," and "The Beach." DiCaprio has since continued to put out exquisite screen work, earning an Oscar for his leading performance in "The Revenant," along with nominations for films like "The Aviator," "Blood Diamond," "The Wolf of Wall Street," and "Once Upon a Time ... in Hollywood."
Shiny stars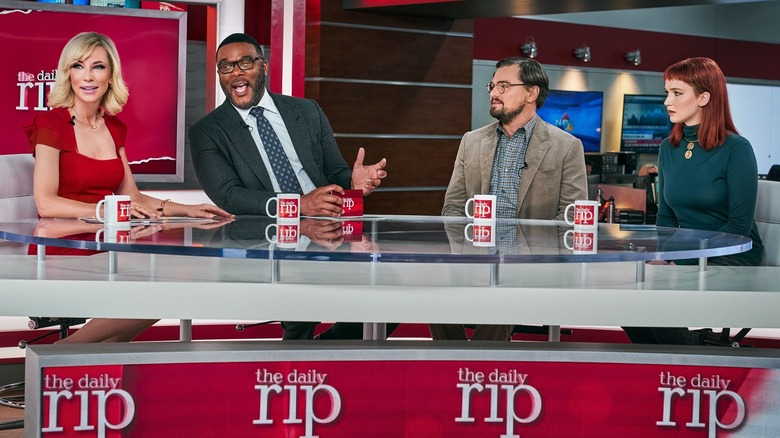 Niko Tavernise/Netflix
Lawrence and DiCaprio are joined by an electric line-up of Hollywood's best and brightest, not the least of which is Meryl Streep. Streep stars in the film as President Janie Orlean, a leader who is stunningly unimpressed by the news these scientists bring to the Oval Office. Streep is, of course, a living legend in Hollywood, boasting the record for the most Academy Award nominations, along with three wins for her work in "Kramer vs. Kramer," "Sophie's Choice," and "The Iron Lady." Throughout her career, Streep has proven to be a force of true versatility, owning the screen in almost every genre. Streep also previously worked with DiCaprio in one of his earliest films: the 1996 drama "Marvin's Room."
Cate Blanchett is another multiple Oscar-winning actress who brings her gifts to bear in "Don't Look Up." She stars in the film as Brie, the co-host of an upbeat morning show called "The Rip" that the astronomers turn to while getting their message out. Like Streep, Blanchett is prolific and seamlessly adjusts her look and accents in films, and she previously shared the screen with DiCaprio in the 2004 biopic drama "The Aviator," for which she won her first Academy Award. Blanchett also won an Oscar for her leading role in 2014's "Blue Jasmine" and received additional nominations for her roles in "Elizabeth," "Notes on a Scandal," "I'm Not There," "Elizabeth: The Golden Age," and "Carol." Movie fans may also recognize her for her work in the "Lord of the Rings" film trilogy, along with her Emmy-nominated television turn in "Mrs. America."
Stellar supporting players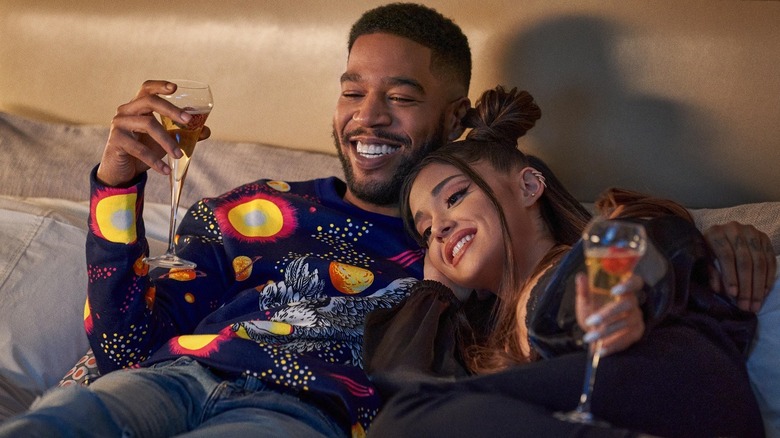 Niko Tavernise/Netflix
Speaking of celebrated screen chameleons, "Don't Look Up" features the one and only Tyler Perry as Jack, the co-host of "The Rip." Perry, who's also established himself as a powerhouse producer, became a household name thanks to his iconic portrayal of his original feisty character Madea. Though Perry is well known for his comedy chops, he's also proven to be a force in dramatic films like "Gone Girl" and "Vice."
Meanwhile, Rob Morgan stars as Dr. Oglethorpe, who helps Kate and Randall engage in their mission to raise public awareness. Audiences may know Morgan for his work in series like "Daredevil," "Godless," and "Stranger Things," along with films like "Mudbound" and "Just Mercy." Jonah Hill also stars as the president's son and sarcastic chief of staff, Jason Orlean. Hill previously worked alongside DiCaprio in "The Wolf of Wall Street" and is also known for films like "Superbad," "This Is the End," and "Moneyball," along with his starring role in Netflix's "Maniac."
The film's all-star cast doesn't stop there either. The movie also features Oscar-winning "Bridge of Spies" star Mark Rylance, "Hellboy" favorite Ron Perlman, "Call Me By Your Name" actor Timothée Chalamet, and music superstars Ariana Grande and Scott "Kid Cudi" Mescudi. Plus, we've got "EastEnders" star Himesh Patel, Melanie Lynskey (who recently shared the screen with Blanchett in "Mrs. America"), "The Shield" legend Michael Chiklis, and "Balthazar" actor Tomer Sisley.
Galaxy vision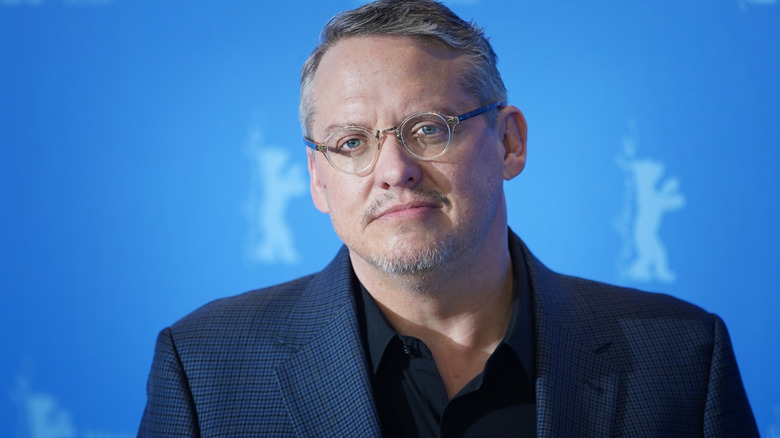 Denis Makarenko/Shutterstock
Bringing all of these major screen stars together is writer-director Adam McKay, who co-wrote the script for "Don't Look Up" — alongside journalist and political commentator David Sirota — and also directs the film.
McKay has been a major player in Hollywood for years, starting with his work on "Saturday Night Live" in the early aughts, and he left audiences in stitches thanks to his film collaborations with Will Ferrell. We're talking comedy classics like "Anchorman: The Legend of Ron Burgundy," "Talladega Nights: The Ballad of Ricky Bobby," "Step Brothers," and "The Other Guys." Recently, he's become known for powerful dramas based on true stories, including his Oscar-winning work on "The Big Short" and his intelligent profile of former Vice President Dick Cheney called "Vice." McKay is also an executive producer on some of the most popular small screen series of the moment, including "Succession" and "Dead to Me."
For "Don't Look Up," McKay told The New York Times that he was partially inspired by a scene from "Jaws," saying, "The idea of a disaster movie in which people don't necessarily believe that the disaster is coming ... goes back to the trope of the mayor from 'Jaws' [who says], 'Love to prove that, wouldn't you? Get your name into the National Geographic?'" McKay also describes the film as a "dark comedy" about the group of "very sincere astronomers" who have to navigate the complicated systems of politics and social media, along with public perception.
In other words, get ready for a wild ride about a coming comet that may feel a little too real when "Don't Look Up" arrives this December.