Cobra Kai's Ralph Macchio Still Has Harsh Words For This Karate Kid Film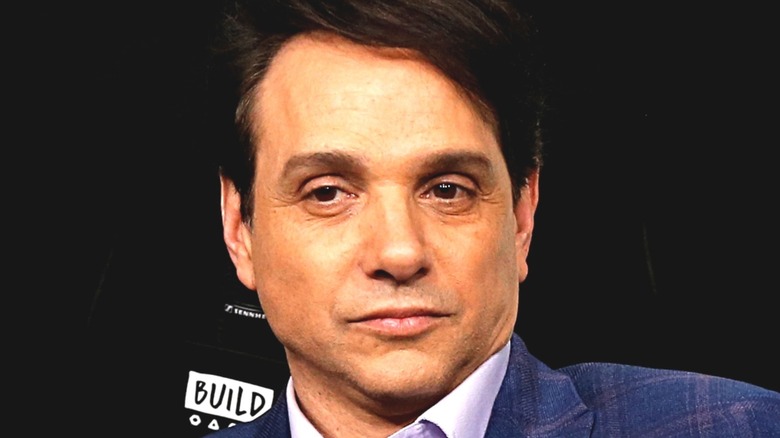 Dominik Bindl/Getty Images
Originating on YouTube Red in 2018 before moving over to Netflix in 2020, "The Karate Kid" spinoff series "Cobra Kai" is a great example of how a movie saga can successfully translate into a TV series no matter how much time has elapsed between the two projects. In the case of "Cobra Kai," it was 34 years between the original movie and the first season of the series, which delves into the lasting effect the origin story had on the lives of two of its principal characters — Daniel LaRusso (Ralph Macchio) and Johnny Lawrence (William Zabka) — and highlights the ever-present influence of Daniel's sensei, Mr. Miyagi (the late Pat Morita).
In the following two seasons, loose ends of stories from all three "Karate Kid" films began to emerge, as character likes Daniel and Johnny's ex-girlfriend, Ali (Elisabeth Shue), and Daniel's former love, Kumiko (Tamlyn Tomita), were given a chance to complete their story arcs. Another major figure in the film series — sensei John Kreese (Martin Kove) — came back to stay, creating more havoc for Daniel and Johnny, as well as the karate students under their tutelage.
And while Kreese's presence was strong in Seasons 2 and 3, "Cobra Kai's" creators had one more big hand to reveal in Season 4, as it went into the history of Kreese's bond with his Vietnam war buddy Terry Silver through a series of flashback sequences. Silver (Thomas Ian Griffith), of course, was the main antagonist in "The Karate Kid: Part III," a toxic waste disposal magnate whom Kreese brings into the fold to manipulate a vulnerable Daniel, who is looking to repeat his title in the All-Valley Karate Tournament. "Cobra Kai" Season 4 features the full-fledged return of Silver, but as it turns out, Macchio doesn't have much love for the film that introduced him.
Macchio thought The Karate Kid's story 'was only repeating itself' in the third film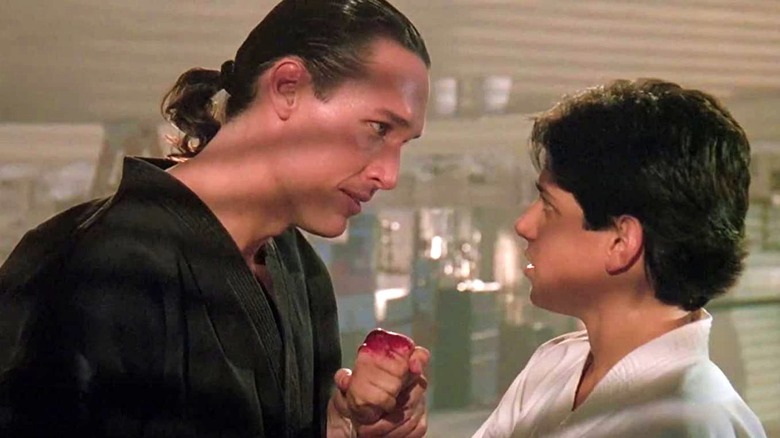 Columbia Pictures/Sony
Released in 1989, "The Karate Kid: Part III" starred Macchio, Morita and Kove, although the latter's role became more supporting in nature as Silver concocted a false narrative that Kreese was dead as a way to begin his manipulation of Daniel. In an interview with The Hollywood Reporter, Macchio explained his disdain the second "Karate Kid" sequel.
"I was not a fan of how 'The Karate Kid 3' came out. I felt the story was only repeating itself and was not character forwarding for the end of LaRusso," Macchio told THR. "And production-wise, it was being written one way and then changed another way. It was not a smooth ride. In the end, there were parts of the character that I didn't embrace as well as I did with the original and the first sequel. I don't put it on the top of my resume."
Now, with the fourth season of "Cobra Kai," Macchio said he is now happy with how the framework of "The Karate Kid: Part III" is worked into the series' narrative.
"It informs 'Cobra Kai' going forward, clearly with season four. It gives us so much story," Macchio told THR. "And what is so wonderful about doing the 'Cobra Kai' series, the creators find ways to take that story and let it evolve and find backstories for characters who might have been thinly written."
Macchio likes how Silver's story has been more refined in Cobra Kai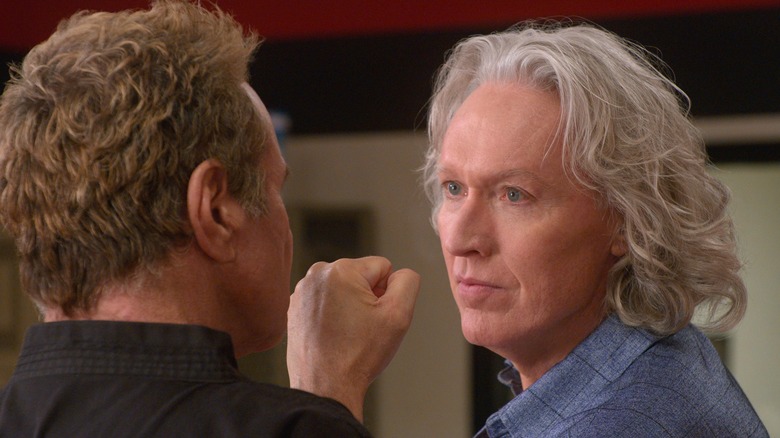 Netflix
In "The Karate Kid: Part III," Silver had a manic presence at times, and he brings a calmer demeanor to "Cobra Kai" — at least initially. Silver's villainy does eventually re-emerge — sometimes in unexpected ways — and Macchio is pleased with how Silver's storyline has become another big element to enhance the overall story of the series.
"There is a larger-than-life element to 'Cobra Kai.' When you break it down, it is kind of ridiculous — but that is why it is so much fun! So you take a character like Terry Silver for this show with those larger-than-life elements and his relationship with Daniel, then add those layers of complexity to his evilness. And now it becomes a refined performance," Macchio observed for THR. "On top of that, from the perspective of Daniel as an adult, now we are adding other stakes and elements about his own kids and students. It is remarkable that what I would call the shortcomings of the original franchise are now bearing fruit 36 years later."
Also starring Mary Mouser, Tanner Buchanan, and Xolo Maridueña, "Cobra Kai" season 4 is new on Netflix.