Tanner Buchanan Still Gets Kicks Playing The Complicated Robby Keene In Cobra Kai - Exclusive Interview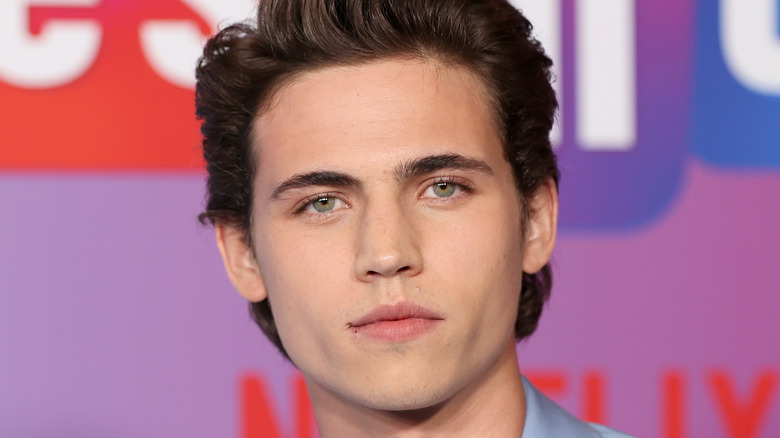 Amy Sussman/Getty Images
Almost a year after Season 3 debut of the Netflix smash "Cobra Kai," the anticipation for the return of the acclaimed "The Karate Kid" spinoff series has everyone burning with anticipation, including one of the series' stars, Tanner Buchanan. "Cobra Kai" picks up more than 35 years after the release of the first "Karate Kid" film in 1984, when scrappy teen underdog Daniel LaRusso (Ralph Macchio) won the All Valley Karate Championship over his bully, Johnny Lawrence (William Zabka). In the series, Daniel enjoys great success as a car dealer, while Johnny leads a meager existence, plagued by the troubles of his youth, a broken family life, and a failed marriage. Johnny finds purpose, though, when he revives the Cobra Kai dojo that taught him — albeit in a flawed way — the art of karate. With purpose comes a newfound confidence in Johnny, as he makes a bid to make things right with his estranged son, Robby Keene (Buchanan), who is experiencing troubles of his own.
As fans of "Cobra Kai" have discovered over the past three seasons, the narrative extends far beyond Daniel and Johnny's complicated past and bids to rectify it. As such, Robby and Daniel's daughter, Samantha (Mary Mouser), as well as Johnny and Daniel's protégé, Miguel Diaz (Xolo Maridueña), have also become principal characters, along with other family members and the students of both Miyagi-Do, Cobra Kai, and Eagle Fang dojos. 
Without question, Robby has one of the most emotionally involved story arcs of all the characters on "Cobra Kai." Over the course of the series, the fatherly bond Robby seeks has bounced from Johnny to Daniel and, most recently, to the unforgiving John Kreese (Martin Kove) as the teen firmly entrenches himself in the Cobra Kai dojo. Making matters worse for Robby in Season 4 is the emergence of Kreese's war buddy and business partner Terry Silver — Thomas Ian Griffith, from 1989's "The Karate Kid: Part III" — who further manipulates the vulnerable teen. In an exclusive interview with Looper, Buchanan talks about his work on the series, including Season 4 — which debuts on December 31 on Netflix — as well as some of the behind-the-scenes happenings on the series and future roles he'd love to play.
More character growth and complexity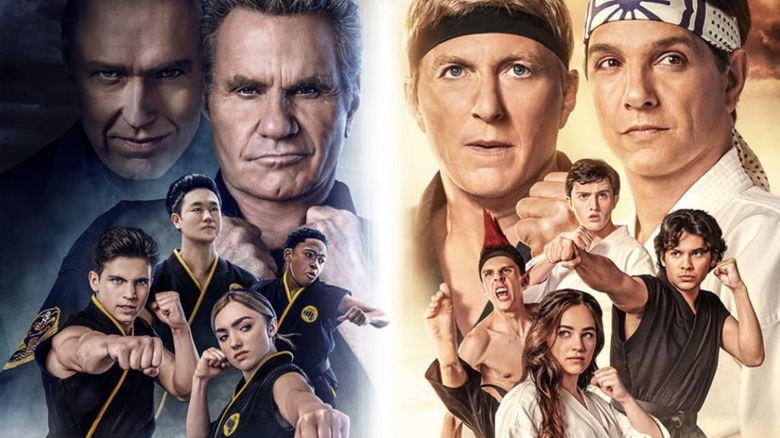 Netflix
Of course, you're in the corner of John Kreese and Terry Silver in season 4 as the power dynamic of Cobra Kai Dojo, Miyagi-Do, and Eagle Fang continues to shift. I think that's cool that you have characters like yours who are back and forth with different senseis. That has to be part of the fun — that your characters continue to grow and become more complex as the series rolls along.
Yeah. I've always talked about that, how lucky I've been with my character. Robby is one of very few who's gotten to interact with almost every character in the series, which is so cool because I get to act with everybody. You just get to have a lot of fun and it makes it more interesting, too, even going into the fighting and trying to figure out, "Okay, I have all these different styles. How do you go around and mesh them together? How do you come with your own style? What do you do as the character? What character choices are you making emotionally and physically?" So, it's actually a lot of fun.
Robby is the only character who faces this continual identity crisis and is trying to find a father figure. Johnny Lawrence and Daniel LaRusso have each taken their turns, and now you have Terry Silver in addition to John Kreese — and we all know that they're not the best of influences. So, that must be incredibly challenging to play — struggling with that sort of inner turmoil — but extremely satisfying at the same time.
It definitely is. I guess for me, character-wise, specifically coming up in Season 4, I guess Robby's experienced a lot of life in a short amount of time, and he's made some bad decisions. He's also made some good decisions. I think in this season, you're coming to the point where you have to decide which path he's going to go down, which one are you going to take, and where are we going to see it go. I think we do get that answer by the end of the season, and some people might be upset and some people might be happy. I don't know. We'll find out.
Buchanan prefers balance over straight-up good or bad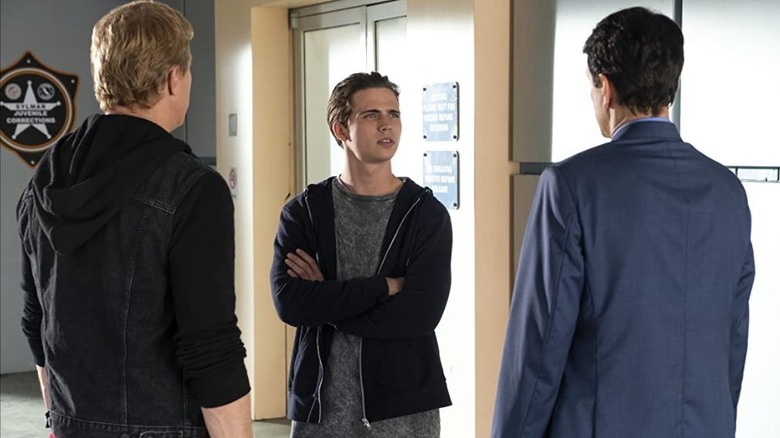 Netflix
You've had the opportunity to play the good guy and the bad guy or maybe it you would be considered more of a bad guy's apprentice under Kreese and Silver. Being on the side of the bad — at least as far as the series goes — must be more fun, right?
I think they're both equally as fun. What I mean by that is as much as you play a bad guy, sometimes you get stuck in it as an actor and you're like, "All I want to do right now is just be good. I want to make good decisions. I want to do something good so I can feel good." So, I actually think there has to be a good balance of it, which, thanks to our amazing creators and writers, they do a really good job of making sure everybody in the show has good moments and bad moments, and has that equal feel of, "Okay, this is good. Okay, I feel good about ... Oh, well, now I made that bad decision." So, I think you have to have a healthy balance of it.
Fun and games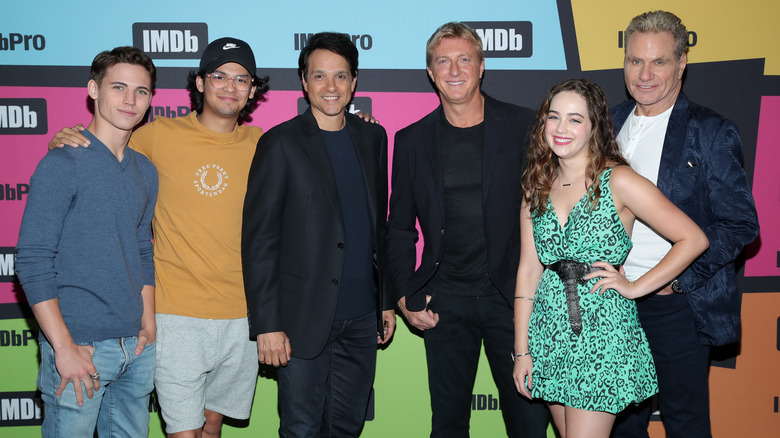 Rich Polk/Getty Images
The series has a lot of laughs and obviously there are actors like Martin Kove and Thomas Ian Griffith who have to be very serious, but it seems to me that these guys could actually be pretty funny. Is that the case?
Oh yes. I mean, I don't think there's not one person on our show that ... We goof off a lot. We like to have fun. Even in the most serious scenes you have some takes where we're just being silly and doing jokes. I keep saying Netflix needs to release — I can't imagine how many minutes of bloopers that we have. I've always wanted to see that because there's been a few blooper reels and they're like a couple minutes long, and I'm like, "You have no idea probably how many hours and hours of footage they have of everybody just being silly." So, we do have a lot of fun with that.
Well, I don't want to put you on the spot and say, "Okay, who's the funniest?" but I have to tell you William Zabka throughout the series — being the antihero, being the guy who is stuck in the '80s, and the guy who is clueless about today's society — he cracks me up every time.
Oh, yeah. I'd have to say Johnny has some of the best comic relief lines. It's just one of those things. Every time he's [in a] scene, you can't help but smile. And then I would actually say in the past seasons, the person who I think also is the funniest and he has a lot of fun, too, because he's just a funny guy in general and they let him riff, is Paul Walter Hauser. He plays Stingray, and anytime I've been there when they're shooting with him in the past seasons, he'll go on for minutes and every single take is completely different. He comes up with all this different stuff and it's hilarious. Obviously, the general public doesn't get to see it, but he's awesome.
From the mat to the dancing floor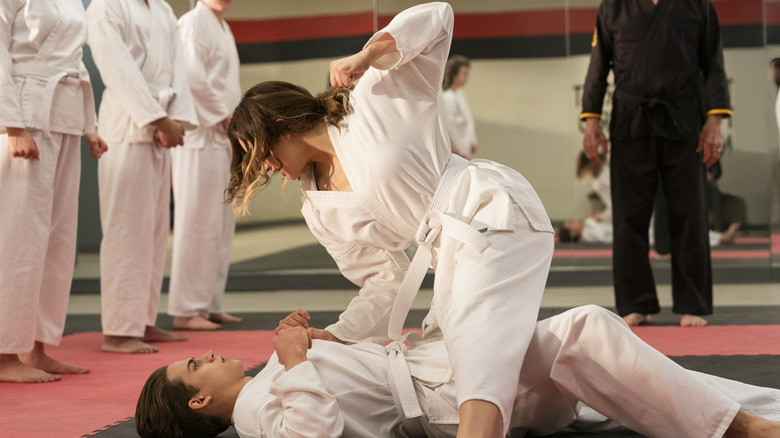 Netflix
I won't say when it happens in this season, but you do get to show off some dancing skills at one point. I'm wondering how similar is learning those expert dance skills compared to learning karate moves? To me it's both about rhythm, right? But it's obvious, too, that those both those sensibilities can come in handy at some point, can't they?
Yeah. So, I grew up a dancer and to be honest, it was going through every season. It is about rhythm and it's also learning choreography and truly anytime we have a fight, we always talk about it. You are fighting each other, but we always say it's a dance partner because you each have moves, you have to be able to read each other and feel that out, have that rhythm. So, it's extremely similar.
There's no question that "Cobra Kai" is a big part of your life, and because of that, perhaps the first "Karate Kid" or maybe the other two might be among your favorite movies of all time. Apart from those, do you have an all-time favorite that you think influenced you in a major sort of way?
Well, obviously growing up a dancer, the one that influenced me a lot to wanting to perform and kind of do all that was "Singin' in the Rain." I grew up in a small town in Ohio, so let's just put it this way, I was the only guy that danced and to this day I'm one of very few that have danced. So, with Gene Kelly, I was like, "Wow, he's a guy and he dances, and he's cool and he's performing." I thought, "I love this and that's what I want to do." So that was the big one for me.
Future goals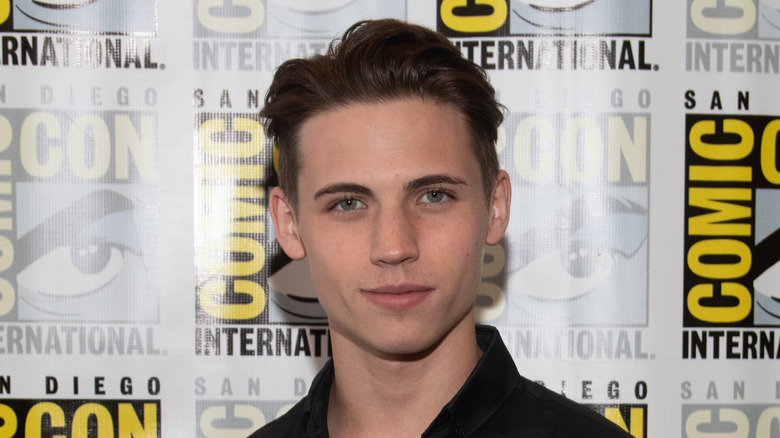 FlickDirect Inc/Shutterstock
I'm sure it would've been a dream to co-star with Gene Kelly. But what about stars of today? Is there anybody in particular you would want to work with? I mean, you got a lot of talented people you're working with now, but if you got your pick, are there any actors or maybe even directors that you'd love to work with?
Oh my goodness. That's like asking what your favorite movie is!
Or your favorite child. Yeah, I get it!
That's the thing. There are so many people you want to work with and so many talents, and people that you want to get out there and just have fun with, because that's what this is all about. That's why I do this. I'm lucky enough to say that I get to go to work and have fun every single day. But I guess I think I would love to work with Christian Bale, or even Charlize Theron or Evan Peters. I love Evan Peters. That's a few who comes to the top of my mind.
From Cobra Kai to the Batcave?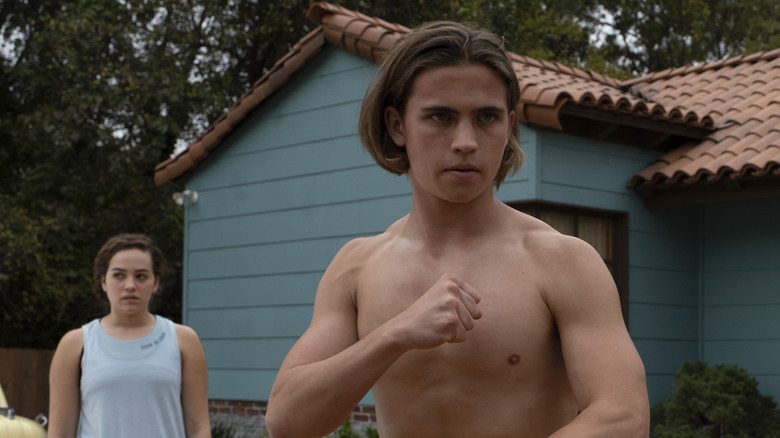 Netflix
With Christian and Evan, of course, we've seen those guys in the superhero realm before. Since you have skills in the martial arts, and even get to show off your abs in the series, it shows you're pretty physically fit. I think you're ready to go for a superhero role. If you were given the opportunity, if you had your choice, is there a particular character you'd like to take on in either a DC or a Marvel movie?
Well, I'm the biggest — I truly am — I'm a big nerd when it comes to superheroes. I love them all. I know what's going on at all times and I'm tracking everything at all times. I probably annoy my agents and staff too much, because I'm like, "Hey, what about this? Hey, what about this? Hey, can we check on this?" [Laughs] But I guess the most recent one that I've been saying — because another actor I absolutely love is Robert Pattinson — I want to play Robin to Rob Pattinson's Batman. That would be really cool to go and play and train. I'd love to go from playing Robin to playing Nightwing with his Escrima Sticks. So, I've been training for that now for a few months just to have in my back pocket, just in case they call and I say, "Hey, I can do that!"
"Cobra Kai" Season 4 begins streaming on Netflix December 31.
This interview was edited for length and clarity.