Thomas Ian Griffith Confirms What We Expected All Along About Terry Silver In Cobra Kai Season 4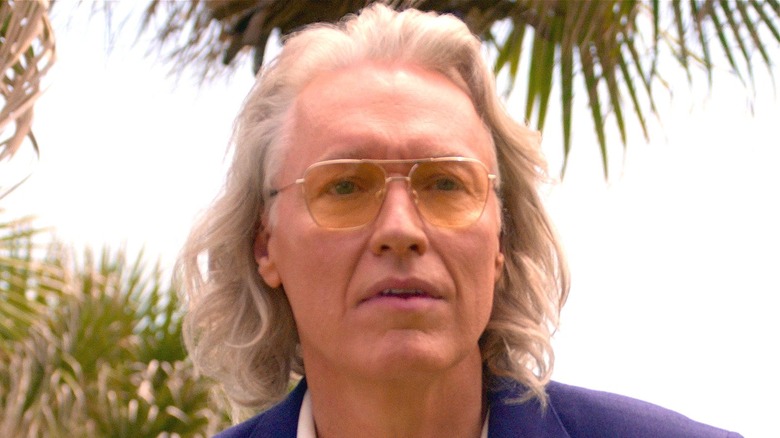 Netflix
Fueled by the enormous popularity of its first three chapters, "Cobra Kai" is about to strike again, with Season 4 premiering on Netflix on December 31. The series — which picked up nearly 35 years after the events of the first "Karate Kid" film — largely concentrates on the continuing rivalry of Daniel LaRusso (Ralph Macchio) and Johnny Lawrence (William Zabka), as well as the looming presence of the villainous sensei John Kreese (Martin Kove) and the late Mr. Miyagi (Pat Morita, seen in flashbacks). However, as the narrative unfolds, other pivotal characters from the original "Karate Kid" movie trilogy turn up, all while stories of Daniel and Johnny's new karate students develop.
As such, Season 3 of "Cobra Kai" marked the return of Elisabeth Shue, who played Ali Mills in the 1984 original; as well as Tamlyn Tomita, who played Daniel's love interest, Kumiko, in "The Karate Kid: Part II." The end of Season 3 also teased the return of Terry Silver (Thomas Ian Griffith), Kreese's fellow Vietnam War veteran who emerges as the villain of "The Karate Kid: Part III."
Much like the story of "The Karate Kid: Part III," "Cobra Kai" Season 4 concentrates on the events leading up to the All Valley Karate Tournament, where Daniel and Johnny — despite a shaky alliance — aim to defeat Kreese's Cobra Kai dojo. And like the third "Karate Kid," Kreese is relying on his old friend, Terry, to achieve dominance — but Griffith is promising a different look at the character he established. 
Thomas Ian Griffith was excited by the set-up of Terry Silver's return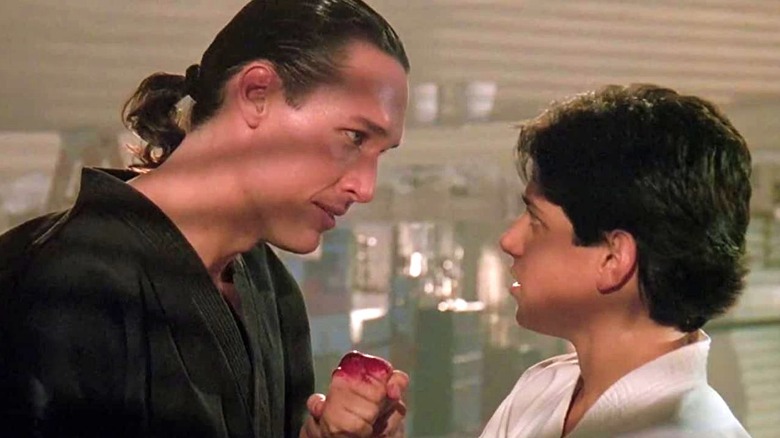 Sony Pictures
Discussing "Cobra Kai" Season 4 with Entertainment Weekly, Thomas Ian Griffith — who has mainly concentrated on screenwriting in the past decade (his credits include the hit fantasy series "Grimm" per IMDb) — said he was thrilled with the way the series' sprawling narrative led to his return.
"Well, the beauty is in Season 3 I thought they did such a great job setting up the backstory with the whole Vietnam thing," Griffith told EW. "Then they brought that into Season 4. All the questions I had about what that relationship would be about got answered. I think it's going to be a really nice surprise for the audience and fulfilling for them as well. Terry's been living a very full life, and he brings that to this "Cobra Kai" world — some of it will be for good, and some of it not so good. I think he's going to cause a little trouble."
Don't expect the same Terry Silver from The Karate Kid: Part III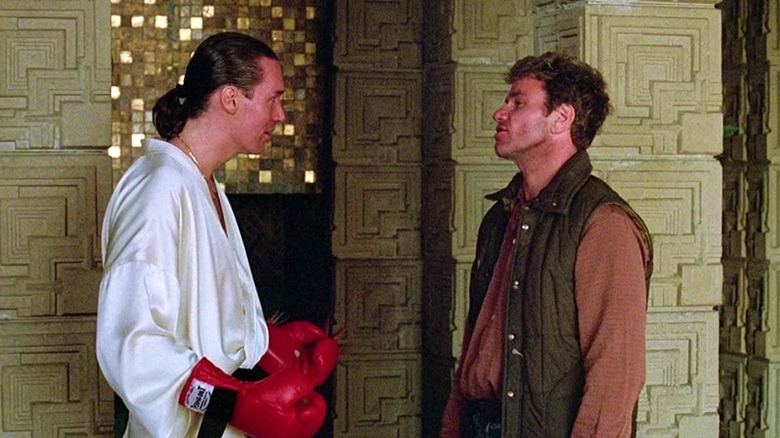 Sony Pictures
In "The Karate Kid: Part III," Thomas Ian Griffith played Terry as a frenetic, over-the-top toxic-waste business mogul who funds Kreese's ambitions to defeat Daniel in his bid to repeat his All Valley Karate Tournament title. However, Griffith teased that Terry is not quite the same person he was three decades years ago.
"I really have no interest in repeating anything," Griffith explained to Entertainment Weekly. "So how do we round out a guy like that? How do we get back to what made this guy tick? What drove him inside and what would make him come back into this world? The ['Cobra Kai'] creators had really thought that out. With ['Karate Kid Part III' director] John Avildsen, I'd be like, 'This is a little over the top.' And he was like, 'I want every little kid in America kicking you in the shins.' He just gave me free rein to run with it."
Despite a change in his temperament in "Cobra Kai," Griffith teased that part of Terry from "The Karate Kid: Part III" is still very much there.
"[Something] I think we've kept alive with Terry [on 'Cobra Kai'] is bringing back that glee he has," Griffith revealed to EW. "He actually enjoys this — he's this billionaire who will have all this going on and [still] go back to the small little world of a karate tournament in the Valley. It's so absurd that it's fantastic!"