Here's How That Huge Celebrity Cameo In Cobra Kai Season 4 Happened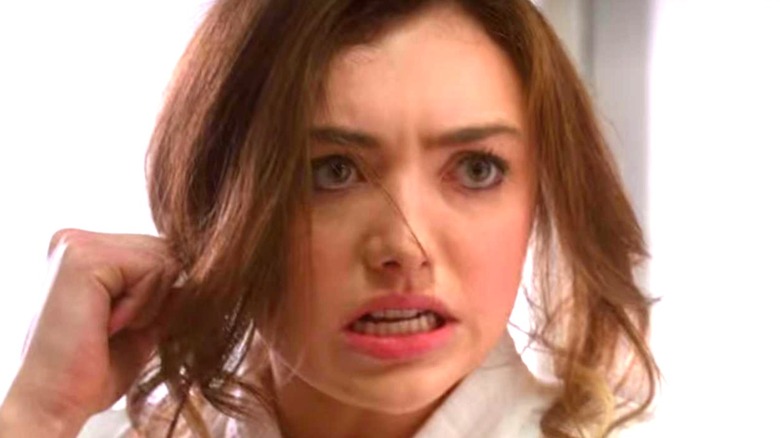 Netflix
Contains spoilers for "Cobra Kai" Season 4
Fans of "Cobra Kai" had extra reason to celebrate this past New Year's Eve as the show's hotly-anticipated fourth season dropped on Netflix on December 31. This latest installment dives deeper into the conflict between competing dojos Miyagi-Do, Eagle Fang, and the titular Cobra Kai. The stakes are especially high, as this season follows the lead-up to the all-important All-Valley Tournament. 
The All-Valley Tournament has been at the center of the "Karate Kid" universe since Daniel LaRusso (Ralph Macchio) first beat Johnny Lawrence (William Zabka) in the original "Karate Kid." In "Cobra Kai" Season 4, though, the creative team wanted the championship to reach new heights.
"We knew that we wanted this year's All Valley to be, like, the biggest All Valley ever," series co-creator Hayden Schlossberg told Entertainment Weekly. "We joked about the idea of there being that kind of Super Bowl halftime performer," he elaborated. Lucky for them, there's a former Super Bowl National Anthem performer who also just happens to be a huge fan of the show.
The one and only Carrie Underwood guest-stars as herself in the penultimate episode of "Cobra Kai's" fourth season. But just how did the Grammy-winning performer come to appear on the show? 
Carie Underwood's cameo started with a tweet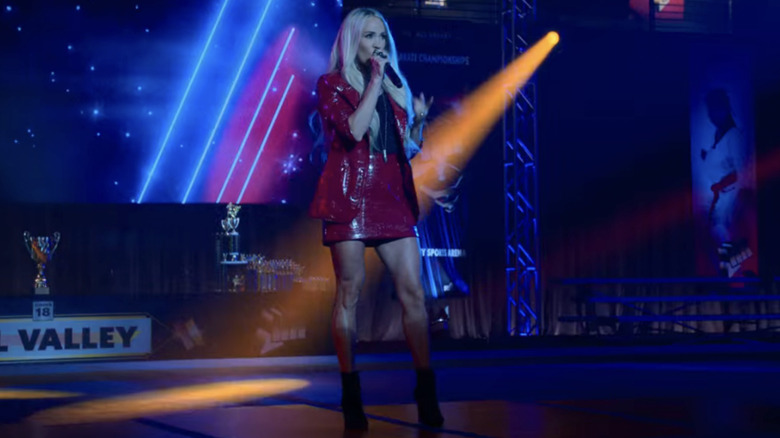 Netflix
In August 2020, Carrie Underwood took to Twitter to share her love for "Cobra Kai," and the show's crew were quick to reach out to her about making an appearance. Series co-creator Hayden Schlossberg told Entertainment Weekly, "Be careful what you tweet about 'Cobra Kai' if you're a celebrity ... because we immediately log it and think about the possibilities."
Luckily, it appears that Underwood was keen to get involved, and that all the scheduling worked out. The singer appears as herself at the All-Valley tournament in Episode 9. She even performs one of the "Karate Kid" franchise's signature tunes: "The Moment of Truth," first released by rock group Survivor for the "Karate Kid" soundtrack in 1984. Speaking about the song choice, Schlossberg said, "A lot of people have asked us about 'You're the Best' and are we going to use that? We felt that if we just did that song, it would just be a copycat of what the movie was ... We love this song 'The Moment of Truth.' It's a little bit less known, and yet it still has that same 1980s sports-rock anthem vibe ..."
"Cobra Kai" Season 4 is incredible on its own, and Underwood's surprise cameo only adds to an already amazing season of television.