Tanner Buchanan Reveals The Funniest Actors From The Cast Of Cobra Kai - Exclusive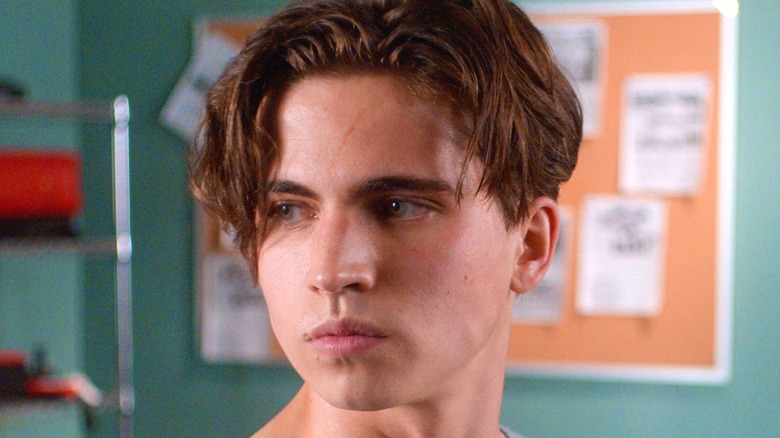 Netflix
Without question, one of the biggest surprises for fans of '80s nostalgia in the past few years has been the Netflix streaming smash "Cobra Kai," an inventive spinoff of "The Karate Kid" trilogy that began in 1984. The series has nailed the tone of the original films with its thrilling sports drama and poignant look at the importance of family, friends, and mentorships, and it's actually upped the ante with several moments of humor.
Set more than 35 years after the original "Karate Kid" story, "Cobra Kai" concentrates on the ongoing rivalry between Daniel LaRusso (Ralph Macchio) and Johnny Lawrence (William Zabka), each of whose lives drastically changed in the wake of Daniel's victory over Johnny in the All Valley Karate Tournament decades earlier. Daniel has grown to be a family man and successful car dealer, while Johnny's life has been beset with failures, including a broken marriage and estrangement from his teen son, Robby Keene (Tanner Buchanan).
As one of the main breakout stars of "Cobra Kai," Buchanan has had the good fortune to act opposite several actors in the series. As such, Buchanan has had a front row seat to some of the show's funniest moments, including some in the newly released Season 4.
Tanner Buchanan says William Zabka, Paul Walter Hauser have provided the biggest laughs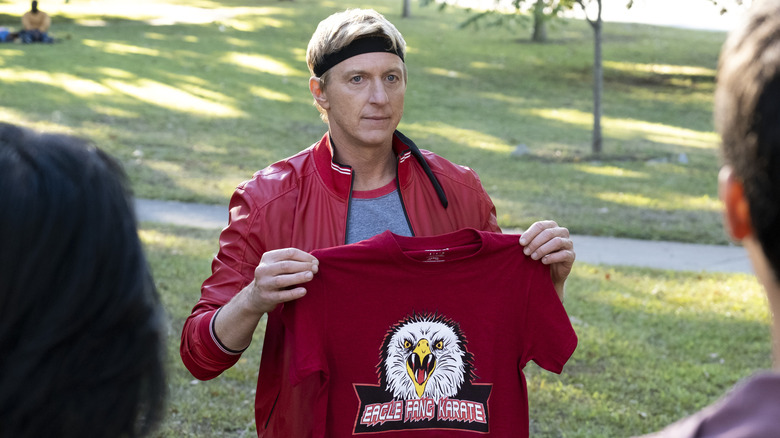 Netflix
Perhaps one of the biggest takeaways from "Cobra Kai" is how funny Zabka can be. Johnny was nothing but serious as a teen in "The Karate Kid," but as a middle-aged man stuck in the 1980s who tells everything like it is, his blunt observations are laugh-out-loud funny.
"I'd have to say Johnny has some of the best comic relief lines. It's just one of those things. Every time he's on scene, you can't help but smile," Buchanan told Looper in an exclusive interview.
A cast member on "Cobra Kai" since the series began in 2018, Buchanan pointed out that Zabka wasn't the only series star who has left him in stitches over the years.
"I would actually say in the past seasons, the person who I think also is the funniest and he has a lot of fun, too, because he's just a funny guy in general and they let him riff, is Paul Walter Hauser," Buchanan shared with Looper. "He plays Stingray, and anytime I've been there when they're shooting with him in the past seasons, he'll go on for minutes and every single take is completely different. He comes up with all this different stuff and it's hilarious. Obviously, the general public doesn't get to see it, but he's awesome."
Season 4 of "Cobra Kai" is now streaming exclusively on Netflix.