Cruella Stars Joel Fry And Paul Walter Hauser Talk Their Bond With Emma Stone - Exclusive Interview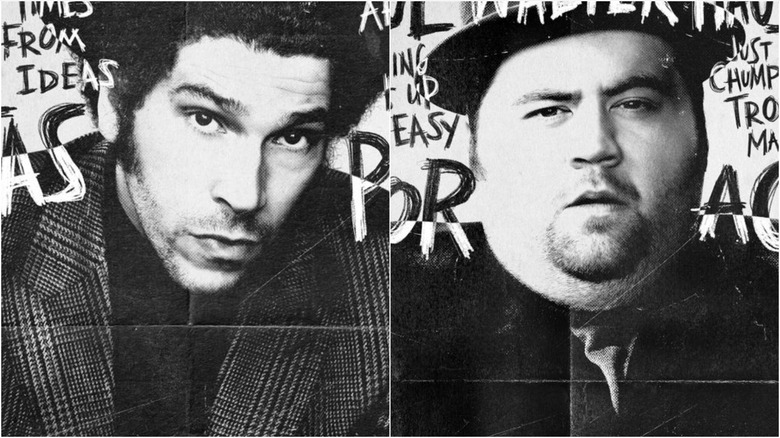 Disney
Only a handful of key characters from the Disney animated and live-action versions of "101 Dalmatians" turn up in the Cruella de Vil origin story "Cruella," and Joel Fry and Paul Walter Hauser are thrilled to be playing two of them.
While "Cruella" largely examines the story of Cruella from her humble beginnings as a street orphan as named Estella, it also keys in on the early days of Jasper and Horace, who at a young age bond with the peculiar black-and-white-haired girl. Joining her new friends who have expertly mastered the art of grifting while growing up, Estella (Emma Stone) still dreams of becoming a fashion designer, and thanks to the help of Jasper (Fry) and Horace (Hauser), gains employment at the posh Liberty London department store.
It's at Liberty's where Estella fatefully encounters 1970s fashion legend Baroness von Hellman (Emma Thompson), who harbors a dark secret about the budding fashion designer's past. When that information comes to light, Estella becomes intent on destroying the Baroness' fashion empire, and thus transforms into her villainous alter ego Cruella de Vil.
With nearly 100 screen credits between them, Fry and Hauser bring a wealth of experience to the key roles of Jasper and Horace in "Cruella." Fry previously entertained audiences in such films as the Beatles-themed music fantasy "Yesterday," and on TV he guest-starred on the smash fantasy series "Game of Thrones." Hauser is also a veteran of film and television, having starred in "Cruella" director Craig Gillespie's dark comedy drama "I, Tonya" as well Spike Lee's dramas "BlacKkKlansman" and "Da 5 Bloods." He also played the title role in Clint Eastwood's true-life tale "Richard Jewell." Hauser has also appeared on television, guest-starring on "Cobra Kai" in a comic relief role as Raymond, a karate student who later renames himself "Stingray."
In an exclusive interview with Looper, Fry and Hauser discuss their work with Stone and Thompson, the familial bond they formed with Stone, and more. "Cruella" opens in theaters and debuts on Disney+ with Premier Access on May 28.
Living up the expectations created by the Dalmatians movies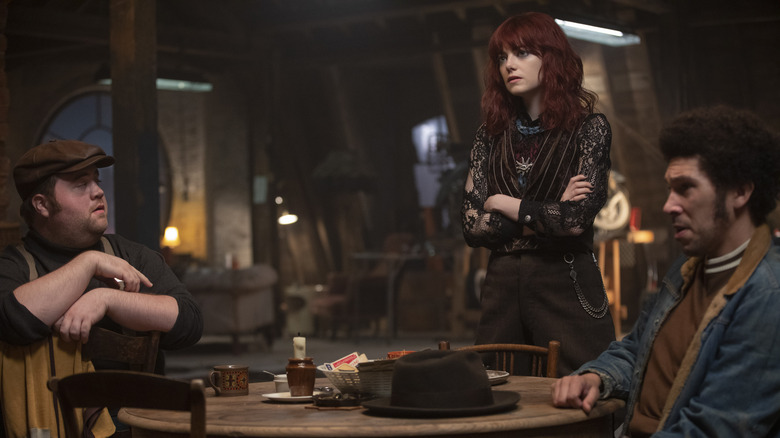 Disney
Good to see you, Joel and Paul, and thanks for taking the time to talk about "Cruella." It's interesting. The film is largely this origin story of Cruella de Vil, and I think fans are going to want to compare it to that animated and live-action versions of "101 Dalmatians," which of course included the characters of Jasper and Horace. This is a question for both of you: How heavily do those sorts of expectations weigh on you when you're working on a film like this?
Paul Walter Hauser: I don't think it really weighs that much. I think if you trust your team and you believe in the people around you, it breeds a lot of trust and enthusiasm rather than that sort of overwhelming, daunting nature of accomplishing this great feat. So for me, the pressure wasn't as much on Joel and I as it probably was for Emma Stone. I think she had a lot of heavy lifting and a lot of carrying of this big production, but I think she did it masterfully, you know?
When you have a script that comes together as wonderfully as this one does, it certainly must make it a lot easier.
Joel Fry: Yeah, man, for sure. But also, the people, I think, make it the easiest, because it's the people you're working with, and the atmosphere the director sets, and the lead actors, and they're all great, man. I couldn't think of anything particularly bad to say about him. Not that you would in this scenario anyway, but the people who I worked with were great, and that makes everything so much easier. And they're so talented — not just the actors, everyone.
Looking for a troublemaker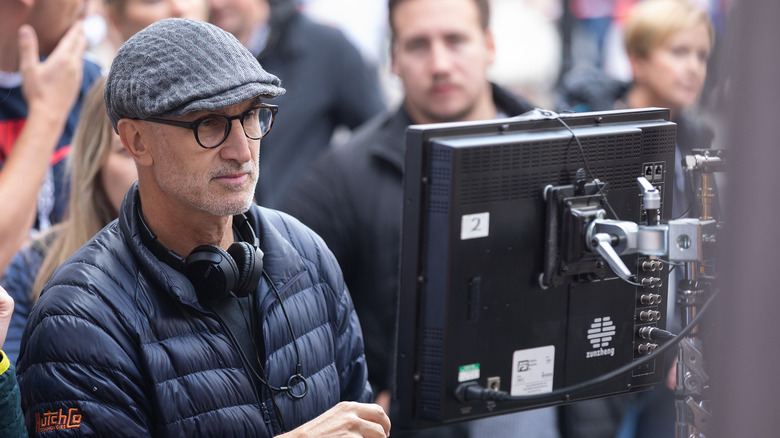 Disney
Thinking about your role in "I, Tonya" and now with "Cruella," it must feel good when Craig Gillespie looks at you and thinks, "You know, we need a troublemaker for this role ... I think we should call Paul!"
Paul: It's a fun phone call to get. It's also awkward when someone uses you twice in a row, which happened with Spike Lee and Craig, where now, like when they go to make their third or fourth thing, it's like that sad, pathetic thing where you're like, "Maybe they'll call, or maybe they're just really busy and they haven't called yet." You know, it's a sad, pathetic actor thing, but it's super cool. I love Craig. I would read the phone book or do a cereal commercial for Craig. He's a great boss and a great friend.
Joel, I really loved your character in "Yesterday," a road manager and roadie of sorts for Himesh Patel. But with "Cruella," you get to do a little bit of guitar jamming yourself, which I think is pretty cool. Now I'm certain Craig cast you because you're a terrific actor — hopefully he saw you in "Yesterday" — but also being a guitar player doesn't hurt in this instance.
Joel: I don't know if that was even in the mix at that point, man, I think that came after. I can't really remember, but I feel like I must've told that to Craig. And he was like, "Yeah, get a guitar. We'll get a guitar." I don't remember that being in the script. I think actually that came after through just kind of conversations, which is how a lot of this film happened — and that's why it was so good, too. That's why Craig's so good, I think, to be honest, because it's kind of evolving. Things are constantly evolving and changing, but playing the guitar was good. I'm glad it ended up in there.
Witnessing Emma Stone's transformation from Estella to Cruella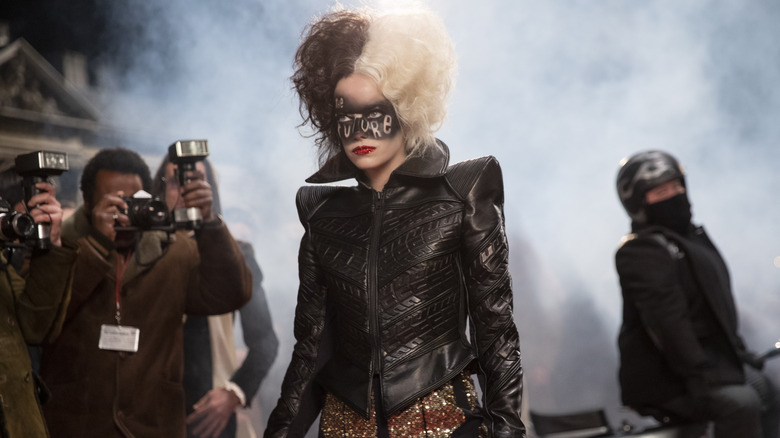 Disney
Joel and Paul, what surprised you most about working with Emma Stone — and how dazzled were you by Emma Thompson? She really does make evil look fun in this movie.
Paul: The Emmas are incredible. I had worked with Emma Thompson previously on "Late Night," a movie she and I did together, and I got to see her firsthand, making people laugh and also making people cry. I think people that can do comedy and drama make the best villains, because they know how to kind of play all angles. I think of Allison Janney in "I, Tonya" or Steve Carell in "Foxcatcher," or even Forest Whitaker has such a gentle, artistic, soulful spirit, but his best role is probably playing Idi Amin and being terrifying in "The Last King of Scotland." So I think Emma Thompson is perfect for this villain role with that duality, and I think Emma Stone also has to embody some of that as she transitions from Estella to Cruella.
Joel, what I love about Jasper and Horace is that they are very loyal friends to Estella, but we see Estella transform into Cruella, and there's some change. Clearly, both of you are taken aback and you must react to that, and by reacting, it really gives your characters much more depth.
Joel: Yeah, for sure. I mean, that's, there's a portion of the film, like a family angle to the film, a thread through it. In fact, there is all the way through it a family kind of thread, actually thinking about it, and that kind of losing someone you kind of considered to be part of your family, essentially kind of losing their mind and losing themselves. We tried to kind of pull that back and ground it.
High fashion follies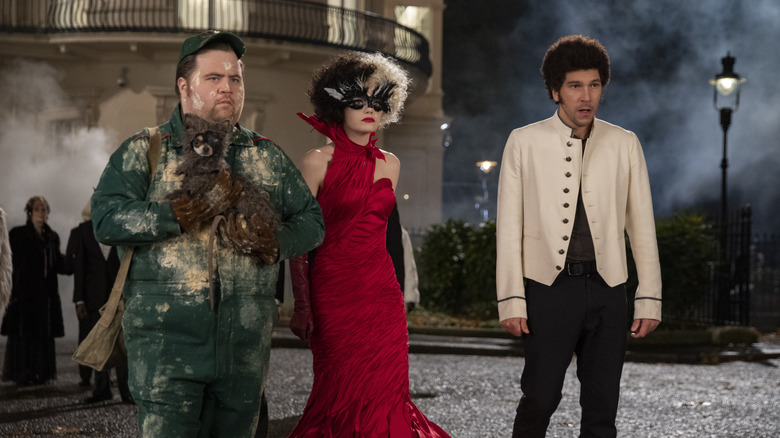 Disney
Now, Paul, I'm not going to reveal to viewers just exactly how you appear and when, but let's say you get to experience a little bit of high fashion at one point in the film. Getting into costume, that can be an elaborate process. Did you find yourself sitting in a chair, taking in all the time it takes ?
Paul: Well said. It took about 90 minutes to get that look together — almost two hours. And I was, it was pretty exhausting, man. It was pretty tiring, but I'm glad it worked onscreen. When I saw it when I watched the movie, I got a chuckle and thought it really worked. And there was another way we were going to go about that scene where I was going to wear a suit of armor at one point, and we shot a long version of it. And then Craig had this idea and said, "Oh, let's try this other thing. It's a little more related to the actual story in the movie itself." And I think it works really well.
Life's a beach to Joel Fry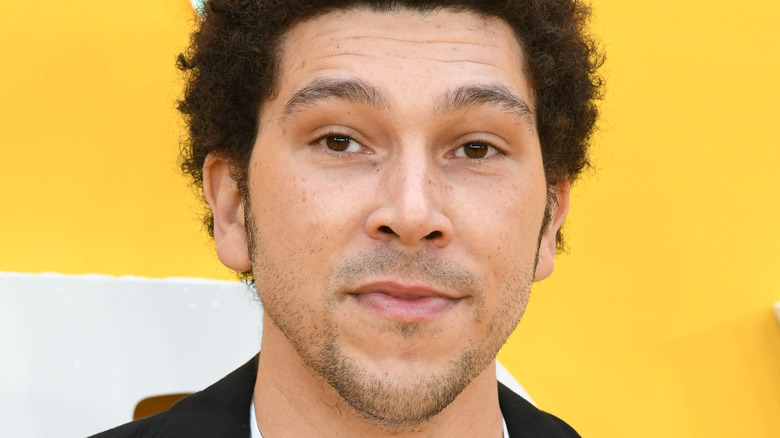 Shutterstock
Joel, you've had a lot of wonderful opportunities in your career, as has Paul, and obviously "Game of Thrones" is a part of your resume. If you had your pick of being in another franchise, fantasy or superhero, what would it be and why?
Joel: I'd like to make my own kind of franchise, which is a kind of one take. I'm on a beach. People kind of bring me food and drink, and then I kind of go win a little bit, and I kind of come back, and there's three — maybe six films of this, actually. Not sure what I'd call it, but —
No "Star Wars" or anything, then, just the beach?
Joel: Well, it could be on another planet, but there's a beach, with food and drink. And I just kind of sit there and there's just one take. There's no movement, I just sit there, and that's it, man. That's my franchise.
"A Day on the Beach with Joel Fry."
Joel: There you go, that's the title. That's the title.
Paul Walter Hauser is always looking for the best direction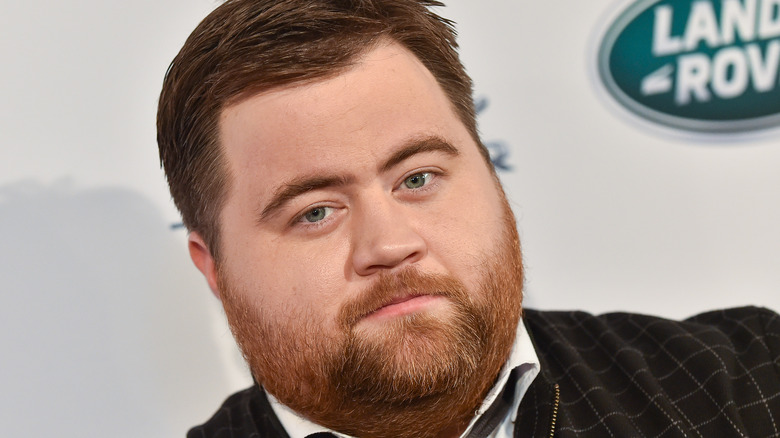 Shutterstock
I don't know about you, Paul. I think you've already played a superhero by bringing to light the plight of Richard Jewell. What did you take away from that film? Working with somebody like Clint Eastwood. I mean, you've had your share of great directors to work with, obviously with Craig and Spike, but now Clint Eastwood. You can't ask for anything more.
Paul: Yeah, but I do, though! I'm still asking for Paul Thomas Anderson and Adam McKay, and Steven Soderbergh and Richard Linklater. But I love working with good directors. That's the game. If you can get the movie from a director we all trust and know they're going to tell a great story, it's reassuring and it's exciting, and it's creatively satiating for sure. Clint Eastwood — my big takeaway from that is Clint really trusts himself and works off instinct. And I'm trying to get better at that. I'm trying to not overthink things so much and kind of learn to love and trust myself as an actor, and not put so much pressure on everything.
Also starring Kirby Howell-Baptiste, John McCrea and Mark Strong, "Cruella" opens in theaters and begins streaming on Disney+ with Premier Access on Friday, May 28.