Betty White's Best Onscreen Performances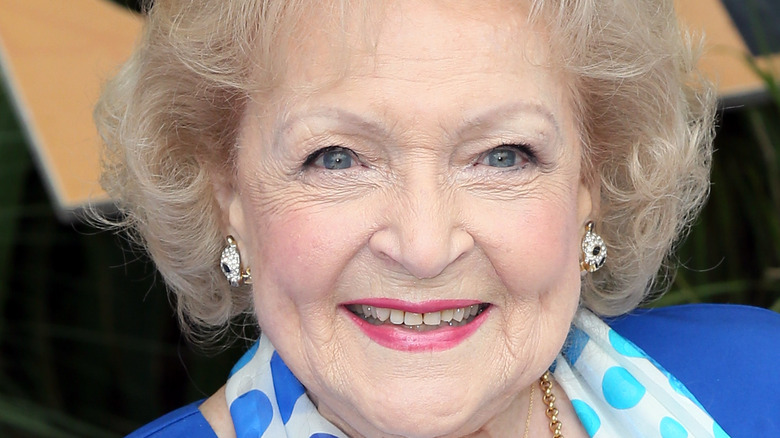 David Livingston/Getty Images
Betty White has captured our hearts as an actress, comedian, and personality for many decades. The golden girl was born in 1922, started working in radio after graduating high school, and landed her first TV gig in 1939. She would spend the next 80 years cementing her place as a film and television icon. 
Originally from Illinois, White's family moved to California when she was a baby. They often visited the Sierra Nevada, which inspired her lifelong love of animals and wildlife, and inspired her to become a forest ranger. Since they didn't allow women to become forest rangers back then, the entertainment biz it was — but don't worry, she was made an honorary forest ranger in 2010.
It's a good thing, because White has over 120 film and TV credits to her name. She was the first woman to produce a sitcom, taking control behind the camera before even Lucille Ball. She was the first woman (in 1983) to win a Daytime Emmy for outstanding host of a game show (for "Just Men!").
PBS dubbed her the "First Lady of Television," saying White was "the first woman to produce a national TV show; the first woman to star in a sitcom; and the first woman to receive an Emmy nomination. In fact, she was quite possibly the first woman to ever appear on television, given her performance on an experimental broadcast in the 1930s."
With such an extensive resume, it's hard to pick out her best work. But in her honor, here's a passionate attempt punctuated by a smile.
"The Mary Tyler Moore Show" (1973-1977)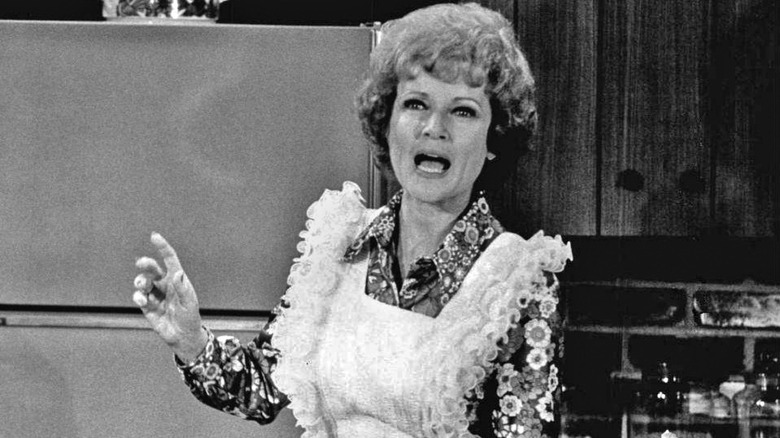 CBS
Although Betty White had been on television for a quarter-century by the early '70s, many consider her role on "The Mary Tyler Moore Show" to be her breakout. The series, which revolved around Mary Richards (Moore) — a young unmarried woman focused on her career in the big city — was a huge hit and a feminist turning point, arriving as the women's movements of the 1970s were taking shape and women all over the country were bucking trends and yearning for more.
White shined as Sue Ann Nivens, the antithesis of Mary. Sue Ann was the host of a show within the show called "The Happy Homemaker," where she pretended to be a constantly perky, sweet, happy housewife who cooked, cleaned and served her husband. But behind the scenes, Sue Ann was foul-mouthed, competitive, and man-hungry.
Discussing the role that made her a household name, White said in 2010: "I loved Sue Ann. She was so rotten. The neighborhood nymphomaniac." Sue Ann was meant to be a single episode guest appearance, but White ended up staying with the show for 46 episodes and too many classic TV moments to count.
"Toy Story 4" (2019)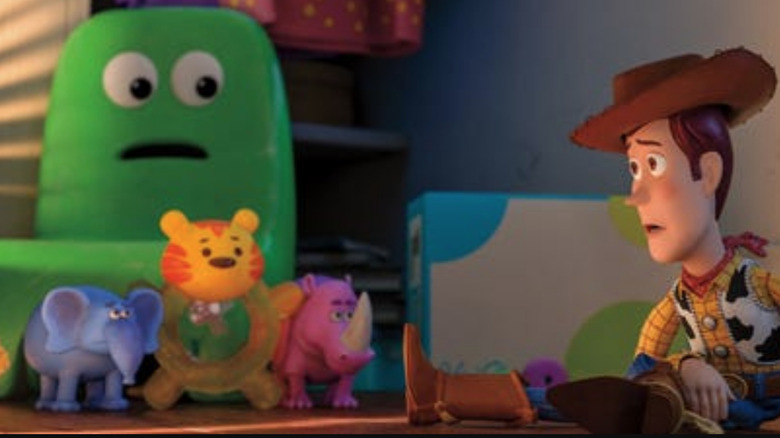 Disney/Pixar
Let's face it: It was going to be hard for Disney to top the excellence that was "Toy Story 3." The third film in the series found Andy all grown up and headed off to college. The toys experienced existential crises, faced obsolescence and danger, and finally found a new owner in the adorable Bonnie. That film was an emotional roller coaster of nostalgia, tears, and yearning; a fitting way to end the series. But then "Toy Story 4" came along in 2019. The fourth film was a fine little adventure with Bonnie, though it didn't pack the emotional heft of "Toy Story 3." The best part was the addition of new characters such as the spork Forky, voiced by Tony Hale.
Betty White voiced another new character, a tiger teething toy named Bitey White. One of Bonnie's baby toys left behind, Bitey was joined by other iconic actors with decades-long careers, including Mel Brooks as Melephant Brooks, Carol Burnett as a chair named Chairol Burnett, and Carl Reiner as Carl Reineroceros. Either Bonnie watched a lot of old TV shows, or one of her parents definitely helped with those names.
"Mama's Family" (1983-1986)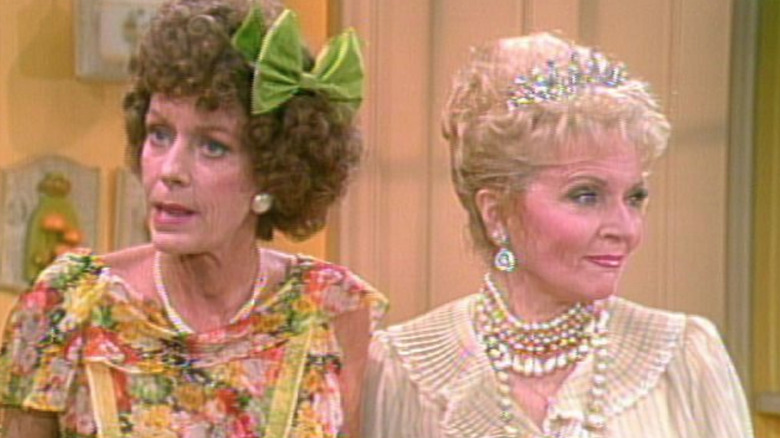 NBC
"Mama's Family" was a sitcom starring Vicki Lawrence as a woman named Thelma Harper, AKA "Mama." The series was a spinoff of a sketch called "The Family" featured on "The Carol Burnett Show" and "Carol Burnett and Company." 
True comfort food, the series began in 1983 and followed Mama (a 65-year-old wise cracking, gray-haired widow) and her family in a southern suburb. In some ways, she was Madea about twenty years before Tyler Perry put on a dress. The series was a bit of a hit or miss and was abruptly cancelled in 1984 — but it then became a trailblazer of first-run syndication, rising again in 1986 and becoming an afternoon staple on local channels nationwide.
White was a recurring character during the show's sketch beginning, as well as its first incarnation. She played Mama's eldest daughter Mary Ellen Harper, the snobby one of the bunch, who always thought herself too good for the Harpers' podunk attitudes and rural influences. Married to an unseen character named Bruce Jackson, Mary Ellen had two unseen daughters named Mary Beth and Debbie. 
Though White has often played dimwitted characters during her career, Mary Ellen was a smart, posh socialite. The "favorite" of Thelma's daughters, her conflict with her Mama stemmed from their major differences in lifestyle, attitude, and outlook. White's natural sweetness here was turned high society and a bit uppity, showcasing her range.
"The Betty White Show" (1977-1978)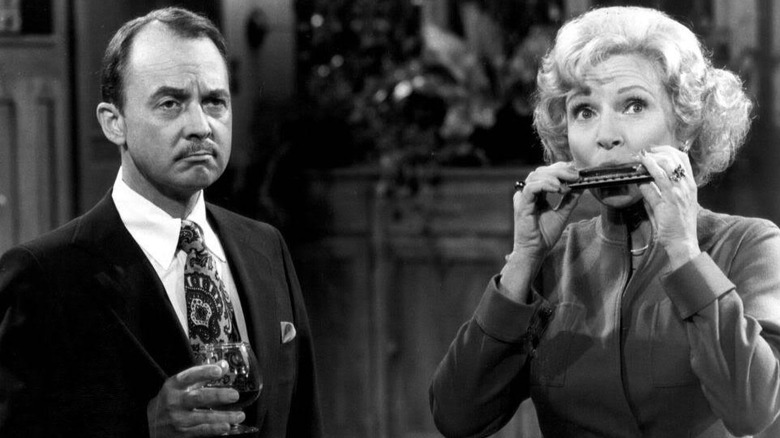 CBS
Betty White actually had multiple shows named  for her; the first was a radio show she had in the 1940s. The first television version of "The Betty White Show," however, ran from February through December in 1954, with the format of a daytime talk/variety show. Before the word "reboot" was invented, that show gave rise to one in 1958, this time airing in primetime and running for another 14 episodes. 
But White had significant career momentum in 1977, coming of the beloved "Mary Tyler Moore Show," when she did another "Betty White Show," only this time a sitcom.
"The Betty White show" ran on CBS for one season, starring White as a woman named Joyce Whitman. Joyce was an actress who had landed the lead role in a police drama, only to learn that the director of the show was to be her ex-husband. Co-starring John Hillerman ("Magnum, P.I.") and Georgia Engel ("Everybody Loves Raymond"), the series struggled to find an audience, outgunned on rival networks by football and Monday night movies — but it did remind audiences of White's ability to lead a series, something she had been doing off and on for about 25 years at that point.
"Bones" (2015-2017)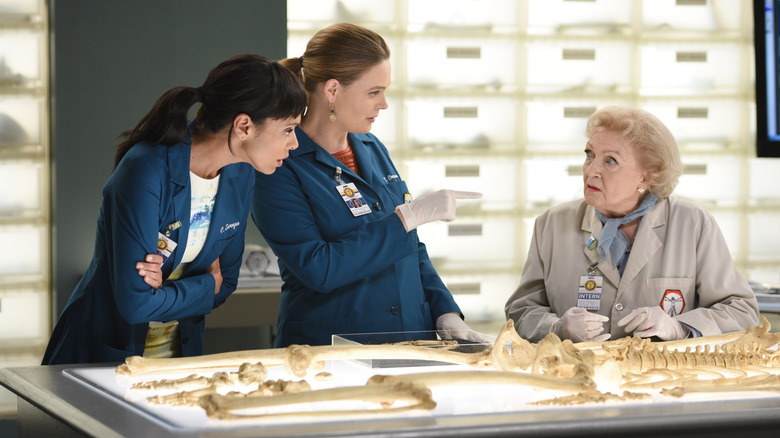 FOX
A popular crime procedural with elements of drama and light comedy, "Bones" starred Emily Deschanel and David Boreanez and ran on FOX from 2005 to 2017. It was loosely based on the life of a forensic anthropologist who turned her experiences into fictional novels — but no book could come up with a character quite like White created in a pair of memorable performances.
White only got to guest star in two episodes of "Bones," but her appearance was memorable — as elderly forensic anthropologist Dr. Beth Mayer, she was charming, witty, and had a story for just about everything. 
Dr. Mayer had been married six times, and often spoke of her former relationships and sexual experiences. When figuring out that another character had erectile dysfunction, for example, she commented that she'd seen a lot of that at her age. Dr. Mayer made an appearance in Season 11 of "Bones," then returned for a second cameo in the show's 12th and final season. While her contribution to "Bones" may have been small, Betty White ranks among the most memorable guest stars the series ever had.
"Lake Placid" (1999)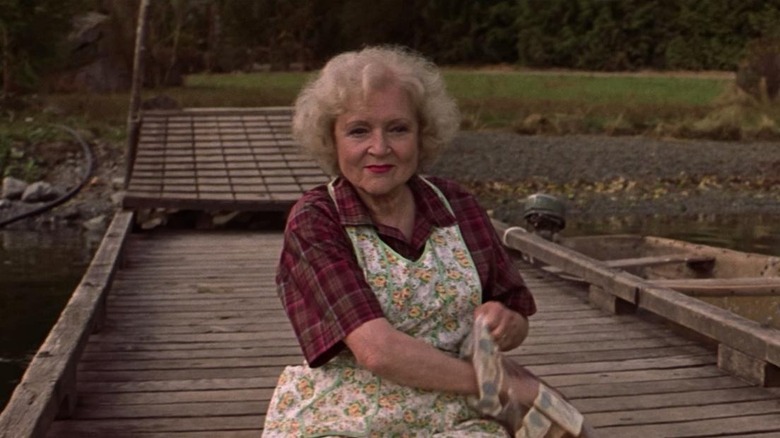 20th Century Fox
If you ever wanted to hear Betty White swear so much it will make you blush, you need to track down the 1999 cult flick "Lake Placid." The silly-yet-satisfying horror movie about a giant killer crocodile living in a lake put White in a supporting role alongside a solid cast that included Bill Pullman, Bridget Fonda, Oliver Platt, Brendan Gleeson, Meredith Salenger, and Mariska Hargitay.
White played an old woman named Delores Bickerman who lived by the lake. After various characters began investigating the mysterious deaths that had occurred on the water, they were shocked to discover Delores on the lake shore, feeding a blindfolded dairy cow to the giant croc. Apparently, years before, the croc had followed her husband home and killed him. Delores, nonetheless, had taken on the grandmotherly role of caring for the monster.
White's character provided memorable, needed comedic relief for the monster movie, as her innocent demeanor and comic timing made for some classic comments amidst the carnage. On a more transparent level, watching the film now it is apparent that White fully understood how silly the movie was, and as all the other characters play their parts with fear in their eyes, she gets to lighten the mood — and drop some memorable four-letter words.
"The Proposal" (2009)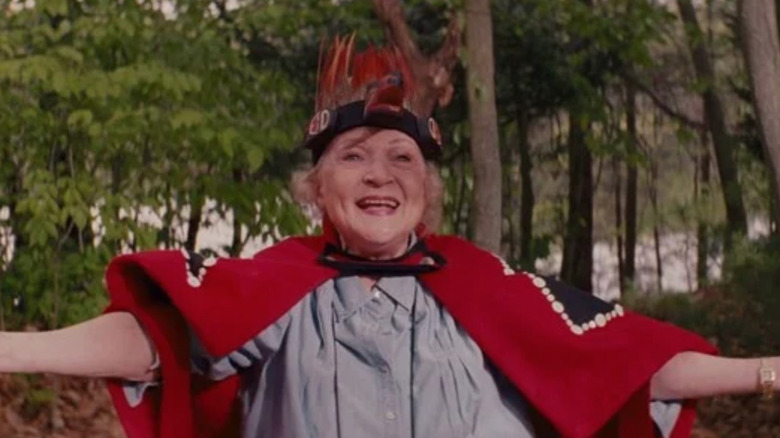 Disney
Strangely enough, for many years it was "The Proposal" that ranked as Ryan Reynolds' most financially-successful film. The 2009 romantic comedy starred Sandra Bullock and Reynolds in the story of a boss who forced an underling to pose as her soon-to-be-husband so she could maintain her U.S. visa status. When the duo ended up in Sitka, Alaska (the hometown of Reynolds' character), they were forced to sell the story to his eccentric, disbelieving family.
White played Andrew's grandmother Annie, who embraced Bullock's Margaret. Like so many of White's characters, she was sweet and mischievous —  and crowd-pleasing scenes had her  in the woods performing a native Alaskan ritual dance while dressed in traditional garb, or faking a heart attack to ensure that Andrew could get a helicopter and pursue the woman he was increasingly falling in love with for real. "The Proposal" became a rom-com success story, with White offering up a funny, heartfelt, scene-stealing performance.
"The Bold and the Beautiful" (2006-2009)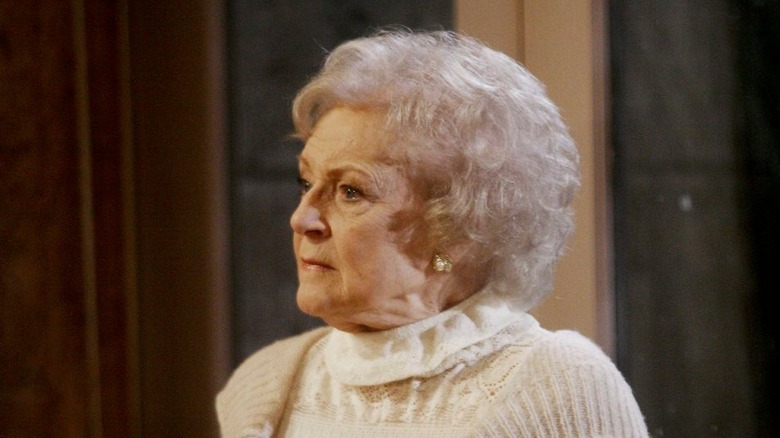 CBS
"The Bold and the Beautiful" is an American soap opera that began in 1987 on CBS. The series is 
Set in Los Angeles, "The Bold and the Beautiful" is a classic daytime soap detailing the wealthy Forrester family and their fashion business. Airing on CBS, it has all the soap trappings — love affairs, money dramas, family fights, long lost relatives, and the occasional guest star.
In 2006, with her career at a fever pitch of high profile guest appearance victory laps, White joined the cast of "Beautiful" as Ann Douglas, the mother of Stephanie Forrester and Pam Douglas. 
Ann was involved in such soapy lines as a shooting, child abuse, spousal abuse, and substance abuse before dying of pancreatic cancer — because what's a greater soap opera tribute for an actor than being given a death scene? In her tenure of 23 episodes, Betty White took her soap duties seriously, giving her fans a daily dose of daytime drama despite being in her mid-80s.
"Life with Elizabeth" (1953-1955)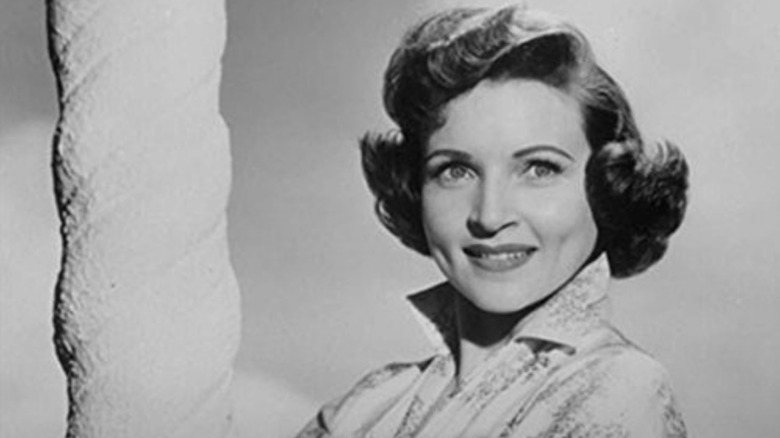 Guild FIlmi
Betty White's first sitcom, "Elizabeth" aired in syndication from 1953 to 1955. The show's unique hook was that it wasn't set up as a singular storyline, but instead each episode was split into three ten-minute segments focusing on a single story. Most plotlines revolved around a predicament involving White's Elizabeth and her husband Alvin (played by "The Nutty Professor" standout Del Moore). 
Velvety-voiced Jack Narz provided the running commentary of an omniscient narrator who would comment on their situations (which typically found Elizabeth being scolded for being a naughty housewife). Further breaking ground for the time, Elizabeth and Alvin would often break the fourth wall, asking the audience to participate in their home life and choose a side in their conflict.
Only White's third credit (and first with a character's name, rather than being listed as "girl"), "Life with Elizabeth" put Betty on the map during its two-year run. 
"Boston Legal" (2005-2008)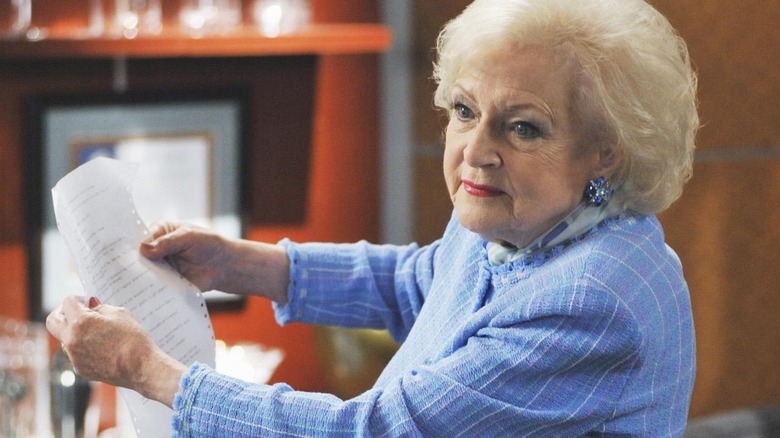 ABC
A spinoff of the David E. Kelley series "The Practice," this hit FOX series made a habit of giving juicy roles and renewed life to such Hollywood veterans as William Shatner, James Spader, and Candace Bergen — so of course, it was perfect for White. The legal comedy drama followed lawyers at Crane, Poole & Schmidt — a huge, national law firm with new, morally-conflictive cases each week. This allowed for a multitude of story lines, locations, and lawyers within the firm that would come and go.
White joined "Legal" in 2005, appearing in 16 episodes as Catherine Piper, a childhood neighbor of Spader's character Alan. 
When Alan was nine years old, he had put a flaming bag of dog poop on her doorstep; when Catherine reunited with Alan years later, she returned the prank. Other wacky plot points Catherine got herself into on "Boston Legal" included taking out a killer with a cast-iron skillet, robbing supermarkets, and blowing up her doctor. White's recurring character brought some serious fun to the show, and White milked her innocent, unsuspecting old lady persona to perfection in building the character.
"The Snickers Super Bowl commercial" (2010)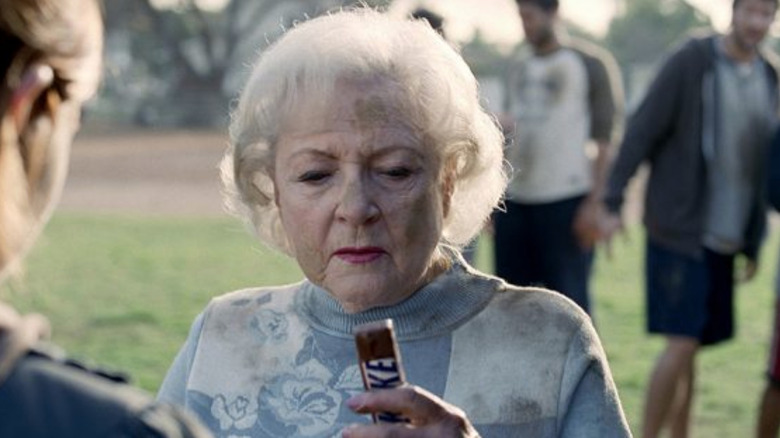 YouTube
Fresh off "The Bold and the Beautiful" and high-profile guest spots on "The Middle" and "Community," Betty White called an audible on the tens of millions who tuned in to the 2010 Super Bowl, appearing in a memorably hilarious Super Bowl commercial for a long-running Snickers campaign that plays off the weakness we all feel when we're hungry.
During a muddy game of football in the park, audiences saw Betty White as a part of the pack, going deep in a baby blue floral sweatsuit while trying to make herself open for a pass. But she moved like Betty White, and audiences couldn't help but gasp when she was laid out by the opposing team. 
When White's character was given a Snickers bar, she suddenly turns back into the guy she was supposed to be, who then returned to the game. In the spot's final sting, another sacked player is revealed to be Abe Vigoda. One of the big hits of that year's Big Game, White's Snickers ad was moved into regular rotation on broadcast TV, and helped engineer another career renaissance, one that led all the way to "SNL."
"Saturday Night Live" (2010)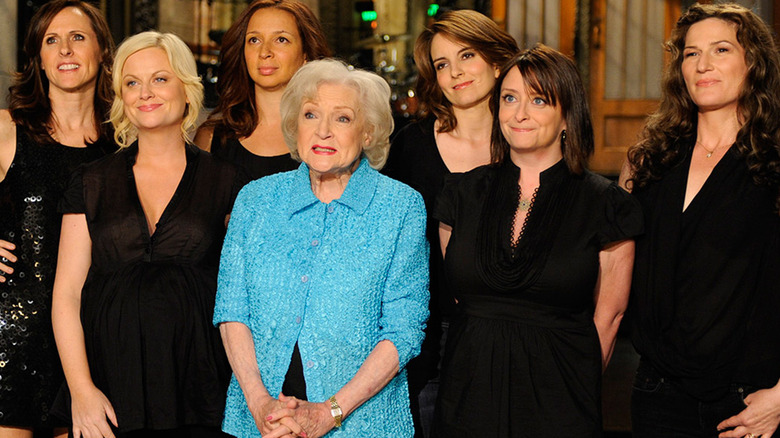 NBC
As a result of the Snickers Super Bowl ad, a fan started a Facebook campaign called "Betty White to host SNL (please)." The group reached 500,000 members, and eventually got the attention of no less than Lorne Michaels. 
White hosted the Mother's Day special on May 8, 2010. At 88 years old, the appearance put her in the history books as the oldest "Saturday Night Live" host ever. In her opening monologue, White quipped that she "didn't know what Facebook was, and now that I do know what it is, I have to say it sounds like a huge waste of time."
White's episode was a plethora of "I'm way too old to be up this late" jokes, as well as a parade of former cast members eager to appear with the TV legend. Tina Fey made an appearance on "Really?!" with Seth Meyers and Amy Poehler, and Maya Rudolph, Ana Gasteyer, Molly Shannon, and Rachel Dratch all showed up too to honor White's legacy as a groundbreaking female comedian. 
Perhaps the most memorable moment of the show was when White joined Shannon and Gasteyer's NPR food show parody "Delicious Dish," infamous for once bringing viewers Alec Baldwin's discussion of his Schweddy Balls, this time with White touting her "dusty muffin." Even at age 88, White's command of the live stage was evident, and the appearance turned a whole new generation of viewers into Betty White fans.
Hot in Cleveland (2010-2015)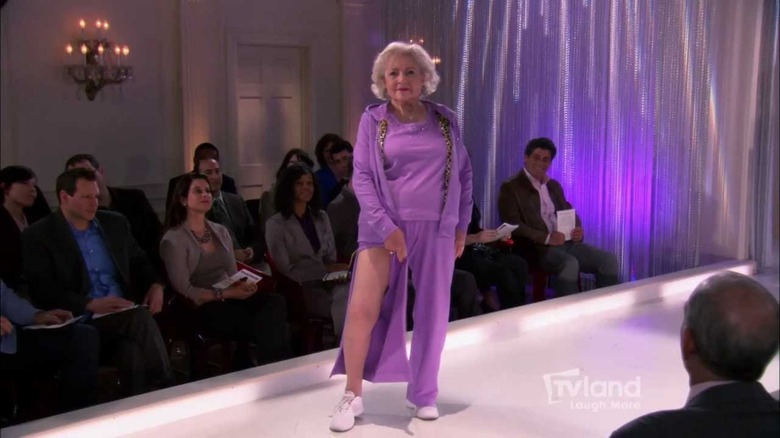 TV Land
Fresh off of her successful hosting of "Saturday Night Live," White landed a lead role in TV Land's first scripted comedy, "Hot in Cleveland." The story revolved around three women from Los Angeles: Divorced mom Melanie (Valerie Bertinelli), celebrity makeup artist Joy (Jane Leeves), and former famous actress Victoria (Wendie Malick). When the three were on a plane to Paris that got diverted to Cleveland, they were struck by the hospitality of the area. After considering the need to change their lives and make a clean break, the trio decided to stay put, renting a house from White's character, Elka Ostrovsky.
An elderly Polish woman who has seen some things in her life, Elka escaped from the Nazis, was married to someone in the mob, and yet at 88 years old (the same age as White was when the series began) she had an active sex life, enjoyed a good drink and even some weed now and then. White was originally scheduled to only appear in a single episode, but her performance and character were so well-received that she ended up joining the main cast and sticking around for all six seasons of the show's run.
"The Golden Girls" (1985-1992)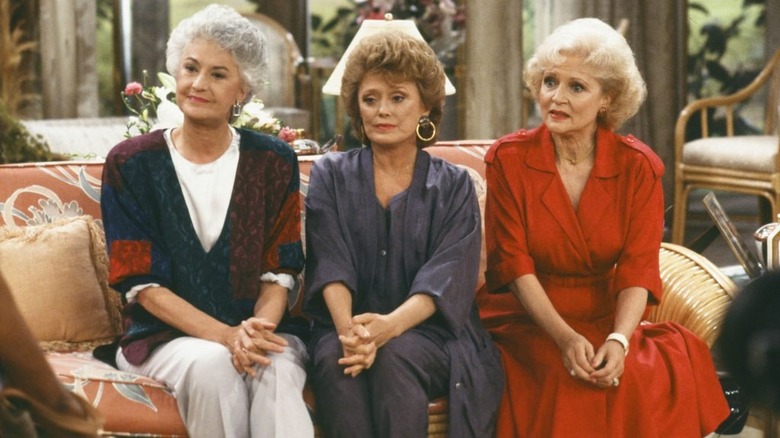 CBS
There's no denying that Betty White's absolute gold-standard role was that of Rose Nylund on "The Golden Girls." Of course, much of that had to do with the show's brilliant writing team, which included early work by such soon-to-be TV legends as Marc Cherry, Mitch Hurwitz alongside Emmy-winning folks like Kathy Speer, Terry Grossman, Mort Nathan and Barry Fanaro. But without White's deliriously deadpan delivery of Rose's simple-minded moments of naivete, the show most certainly never would've become the revered classic it did.
Taking place in Miami, "Girls" broke ground in following four older women in their golden years, living together in a single home. Alongside White was Bea Arthur's level-headed, cranky substitute teacher Dorothy, Rue McClanahan's man-crazy southern belle Blanche, and Estelle Getty as Dorothy's scene-stealing mother Sylvia.
Most of the jokes involving Rose had to do with her perceived lack of intelligence and small town perception of reality, but Rose was often the sweetest and kindest of the bunch. The character's simple way of seeing the world often gave the other women a perspective they didn't consider — particularly in their moments sitting around the kitchen table. White would return to play Rose again in the 1992-1993 well-intentioned but shakily-kneed spinoff "The Golden Palace."
"The Golden Girls" is a sitcom classic — and Betty White herself just seems to keep getting better with age.