The Iconic Spy Role That Burt Reynolds Regrets Passing On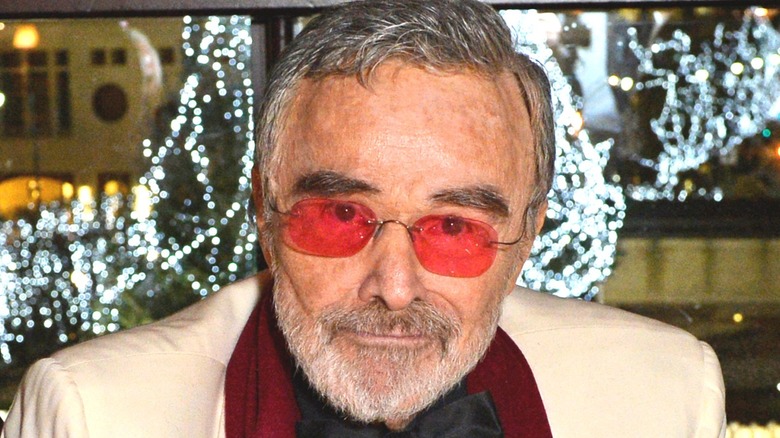 Noam Galai/Getty Images
Without a doubt, one of the most coveted roles in showbiz is James Bond — aka Agent 007 — the British superspy born of author Ian Fleming's legendary novels. He's only been played by six actors in 25 movies since his official big-screen debut, beginning, of course, with Sean Connery in "Dr. No" in 1962. When Connery quit the franchise for the first time, he was replaced for one film by George Lazenby. Then, after the Scottish actor's official retirement from the role, Roger Moore assumed the mantle of 007, followed by Timothy Dalton, Pierce Brosnan, and Daniel Craig.
Following Craig's Bond swan song in 2021's "No Time to Die," British production company Eon Productions is facing the unenviable task of replacing the beloved Bond actor, a tradition that dates back to the late 1960's when Connery left Bond behind after his fifth film as 007, "You Only Live Twice." As the story goes, Connery did get a second life as Bond when he returned to the role in 1971's "Diamonds are Forever," after Lazenby's brief stint as the famed British agent in "On Her Majesty's Secret Service" in 1967.
As it turns out, an American actor whose star was on the rise was offered — and declined — the chance to take on the role before Connery returned. It was a decision that actor — Burt Reynolds — would come to regret.
Burt Reynolds turned down the chance to play 007 after Lazenby's exit
Over his illustrious career, Reynolds — who passed away at age 82 in 2018 — won over many big-screen audiences with roles in such classic films as "Deliverance," "The Longest Yard," "City Heat," "Smokey and the Bandit," and "Cannonball Run." The latter two films were so popular that Reynolds reprised his role for their sequels.
But prior to Reynolds taking on the lead role in the dark, adventure thriller "Deliverance" in 1972, he said he was offered the opportunity to play Bond after Lazenby left the role after one turn. Despite being offered a contract for more Bond movies, Lazenby's agent, Ronan O'Rahilly, convinced the actor to turn it down (via The Guardian).
Surprisingly, Reynolds followed suit and said no to the role as well. Recounting career highlights and regrets while promoting his memoir "But Enough About Me" on "Good Morning America" in 2015, Reynolds lamented the decision. "I think I could have done it well," he said. "In my stupidity, I said, 'An American can't play James Bond, it has to be an Englishman — Bond, James Bond. Nah, I can't do it.' Oops." Reynolds went on to say, "Yeah, I could have done it."
Turning down 007 wasn't the only regretful career decision Reynolds discussed publicly. Even though he received his first and only Oscar nomination for his role in the film, Reynolds said he regretted saying yes to playing adult film director Jack Horner in "Boogie Nights." Prior to that, Reynolds said he turned down writer-director George Lucas' offer to play Han Solo in "Star Wars."