The Iconic Jurassic Park Role That Almost Went To Jim Carrey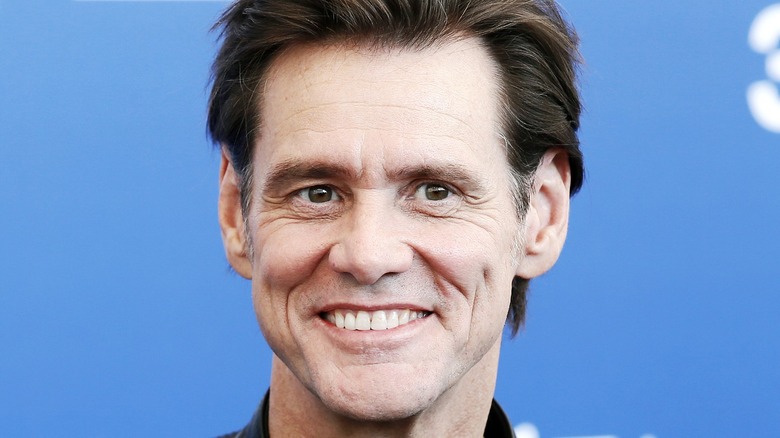 Andrea Raffin/Shutterstock
"Jurassic Park" is one of the most famous franchises of all time because of an incredibly solid cast and crew behind every installment of the series to date. The sixth entry is "Jurassic World: Dominion," which has completed filming and is set to bring back the main cast from the first film to join the "Jurassic World" main cast, as those films have been sequels to the original three "Jurassic Park" movies.
These casts, consisting of characters like Dr. Alan Grant (Sam Neill), Ellie Sattler (Laura Dern), and Dr. Ian Malcolm (Jeff Goldblum) from "Jurassic Park," along with Owen Grady (Chris Pratt) and Claire Dearing (Bryce Dallas Howard) from "Jurassic World," have provided fans with performances that truly reflect what it might be like to be a human amongst dinosaurs. "Jurassic World: Dominion" is set to have every single one of these actors reprise their respective roles, and we couldn't be more excited. At the end of "Jurassic World: Fallen Kingdom," Goldblum's Ian Malcolm even appeared with an ominous warning for the world after the events of the film.
Even though characters like Malcolm are so iconic, it has been the dream of many actors to work with someone like "Jurrasic Park" director Steven Spielberg — which is why another famous actor had a shot at getting the role.
Jim Carrey was almost Dr. Ian Malcolm
Before he appeared in all those '90s successes that made him a superstar, such as "Ace Ventura," Jim Carrey was still trying to land a major film role. The chance to work for Steven Spielberg was probably as tempting as it gets for a young actor such as Carrey in 1992. He was gaining serious attention from his time with "In Living Color," managing to get an audition for the role of Dr. Ian Malcolm with "Jurassic Park" casting director Janet Hirshenson. Unfortunately for Carrey, Hirshenson already had Jeff Goldblum firmly set in her mind as the person who would bring Malcolm to life on-screen, so she ended up passing on Carrey — although she did note he had a "terrific" audition (via The Wrap).
It's hard to picture anyone else in the role of Malcolm except Jeff Goldblum, given his iconic lines and mannerisms that are still referenced in blockbuster cinema today. There's no doubt that Carrey could've made the role memorable thanks to his own natural talent, but we may not have gotten his '90s comedy staples if he got to star as Malcolm. It seems as though everything worked out for the best.
In a recent interview with GQ, Goldblum noted that for a short time before shooting "Jurassic Park," Spielberg even toyed with the idea of not having Malcolm in the series at all, wanting to sort of merge his character with Dr. Alan Grant instead. Goldblum himself pitched ideas for Malcolm to stay, ensuring the character's survival and his own part in the movie.
Fortunately, we'll be able to see Dr. Ian Malcolm again in "Jurassic World: Dominion" on June 10, 2022.