The Big Problem The Silent Sea Fans Have With The Space Shuttle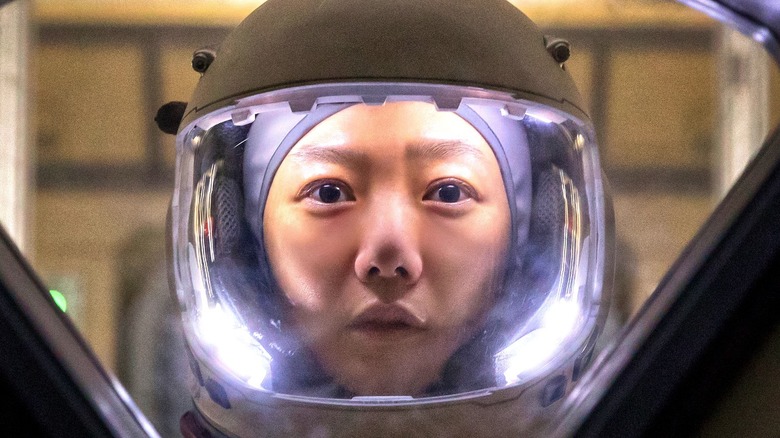 Han Sejun/Netflix
All eight episodes of the new South Korean series "The Silent Sea" debuted on Netflix on December 24, arriving just in time for fans of science fiction television and South Korean dramas to binge the series over the winter holidays.
Starring Bae Doona of "Sense8" fame, as well as "Squid Game" actor Gong Yoo, the show is set in the near future at a time when the planet is struggling with water scarcity. The Republic of Korea's space agency sends a crew out to the moon to recover a lost sample from an abandoned research station. This includes astrobiologist Song Ji-an (Doona) and expedition leader Han Yoon-jae (Yoo). Once the expedition arrives at the station, however, nothing about the mission is what it originally appeared to be, and that includes a mysterious intruder at the site who is killing the team members one by one.
At the time of writing, the thriller series has a high audience rating of 70% on Rotten Tomatoes, even if not enough critics have weighed in for a full Tomatometer score. But fans on Reddit couldn't help noticing a major issue with how the space shuttle functions in "The Silent Sea."
Some viewers aren't impressed with the space shuttle design on The Silent Sea
Several "Silent Sea" viewers in the r/KDRAMA subreddit observed that the space shuttle the crew uses to get to the moon simply doesn't look well made. Redditor u/capthyeong commented, "I'm sorry, but Elon Musk could have built a better spaceship than the silent sea's. It bothers me that they didn't do quality assurance to the spaceship." Another viewer even noticed that when the characters were supposed to put their helmets on, "all they did was put the fabrics cover on their head. One of them didn't even put the cover on."
Another user, u/gyojoo, also wrote about how much the lack of sound from the shuttle threw them off. They noted, "no rumble of ship departing, almost no background sounds on everything happening leading up to the crash. And crash felt like someone dropping toy airplane on a sand." This may have been why u/aydan_123 felt like the cast was "acting like they're crashing in a simulator" instead of really acting like they were in a frightening situation. It's hard to act against something that isn't very believable.
You can currently watch every episode of "The Silent Sea" on Netflix.