Squid Game Stars You Can See On The Big Screen
This content was paid for by Netflix and created by Looper.
"Squid Game" has become a truly global sensation since it first arrived on Netflix in September, and fans simply can't get enough of this gritty, emotional survival series that sees several hundred cash-strapped contestants fighting for their lives in a series of deadly games based on childhood fancies. But once you're done watching the show, do you have to say farewell to all the actors you've come to love (or hate)?
Luckily, there are plenty of other ways to see your "Squid Game" favorites in action. For starters, fans can currently catch three of the previous films directed by "Squid Game" creator, writer, and director Hwang Dong-hyuk. His earlier movies — "Silenced," "Miss Granny," and "The Fortress" — are all available to watch on Netflix right now. There are also several movies and television series that feature your favorite cast members from the show, so here's a look at all of the "Squid Game" stars you can see on the big screen and beyond.
Lee Jung-jae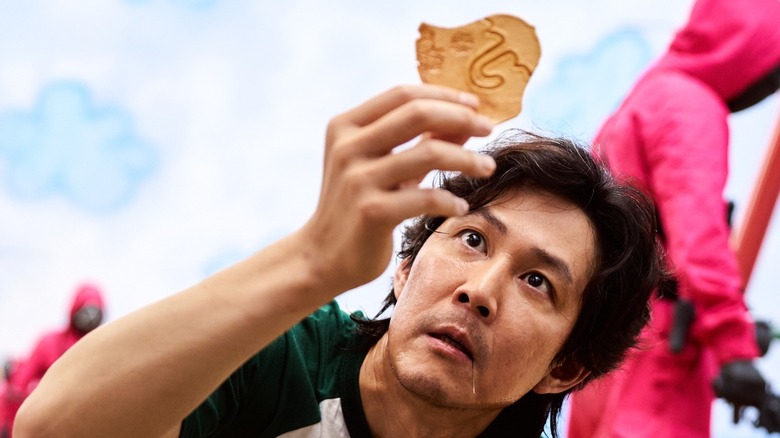 Noh Juhan/Netflix
There's no doubt that "Squid Game" is anchored by the charismatic performance by Lee Jung-jae, who leads the series as Seong Gi-hun, aka #456. When we first meet Gi-hun, he's completely down on his luck, living with his mother in tight quarters, distanced from his young daughter, and still deeply addicted to the gambling habit that's cost him everything. After joining the games, he relies on alliances and quick wit strategies to make it through some very harrowing scenarios. As imperfect as he is, Gi-hun's innate kindness still makes him very easy to root for throughout his many challenges in the show.
Fans of Lee Jung-jae's work in the show can also find him at the center of another high-energy Netflix Original series in "Chief of Staff," which features him as Jang Tae-jun, the chief of staff of the National Assembly who's influential and ambitious. The actor also leads the cast of the 2019 film "Svaha: The Sixth Finger" as Pastor Park, who's hired to investigate a suspicious religious group that may be connected to a murder mystery. The successful Korean actor is also known for his work in films like "An Affair," "City of the Rising Sun," "The Housemaid," and "The Face Reader."
Park Hae-soo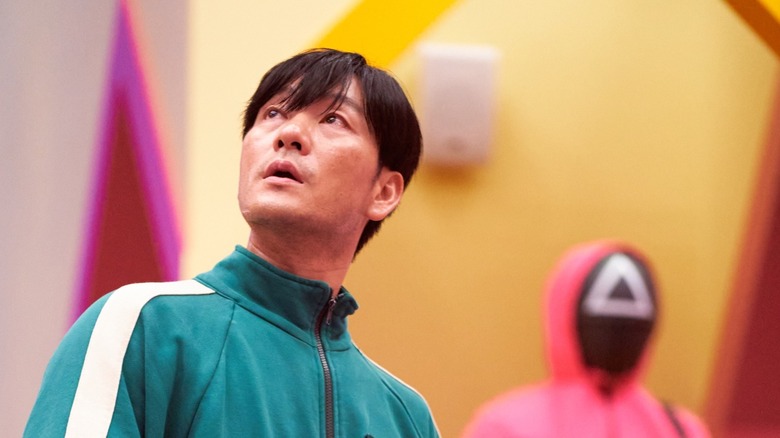 Noh Juhan/Netflix
Another character who makes an absolute emotional impact, for better and for worse, in "Squid Game" is Cho Sang-woo, aka #218, who's portrayed by Park Hae-soo. The character, who's a longtime friend of Gi-hun, is known throughout their community for his impressive education and career achievements, but he's secretly disgraced his family with poor financial decisions and desperately wants to restore their wealth before his doting mother finds out what he's done. Fans of Park Hae-soo's work in the role have a plethora of options for where to watch him next.
The Korean actor, who got his start in television work in 2012, appears in two additional Netflix Original series — "Prison Playbook" and "Persona." In "Prison Playbook," a dark comedy series, the actor stars as Kim Je-hyuk, a former baseball superstar who's imprisoned for killing someone who attacks his sister. Meanwhile, in the anthology series "Persona," Park Hae-soo stars in the segment "Collector" as the character Baek Jeong-u. The actor also stars in the 2020 dystopian action-thriller "Time to Hunt" as Han, a former police officer turned contract killer.
HoYeon Jung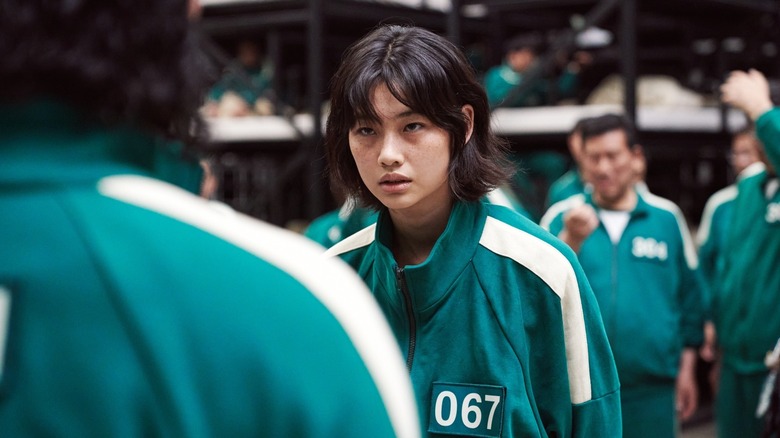 Noh Juhan/Netflix
Considering how compelling HoYeon Jung's performance as Kang Sae-byeok, aka #067, is in "Squid Game," you might expect that the actress has a mountain of previous film and TV credits under her belt. However, "Squid Game" actually marks a triumphant screen debut for the popular model turned actress, who previously appeared on the fourth season of the reality competition series "Korea's Next Top Model."
Jung has been a runway favorite for years though, and after she stunned audiences with her thoughtful portrayal of the North Korean defector who picks pockets in hopes of rescuing her parents and protecting her little brother, the sky is the limits on what she can achieve next. Thanks to her work in the show, Jung has already become the most-followed South Korean actress on Instagram, and she continues to be a very successful campaign model.
Wi Ha-joon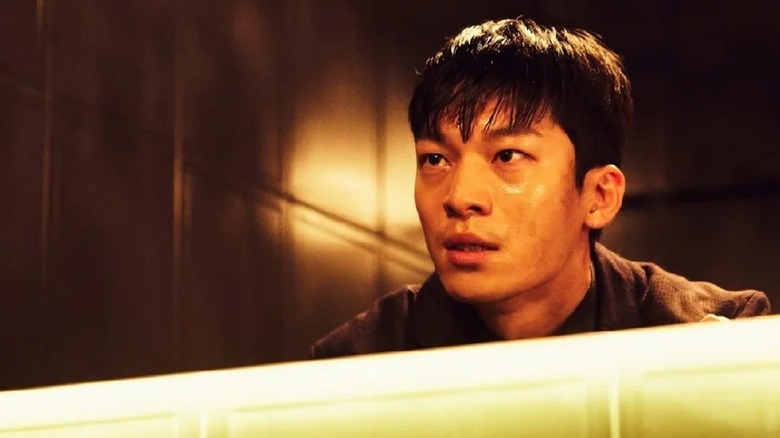 Noh Juhan/Netflix
While much of the action in "Squid Game" takes place in the arena where bloodshed abounds, the standalone character Hwang Jun-ho, portrayed by Wi Ha-joon, helps to reveal a very different side to the story. Hwang Jun-ho is a police officer who sneaks into the mysterious island lair and disguises himself as a guard in hopes of finding out information about his missing brother. As he quickly adapts to the unusual circumstances that surround him and uncovers some hidden elements of the games in motion, the actor almost single-handedly carries the momentum of this gripping subplot. So, if you're left wanting to see more of his work, you're in luck.
Fans of Wi Ha-joon's work in the film can next check out his work in two television series that are available on Netflix — "Something in the Rain" and "Romance is a Bonus Book." The Korean actor is also known for his work in films like "Gonjiam: Haunted Asylum" and "Midnight," as well as shows such as "Soul Mechanic" and "18 Again."
Heo Sung-tae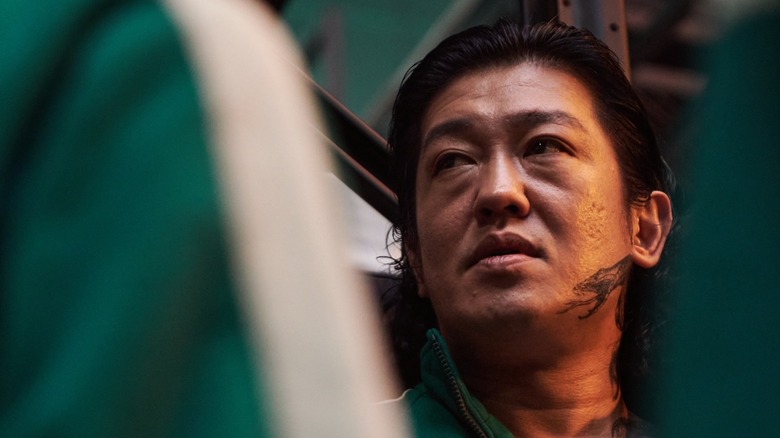 Noh Juhan/Netflix
One character that "Squid Game" fans truly love to hate is Jang Deok-su, aka #101, who's portrayed by prolific Korean actor Heo Sung-tae. Jang Deok-su is a violent and vicious character whose background as a gangster more than prepares him for the tough situations he finds himself in during the deadly competition. He soon becomes something of a ringleader for the most menacing contestants in the game, and he has no remorse about those who get hurt — especially by him.
Heo Sung-tae's portrayal of this terrifying character is truly effective and unforgettable, and for those fans who want to see more of his compelling screen work, Netflix subscribers can also watch him at work as CEO Lee Chang-jin in the series "Beyond Evil." Plus, he also stars in "Squid Game" creator Hwang Dong-hyuk's 2017 period film "The Fortress" as Yong Gol-dae.
Anupam Tripathi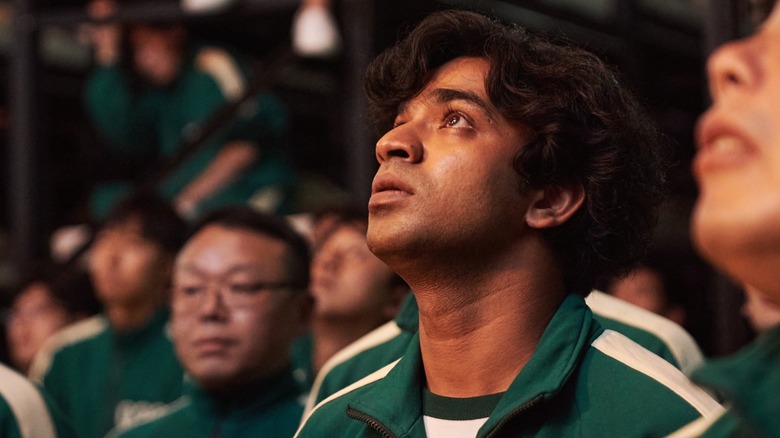 Noh Juhan/Netflix
One of the most heartbreaking characters in all of "Squid Game" is Abdul Ali, aka #199, who's played by Anupam Tripathi, an Indian actor who lives in South Korea. Though, like most of the contestants in the games, Ali has a bit of a checkered past, he's still one of the most likable and kind-hearted people of all, and he works hard to help the people in his team survive their many challenges, despite his own need to win for the sake of his young family. Unfortunately for Ali, not everyone in the game is quite as honest as him, but "Squid Game" fans will undoubtedly cherish this character for years to come.
For fans of Anupam Tripathi's standout performance in this heartwarming role, you can also see the actor's appearances in the series "Hospital Playlist" and the punchy original sci-fi film "Space Sweepers."
Kim Joo-ryoung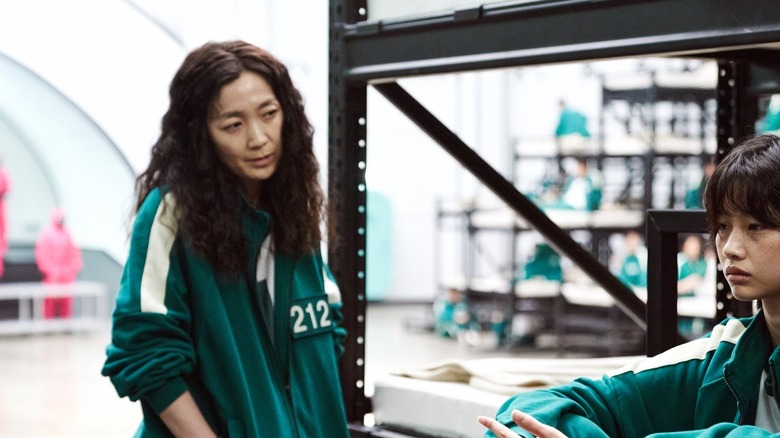 Noh Juhan/Netflix
Of all of the unusual personalities that come into play throughout "Squid Game," perhaps the most boisterous of them all is Han Mi-nyeo, aka #212, who's played by Kim Joo-ryoung. Han Mi-nyeo is a true standout from the very start of the show, as she easily commands all of the attention in the room with her chaotic and rebellious antics. Even though she seems to hold very little back with the many things she says, she still manages to be something of a mystery until the very end.
South Korean actress Kim Joo-Ryung brings a lot of boldness to the role, and subscribers can also catch her in the Netflix Original series "Mr. Sunshine," along with Hwang Dong-hyuk's 2011 crime drama "Silenced," which features her as Yoon Ja-ae.
Gong Yoo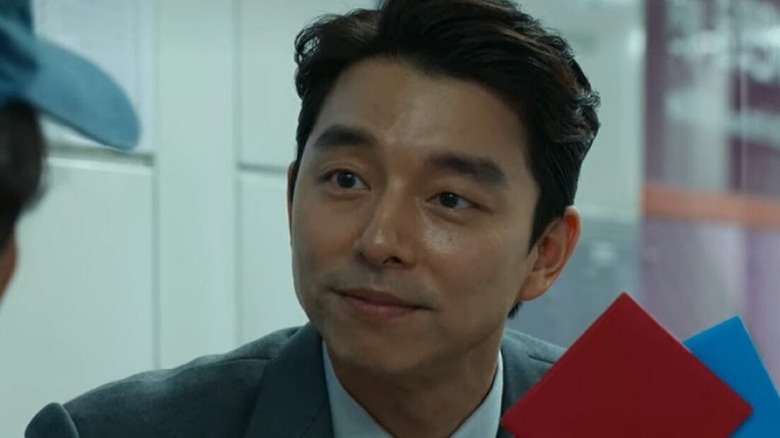 Noh Juhan/Netflix
One cavalier character that bookends basically everything that happens in "Squid Game" is the Recruiter, who's portrayed by prominent Korean actor Gong Yoo. Not only is the Recruiter a scarily savvy and merciless man, but he's also weirdly charming and intriguing at both the start and end of the first season.
Fans of Gong Yoo's work in this pivotal role will definitely be looking for more of his magnetic face, and as luck would have it, he previously took the lead in Hwang Dong-hyuk's "Silenced" as Kang In-ho, a new teacher at a school for hearing-impaired children. Even though he has a dark past, he really cares about his students and fights to protect them when he discovers that they're secretly suffering abuses. He also stars in the new Netflix sci-fi/mystery series "The Silent Sea" as a space exploration team leader, Han Yoon-jae, who risks it all to protect his crew during a crucial mission. 
Film fans may also recognize Gong Yoo for his work in other prominent pictures such as "Train to Busan" and "The Age of Shadows," along with television dramas such as "Coffee Prince" and "Guardian: The Lonely and Great God."
Lee Byung-hun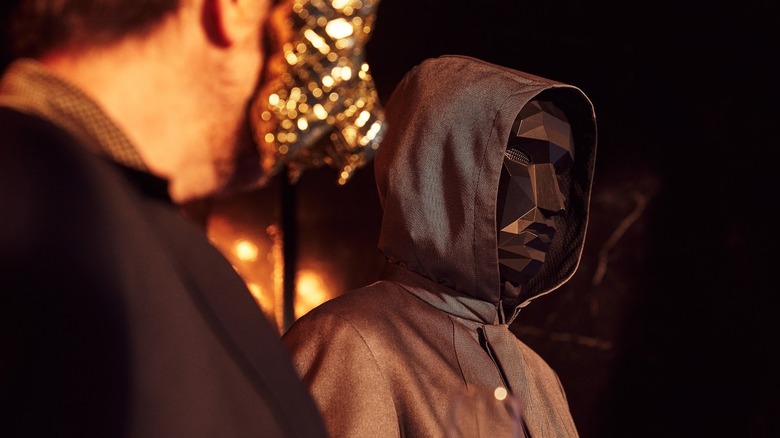 Noh Juhan/Netflix
Another captivating character that keeps fans on their toes right until the bitter end is the enigmatic Front Man, who, once unmasked, audiences may recognize as Korean actor and singer Lee Byung-hun. The Front Man is basically the brains behind the deadly games, and he also serves as the eventual host for the group of rich VIPs who come to witness the spectacle in action during a particularly deadly segment of the game. And Lee Byung-hun's portrayal of the Front Man's shockingly callous demeanor is nothing short of chilling.
Fans of the actor may know him for his notable work in Korean films like "Joint Security Area," "A Bittersweet Life," and "The Good, the Bad, the Weird," but he's also made a splash in many American action films, including "G.I. Joe: The Rise of Cobra," "Red 2," "The Magnificent Seven," and "Terminator: Genisys." Netflix subscribers can also see his role as Eugene Choi in the series "Mr. Sunshine," as well as the film "Iris" and Hwang Dong-hyuk's "The Fortress."
O Yeong-su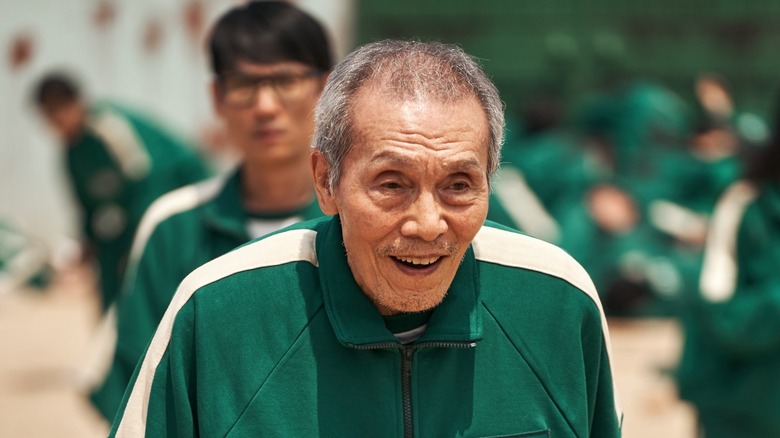 Noh Juhan/Netflix
Perhaps the most quizzical character in all of "Squid Game" is Oh Il-nam, aka #001, who's the oldest and most feeble character in the games, but he's secretly the most powerful person on the field. At first, it just seems as though Oh Il-nam is weirdly enjoying the mayhem that commences because he has an incurable brain tumor and no longer fears death, but after becoming an unlikely ally of Gi-hun and his team, audiences learn some very shocking truths about the character.
Korean actor O Yeong-su, who portrays this jarring old man, is a seasoned screen actor with many credits earned in theater, television, and films throughout the decades. Before "Squid Game," audiences could see him in series like "Queen Seondeok" and "God of War," as well as films like "A Little Monk" and "Spring, Summer, Fall, Winter... and Spring."