The Sense8 Reunion You Missed In The Matrix Resurrections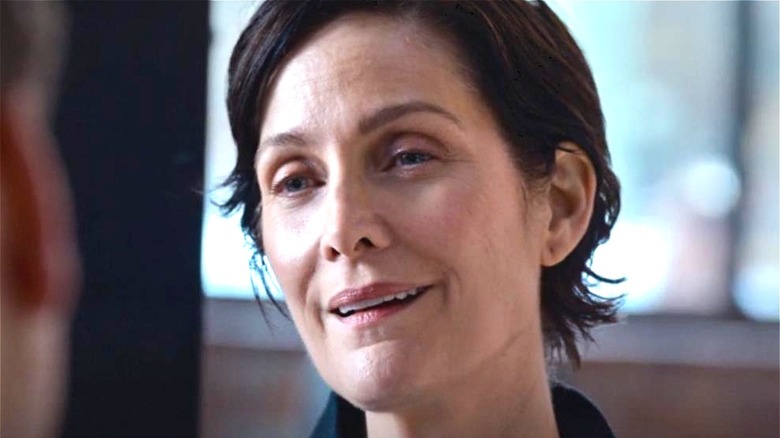 Warner Bros/HBO Max
It's no secret to anyone that the Wachowski sisters are among the boldest, most inventive, and most awe-inspiring filmmakers to have come out of Hollywood in the past three decades. Their visionary work has been — and continues to be — extensively revisited and picked apart by fans across the globe, to the point where even efforts previously reputed as duds, such as "Speed Racer" and the two 2003 "Matrix" sequels, have since undergone well-deserved critical reappraisals. But even still, somehow, the Wachowskis don't get enough credit for how great they are at choosing and directing actors.
Take "Sense8," their ridiculously ambitious Netflix sci-fi-action series, as an example: The globe-trotting story of eight young people linked mentally and emotionally as members of a new strand of human evolution only worked as well as it did — and it worked like gangbusters — because it had the exact right actors in tow to bring each sensate's subjectivity to life while also honoring their shared experiences. Two of those cast members, Tuppence Middleton and Bae Doona, also exemplified the Wachowskis' frequent recourse to a stable of past collaborators, having previously starred in "Jupiter Ascending" and, in Bae's case, "Cloud Atlas."
Now, with the long-awaited fourth installment in the "Matrix" franchise, "The Matrix Resurrections," finally hitting theaters, director Lana Wachowski's way with actors is once again on display, just as it was in the original "Matrix." And "Sense8" devotees may recognize a plethora of the show's cast members in the new film.
Several sensates appear as part of the resistance in Resurrections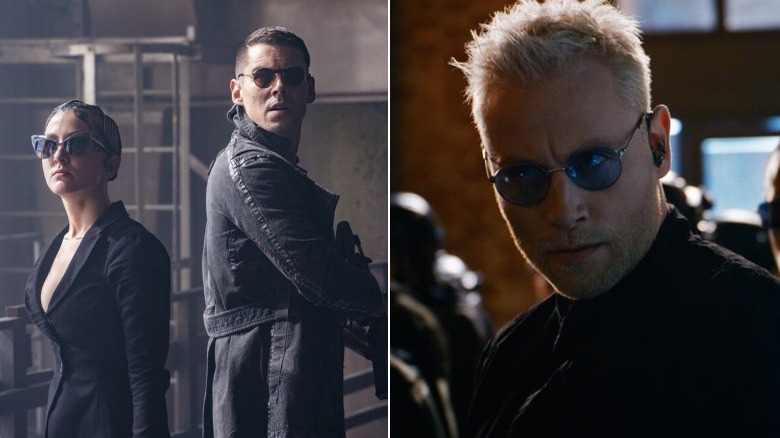 Warner Bros/HBO Max
"The Matrix Resurrections" picks up 60 years after "The Matrix Revolutions," and follows Neo (Keanu Reeves), now back to his old life as Thomas A. Anderson, as he is reawakened to the world of the Matrix. There, he joins a resistance group led by Bugs (Jessica Henwick) engaged in the ongoing war against the Machines.
In addition to Bugs, the ragtag party of rebels in question includes several other devoted crew members aboard the Mnemosyne hovercraft — and they're mostly played by Wachowski alumni. For starters, the Mnemosyne's operator, Sequoia or "Seek" for short, is portrayed by Toby Onwumere. The Nigerian-born actor joined "Sense8" in Season 2 in the role of Capheus Onyango, the August 8 cluster's Kenyan member and go-to getaway driver, replacing Aml Ameen.
In a typically Wachowski-esque nod to the sense of union and collective strength common to both groups of characters, Onwumere is surrounded by "Sense8" compatriots in the Mnemosyne. Fellow crew member Berg is played by Brian J. Smith, who played Chicago police officer Will Gorski, and Mexican actress Eréndira Ibarra, who on "Sense8" played Daniela Velázquez — not a sensate, but an indispensable friend of Lito Rodriguez (Miguel Ángel Silvestre) — plays the uber-cool Lexy. Rounding out the reunion of sensates, German actor Max Riemelt, who previously portrayed Wolfgang Bogdanow, now plays "Revolutions" character Shepherd — a role written specifically for him, per Bild.
But the "Sense8" reunion doesn't stop there, as several of the show's supporting actors also make appearances in "Resurrections."
The film's ensemble is teeming with Sense8 supporting actors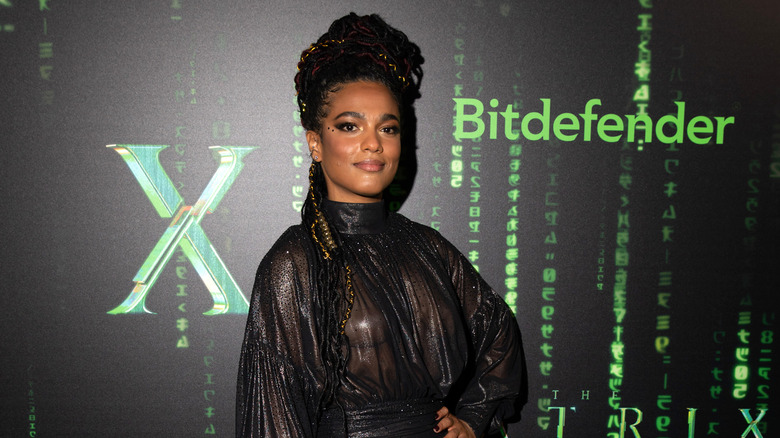 Kelly Sullivan/Getty Images
Toby Onwumere, Brian J. Smith, Eréndira Ibarra, and Max Riemelt are not the only "Sense8" cast members to have been brought back into the fold of the Wachowskiverse for "The Matrix Resurrections." To fill out the film's sprawling and (literally) multidimensional ensemble, Lana Wachowski also called in the efforts of many actors who previously had supporting roles on her hit Netflix series.
In addition to the aforementioned actors, Kenyan soap opera star Mumbi Maina, who played Capheus' love interest Zakia Asalache on "Sense8," also appears aboard the Mnemosyne as crew member Ellster. Quillion, who is introduced by leader Niobe (Jada Pinkett Smith) as the human city of Io's "lead digitologist," is played by Max Mauff, previously seen as Wolfgang's foil and lifelong best friend Felix Berner.
In the early, hilarious scene that finds Thomas/Neo discussing ideas for a new game with his team of developers, two familiar faces also turn up. Freema Agyeman, who played Amanita Caplan, the girlfriend and partner-in-crime of Nomi Marks (Jamie Clayton), and Purab Kohli, who played Kala Dandekar's (Tina Desai) sweet, yet distant fiancé Rajan Rasal, both get to exercise their previously displayed comedic chops in a highly meta-discussion about how to build on the massive in-universe "Matrix" franchise without yielding to "mindless action."
Another Sense8 reunion happened behind the scenes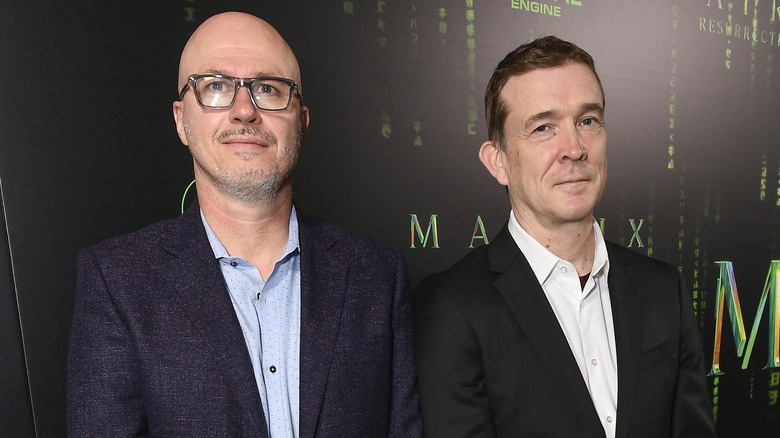 Steve Jennings/Getty Images
Lana Wachowski didn't stop at just bringing back actors from "Sense8:" As Purab Kohli revealed in an interview with The Hindu, "about 70% of 'The Matrix Resurrections' crew was from 'Sense8' so we knew each other."
This extended to the writing team: With Lilly Wachowski stepping down from her usual role as the franchise's co-mastermind, Lana enlisted the help of two cherished creative partners to pen the film's screenplay. "The Matrix Resurrections" is co-written by Lana Wachowski, David Mitchell, and Aleksandar Hemon; both men previously co-wrote the series finale of "Sense8," "Amor Vincit Omnia."
Per The A.V. Club, the trio — who refer to themselves as "The Pit" — was brought together by Lana's signature generosity and attentiveness to the creatives in her orbit. Hemon, a longtime friend of the Wachowskis, started his working relationship with Lana after being assigned to write a New Yorker piece on the making of "Cloud Atlas." Mitchell, meanwhile, was the author of the acclaimed sci-fi novel upon which "Cloud Atlas" was based.
The two were invited by Lana into the "Sense8" writers' room as consultants following Lilly's departure from the series, and eventually stepped in as scriptwriters as well (via Variety); from then on, they became a close-knit team with a particular "vocabulary and a kind of language," as put by Mitchell to the A.V. Club. If you sense some inklings of that unique "Sense8" sensibility in "Resurrections," that may be why.