George R. R. Martin's Remarks About House Of The Dragon Will Get Fans Psyched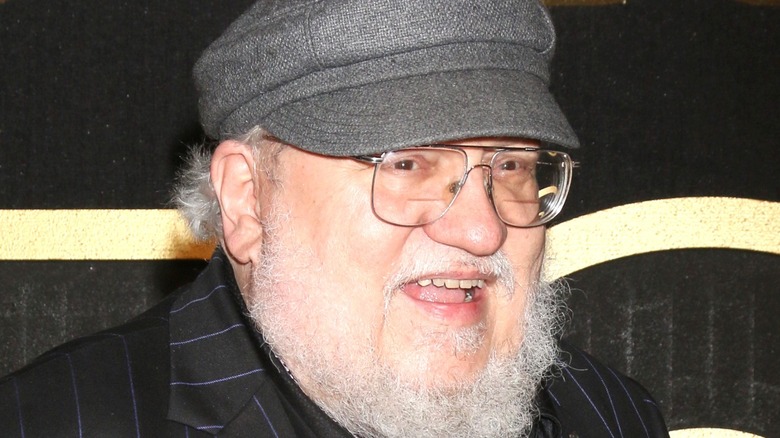 Kathy Hutchins/Shutterstock
It's been a few years since "Game of Thrones" ended its eight-season run. Despite its status as a pop-culture behemoth, the finale was panned by fans and critics alike, with Season 8 netting a poor 50% critic rating on Rotten Tomatoes, and a dismal 30% audience score... Ouch. Nevertheless, HBO is confident that the franchise is still worth exploring, as a number of "Game of Thrones" spin-offs are in the works. And the first of them — the prequel series "House of the Dragon" — arrives in 2022.
The upcoming series is set roughly 200 years before the events of "Game of Thrones" and follows House Targaryen when they ruled Westeros. HBO has amassed an impressive cast for the series, including Matt Smith, Olivia Cooke, Paddy Considine, Graham McTavish, and Rhys Ifans. The moody first trailer for the series arrived online in October 2021, and it teases the Targaryens downfall.
But with the disappointment surrounding the finale, some fans are no doubt tentative about "House of the Dragon." However, recent remarks from "Game of Thrones" writer George R. R. Martin about the series will get fans excited about what's ahead.
George R. R. Martin thinks fans are going to love House of the Dragon
Based on recent comments by George R. R. Martin, fans have reason to be excited for "House of the Dragon." The writer opened up about the project on his blog, explaining, "I am anticipating HOUSE OF THE DRAGON pretty eagerly myself, for what it's worth. Okay, I am hardly objective." Well, at least he's honest. 
The writer went on to tease fans about the premiere, saying, "Also ... mum's the word now, don't tell anyone... I've seen a rough cut of the first episode. And loved it." Martin even shared a few details regarding the first episode, writing, "it's dark, it's powerful, it's visceral... just the way I like my epic fantasy." He then went on to add, "Ryan [Condal] and Miguel [Sapochnik] have done an amazing job"
It sounds like George R. R. Martin is equally impressed with the cast of the spin-off show, noting, "just as with GAME OF THRONES, most viewers will only have heard of a few of the actors, but I think you are going to fall in love with a lot of them." He also teased, "Only to have your heart broken later when... but no, that would be telling." The critically acclaimed scribe signed off by writing, "I think the Targaryens are in very good hands. Anticipate away. I do not think you will be disappointed." 
Fans don't have long to wait, since "House of the Dragon" starts airing on HBO at some point in 2022.