Zoe Saldana Teases Gamora's Guardians Of The Galaxy Vol. 3 Return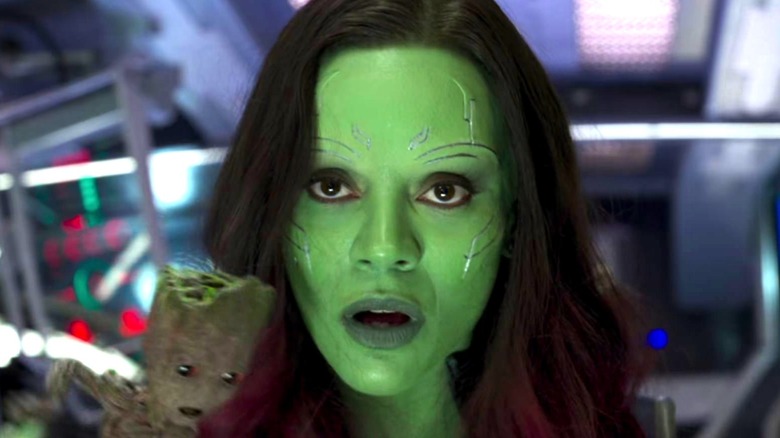 Marvel Studios/Disney
It's been a few years since fans last saw the "Guardians of the Galaxy" heroes on the big screen but they're about to return to the Marvel Cinematic Universe in a big way. Chris Pratt, Karen Gillan, and Sean Gunn were all spotted alongside Chris Hemsworth on the set of "Thor: Love and Thunder" in Australia back in January 2021. While it's not clear how big their role in Thor's latest outing will be, we do know they'll definitely be part of the action.
Although it's not clear if other "Guardians of the Galaxy" characters like Gamora (Zoe Saldana) or Rocket (Bradley Cooper) will also return for the "Thor" sequel, it seems entirely possible. From there, they'll take to Disney+ for "The Guardians of the Galaxy Holiday Special" before headlining "Guardians of the Galaxy Vol. 3." In short, it's going to be a busy time to be a Guardian.
The third film isn't set to arrive in theaters until May 5, 2023, so there's still quite a long time to wait. Plot details are being kept under wraps for now, but Zoe Saldana recently took to Instagram to tease Gamora's return in "Guardians of the Galaxy Vol. 3."
Zoe Saldana is back in the Gamora makeup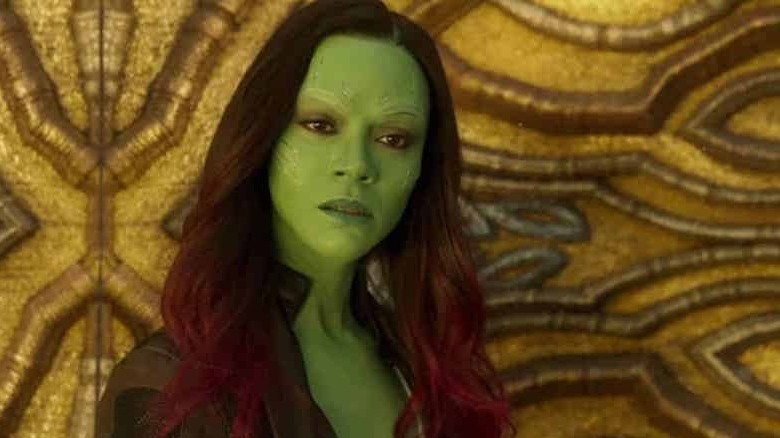 Marvel Studios/Disney
Zoe Saldana posted a series of photos of herself on Instagram with the caption "The many faces of 2021" — and the first one shows the star back in Gamora's iconic green and silver makeup. The image doesn't reveal anything about the sequel, nor does it give fans a look at her costume. Obviously, Gamora meets an untimely end at the hands of Thanos (Josh Brolin) in "Infinity War" so he can get his mitts on the Soul Stone. But she's back in the mainstream MCU thanks to some time travel shenanigans in "Avengers: Endgame." It'll be interesting to see how that affects the character.
James Gunn previously tweeted a photo of the "Guardians of the Galaxy Vol. 3" cast back in November, including Marvel newcomer Will Poulter, who's set to play the godly Adam Warlock in the sequel. Not only that, but the photo also confirmed that "Peacemaker" star Chukwudi Iwuji has also joined the MCU. It's not clear who Iwuji is playing just yet, but now that production is underway, we'll probably learn more about the new characters coming to the sequel.