The Real Reason This James Bond Actor Fought To Change His Character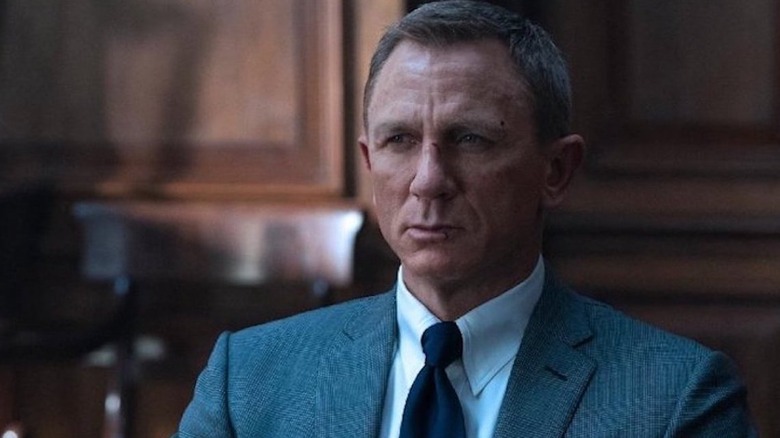 MGM
The latest James Bond film "No Time to Die," saw the return of many characters from the four previous movies where Daniel Craig starred as the debonair agent 007. The fifth Craig-led film managed to tie together storylines between Bond, his former allies, and his enemies in a relatively cohesive manner. Christoph Waltz reprised his role as the complex and vengeful Ernst Stavro Blofeld in a small but pivotal role, and "Quantum of Solace" antagonist Mr. White (Jesper Christensen) is mentioned on multiple occasions due to the return of Madeleine Swan (Léa Seydoux), White's daughter and Bond's love interest.
Fortunately for Bond, his M16 family came back to his aid in "No Time to Die" as well, including Miss Moneypenny (Naomie Harris), Q (Ben Whishaw), Bill Tanner (Rory Kinnear), and of course, M (Ralph Fiennes). Fiennes' M and Bond have had a tense history since "Skyfall," where they first met during Dame Judy Dench's time as M. Bond and Dench's M were incredibly close, with her serving as a sort of surrogate mother role for Bond. By the end of "Skyfall," mutual respect formed between Bond and Fiennes' M after Bond witnessed him fight to protect a crowded courtroom from gunfire.
By the end of "No Time to Die," Fiennes maintained the role of M to the letter, assisting and monitoring Bond as close as possible. However, M nearly took a sharp turn after Fiennes came aboard.
Ralph Fiennes fought to keep M from becoming a villain
Speaking with Josh Horowitz on Happy Sad Confused, Ralph Fiennes detailed director Sam Mendes' desires to turn the character of M into a villain.
"I think I can say now that I had to fight off an attempt by Sam in 'Spectre' to make M – I said 'I don't want to play M and then you turn around and make him the bad guy. M is never the bad guy.' So I had to have some pretty intense discussions with Sam saying, 'This is not flying with me...'"
Horowitz asked further if Mendes' ideas about M meant a connection to Blofeld, and Fiennes noted that the idea was actually more that M would be the one who was truly Blofeld. Based on the way Fiennes detailed the discussions with Mendes, it seems like they ended up working things out. However, M being a villain could have shaken a lot of things up in the Bond universe.
It would have also made audiences question if they could truly trust anyone on the MI6 team if M, being the boss, was working for the enemy. Surely it would be assumed that Tanner might be under his thumb, but the sound morality of both Miss Moneypenny and Q would likely leave at least two people for Bond to trust — although he usually trusts no one as is. Ultimately, Fiennes probably saved the legacy of M in the entirety of the James Bond films by standing up to Mendes. It will be interesting to see if he returns as the character in the future of James Bond.