No Time To Die's Special Effects Supervisor Reveals Daniel Craig's Contributions To The Team - Exclusive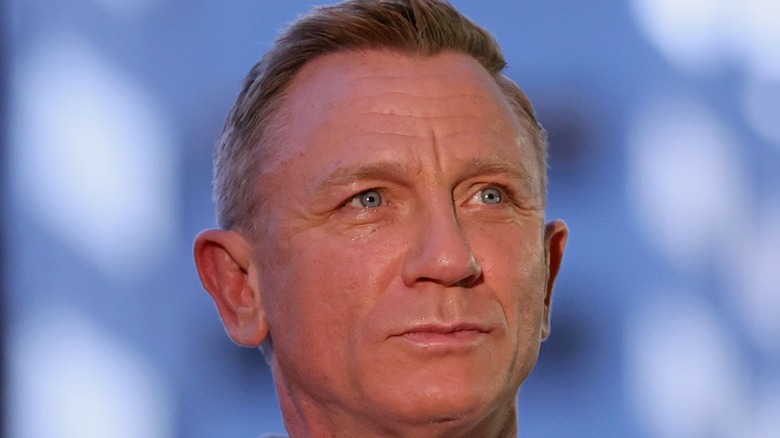 Rich Fury/Getty Images
It's rare that the lead actor of any project -– be it a TV, movie, web series, or whatever fresh hell the metaverse will give us -– just clocks in and out for their scenes. Many take on behind-the-scenes roles, helping to keep the production on track and make the other actors comfortable. Daniel Craig was no different as 007. Playing James Bond comes with a lot of responsibilities; it's not all beautiful women and Heineken commercials.
Looper recently communicated with Chris Corbould, the special effects supervisor for "No Time To Die." He's also held the same or a similar title on Craig's other four Bond films, and has been working on the franchise in some special effects capacity since "The Spy Who Loved Me." This time, he's only here to talk about Craig, and we found out how involved Craig gets with the special effects team. He's a true leading man, involved in every aspect of production.
The incredible sinking man
"Daniel Craig has worked with us on every film," recounts Corbould. "He's very keen to get involved with everything we do, so we get the best results. And particularly, on 'No Time to Die,' he was heavily involved in the sinking trawler sequence." That's the scene where Bond tries to save Felix, who is both bleeding to death and drowning.
Corbould explained the construction of the set: "We built the entire set on like a spit-roast that could rotate 360 degrees, and sink into 20 foot of water. And I mentioned early on to Daniel that he should come down and rehearse with Jeffrey Wright because it was quite claustrophobic, and he needed to get used to it. And he's always very keen to come down and rehearse. And we rehearse a couple of days, and they got used to it, sinking."
That's not to say that there weren't precautions. According to Corbould, "There were lots of safety panels that you could push out if they got a bit panicky, but Daniel and Jeffrey did a wonderful job, and it made a wonderful scene."
"No Time To Die" is now available on 4K UHD, Blu-ray, and DVD.