Tobey Maguire And Andrew Garfield Contributed More To Spider-Man: No Way Home Than You Think
Donato Sardella/Getty Images
After smashing box office records and becoming the highest-grossing film of the pandemic era, "Spider-Man: No Way Home" has clearly been embraced by fans. The movie's stroke of genius was the inclusion of nearly every villain from Spidey movies of the past, along with both prior live-action webslingers of the past quarter-century. Tobey Maguire, who played the iconic hero from 2002-2007, and Andrew Garfield, who donned the mask from 2012-2014, returned alongside the Marvel Cinematic Universe's take on the character as performed by Tom Holland.
Stuffing so many familiar faces into the project could easily have gone awry. While many argue that 2007's "Spider-Man 3" isn't nearly as bad as its reputation suggests, few will disagree that it was bogged down by having three villains. And yet, this latest film feels commendably well-managed, giving each character their own arc, most notably its three Spider-Men.
Now, "No Way Home" screenwriters Chris McKenna and Erik Sommers have revealed how those stories were spun into existence, and it turns out that Tobey Maguire and Andrew Garfield lent more than a bit of their own creativity to the process of spinning this particular web.
Maguire and Garfield helped develop their own 'No Way Home' storylines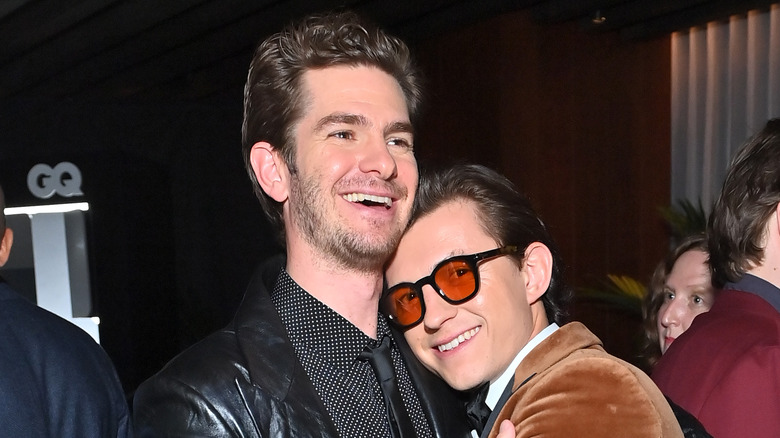 Stefanie Keenan/Getty Images
In a new interview with The Hollywood Reporter, "Spider-Man: No Way Home" screenwriting duo Chris McKenna and Erik Sommers revealed the major role both Tobey Maguire and Andrew Garfield played in bringing back their takes on the character of Peter Parker to the silver screen. When the subject of how Tom Holland's Peter Parker is changed throughout the movie was broached, McKenna said, "So much of that was brought by Tobey and Andrew's ideas and shaping of what they thought their characters could bring to this story."
Asked whether Maguire and Garfield had an influence on their characters, McKenna revealed that each had strong feelings about how their character would feel and behave. Regarding what happened between previous Spidey movies and now, "Tobey wanted to be very minimal about how much you know," McKenna said. Meanwhile, "Andrew really loved the idea of he's still tortured over what happened in 'Amazing Spider-Man 2' and where that left him, and how they could bring that to Tom." (Peter's girlfriend, Gwen Stacy, who was played by Emma Stone, died in the second Garfield movie.)
The co-stars' input wasn't simply about their own characters, but how those characters' experiences could influence this new, younger Spider-Man. "We can empathize with you. We do know what you are going through. If anyone in the world knows what you're going through, it's us," McKenna said, speaking from the perspective of the previous Spider-Men. "Tobey especially has come through that darkness. We thought it was cool that Andrew's Peter was still in the midst of that darkness. They weren't just here to go, 'Two awesome Jedi Knight heroes who show up and are going to help you take down the bad guys.' They are going through their own things."