1883's LaMonica Garrett Reveals The Touching On-Set Moment That Made Him Emotional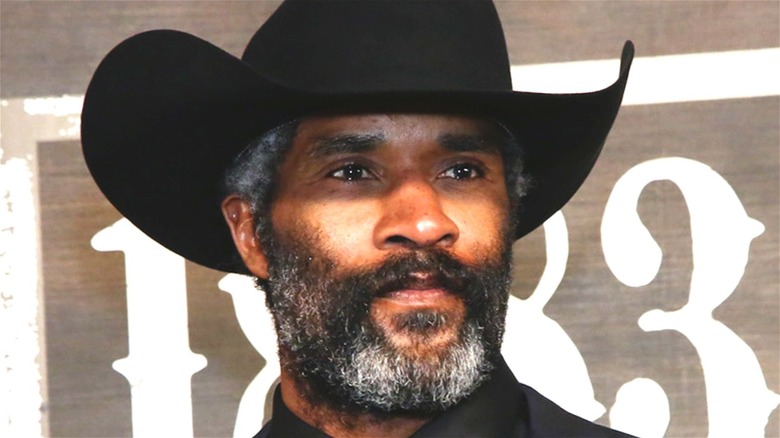 Greg Doherty/Getty
The "Yellowstone" prequel series "1883" is just three episodes into its first season, and it's already proving a welcome addition to the Wild West world Taylor Sheridan is building on Paramount Network. As it unfolds largely in untamed parts of the American frontier circa the late 1800s, "1883" is proving a bit wilder than the series which inspired it too, expanding the "Yellowstone" mythos by following the perilous path the ancestral Duttons took to claim the coveted lands at the heart of the flagship series.
While the new spin-off is largely focused on James and Margaret Dutton (Tim McGraw and Faith Hill, respectively), another pair of characters leading their wagon train north are earning considerable screen time, too. That duo is portrayed brilliantly by screen legend Sam Elliott, along with "Sons of Anarchy" and "Arrowverse" alum LaMonica Garrett. The latter actor's turn as a Civil War vet named Thomas comes with the added caveat of bringing a relatively rare depiction of a Black cowboy to the classic Western realm.
That fact was not lost on Garrett, who recently told Wide Open Country he'd painstakingly researched the lives of Black cowboys in preparation for his role. He noted, "One in every four cowboys back then was African American, but you wouldn't know that by watching television and film," and then continued, "So being responsible and being the one that's bringing this character to light, I wanted to do as much research as possible, and it helped me throughout this series."
Visiting the gravesite of a legendary cowboy was especially meaningful to Garrett
Per that same interview, LaMonica Garrett claims his research led him to tales of cowboys he was already familiar with, with the actor stating, "I knew a lot about certain Black cowboys ... the Nat Loves, the Bill Picketts, the Bass Reeves. And those are kind of the famous ones." He apparently uncovered a lot of information about cowboys previously unknown to him, too, offering, "But there were so many other cowboys that contributed so much to bringing this country to what it was [but] their stories never came to the light of day."
One of those lesser-known cowboys was Bose Ikard who, according to Wide Open Country, served as inspiration for Danny Glover's character in the 1989 Western miniseries "Lonesome Dove." Turns out, in researching Ikard (via Texas State Historical Association), Garrett discovered the man's gravesite was a mere 10 miles from the Texas ranch the "1883" production called home. Being that close to a bit of actual Black cowboy history, Garrett couldn't resist visiting the site for himself, telling Wide Open Country several "1883" cast members joined him: "So me and a few cast members ... we went to the cemetery and just took it in and read what Bose Ikard did on his marker."
It's impossible, of course, to know exactly how taking in the final resting place of Ikard must've affected Garrett and his approach to playing Thomas. But given how studied he's clearly become with such legacies, we can only assume the moment was as profound as it was genuinely touching.