Why Thomas From Yellowstone's 1883 Looks So Familiar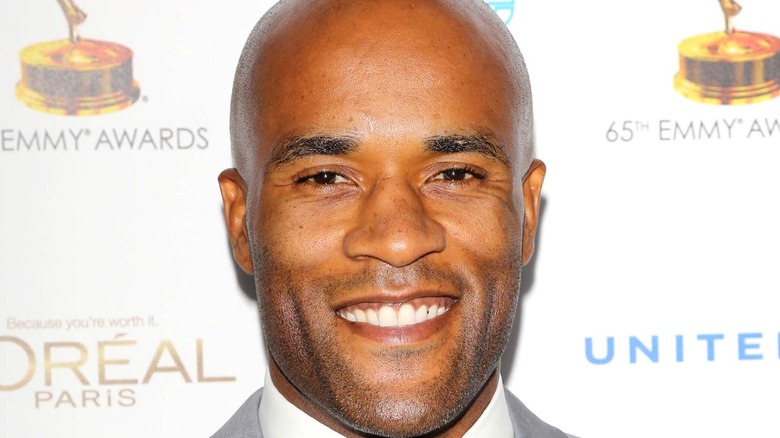 S_Bukley/Shutterstock
It's not surprising in the least that one of the most popular shows on television is getting a spinoff. The massive success of "Yellowstone" has spawned a prequel, "1883," which follows the Dutton family in the late 19th century as they make their way across the country to Montana, where they lay down their roots.
"Yellowstone" might boast an impressive cast that includes Kevin Costner and Luke Grimes, but "1883" is giving its predecessor a run for its money when it comes to star power. Film icon Sam Elliott portrays Pinkerton agent Shea Brennan who helps guide the Duttons out west. Real-life husband and wife Tim McGraw and Faith Hill will play an onscreen couple as well, taking on the roles of James and Margaret Dutton. These three have recognizable faces that many people can pinpoint due to their A-list backgrounds, but other "1883" stars might have viewers wondering where they've seen them before.
One such "1883" star is LaMonica Garrett, who plays Thomas in the new series. Not much is known about Thomas, other than he is a fellow Pinkerton who works closely with Shea in aiding the Duttons to Montana. If you think you recognize Garrett from another piece of work, you're probably right because the actor has a long list of credits to his name. These are his biggest projects you might have seen him in before.
Sons of Anarchy (2011-2014)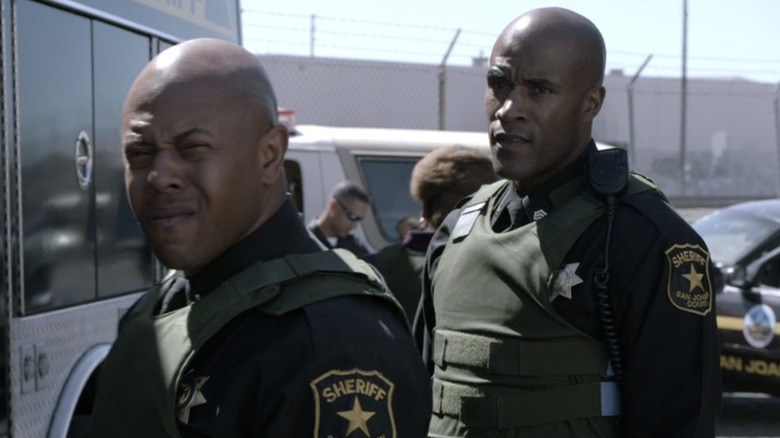 FX
LaMonica Garrett joined the cast of FX smash "Sons of Anarchy" in Season 4, Episode 1 ("Out"), playing Deputy Cane, who worked for the San Joaquin County Sheriff Department. Cane served under Eli Roosevelt (Rockmond Dunbar) and was often seen at his side. He was also the partner of Deputy Martinez (Ramon De Ocampo) and appeared in the series for 17 episodes.
Like almost every other character who has appeared on "Sons of Anarchy," Cane is murdered in the seventh and final season after tailing SAMCRO to a meeting the gang has with members of the Aryan Brotherhood, led by Ron Tully (Marilyn Manson). When Tully's people see the police show up, they shoot them dead, and Cane is left with his head against the steering wheel of his patrol car.
While Garrett's character met a terrible end in "Sons of Anarchy," the series helped launch his career and ultimately led to more significant roles.
Designated Survivor (2016-2018)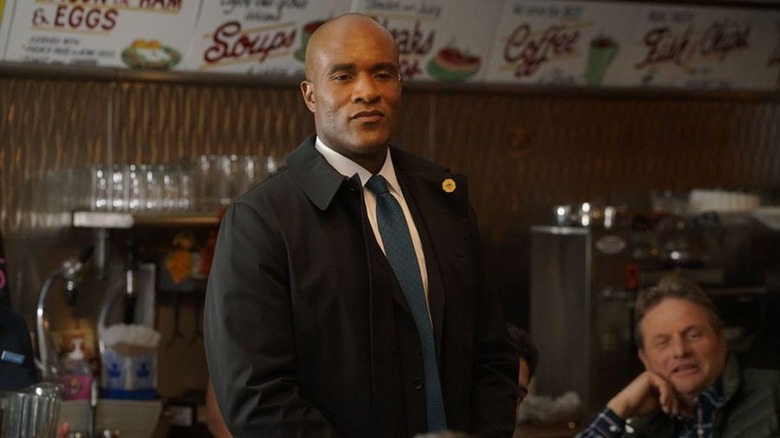 ABC
After his success on "Sons of Anarchy," LaMonica Garrett was cast in one and two-episode stints on several famous TV shows like "Veep" and "Black-ish." His next big part came in 2016 when he landed a role alongside Kiefer Sutherland in ABC's "Designated Survivor." Garrett played Mike Ritter for 43 episodes. Mike was the Secret Service agent assigned to protect Tom Kirkman (Sutherland), who was just the Housing and Urban Development Secretary at the time of his assignment.
When the Capitol Building is bombed during a State of the Union address, Tom becomes the President of the United States, as all those in the line of succession before him were killed. Mike rose in the ranks alongside him and was now the Secret Service agent assigned to the president. The men have a very trusting relationship, and Mike was often in the Situation Room when important meetings were going down.
According to Garrett, his character was written out of the show before Season 3 due to budget cuts, but he said he was grateful for his time on the show, saying he had "Nothing but love for [his] DS family."
The Last Ship (2016-2018)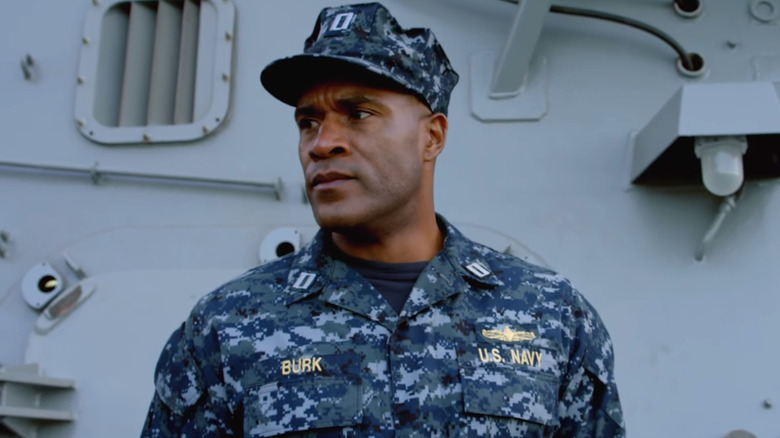 TNT
After being cut from "Designated Survivor," LaMonica Garrett tweeted that he was back on the trail to land his next gig. It didn't take too long, as the actor was cast in TNT's "The Last Ship," which debuted in 2014. Garrett didn't join the series until Season 3 as Lieutenant Cameron Burk, a Tactical Action Officer on the USS Nathan James.
Burk was a central cast member in Season 3 and a guest star in Seasons 4 and 5. After being promoted to Lieutenant-Commander, Burk is wounded in Rota, Spain, and taken off active duty. He only made brief appearances after his injury. Garrett's 15-episode stint on "The Last Ship" pales in comparison to the significant role he nabbed just after, and we're not talking about "Primal," the Nicolas Cage film he starred in one year later. Garrett made his way into the world of superheroes in one of the biggest television universes out there.
The Arrowverse (2018-2020)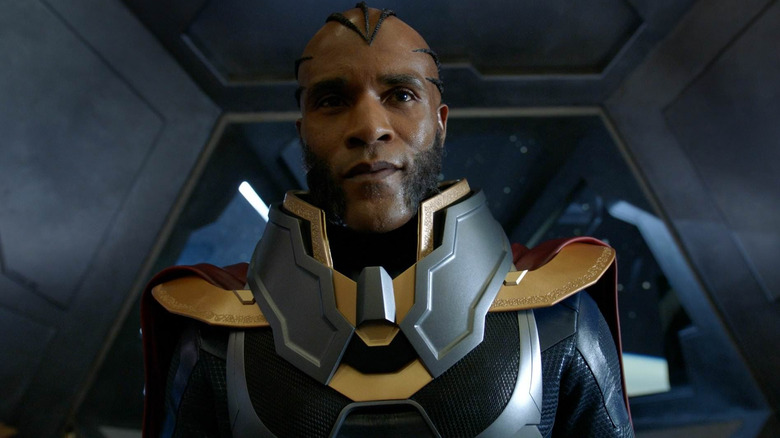 The CW
LaMonica Garret was cast as Mar Novu, aka The Monitor, in The CW's Arrowverse — or whatever the kids are calling it these days. The Maltusian time-traveler first appeared in "Supergirl," then in "Arrow," "The Flash," "DC's Legends of Tomorrow," and "Batgirl." Garrett appeared in 21 episodes across the five different series, but not all of them were as The Monitor. The actor also portrayed the Anti-Monitor — creative, right? — a villain whose primary goal is to wipe out the multiverse.
The Anti-Monitor serves as the main antagonist in the "Crisis on Infinite Earths" storyline, and the superhero team is able to defeat him, not by killing him but by putting him in a state of perpetual shrinking. He would have been so lucky to die.
Now Garrett is on to bigger and better things in "1883," where he won't have to sport some ridiculous blue and gold getup.