The Phantom Menace Easter Egg You Missed In The Book Of Boba Fett Chapter 1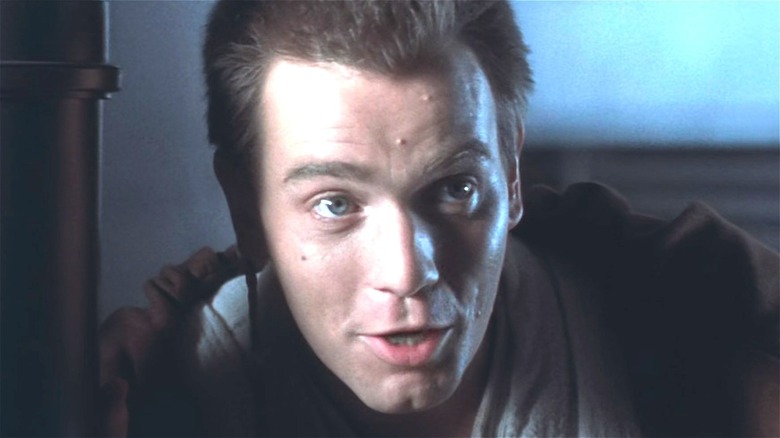 Lucasfilm/Disney
To end the year with a bang, "The Book of Boba Fett" has finally arrived on Disney+. The latest installment to the growing Star Wars franchise is the first spin-off of the popular series "The Mandalorian," which will be entering its third season sometime in 2022.
"The Book of Boba Fett" brings audiences back to the harsh desert planet of Tatooine and follows bounty hunters Boba Fett (Temuera Morrison) and Fennec Shand (Ming-Na Wen) as they preside over Jabba the Hutt's former criminal empire. With a famous location and a beloved antagonist, it's only natural that "Stranger in a Strange Land" was filled with references to the previous films.
Boba dreams of the events that took place in "Return of the Jedi," remembering his near-fatal experience in the Sarlacc pit and how he dealt with being held hostage by a group of Tusken Raiders. While it's too soon to know where "The Book of Boba Fett" will go, if this episode is any indicator, fans should be keeping their eyes peeled for Easter eggs.
One of the many references in "Stranger in a Strange Land" appears early in the episode and pays homage to "The Phantom Menace," of all films.
The pit droids are back with a twist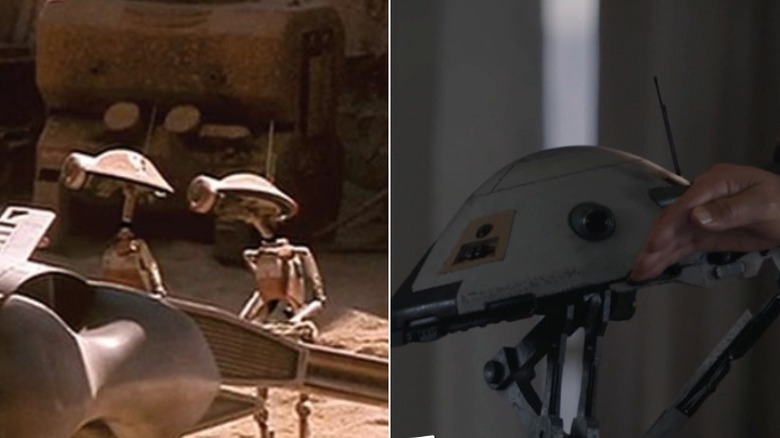 Lucasfilm/Disney, Lucasfilm/Disney+
While some of the more obvious Easter eggs in the first episode of "The Book of Boba Fett" come via flashbacks to previous "Star Wars" films, there are plenty of subtle nods throughout. Early in the episode, Boba Fett emerges from a Bacta tank — similar to the one Luke Skywalker uses in "The Empire Strikes Back" — and droids help him back into his armor.
Fans with an eye for detail will notice that these droids are reminiscent of the pit droids from "The Phantom Menace" — the ones that repair vehicles during podracing events. While those droids didn't have wheels like the ones assisting Boba, they are just as ready to spring into action whenever help is needed. Plus, their tasks are far less dangerous than the chaos of working on the racetrack. It's a fun nod, but also a fascinating piece of worldbuilding. The droids' inclusion suggests that as Mos Espa's podracing enterprise disappeared, the criminals that swept in to fill the vacuum found ways to repurpose the outdated tech they found lying around. It all makes a certain kind of grim sense, and only adds to the rich, lived-in feel of the world that Dave Filoni and Jon Favreau are building with these Disney+ series.
With new episodes of "The Book of Boba Fett" streaming on Disney+ every Wednesday, fans should expect to be on the lookout for more Easter eggs.