The Brutal Return Of The Jedi Callback In The Book Of Boba Fett Chapter 1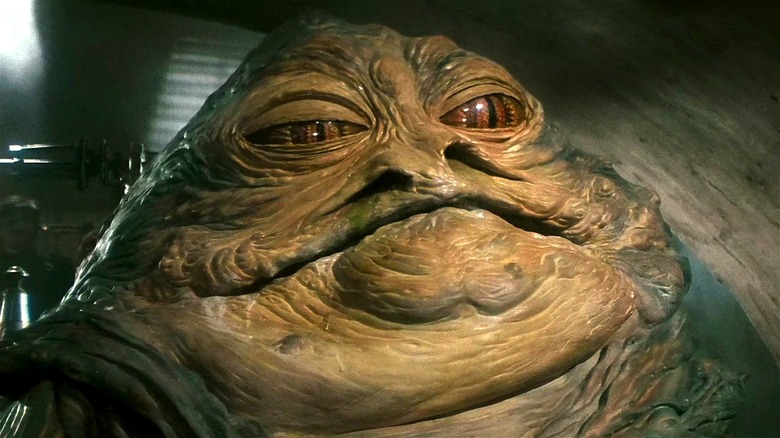 Lucasfilm
Contains spoilers for "The Book of Boba Fett" Chapter 1
"The Book of Boba Fett" is finally here to answer the many questions fans no doubt have about Temuera Morrison's mysterious bounty hunter. Having climbed out of the Sarlacc pit, survived imprisonment by the Tusken raiders, and featured in "The Mandalorian" Season 2, Boba Fett starts his own show the way he ended "The Mandalorian:" as the most recent occupant of Jabba's Palace, with trusty Fennec Shand (Ming-Na Wen) as his aide. 
As Fett has usurped Bib Fortuna's (Matthew Wood) throne as the premier crime lord of Tatooine, you see him struggle to establish control over his criminal empire, while suffering from nasty flashback dreams that show the audience what happened to him after the events of "Star Wars: Episode VI – Return of the Jedi." Perhaps fittingly, one of the most impressive action scenes of the episode tips its hat at one of the most iconic — and ruthless — scenes in this classic "Star Wars" movie. Let's take a look at the brutal "Return of the Jedi" callback in "The Book of Boba Fett" Chapter 1.
Boba Fett replicates Princess Leia's strangling trick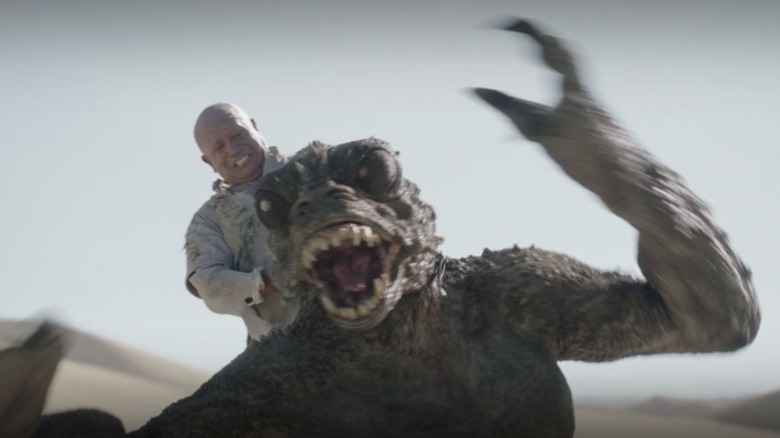 Lucasfilm/Disney+
In the climactic scene of the episode, Boba Fett rescues his Tusken guardian from a giant, four-armed creature that was lurking underneath the sand. Unarmed, chained up, and without his armor, the bounty hunter appears to be at a severe disadvantage — that is, until he grabs his chain, and uses it to choke the beast to death from behind. If you find the scene vaguely familiar, that's because Princess Leia Organa (Carrie Fisher) does the exact same thing to Jabba the Hutt in "Return of the Jedi."  
Admittedly, Fett likely comes up with the trick on his own, having been a little too busy with the whole "falling in the Sarlacc pit" situation to pay attention to Leia's inventive use of chains at the time. However, it's pretty clear that the scene in "The Book of Boba Fett" is a not-so-stealthy homage to the good princess' prowess with the chain ... and fans are absolutely loving it. Twitter users like@Ahsokas_lostwin, @AgentsOfCavalry, @ThatWitchMia, and others have delightedly pointed out the similarity between the scenes.
"The Book of Boba Fett" Chapter 1 is full of such cool nods at the larger "Star Wars" universe, and judging by the reactions to this particular scene, it's easy to guess that fans can't wait to see what the show still has in store.