Matthew Daddario's Candid Thoughts On LGBTQ+ Representation In Shadowhunters - Exclusive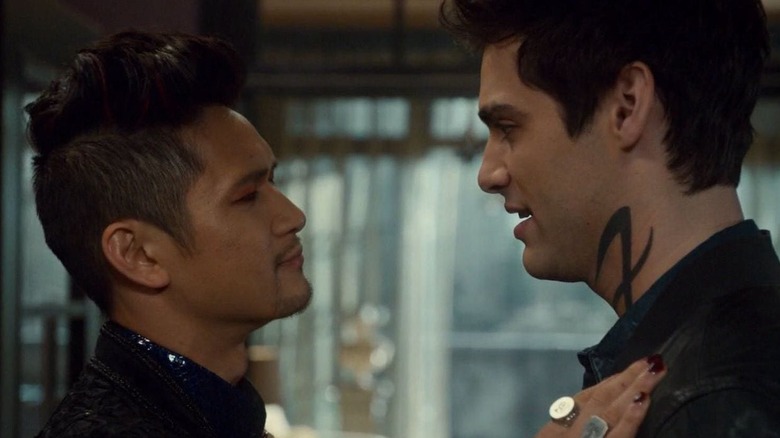 Freeform
Even in the past decade, good LGBTQ+ representation has been a rarity on TV. That's not to say that there aren't any queer characters in some of TV's biggest hits, but finding them with their own fully developed plot lines and without glaring stereotypes leaves a pretty shallow pool of examples. Whether shows use LGBTQ+ characters as comedy relief or fall into the "bury your gays" trope, where queer characters and couples face a dramatically tragic end, Hollywood has a long way to go when it comes to honoring the stories of their queer fans.
However, back in 2016, one show did it right: "Shadowhunters." Unlike many representations of queer couples, the series treated Alec Lightwood (Matthew Daddario) and Magnus Bane (Harry Shum Jr.) just like any other couple. They have a beginning, middle, and end in development — but even more, writers didn't strip them of their onscreen hookup scenes, fights, make-ups, and everything else that we see with straight couples on teen-centric shows. Even better? Their story arc doesn't singularly exist to further the story of a straight white lead. Their journey is their own, and queer fans couldn't be more grateful.
During an exclusive interview with Looper for his new film "Wild Game," Matthew Daddario revealed what he thinks about the LGBTQ+ representation in "Shadowhunters" and what it's meant to his fans. He also dished on what it was like working with his on-screen love interest, Harry Shum Jr.
Doing LGBTQ+ representation right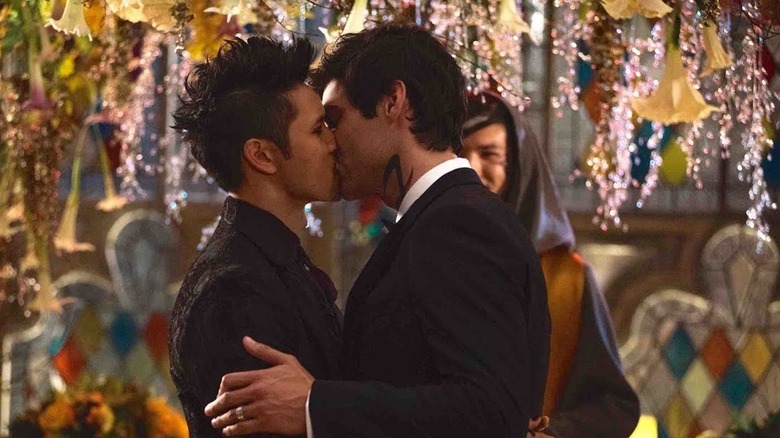 Freeform
On what it's meant to Daddario to see how impactful Alec and Magnus have been to the series' LGBTQ+ fans and doing representation right, he said, "We were very focused on trying to do that all right. We didn't know [what] exactly the right steps were, what we should portray, how we should portray [it]. But it became very apparent that very early on, that was an extremely important element of what we were doing." After "The Mortal Instruments" film flopped years prior, that was many of the fandom's biggest concern as well. 
"And I would say now that you're always nervous about it. You don't know, is this actually going to help you? It's one thing to do a service. And you do something you're like, 'I did this,' and therefore people are going to really say, 'Good job, you represented us in this way,'" Daddario added. "That's meaningless. It has to be more complex. It has to arrive at something that actually benefits people. I need to see actual benefit. I want to see people who actually are better off as a result of that. And that is a wonderful gift when that happens." Most fans would agree that Magnus and Alec's beautifully messy and real story arc certainly did that — as did their groundbreaking TV wedding.
Daddario noted, "And in this case, we have people who come up to us, and they say this helped with this. And I say, 'If it worked in that way, then thank you so much.'" The actor is always quick to acknowledge and thank his fans, and he loves hearing how Malec has impacted the "Shadowhunters" fandom. 
He continued, "First of all, thank you for letting me know because that makes me feel good that I did the right thing. And we're just happy that it had a positive effect, and we're happy that we didn't mess it up. Because it would've really sucked to do something like that and just really screw it up." Props to everyone involved in the show for not letting that happen.
Partners in crime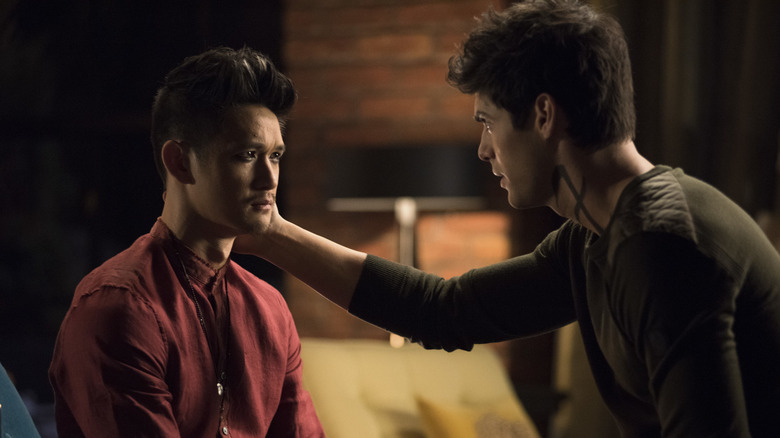 Freeform
Daddario only had wonderful things to say about working with the "Shadowhunters" cast — and particularly Harry Shum Jr. "Working with all these other actors, who are all also extremely thankful for that, was also a wonderful experience. With Harry, [he] is just an incredibly talented individual, frustratingly talented," he said. "And working with him, working with Isaiah [Mustafa], with everybody, they're all just great actors. It was a real treat. And honestly, my best memories were in a studio a lot, and it runs together a lot."
The days may have seemed long, but the cast found ways to spice up their time on set. "Laughing on set when we're setting up a shot and having a good time toward the end of the day, maybe. Maybe at the start of the day. It's just everybody's in it," he added. "And then going out with everybody, going out to dinner, having a good time. It was a very intense schedule because we were there for 20 episodes. We're there a lot of months, and [those were] our friends, and [those were] our people. So, it's a time I'll never forget." It's a time fans won't forget anytime soon, either. 
Daddario's new film "Wild Game" is now playing in select theaters and available on demand.