The Best One Chicago Franchise Crossover Moments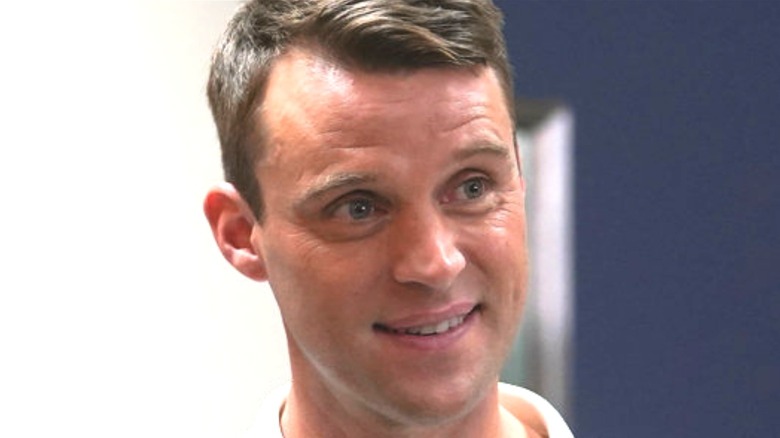 Lori Allen/NBC
When it comes to brilliantly addictive, multi-series TV programming, Dick Wolf's "One Chicago" franchise, and its shared crossover episodes, immediately spring to mind. Launching with the premiere of "Chicago Fire" in 2012, Wolf's "One Chicago" universe would soon expand to include sister shows "Chicago P.D." in 2014, "Chicago Med" the following year and "Chicago Justice" in 2017. After Justice was cancelled following its first season, the original trio was bundled together to air in a three-hour Wednesday night block in 2018. Ever since, Wolf's Chicago-verse of compelling action-dramas has become can't-miss TV for millions of fans week after week on NBC (via MonstersAndCritics.com).
So, obviously, having three ratings-crushing series dominating a single night of primetime television is a feat that simply cannot be topped, correct? To that, it seems like Dick Wolf said, "hold my beer," because he unleashed the above noted "One Chicago" crossover events. Allowing for narrative cross-pollination of storylines between all three shows, these mix-and-match episodes quickly became a major draw for viewers. 
Now semi-regular events, "One Chicago" crossovers are keenly anticipated by fans eager to see their favorite characters work with, mess with, and hook up with the other series' personalities. As popular as they are, is it even realistic to try and winnow out the very best "One Chicago" franchise crossover moments? Let's give it a shot.
Voight's character defining moment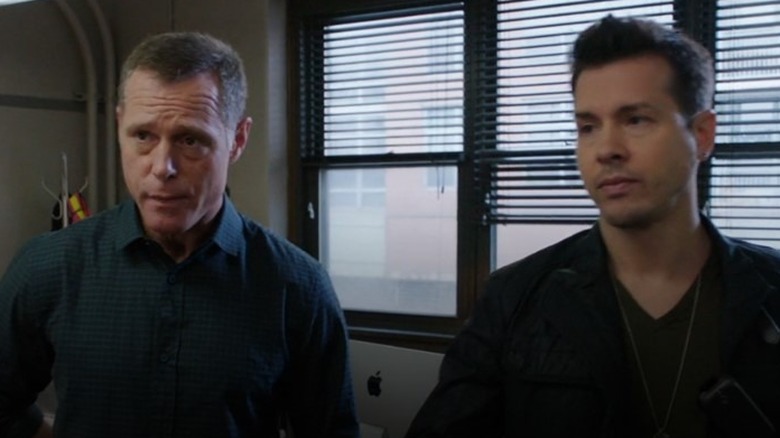 NBC
Early in 2013, characters from "Chicago Fire" and "Chicago P.D." spent time in each other's worlds in the "Chicago Fire" Season 1 episode "Let Her Go." 
As the blended episode begins, the firefighters are still attempting to recover from the murder of Dr. Hallie Thomas (Teri Reeves), the on-again off-again fiancée of firefighter Matthew Casey (Jesse Spencer). To track down her killer, the Firehouse 51 squad teams up with the CPD's intel unit. And that means joining forces with I.U. leader Hank Voight (Jason Beghe), who is recently out of prison but still laboring under the suspicion of being a dirty cop. 
This crossover's most memorable moment comes as Voight, detective Antonio Dawson (Jon Seda) and paramedic Sylvie Brett (Kara Kilmer) are discussing a clinic worker who may have information on the case. "I want that clinic director in the hot seat now," Voight growls. The other two attempt to cool Voight's temper down, with Dawson finally telling him, "This ain't the Gang Unit, Voight. You can't do everything with a battering ram." Voight's character-defining moment drops as he responds, "The hell I can't."
Firefighters bonding over a bomb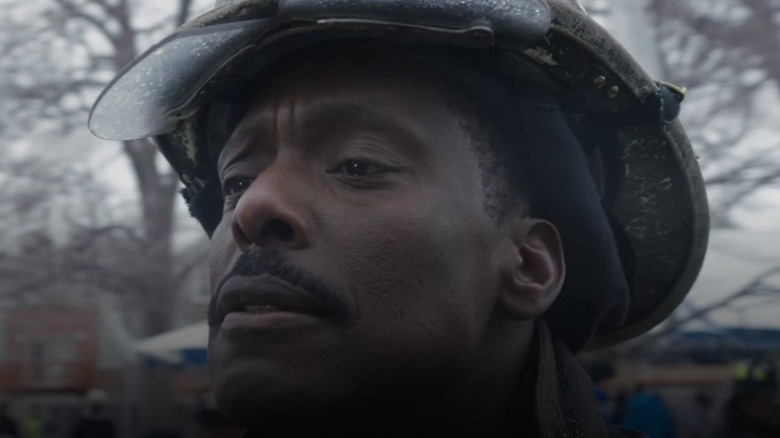 NBC
The "One Chicago" crossover action gets off to a shocking start in the "Chicago Fire" Season 2 episode "A Dark Day" when a bomb blast rips through the Emergency Department at Chicago Medical. With concrete debris tumbling down on people gathered outside the hospital for a charity run, dozens are grievously injured. On hand as volunteers at the event, firefighters Matthew Casey (Jesse Spencer) and Gabby Dawson (Monica Raymond) both find themselves getting caught up in the ensuing chaos, while Dawson ends up trapped in the rubble, and paramedic Leslie Shay (Lauren German) is badly injured when she is impaled on a piece of rebar. 
Later in the episode, firefighter Peter Mills (Charlie Barnett) and Chief Wallace Boden (Eammon Walker) are seen desperately trying to disarm another bomb that is about to detonate. Nervous about Mills' questionable ability to not blow both of them to smithereens, Boden points out the clock is ticking, saying "OK. It's eight twenty-nine. This thing is set to go ..." to which Mills diplomatically replies, "Chief. Respectfully -– shut up."
A clever killer tests everyone's patience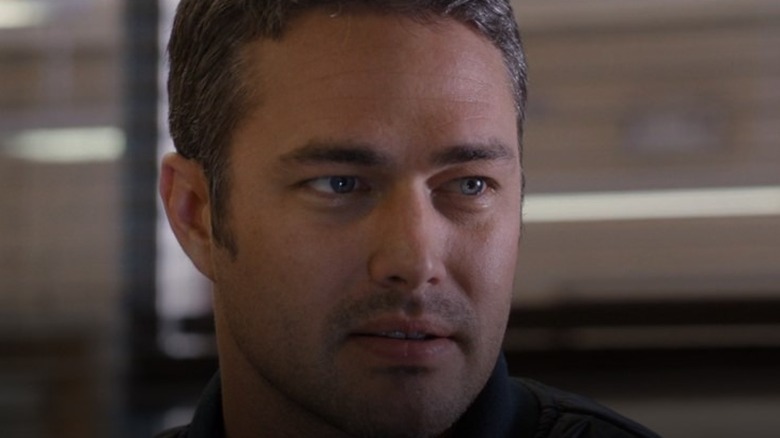 NBC
This two-part "One Chicago" crossover begins with the "Chicago Fire" Season 3 installment, "Three Bells." At the firehouse, rescue squad Lt. Kelly Severide (Taylor Kinney) is on the hunt for clues about the recent on-duty death of Leslie Shay (Lauren German) in a fatal building fire and subsequent collapse. The trail leads him to a convicted and jailed arsonist who offers proof that Shay's death was no accident. 
The crossover storyline continues in the second hour of the event with the "Chicago P.D." Season 3 Episode "A Little Devil Complex." In this crossover's continuation, the intel unit joins the pursuit of the person responsible for killing Shay. But whenever Hank Voight (Jason Beghe) and his crew think they're close to learning the truth, they're frustrated by the maneuverings of their prime suspect, the arsonist Trenton Lamont (Robert Knepper), a criminal adept as hiding behind various aliases. When Voight eventually realizes that Lamont has fooled them again by stealing the identity of a deceased fire victim named Adrian Gish, he finally reaches the boiling point. In a violent display of emotion, he hurls his drink against the wall, and he shouts, "If that guy's Gish, who the hell is this guy?!" For sure, this marks one more genuine trademark moment of Voight — unapologetically — being Voight.
Two One Chicago shows share an explosive moment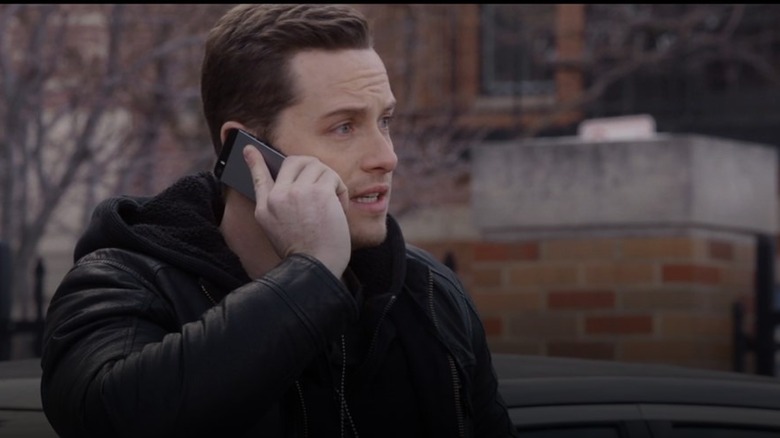 NBC
In a crossover that served as the "backdoor pilot" for the launch of the "Chicago Med" franchise, the "Chicago Fire" Season 3 installment "I Am the Apocalypse" formally introduced audiences to many of the Emergency Department staff at the fictional Gaffney Chicago Medical Center. As the episode opens, the firefighters are called to a hazardous chemical leak. It turns out there's been a toxic anhydrous ammonia spill at a local industrial complex. 
At the hospital, the E.D. is already overflowing with flu victims when they are alerted that more than thirty victims of the ammonia leak are being rushed in and will be arriving shortly. As the leak victims stream into to the crowded confusion of the E.D., a bad situation turns chaotic when a deranged man reveals he is clutching a live hand grenade. As the terrified patients and staff look on, the man shouts, "If you thought Ebola was a nightmare, I am the apocalypse! Death to all Americans! You're all dead in two weeks!" He then pulls the pin on the grenade, just as Kelly Severide (Taylor Kinney) slams into him, saving dozens of bystanders but being seriously injured in the blast. 
As it turns out, Severide survives and, after a tense period while the hospital is locked down, it's discovered that the crazed bomber isn't infectious. In the final analysis, however, when considering which "One Chicago" scenes rank as truly unforgettable, this apocalyptic moment is clearly a standout — for the franchise as a whole.
All three One Chicago casts face a deadly bio-threat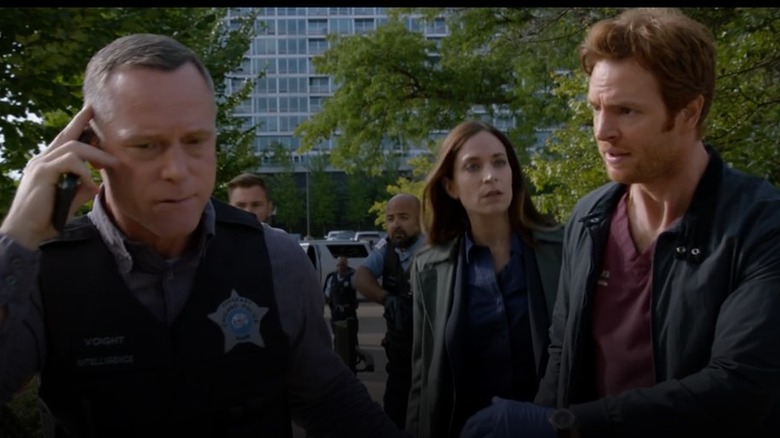 NBC
One of the more epic crossover events in "One Chicago" history was a 2019 multi-episode spectacular, "Infection, Parts I, II and III." Immersing viewers in a three-hour marathon of high-intensity drama, it tells the story of a city facing a terrifying and lethal mystery illness. 
It's "Chicago Med" that kicks off the action as a deadly bacterial epidemic sweeps across Chicago. With the assistance of the CDC, the Firehouse 51 squad races to identify the source and control the situation, with a frightening lack of success. In the second hour, "Chicago Med" team members risk their own health to treat a citizenry increasingly panic-stricken by what appears to be a highly infectious flesh-eating bacteria. 
In the crossover's concluding chapter, the detectives of "Chicago P.D." take over to organize the biggest manhunt in department history in a race to stop the bioterrorist behind the disease outbreak. After successfully resolving the crisis, all three teams are gathered together as Dr. Sharon Goodwin (S. Epatha Merkerson) addresses them, saying, "Fear is a funny thing ... it brings out the worst in people. But fear also brings out our very best ... And for a certain few, fear brings out something different, their choice to be heroic ... to find a way to hold onto hope and to lean on each other like family." 
The truth is, her remarks sum up not only this trio of episodes, but also the overarching credo for all three series, spotlighting this moving scene as absolutely among the very best "One Chicago" franchise crossover moments of all-time.