Actors You Forgot Were In The Harry Potter Movies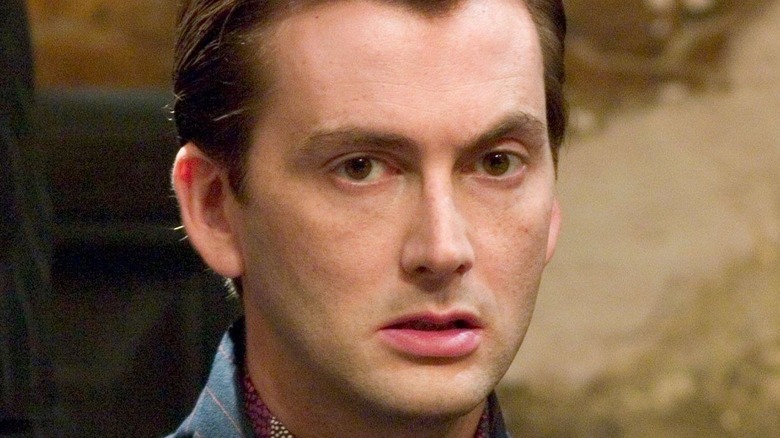 Warner Bros. Pictures
Beginning with "Harry Potter and the Sorcerer's Stone" in 2001, J.K. Rowling's epic saga of a boy wizard and his fight to stop an evil dark lord from rising out of the grave has become well known for turning many of its young stars into household names. Many members of the principal cast of unknown child actors, including first-time performers Daniel Radcliffe, Emma Watson, and Rupert Grint, have gone on to become even bigger stars in their own right.
But the "Harry Potter" film series also had one of the largest and most impressive casts of any movie franchise before or since, with any number of seasoned dramatic actors joining Hogwarts each year. Its roster included everyone from global megastars, like Helena Bonham Carter as Bellatrix LeStrange and Ralph Fiennes as Lord Voldemort, to well-regarded English character actors, like Jim Broadbent as Horace Slughorn and David Bradley as Argus Filch. Across the eight films that comprise the series, it seemed like every major actor in the British isles has appeared somewhere in the Wizarding World.
Many actors' appearances in the series, however, have been largely forgotten. Whether it's because it was a small part in a film two decades old, or because it's a newer star who appeared in the series before they came to fame, keep scrolling for a list of actors you may not remember having appeared in the "Harry Potter" saga.
Rhys Ifans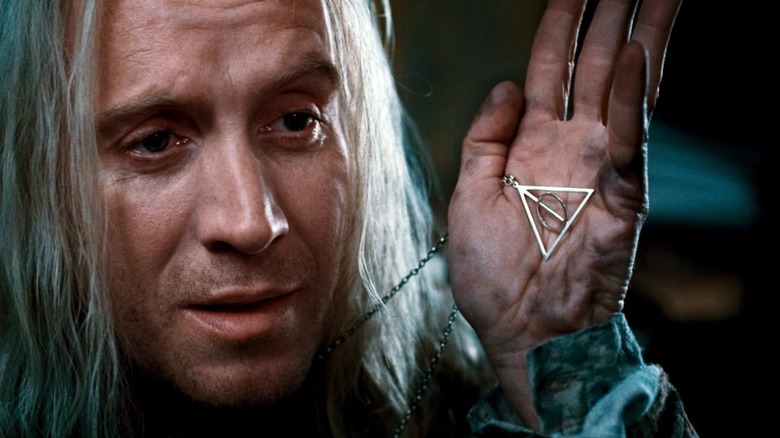 Warner Bros. Pictures
Though he may not be recognizable to some, thanks to a platinum blonde wig and some eccentric attire, actor Rhys Ifans joined the "Harry Potter" franchise in 2010 in "Harry Potter and the Deathly Hallows, Part I" as Luna Lovegood's father, Xenophilius Lovegood. First appearing as a supposed friend of Harry's, it's Lovegood who the young wizard visits when he is looking for answers to the myth of the Deathly Hallows. Recognizing the legend's unusual symbol as the same one that appears on the elder Lovegood's mysterious pendant, Harry seeks answers. Though he's happy to fill Harry in on the mythology surrounding the Deathly Hallows, the elder Lovegood turns on Harry out of desperation to save his daughter, who's been abducted by the Death Eaters. Lovegood uses the opportunity to alert Voldemort and his allies of the whereabouts of the boy wizard and his friends, with the Dementors arriving to consume Harry, Ron, and Hermione. 
After playing the manic Lovegood, Ifans took on the role of Curt Connors and his alter ego The Lizard in the 2012 reboot, "The Amazing Spider-Man." On television, meanwhile, he portrayed Sherlock Holmes' brother Mycroft Holmes on the Johnny Lee Miller drama "Elementary," the Americanized version of Sir Arthur Conan Doyle's literary classics. The actor more recently reunited with Voldemort actor Ralph Fiennes in the action spy prequel "The King's Man," and returned to the role of The Lizard for the epic crossover film, "Spider-Man: No Way Home."
Regé-Jean Page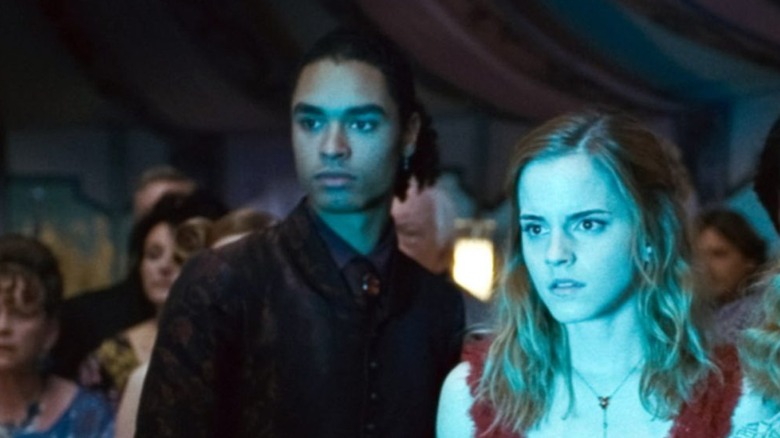 Warner Bros. Pictures
In the first of a few "before they were stars" entries on this list, Regé-Jean Page might not have made it on here just a couple of years ago, before his breakout role in the highly acclaimed Netflix original series "Bridgerton." There he stars as Simon Bassett, the Duke of Hastings, and best friend to series star Anthony, the oldest son in the Bridgerton family. But a decade before his star-making run on the streaming drama, Page appeared in "Harry Potter And The Deathly Hallows, Part I" as a guest at the wedding of Bill and Fleur. 
It's a background role, a blink-and-miss-it cameo at best, but it's fun to discover a younger version of a big new star — years before he rose to fame — casually strutting around in the background of one of the decade's biggest movies. He has no lines and goes uncredited; he appears in just a few seconds of footage, but it's still one of the most delightful Easter egg appearances you're likely to find on a rewatch of the film series, especially if you're a "Bridgerton" fan. Having recently announced his departure from the popular show, he's joined the cast of the big-budget adaptation of "Dungeons and Dragons," due out in 2023, that also stars Chris Pine, Hugh Grant, and Sophie Lillis. 
Warwick Davis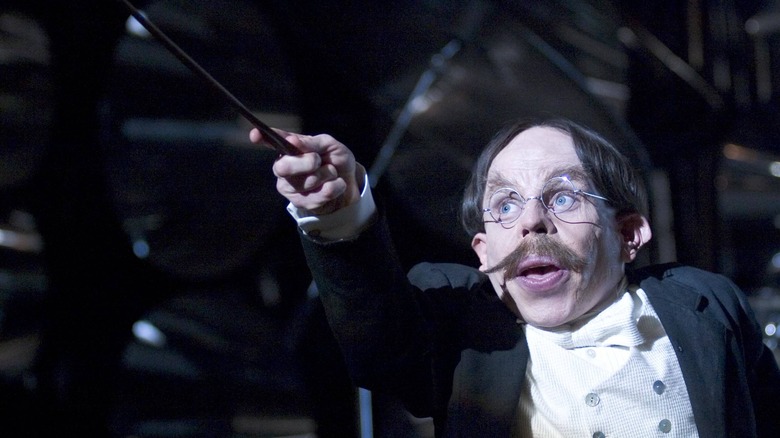 Warner Bros. Pictures
Star of the fantasy epic "Willow," Warwick Davis is more associated with the "Star Wars" franchise than anything else. As the Ewok Wicket, Davis made his big screen debut at the tender of age of 13, and has continually returned to the saga where he's played more than a half-dozen characters, from "Return of the Jedi" all the way through "The Rise of Skywalker." 
While he wouldn't inhabit quite as many characters in the "Harry Potter" series, Davis has managed to play two key roles in the Wizarding World, beginning with Professer Flitwick in "Harry Potter and the Sorcerer's Stone," who would return in nearly ever subsequent installment. He also performed the voice of Griphook in the opening entry, and returned in the final two films to both voice and play the slimy goblin banker.
As Griphook, Davis played a crucial part in Harry Potter's victory over Voldemort in the final film, helping him break into Gringott's bank in order to steal the horcrux that Belatrix LeStrange had squirreled away. Fans may not have recognized him under his heavy makeup, but the actor would become just as important to the magical franchise as he has been to "Star Wars." Though his part in "Harry Potter" may be over, he's not done with the world of fantasy just yet, as he will reprise his role as "Willow" in a new Disney+ series in 2022.
Michelle Fairley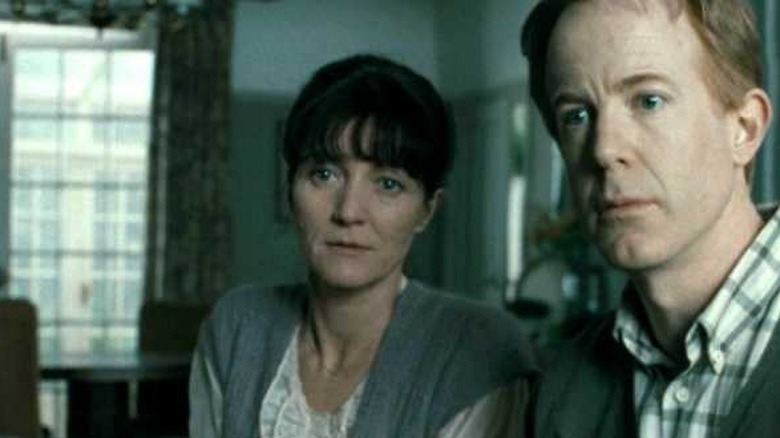 Warner Bros. Pictures
With a long and varied career stretching back to the late 1980s, Fairley is a journeywoman actress who had appeared in dozens of parts but who had come to only modest fame, having rarely appeared in more than a handful of episodes of any series. But in 2010 she would appear briefly in the first part of the final "Harry Potter" story, "The Deathly Hallows, Part I," as the muggle mother of Emma Watson's Hermione. It was another blink-and-miss-it cameo, but a crucial scene nonetheless. In a heartbreaking moment at the start of the film that sets the stage for the emotional journey to follow, we see Hermione forced to wipe her parents' memories of her existence to keep them safe in the face of the Death Eaters' war on the Wizarding World and beyond.
It was just after her brief work in "Harry Potter" that Fairley would snag an important part in a new fantasy series, starring opposite actor Sean Bean as Ned Stark's wife Catelyn on HBO's "Game of Thrones." She would ultimately appear in more than two dozen episodes, and subsequently land important recurring parts in hit shows like "24" and "Suits."
Kenneth Branagh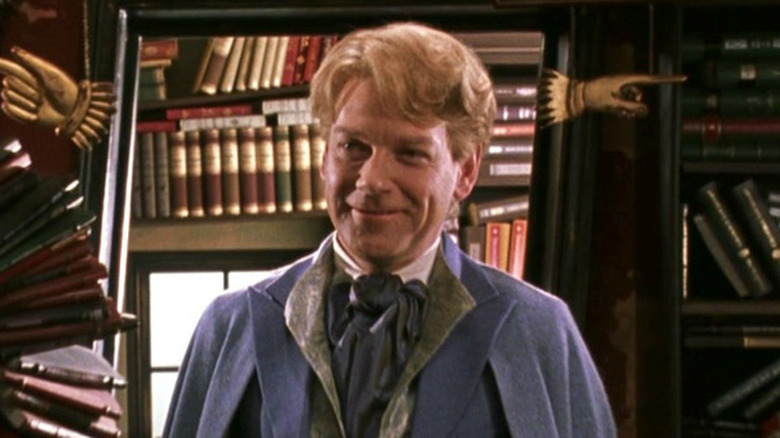 Warner Bros. Pictures
Though Kenneth Branagh was already a well-regarded actor and world-class director when he took on the role of Gilderoy Lockhart in "Harry Potter and The Chamber of Secrets," he was probably unknown to most of the children watching in the audience upon its release in 2002. But as the pompous, egotistical wizard prone to hyperbole, he replaced Professor Quirinus Quirrell as Hogwarts' Defense Against The Dark Arts teacher in the first "Harry Potter" sequels, after Quirrell was revealed to be possessed by Lord Voldemort. While Lockhart does know a thing or two, it's clear he's not the talented wizard that Quirrell was, nor is he truly as gifted as he claims, as most of the stories of his greatness are clearly exaggerated. 
Prior to his appearance in "The Chamber of Secrets," Branagh was perhaps best known for having directed and starred in several Hollywood adaptations of literary classics like "Henry V," "Mary Shelley's Frankenstein" and "Hamlet." After "Harry Potter," his career would take off even more, as he directed and starred in the BBC drama "Wallander" for four seasons and directed "Thor," the big screen debut of the famous comic book god of thunder, for Marvel Studios in 2011. He also grabbed the starring role of Agatha Christie's fictional Belgian detective Hercule Poirot in "Murder On The Orient Express" and its upcoming sequel, "Death on The Nile," both of which he's directed.
Robert Pattinson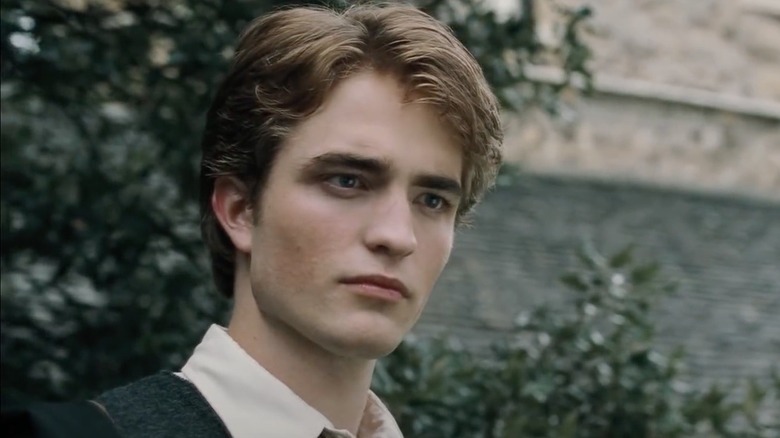 Warner Bros. Pictures
Robert Pattinson may be starting a new big franchise in 2022 as he takes on the role of Bruce Wayne and the Caped Crusader himself in Matt Reeves' "The Batman," but his first credited film role was also franchise fare. In "Harry Potter and the Goblet of Fire," the young future star of the "Twilight" saga appeared as Cedric Diggory, Harry Potter's most intimidating rival in the Tri-Wizard Tournament. While Diggory at first antagonized Potter for being the youngest of the participants, Harry eventually helped him anyway by telling him about the danger they faced in the first task of the tournament. Cedric returned the favor when Potter struggled with the second task, giving him the clue he needed to complete it. In the final task, Harry and Cedric worked together to claim the Tri-Wizard Cup before Diggory was killed by Voldemort in his first physical appearance.
After appearing in "The Goblet of Fire," Pattinson played Salvador Dali in "Little Ashes" before taking on his breakthrough role as Edward in the "Twilight" movies. Following his stint in teen dramas, the actor would make his case as a serious dramatic performer in movies like "The Lost City of Z," Christopher Nolan's "Tenet" and Robert Eggers' "The Lighthouse" before being cast as the newest version of Bruce Wayne. He's come a long way since his teen heartthrob days, and from "Tenet" to "The Batman," Pattinson has become one of Hollywood's newest A-listers.
John Cleese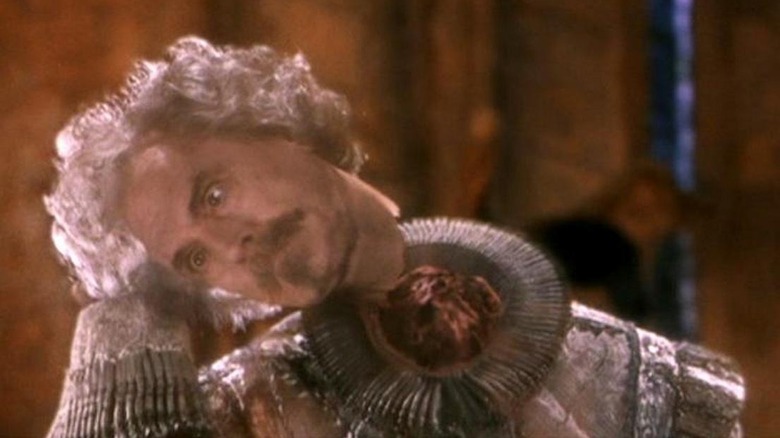 Warner Bros. Pictures
Comedy legend and British institution John Cleese — founding member of sketch comedy outfit Monty Python — wasn't exactly unknown or unrecognizable when he appeared in the "Harry Potter and the Sorcerer's Stone" and "Harry Potter and the Chamber of Secrets" as Nearly-Headless Nick, the whimsical ghost of House Gryffindor. As the slightly decapitated Sir Nicholas de Mimsy-Porpington, Cleese was well-known to have appeared in the series at the time. But since his part was limited to a small role in only the first two films nearly 20 years ago, you'd be forgiven for forgetting he was there. 
As he played a sillier, more kid-friendly character — despite his nasty nickname — Nearly-Headless Nick would quickly disappear from the series on-screen as the franchise grew darker and more grim over subsequent installments. For those fans who may have been children when the early films were released, and who only discovered the Monty Python actor's long body of work later as they grew older, learning that Cleese played the role has proven to be a delightful moment.
David Tennant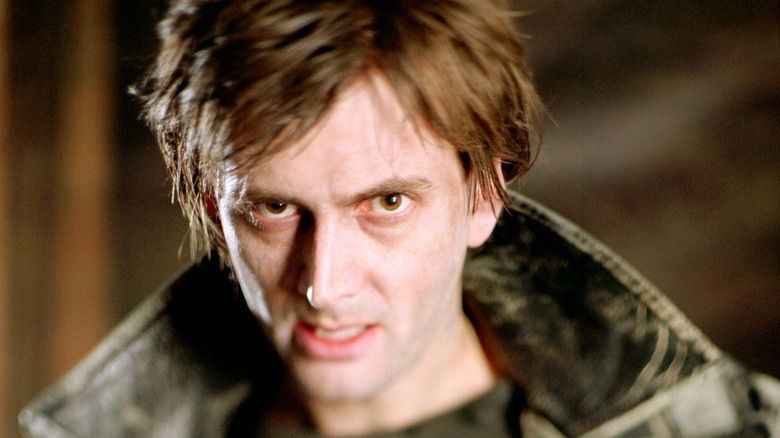 Warner Bros. Pictures
Better known for his three-season stint as the titular Doctor in the BBC's long-running science fiction franchise "Doctor Who," David Tennant appeared in the other iconic British franchise, "Harry Potter," as Barty Crouch, Jr. The villainous son of Barty Crouch Sr., the Head of the Department of International Magical Co-Operation, the younger, more sinister Mr. Crouch was a devout follower of Voldemort who had tortured the parents of Neville Longbottom. As revealed in "Harry Potter and The Goblet of Fire," he used the Cruciatus Curse to drive them insane.
Eventually Crouch would hide away in the guise of Mad Eye Moody and pose as the highly respected Hogwarts professor to manipulate events around Harry Potter, in a bid to put the young wizard before Voldemort to face his doom. After murdering his own father, Crouch Jr. would be exposed by Dumbledore and Snape and returned to Azkaban prison from which he had escaped. 
It wasn't long after "The Goblet of Fire" that Tennant would secure the coveted and iconic role of the 10th Doctor, succeeding Christopher Eccleston after his departure from the series in 2005. From there he skyrocketed to international fame, taking lead roles in the BBC's crime drama "Broadchurch," as the villain Killgrave in Marvel's "Jessica Jones" for Netflix, and as the voice of Scrooge McDuck in the animated revival of "Duck Tales."
Domnhall Gleeson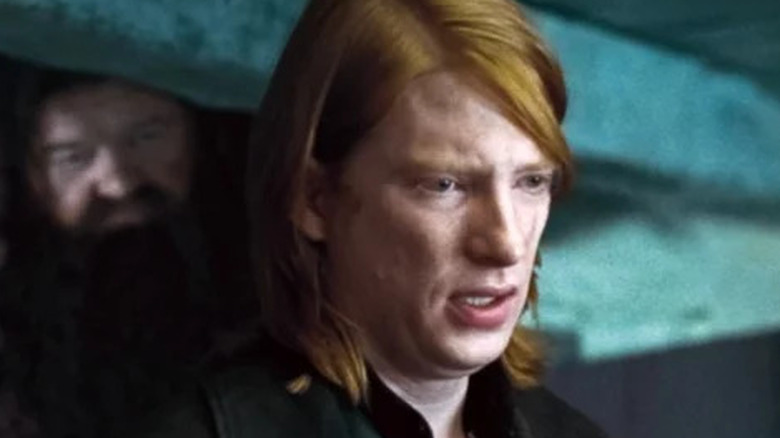 Warner Bros. Pictures
The Weasley family was a crucial part of the "Harry Potter" saga, with young Ron playing a lead role as Harry's best friend, and his two twin brothers Fred and George joining the group first as fellow Hogwarts students, and later as friends and defenders of Harry as well. Their father Septimus Weasley, who begins as a funny, bumbling dad, is later shown as a formidable wizard and ally of the Potter faction later in the series too. But it's in the final chapter, "The Deathly Hallows," that we finally meet the as-yet-unseen older Weasley brother, Bill Weasley, who returns from abroad to join the fight against Voldemort. Playing Bill was a young, little-known actor named Domnhall Gleeson, who would go on to star in the sci-fi thriller "Ex Machina," and join the "Star Wars" franchise as First Order General Hux in Disney's sequel trilogy. 
Though not the first actor to play the part, as Bill was played briefly by another actor in "The Prisoner of Azkaban," Gleeson took over the role for the last two films. In "The Deathly Hallows," Domnhall also got to work alongside his real-life father, Brendan Gleeson. The latter played disgruntled wizard Mad Eye Moody, who gives his life when confronted by Voldemort during an attempt to hide Harry Potter. 
Emma Thompson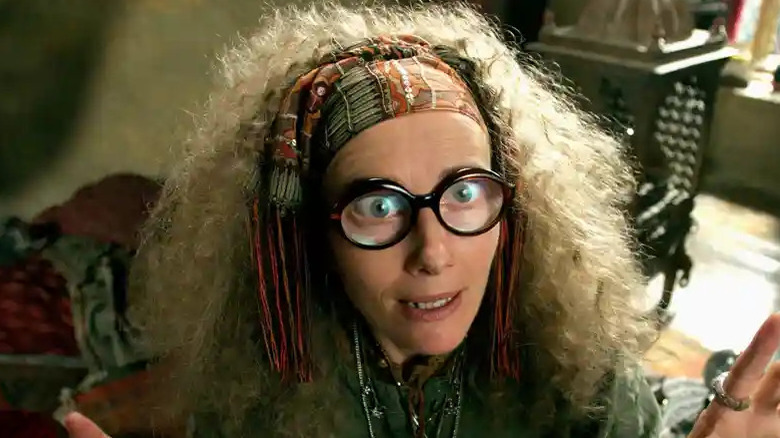 Warner Bros. Pictures
She may be better known for classic literary dramas like "Sense and Sensibility" (for which she also wrote the screenplay) and romantic comedies like "Love Actually," but award-winning English actress and screenwriter Emma Thompson first dipped her toe into the world of fantasy with "Harry Potter And The Prisoner of Azkaban." Despite her fame and prolific career, you'd be forgiven for not realizing that Emma Thompson was ever a part of the "Harry Potter" franchise: she didn't have a major role, and was practically unrecognizable. Decked out in a massive, frizzy wig, her eyes buried under Coke-bottle eyeglasses, and wearing false teeth, she hardly resembled the other parts she had become known for.
Appearing in three of the "Harry Potter" films as eccentric, oddball Professor Sybill Trelawney, Thompson would go on to perform in more films in the fantasy genre, including as the titular character in the "Nanny McPhee" series and as Agent O in "Men In Black 3" and "Men In Black International." She even reteamed with Emma Watson for the live-action version of Disney's "Beauty And The Beast" where she voiced Mrs. Potts. More recently Thompson appeared in another live-action Disney adaptation, "Cruella," as fashion mogul Baroness von Hellman.
John Hurt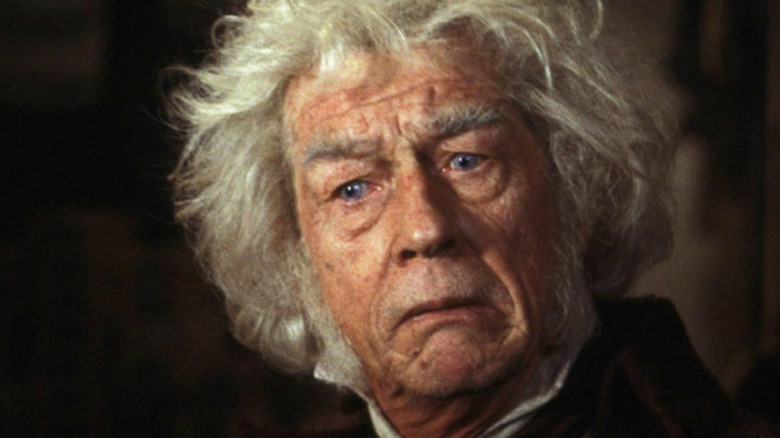 Warner Bros. Pictures
John Hurt is the second actor on this list who would go on to play an incarnation of British icon The Doctor on "Doctor Who," and like David Tennant, it wasn't long after his final appearance in "Harry Potter" that he joined the BBC sci-fi series. Hurt was part of the Wizarding World from the very beginning though, with a small role in "Harry Potter and the Sorcerer's Stone" as a wand shop owner in Diagon Alley. He was absent for most of the other movies but returned in the final story, making his appearances a nice bookend to the film series. As Garrick Ollivander, he played the person responsible for matching Harry Potter with his famous wand. In his return in the final two films, he is among those imprisoned at Malfoy Manor, abducted by Voldemort to help him obtain a new wand that can defeat the bespectacled boy.
Hurt was already a legendary figure when he joined the Wizarding World, having rose to prominence in the 1970s when he starred as Roman Emperor Caligula in the BBC's "I, Claudius" and played the lead role in the TV mini-series adaptation of "Crime and Punishment." He would also voice Aragorn in Ralph Bakshi's animated "The Lord of The Rings," while his notable later credits included major roles in "Alien" (it's his chest that the first xenomorph bursts out of), "Indiana Jones and the Kingdom of the Crystal Skull," Guillermo del Toro's "Hellboy" and the dystopian sci-fi epic "Snowpiercer."
Verne Troyer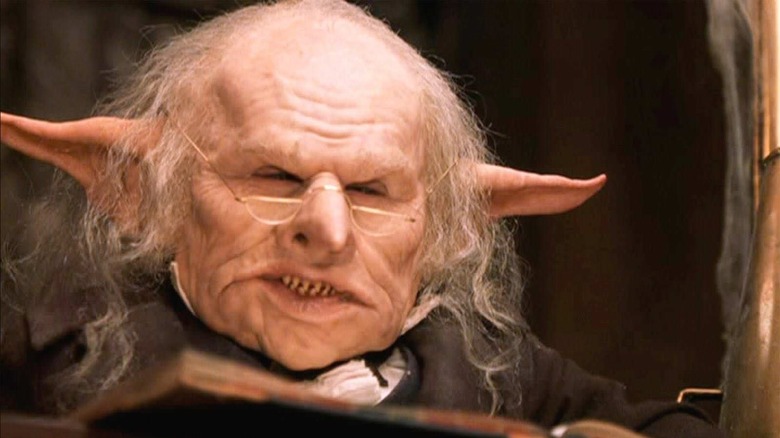 Another actor who appeared under heavy prosthetic makeup, "Austin Powers" actor Verne Troyer played the part of the Gringotts banker Griphook in "Harry Potter And The Sorcerer's Stone." Of course you might not have known it, as the character's voice was ultimately dubbed over by Warwick Davis, who also played Griphook, as well as Professor Flitwick and another unnamed goblin. 
Breaking "Harry Potter" author J.K. Rowling's longstanding rule of an all-British cast, the diminutive Troyer was the only American to have a notable role in the entire saga. But as Griphook's role grew even bigger in later films, Troyer would be replaced in the role altogether by the same man who performed the voice of Griphook in the first film, Warwick Davis. In behind-the-scenes interviews with Davis during the production of "The Deathly Hallows," Davis revealed that he had campaigned to take over the physical performance. Whether they were already looking for a replacement has never been made clear, but perhaps an American playing a major character in the English production was just too much for creator Rowling. 
Jamie Campbell Bower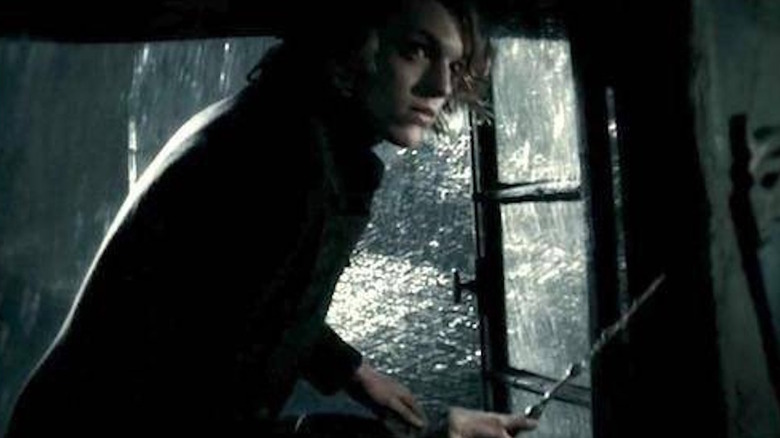 Warner Bros. Pictures
Jamie Campbell Bower appears to have a talent for playing all-powerful villains. The actor and singer, who plays Vecna, the demonic primary antagonist in "Stranger Things," also played the youthful Gellert Grindelwald in both "Harry Potter and the Deathly Hallows – Part 1" and "Fantastic Beasts: The Crimes of Grindelwald." And if those weren't imposing enough roles, Bower also played the vampire Caius Volturi in two "Twilight Saga" titles ("New Moon" and "Breaking Dawn") and King Arthur in the Starz series "Camelot."
A former model, Bower earned his first feature role as the romantic young sailor Anthony in Tim Burton's 2007 adaptation of Stephen Sondheim's "Sweeney Todd: The Demon Barber of Fleet Street," and worked steadily from there. Roles in Guy Ritchie's "RocknRolla" and the revival of "The Prisoner" (as Numbers 11 and 12) preceded his "Harry Potter" and "Twilight" appearances. When those projects concluded, Bower lent his voice to the railboat Skiff on "Thomas and Friends," before returning to J.K. Rowling's universe to play the young Grindelwald in the sophomore "Fantastic Beasts" film. Bower joined "Stranger Things" in Season 4 while also honing a second career as a singer, both with the band Counterfeit and as a solo artist.
Luke Youngblood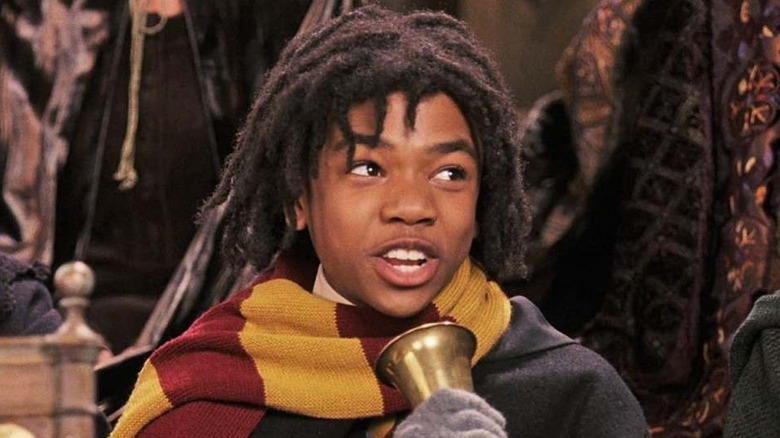 HBO
Luke Youngblood lent his voice and boundless enthusiasm to the first two "Harry Potter" features as Lee Jordan, who was the announcer at Quidditch games and a close friend of Fred and George Weasley. Youngblood later reprised the role for the 2007 "Order of the Phoenix" video game and voiced numerous characters in the 2023 game "Hogwarts Legacy."
Jordan was Youngblood's first major screen role, which he followed with a series regular stint on the popular CBBC series "The Story of Tracy Beaker." After briefly stepping away from acting to compete on the fashion-centered UK reality series "Project Catwalk," he returned with a string of appearances on high-profile American television series. The best known of these was the perennially upbeat student Magnitude on "Community," though he also logged roles on "Glee," "Superior Donuts," and the comedy-musical series "Galavant."
In the late 2010s, he worked almost exclusively as a voice-over actor on series like "Fast and Furious Spy Racers" and "The Loud House," but will return to live action and the "Harry Potter" universe to serve as the announcer for "Harry Potter: Hogwarts Tournament of Houses," a game show anchored around "Harry Potter" lore for TBS and the Cartoon Network.
Alfred Enoch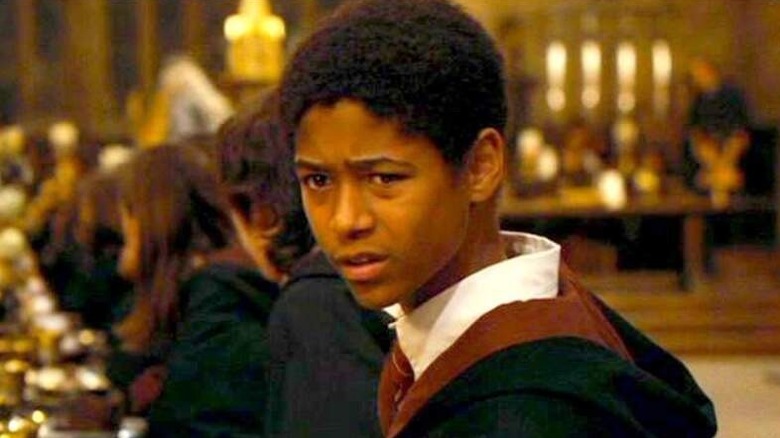 Warner Bros. Pictures
Though perhaps best known to American audiences as law student Wes Gibbins on "How to Get Away with Murder," British-Brazilian actor Alfred Enoch played Hogwarts student and Dumbledore's Army member Dean Thomas in seven of the eight "Harry Potter" films (the sole exception being "Harry Potter and the Deathly Hallows – Part 1"). When the film series concluded, Enoch worked extensively on the London theater scene while also appearing in episodes of "Sherlock," among other series.
He returned to film with a 2020 Brazilian movie, "Executive Order," and then to television with main roles in a string of series, including the second season of "Trust Me" as an injured soldier and "Foundation" as Jared Harris's ill-fated adopted son. He enjoyed a romantic lead role in the quirky and critically praised Sky Cinema holiday comedy "This Is Christmas" (with fellow "Harry Potter" alum Timothy Spall) before returning to the London stage for starring roles in productions of "Romeo and Juliet" and "As You Like It."
Frank Dillane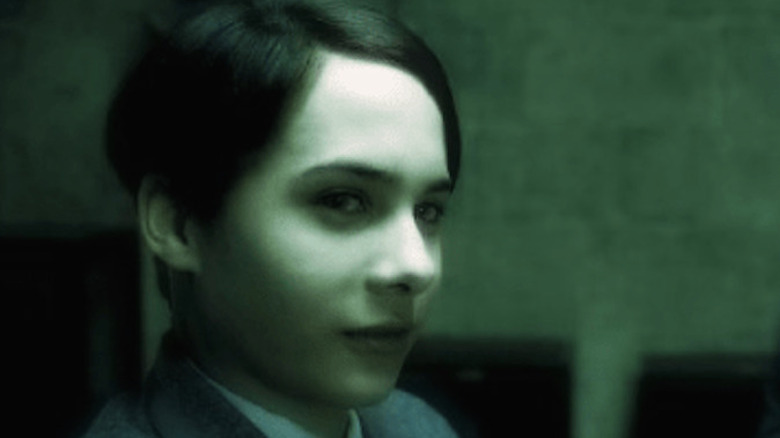 Warner Bros. Pictures
Two actors played younger versions of Lord Voldemort in "Harry Potter and the Half-Blood Prince." Hero Fiennes Tiffin — the nephew of actor Ralph Fiennes, who played the adult Voldemort — played Tom Riddle as a boy, while Frank Dillane played him as a teenager. Dillane is himself related to an actor: His father is Stephen Dillane, perhaps best known as Stannis Baratheon on "Game of Thrones." The younger Dillane made his screen debut in 1997 as an extra in one of his father's projects, the film "Welcome to Sarajevo."
After "Half-Blood Prince," Dillane reunited with his father for the UK indie feature "Papadopolous and Sons" in 2012, then played a fictionalized version of Owen Coffin, a real-life sailor cannibalized by his shipwrecked crewmates in Ron Howard's 2015 drama "In the Heart of the Sea." That same year, he began a four-season arc on "Fear the Walking Dead" as Nick Clark, a young man recovering from drug dependency as a zombie outbreak envelops the world.
After departing the series at the beginning of Season 4, Dillane appeared in a flurry of screen projects. These included a recurring role on "The Girlfriend Experience" in 2021 and supporting work in the Apple TV+ drama "The Essex Serpent" as a young surgeon opposite Claire Danes, Tom Hiddleston, and fellow "Harry Potter" alum Clemence Poesy.
Fiona Shaw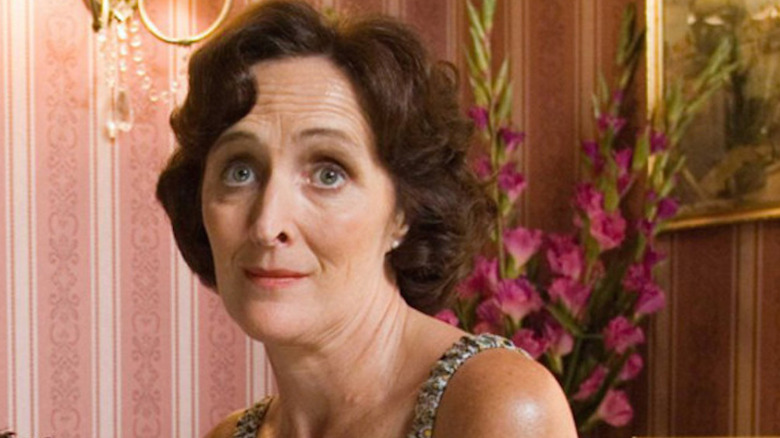 Warner Bros. Pictures
Irish actress Fiona Shaw played Harry Potter's aggravating maternal aunt, Petunia Dursley, in five of the seven films, beginning with "Harry Potter and the Sorcerer's Stone" and ending with "Deathly Hallows – Part 1," when she, her husband Vernon, and their son Dudley have to leave their home at Privet Drive for their own safety due to Voldemort's attacks on Harry. Shaw, who is an award-winning stage actress in England, had amassed an impressive film resume prior to the "Harry Potter" films, including appearances in "My Left Foot" and numerous adaptations of classic novels like "Anna Karenina" and Jane Austen's "Persuasion."
Her television career during this period was equally impressive, including a recurring role as possessed palm reader Marnie Stonebrook on "True Blood" and appearances on "Marple," "Inside No. 9," and "Channel Zero." She received a great deal of acclaim for her turn as the head of M16's Russian operations on Phoebe Waller-Bridge's "Killing Eve," which earned her a BAFTA Award and Emmy nomination. A second Emmy nod came with an appearance as a no-nonsense counselor on Waller-Bridges' "Fleabag," and was soon followed by series regular work on the BBC One series "Baptiste" and on "Andor," as the adoptive mother of Diego Luna's Cassian Andor.
David Bradley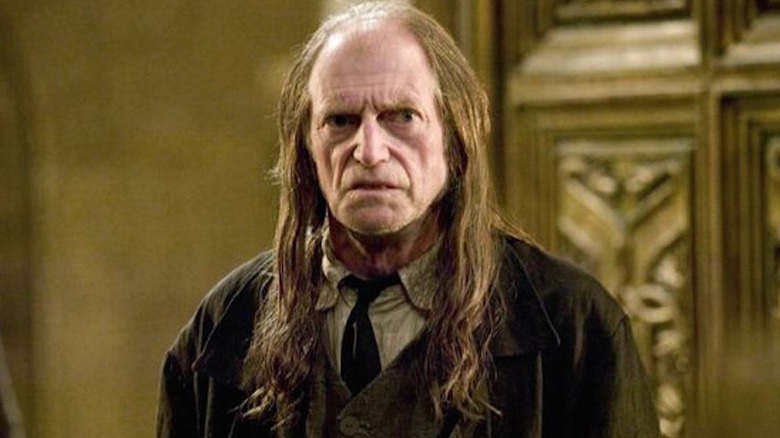 Warner Bros. Pictures
A prolific and acclaimed stage actor, as well as a recurring player on TV in his native England since the early 1970s, actor David Bradley's turn as Hogwarts' perpetually cross groundskeeper Argus Fitch most likely served as his introduction to American audiences. His appearances in seven "Harry Potter" films have since made him a more familiar face across the globe, as have the many high-profile projects he's undertaken since the series ended, like "Captain America: The First Avenger," Edgar Wright's "The World's End," and Guillermo del Toro's "Pinocchio," in which he voiced Gepetto.
On the small screen, Bradley has played the scheming Walder Frey on "Game of Thrones," vampire hunter Abraham Setrakian on del Toro's "The Strain," and Ricky Gervais's father on "After Life." He's also the third "Harry Potter" actor to play the Doctor on "Doctor Who," although his tenure had a twist: He played both the first Doctor in the 2017 Christmas special and "The Power of the Doctor" in 2022, and William Hartnell, the real-life actor who played him in "An Adventure in Time and Space," a 2013 BBC TV movie about the creation of "Doctor Who" in 1963 (he also turned up as a space pirate opposite Matt Smith's Doctor in 2012). He lends his distinctive voice to numerous animated projects, including del Toro's "Trollhunters: Tales of Arcadia" (for which he won an Annie Award), "Adventure Tim: Distant Lands," and the upcoming "Chicken Run: Dawn of the Nugget."
Timothy Spall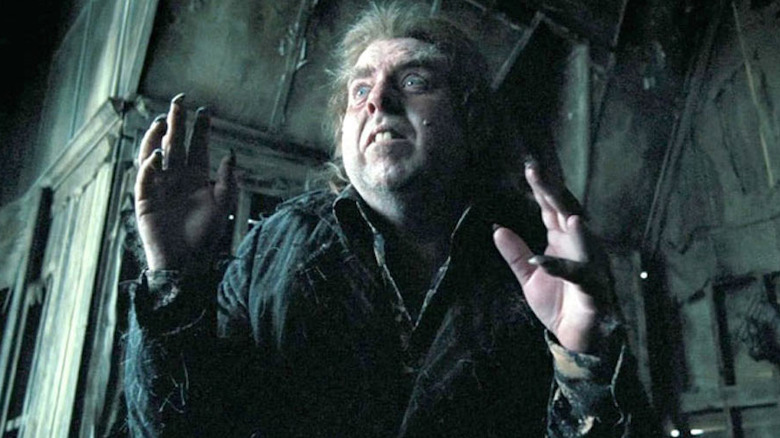 Warner Bros. Pictures
Character actor Timothy Spall played the Death Eater Peter Pettigrew, who used his talent for transforming into a rat to aid Voldemort in five of the "Harry Potter" films (his appearance in "Deathly Hallows – Part 2" is comprised of archival footage). Spall's Pettigrew was spared the grisly death suffered by his character in the novels: He was strangled by the enchanted hand given to him by Voldemort in the book, but in the movie, he's dispatched by Dobby, of all people.
Equally adept at both drama and comedy, Spall tackled a wide range of roles during his long screen career: Arthouse fans know him from his six collaborations with director Mike Leigh, including the kitchen sink drama "All or Nothing," and historical biopics like "Mr. Turner," for which he earned the best actor award at the Cannes Film Festival in 2014. Younger audiences are likely to remember him from the "Harry Potter" films or his comic turns in "Enchanted" and "Chicken Run," while their parents know him from "The King's Speech," "Spencer," and more recently, the Netflix thriller "The Pale Blue Eye" alongside Christian Bale and fellow "Harry Potter" star Harry Melling.
Lenny Henry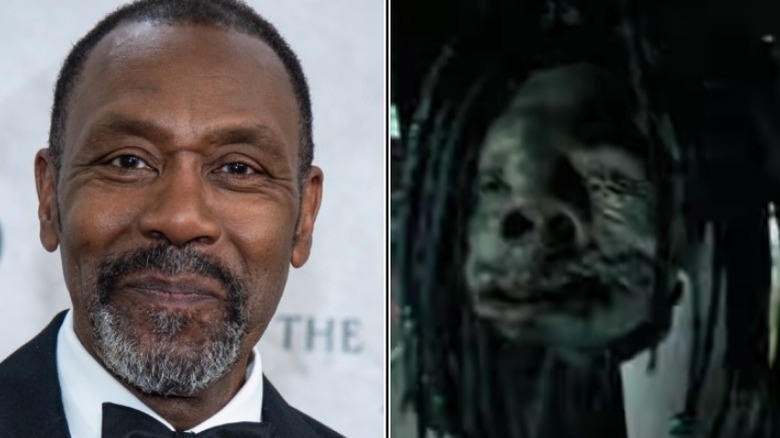 Loredana Sangiuliano/Shutterstock/Warner Bros. Pictures
Comedian Sir Lenny Henry's role in "Harry Potter and the Prisoner of Azkaban" was a small one, both literally and figuratively: He voiced the shrunken head, Dre Head, that appears in the Knight Bus that serves as public transport for Harry and other wizards. Henry is one of England's most popular comedians, emerging from the vibrant alternative comedy scene of the 1980s and starring in such popular series as "The Lenny Henry Show" and "Chef!" while also cultivating a career as an author, playwright, singer, DJ, and philanthropist.
In the early 1980s, Henry joined forces with Rik Mayall, Jennifer Saunders, and fellow future "Harry Potter" cast members Robbie Coltrane and Dawn French (whom he also married) in the alternative comedy collective The Comic Strip. While the group earned its own popular TV series and numerous specials, Henry starred in his own sketch comedy series, "The Lenny Henry Show," from 1984 to 1988. During this period, Henry also co-founded the Comic Relief organization, which brought together comics to raise money for individuals in need around the world. Its annual Red Nose Day telethon raised more than 42 million British pounds in 2022.
Henry remains active on television as both a writer and performer on shows like "Doctor Who," "The Sandman," and "The Lord of the Rings: The Rings of Power" (as Harfoot elder Sadoc Burrows). The author of several books, including two YA novels, he was made a Commander of the Order of the British Empire in 1999.
Dawn French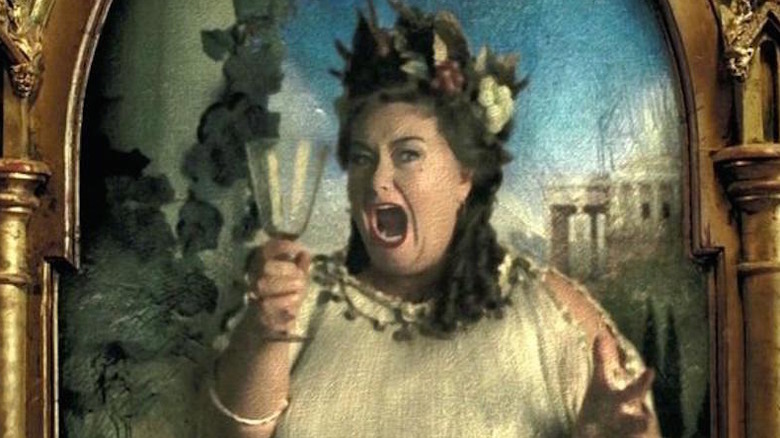 Warner Bros. Pictures
Comedian and actress Dawn French replaced Elizabeth Spriggs as the Fat Lady, the subject of an enchanted portrait that guarded the entrance to Gryffindor's Tower at Hogwarts Castle in "Harry Potter and the Prisoner of Azkaban." French's turn as the Fat Lady was more comic than that of her predecessor — no surprise, since French was a popular comedy figure on UK television from the early 1980s to the 2020s. Many of French's best-known performances were as part of a comedy team with Jennifer Saunders of "Absolutely Fabulous" fame.
The team of French and Saunders got their start as part of the Comic Strip. After appearing on the group's sketch comedy series, "The Comic Strip Presents," the duo co-starred with Tracey Ullman and Ruby Wax in "Girls on Top" before earning their own sketch comedy showcase, "French & Saunders," in 1987. The pair later reunited for the series "Jam & Jerusalem," provided voices for the 2009 animated feature "Coraline," and co-starred in Kenneth Branagh's take on "Death on the Nile" in 2022.
As a solo performer, French earned a hit with the BBC comedy series "The Vicar of Dibley," and co-starred in numerous additional programs, including "Roger and Val Have Just Got In" with Alfred Molina, and "The Trouble with Maggie Cole" in 2020. She has also had success as a voice actor in films such as "The Chronicles of Narnia: The Lion, the Witch, and the Wardrobe" and "The Magician's Elephant."
Julie Christie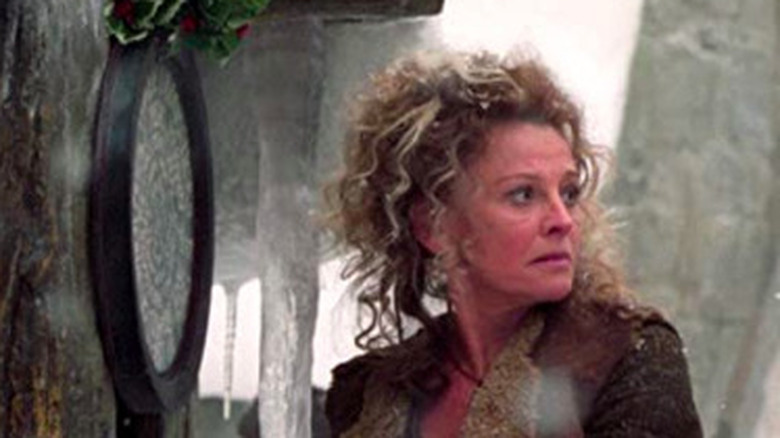 Warner Bros. Pictures
A number of legendary actors lend their talents to roles in the "Harry Potter" films, including one cinema icon who appeared briefly in "Harry Potter and the Prisoner of Azkaban." Julie Christie, who lit up screens in the 1960s and '70s in films like "Doctor Zhivago" and "Don't Look Now," played Madam Rosmerta, the proprietor of the Three Broomsticks pub and the occasional object of Ron Weasley's unrequited affection. Christie's Rosmerta has far less to do than her incarnation in J.K. Rowling's novel, but she still lends movie star glamour to the role.
Christie began acting on British television in the late 1950s and worked her way up from supporting roles to the lead in "Darling" in 1965. Her performance as a model in London earned her an Oscar and international stardom, which she parlayed into some of the decade's biggest critical and box office hits, including David Lean's epic "Doctor Zhivago" and Francois Truffaut's adaptation of "Fahrenheit 451." She relocated to America in the 1970s and enjoyed success opposite Warren Beatty in Robert Altman's "McCabe and Mrs. Miller" (which earned her a second Oscar nod), Hal Ashby's "Shampoo," and "Heaven Can Wait."
Christie stepped out of the spotlight in the 1980s and made only sporadic returns to acting in Kenneth Branagh's adaptation of "Hamlet" and Alan Rudolph's "Afterglow," which brought her a third Oscar nomination. In 2006, she earned a fourth Oscar nomination and a Golden Globe Award for her performance as a woman suffering from Alzheimer's disease in Sarah Polley's "Away from Her." Her last screen roles to date were in Catherine Hardwicke's "Red Riding Hood" and Robert Redford's "The Company You Keep" in 2011 and 2012, respectively.
Kelly Macdonald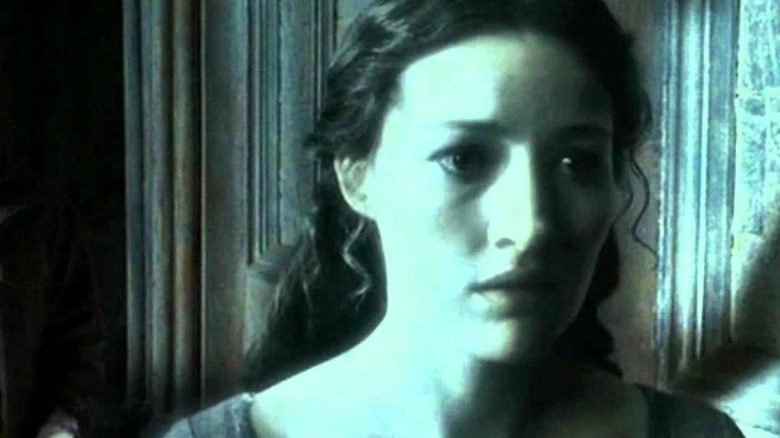 Warner Bros. Pictures
Among the many actors who stepped into "Harry Potter" roles established by other performers was Scottish actress Kelly Macdonald, who replaced Nina Young as the Grey Lady, the ghost-in-residence of Ravenclaw House. Young's turn as the Grey Lady amounted to little more than providing atmosphere, but Macdonald offered up not only the character's true identity — Helena Ravenclaw, daughter of Hogwarts' co-founder, Rowena Ravenclaw — but also the location of her mother's lost diadem, which Voldemort had used to create a Horcrux while still a student at the school.
After making her debut in Danny Boyle's "Trainspotting," Macdonald became an in-demand lead in film and television in the early 2000s. She earned a Emmy for the 2005 BBC drama "The Girl in the Café," which co-starred fellow "Harry Potter" player Bill Nighy and was directed by David Yates, who helmed the final four titles in the "Harry Potter" film franchise. She later played Colin Firth's love interest in "Nanny McPhee," earned a BAFTA Award nomination as Josh Brolin's wife in the Coen Brothers' "No Country for Old Men," and voiced the Disney princess Merida in "Brave."
Macdonald has concentrated largely on television in the last few decades, earning a shared Screen Actors Guild award with the cast of "Boardwalk Empire" as the wife of Steve Buscemi's crime boss Nucky Johnson. Her other roles include the "Black Mirror" episode "Hated in the Nation" and Nick Frost's "Truth Seekers." She also maintained her film career with roles in "Christopher Robin" and "Operation Mincemeat."
Ciaran Hinds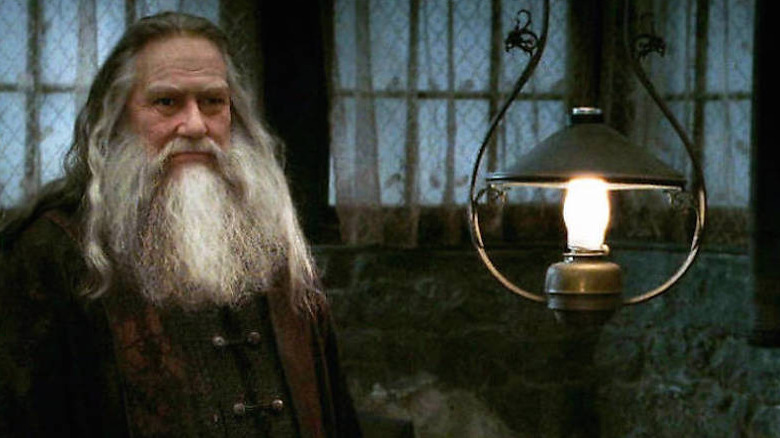 Warner Bros. Pictures
Though British actor Jim McManus was briefly seen as Albus Dumbledore's younger brother Aberforth in "Harry Potter and the Order of the Phoenix," Irish actor Ciaran Hinds stepped into the role for the final title in the film series, "Harry Potter and the Deathly Hallows – Part 2." Aberforth's role was more substantive in the latter film, and included rescuing Harry, Ron, and Hermoine from the Death Eaters by admitting them to his tavern, the Hog's Head. The establishment also provided Dumbledore's Army with a secret entrance back into Hogwarts.
Like many of his fellow "Harry Potter" actors, Hinds was a veteran stage performer in his native Ireland as well as Scotland and England before adding film and television to his resume. His diverse body of work on screen has included the roles of Julius Caesar on "Rome" and the King-beyond-the-Wall, Mance Rayder, on "Game of Thrones," as well as appearances on "Prime Suspect," "Tales from the Crypt," and "Above Suspicion."
His film career has been equally eclectic: He's portrayed villains for both Marvel (Mephistopheles in "Ghost Rider: Spirit of Vengeance") and the DCEU (Steppenwolf in "Justice League"), and worked for directors as wide-ranging as John Boorman ("Excalibur"), Peter Greenaway ("The Cook, the Thief, His Wife, and Her Lover"), and Paul Thomas Anderson ("There Will Be Blood"). For his turn as the beloved grandfather Pop in Kenneth Branagh's "Belfast," Hinds gained Oscar and Golden Globe Award nominations, as well as a National Board of Review Award.
Freddie Stroma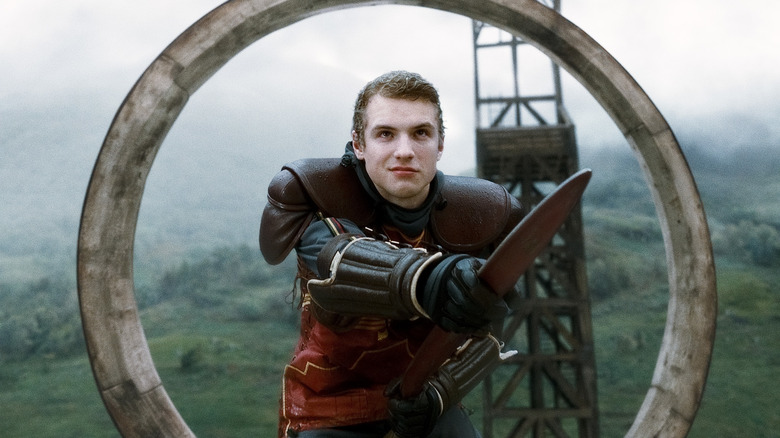 Warner Bros. Pictures
Cormac McLaggen added an extra layer of misery to the lives of Harry, Ron, and Hermoine in "Harry Potter and the Half-Blood Prince." Overconfident to the point of arrogance, McLaggen vies with Ron for the position of Quidditch keeper; he adds insult to injury for Ron by accepting Hermoine's invitation to Horace Slughorn's Christmas party, which she extends as a way of getting back to Ron for inviting Lavender Brown. Nothing quite goes right for McLaggen, though he redeems himself in "Deathly Hallows" by defending Hogwarts.
Freddie Stroma played Cormac in all three of his appearances in "Harry Potter" pictures. Stroma, who was studying neuroscience at University College London when he appeared in the film, had already earned guest roles on UK TV series and the romantic comedy "Lady Godiva." After wrapping up both "Harry Potter" and his students, Stroma found steady work on American and international TV: He appeared briefly as Dickon Tarly on "Game of Thrones" but had to abandon the role to star as H.G. Wells in the short-lived ABC series "Time After Time." Stroma also starred in Lifetime's reality show parody/drama "Unreal" and turned up in two episodes of "Bridgerton."
His film credits include a small role in "Pitch Perfect" as well as turns in "13 Hours: The Secret Soldiers of Benghazi" and "Second Act." In 2022, Stroma received excellent notices as Adrian Chase/Vigilante, an eager would-be superhero with heavy sociopathic leanings, in James Gunn's series "Peacemaker."
Bill Nighy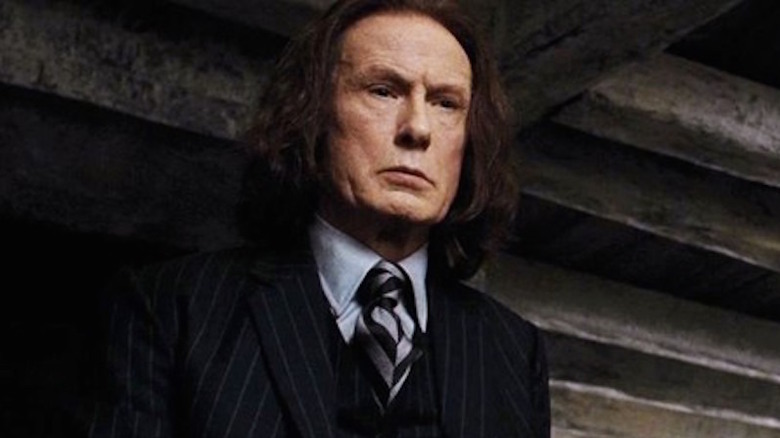 Warner Bros. Pictures
In an amusing 2022 interview for Vanity Fair, actor Bill Nighy explained his reason for joining the "Harry Potter" franchise as Rufus Scrimgeour in its sixth entry, "Harry Potter and the Half-Blood Prince." With tongue planted firmly in cheek, Nighy explained that he accepted the role as a means of overcoming his concern that he was the only English actor his age who hadn't been in a "Harry Potter" film. He also cited that his appearance as Scrimgeour — who was briefly appointed as the Minister of Magic before Voldemort took control of the agency — would please his grandchildren. "They're completely unaware of my career, can you believe that?" he said.
Nighy's long career in front of cameras began in the late 1970s with minor roles in British films and television. After amassing considerable screen credits and major roles on stage, the 1991 TV miniseries "The Men's Room," about an affair between a womanizer (Nighy) and a married woman (Harriet Walter), was his big break. Roles in films like "Shaun of the Dead" and a well-loved turn as faded rock star Billy Mack in "Love Actually" brought him to the attention of international audiences.
He has divided his time between major studio features, like the "Pirates of the Caribbean" franchise and "Wrath of the Titans," and more intimate projects like the BBC drama "The Girl in the Café" and "Gideon's Daughter," the latter of which earned Nighy a Golden Globe award. After receiving positive reviews for his work in "Emma" with Anya Taylor-Joy and "The Man Who Fell to Earth," Nighy earned an Oscar nomination for his work as a terminally ill man re-examining his life in 2022's "Living."
Elarica Johnson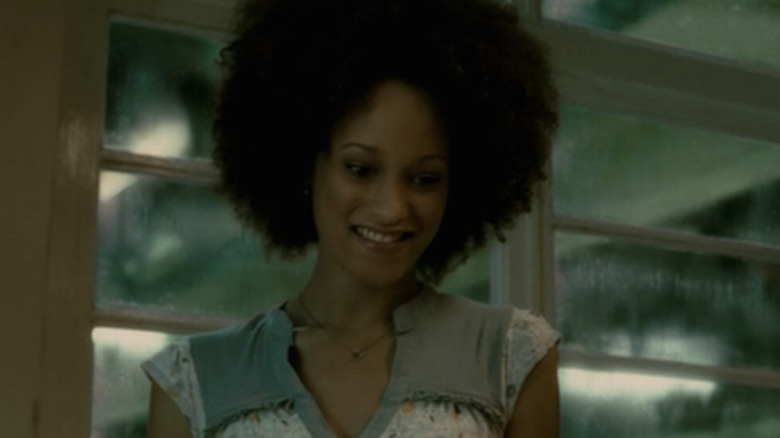 Warner Bros. Pictures
London-born actress Elarica Johnson had a small but notable role in "Harry Potter and the Half-Blood Prince" as the waitress at Treat's, a café on a platform at Surbiton Station. In the film, Harry reads about the Death Eaters' attack on London's Millennium Bridge in the Daily Prophet, which attracts the attention of Johnson's unnamed waitress. She nearly becomes aware of the magical world by noting the moving images in the paper, but is distracted by Harry's fast thinking.
Johnson began her screen career shortly before her appearance in "Half-Blood Prince" with a minor role in "Fallout," a TV crime feature for the UK's Channel 4. She earned notices as a gang member on the soap opera "EastEnders" in 2010, which led to more small screen work in projects like the 2012 Ruth Rendell adaptation "Thirteen Steps Down" and "Strike," the BBC crime drama based on J.K. Rowling's book series.
The attention afforded to the series led to higher-profile work on "A Discovery of Witches" and roles in major features like "Blade Runner 2049." In 2020, she made her U.S. television debut in "P-Valley," playing a Texas hurricane survivor who becomes a stripper in Mississippi. Johnson departed the series after two seasons and was cast as soul legend Marvin Gaye's second wife, Janis, in the biopic "Sexual Healing."