Spider-Man: No Way Home Is On The Verge Of Claiming A Stunning Record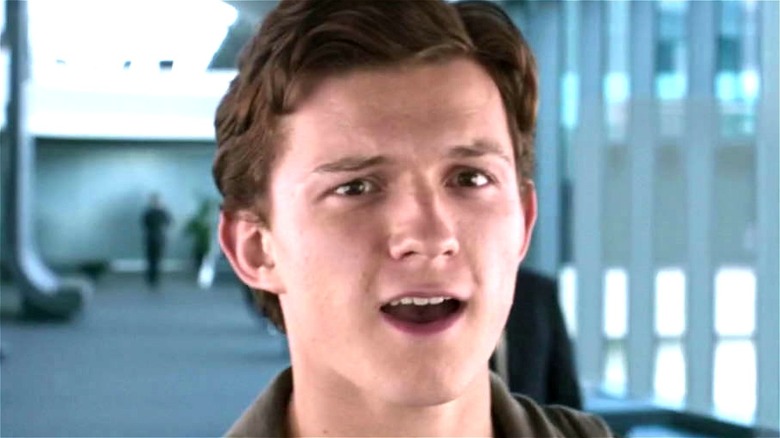 Columbia Pictures/Sony Pictures Releasing
Less than two weeks into its release, "Spider-Man: No Way Home" is already the biggest movie of the year, with multiple box-office records under its belt and overwhelmingly positive reviews from critics and fans. But there's still one more incredible feat that the Marvel flick has yet to accomplish — and it's on the brink of doing so.  
As reported by The Hollywood Reporter on December 20, "No Way Home" managed to gross $260 million domestically during its opening weekend, making it the second-highest U.S. box office opening of all time behind "Avengers: Endgame." The film became the first in the COVID-19 era to surpass $100 million domestically and was also the third biggest release globally, THR reports. The seven-day gross for "No Way Home"  was reportedly $385.8 million — making it the third-highest seven-day gross of all time (via Variety). 
The numbers may be eye-catching, but Marvel actually has its sights set on catching bigger box-office fish, a particular record that'll set "No Way Home" apart from every other movie that has been released so far during the COVID-19 pandemic.
No Way Home on verge of becoming first theatrical release of pandemic to join billion-dollar club
According to a December 24 Variety report, box-office sales for "Spider-Man: No Way Home" are currently soaring towards the $1 billion mark — meaning it's about to become to only COVID-era movie to make ten figures. The record is expected to be reached on Christmas Day, officially cementing the film's place in history by the end of the holiday weekend. Variety also notes that, once "No Way Home" manages to swing past $1 billion, it'll become the second-fastest film to ever hit that number, tied with "Avengers: Infinity War" at 11 days and behind "Avengers: Endgame," which reached it in just five.
When it comes to "Spider-Man" movies, "No Way Home" now holds the record for highest seven-day gross. Variety's late December story reminds us the new release has also become the second-highest seven-day gross of all time for December films and superhero ones, as well. Much of the box-office success has been fueled by fans doing multiple viewings. "Seen it three times already!" tweeted @jrunkle50. "After seeing someone talk about their multiple viewings of 'No Way Home,' I'm starting to see how it's breaking records," said @Izzi8bit.