Why Shepherd From The Matrix Resurrections Looks So Familiar
Warner Bros./HBO Max
Movie lovers are currently witnessing the biggest week of releases since pre-pandemic days. Even as "Spider-Man: No Way Home" continues to break minds and box office records at the multiplex, blockbuster franchise additions like "The King's Man," arthouse treats like "Licorice Pizza," and animated delights such as "Encanto" are set to arrive this week. As it is, one of the holiday season's biggest releases is already thrilling viewers both in theaters and on the HBO Max streaming platform.
This film is Lana Wachowski's mind-melting meta marvel "The Matrix Resurrections," which sees the unexpected return of Keanu Reeves and Carrie-Anne Moss to the "The Matrix" roles that made sci-fi icons of them both. Obvious in the already posted Rotten Tomatoes reviews, Wachowski has plugged these stars into a wildly ambitious, if not entirely successful sci-fi spectacular that breaks the bounds of reality itself. If you've already seen "The Matrix Resurrections," or even watched its trailer, you know the film is rife with characters familiar, unfamiliar, and well, somewhere in between.
Of the franchise newcomers, viewers are likely to recognize quite a few of them, including Max Riemelt, who portrays Neo's machine-fighting real world ally Shepherd in the film. That's because Riemelt is a German star who's starting to make a name for himself stateside. Here's why Shepherd from "The Matrix Resurrections" looks so familiar.
Netflix's Sense8 found Max Riemelt playing a Sensate with a checkered past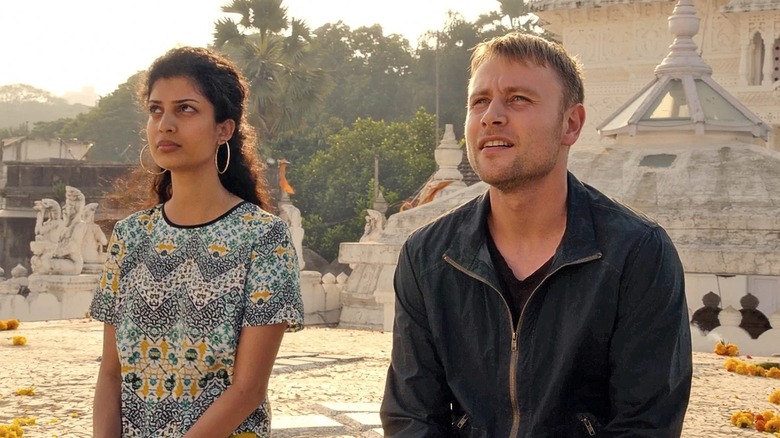 Netflix
As one of the many new actors joining "The Matrix" franchise with "The Matrix Resurrections," Max Riemelt is one of the few who is already well-versed in the ways of Lana Wachowski. This is due to the fact that he spent a couple of seasons acting in another of the Wachowskis' mind-bending narratives in their frustratingly short-lived Netflix drama "Sense8." 
For those who haven't watched "Sense8," the series followed a band of eight unique people who, thanks to a mysterious woman named Angelica (Daryl Hannah), develop a psychic connection that allows them to communicate telepathically. Dubbed "Sensates," the cluster of people begin to use their unique ability to help each other out in day-to-day life, while also evading capture from a nefarious organization bent on imprisoning or killing them all.
Riemelt is one of the eight gifted folks at the center of the "Sense8" crew, portraying Wolfgang Bogdanow in all 24 episodes of the series' run. Wolfgang is one of the more morally complex characters, with his station amid Berlin's criminal underworld occasionally putting him at odds with his compatriots. However, this didn't stop him from developing a deep relationship with fellow sensate Kala (Tina Desai), with their entanglement serving as one of the show's highlights.  
Riemelt terrified horror fans in 2017's underrated gem Berlin Syndrome
If you are among the many viewers who missed Max Riemelt's magnificent "Sense8" performance, you may still have seen him at work in any number of other projects. That's particularly true of European film lovers, as Riemelt has been a regular presence in German cinema over the past two decades. But even if you didn't catch him in any of his international offerings, you hopefully saw him in one of his largely English-speaking roles, 2017's "Berlin Syndrome," as it was one of that year's best, if overlooked, offerings.
Co-written and directed by "Black Widow" helmer Cate Shortland, "Berlin Syndrome" tells the tale of Clare (Teresa Palmer), a young Australian woman seeking some good, old-fashioned life experience via an extended trip to the titular German metropolis. There she meets a charming local named Andi (Riemelt), and spends a passionate night with him. Only, when Andi goes to work the next day, Clare finds that he's locked her in his apartment with no way out, presumably by accident.
When the same thing happens after a second night together, Clare understandably panics, and from there, well, Shortland's deliver a taut, emotionally-wrenching tale of psychological horror that pushes the concept of Stockholm Syndrome into unsettling new places. The film also happens to feature career best work from both Palmer and Riemelt, the latter of whom creates a calculating psychopath as disturbed and unforgettable as any the horror genre has seen.