Spider-Man: No Way Home Just Beat An Eye-Popping Endgame Box Office Record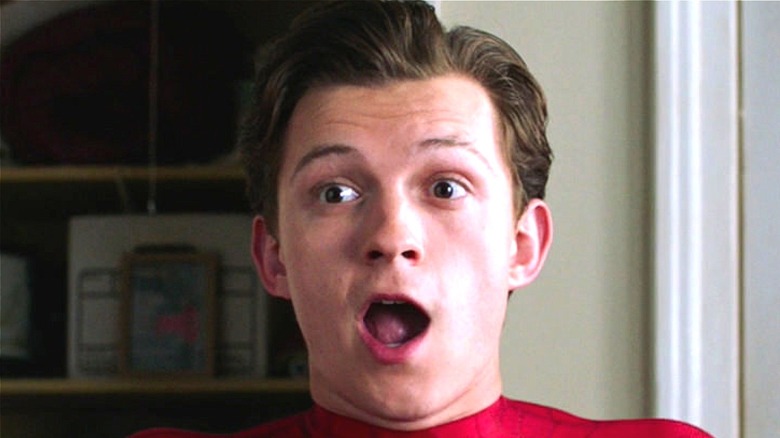 Marvel Studios/Sony Pictures
It's no secret that "Spider-Man: No Way Home" has been one of the year's most anticipated films. As the third iteration of an already successful franchise, with actor Tom Holland in the titular role and Jon Watts in the director's chair, "No Way Home" was already set up to be another win. Then, add in the fact that characters from previous "Spider-Man" franchises — Sam Raimi's trilogy and Marc Webb's "Amazing Spider-Man" films — were confirmed to play a part in the new film and the level of hype only increased exponentially. The actors from the previous film franchises who have been confirmed for a while now include Alfred Molina as Otto Octavius/Doctor Octopus, Jamie Foxx as Electro, and J.K. Simmons as J. Jonah Jameson. Plus, of course, the rampant rumors that previous Spider-Man actors Tobey Maguire and Andrew Garfield may be showing up as well only added to the film's ever-growing hype.
If you somehow don't know the premise of the newly-released film, "Spider-Man: No Way Home" follows Peter Parker, in the wake of his identity as Spider-Man being revealed, as he seeks out Doctor Strange (Benedict Cumberbatch) to ask him to use magic to make his identity a secret once again. In the midst of the process, the multiverse is open, releasing villains from other realities who have fought alternate Spider-Men.
Well, the wait is finally over. As of today, the film is now showing in theaters overseas — and, amazingly, it has already broken box office records.
No Way Home is an overseas hit, beating Endgame in Mexico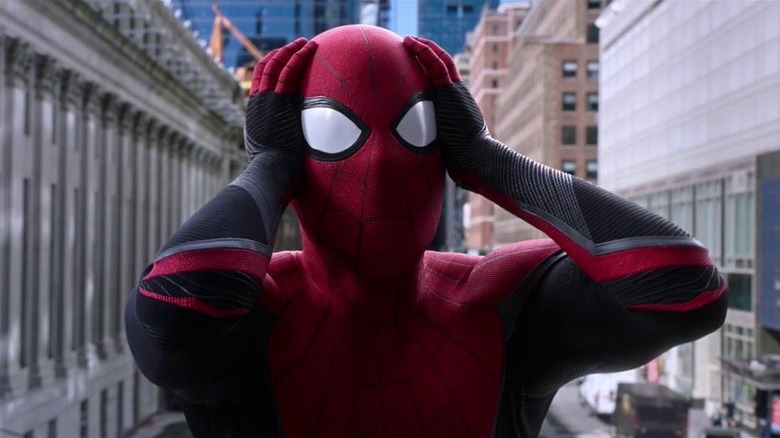 Marvel Studios/Sony Pictures
When one thinks of a mega box office hit, 2019's "Avengers: Endgame" may very likely come to mind — the film made nearly $2.8 billion worldwide (via Box Office Mojo). Yet, it seems "Spider-Man: No Way Home" may just surpass that massive number and, in fact, already has in one country. Deadline reported that on Wednesday "No Way Home" made 190 million Mexican pesos ($9 million), which marks it as "the biggest-ever opening day in the market." With more than $9 million in Mexico, "No Way Home" has surpassed "Avengers: Endgame" in the country, excluding the preview showings of "Endgame."
Further, Mexico is not the only international market where the film did exceedingly well on its opening day — in total, it made a whopping $43.6 million in 15 overseas markets on Wednesday. In the U.K., the opening night revenue of "No Way Home" was £7.63 million ($10.1 million), which makes it "the best Wednesday launch ever" in the U.K., surpassing the recent $6.6 million made on the opening day of the latest James Bond installation, "No Time to Die." Wednesday's "No Way Home" premiere is also Sony's biggest opening day ever in the U.K. Meanwhile, the film made $4.3 million in France, beating 2018's "Avengers: Infinity War," and nabbed the third-best opening day record in Russia. In another Sony record, the film made $1.4 million in Taiwan on opening day.
These numbers are inarguably impressive and exciting for a film's opening day. We can only imagine what the overall box office numbers for "Spider-Man: No Way Home" will look like even after this upcoming weekend alone.