Every Episode Of Hawkeye, Ranked Worst To Best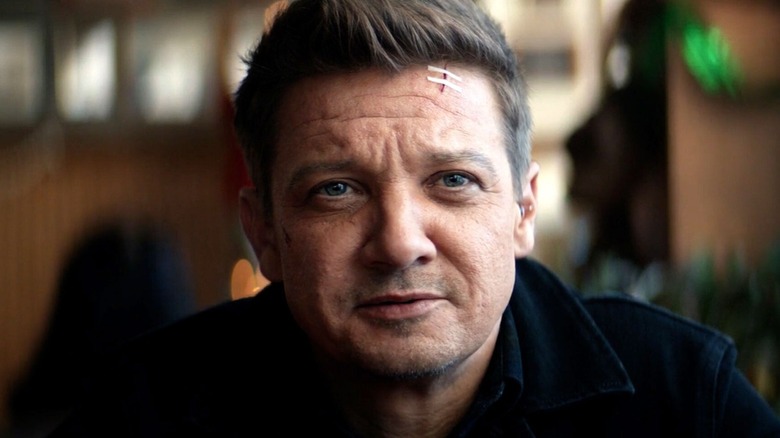 Disney+
This article contains spoilers for "Hawkeye" on Disney+.
Confession — we are on record as saying that Hawkeye would never get his own solo outing.
In fact, we have previously said that Matt Fraction's "Hawkeye" comics would be too difficult to adapt (even though that comic went on to inspire the "Hawkeye" TV series) and that Kate Bishop was so obscure that there was no way she would appear in the MCU. To be fair, we technically only said Hawkeye would never get his own movie, and we actually referenced an interview where Jeremy Renner told Silicon Valley Comic Con (via ComicBook.com) that he'd gladly sign up if Marvel decided to do a limited series about his character. Still, we think it's safe to say that, back in 2017, few saw this series coming. But now that it's here, boy, are we glad to see it.
So now we're going to start unwrapping the gift that Marvel gave us this holiday season by ranking all the episodes of "Hawkeye" from worst to best. Of course, keep in mind that, just like with all of Marvel's series on Disney+ so far, even the "worst" episode isn't too shabby.
6. Never Meet Your Heroes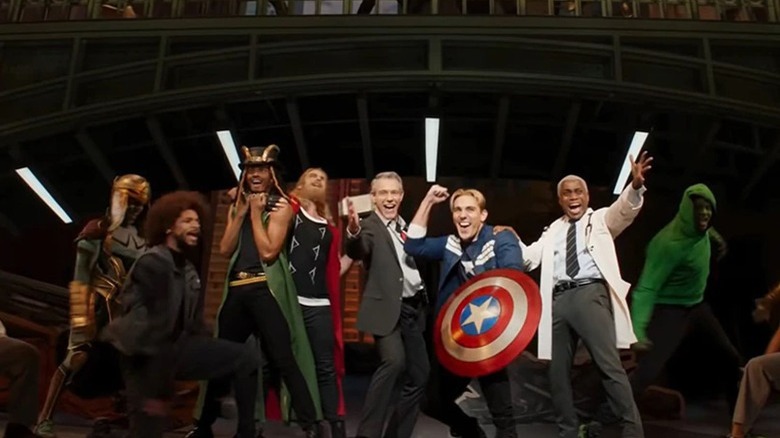 Disney+
"Never Meet Your Heroes" is fun, but it's the weakest because Kate (Hailee Steinfeld) and Clint (Jeremy Renner) don't meet until the end. Kate is charismatic but not all that compelling until she starts to play off Clint. Her backstory feels generic and doesn't offer a fresh perspective on the 2012 Chitauri Invasion. After seeing the new angle Marvel took with the attack in "Avengers: Endgame," like when Captain America whispers "Hail Hydra" to STRIKE agents, Kate's backstory seems underwhelming.
That said, there's still plenty to love in the first episode of "Hawkeye." The fight sequence in the claustrophobic wine cellar is cool and unique, and the parts where Clint spends the holiday with his family are also great. We love that Marvel decided to show the long-term consequences of Clint's battles by giving him hearing loss. Another gem is Clint's reaction to the words "Thanos was right" scrawled in the bathroom –- he looks half-unsettled, half-indifferent.
Of course, the real highlight of the episode is "Rogers: The Musical," which is so (intentionally) bad, it's good! Not only is it a cutting satire of Broadway, but it also triggers Clint's PTSD and raises some interesting questions about the way we turn real-life trauma into entertainment. Amusingly, the critics on the posters outside the theater have only vague praise for "Rogers: The Musical," calling it "A soaring, smashing, flying, fighting musical triumph." Come on, we think you can do better than that.
5. So This Is Christmas?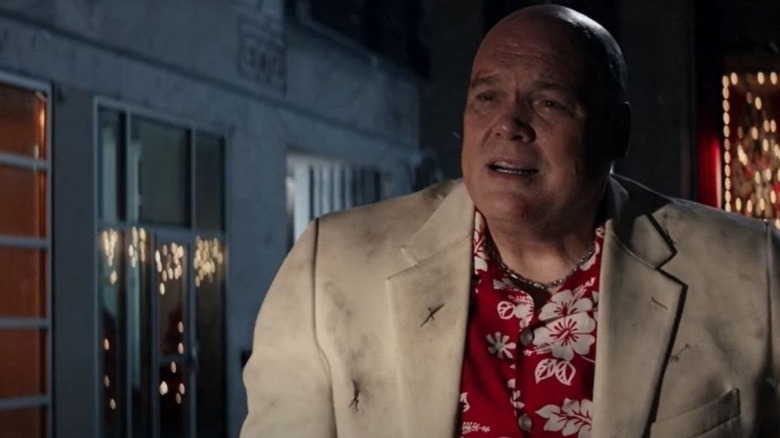 Disney+
Marvel does an excellent job threading Christmas elements throughout the series finale. It's cool that Kate's showdown with Kingpin (Vincent D'Onofrio) happens in a toy store. Both Kate and Clint's endings are fitting, although we were kind of hoping to see Clint discover that he could go without his hearing aid, as Echo (Alaqua Cox) teased in the third episode.
There are a lot of characters for this episode to juggle, including three or four villain-like roles. The writers do their best to give everyone a chance to shine, but a few things slip through the cracks. Eleanor (Vera Farmiga) disappears for fifteen minutes, even though she's the whole reason Kate and Clint are there, and Echo doesn't get a lot of screentime. Though, when Echo does appear, she makes it count. 
We love the moment when she is forced to stab Kazi (Fra Fee) but hugs him afterward. Kingpin, from what we've seen so far, is not as complex as the other villains in "Hawkeye," but Vincent D'Onofrio compensates with sheer gravitas. Only D'Onofrio could make a guy with bullet-proof Hawaiian shirts seem downright terrifying. Meanwhile, the show strikes a nice balance with Eleanor, as she's ruthless enough to kill Armand III (Simon Callow), but caring enough to risk her life for Kate.
The best part of "So This Is Christmas?" is the sequence where Kate and Yelena (Florence Pugh) trash some office space and fight over the elevator buttons. As always, Yelena is super genre-savvy.
4. Hide and Seek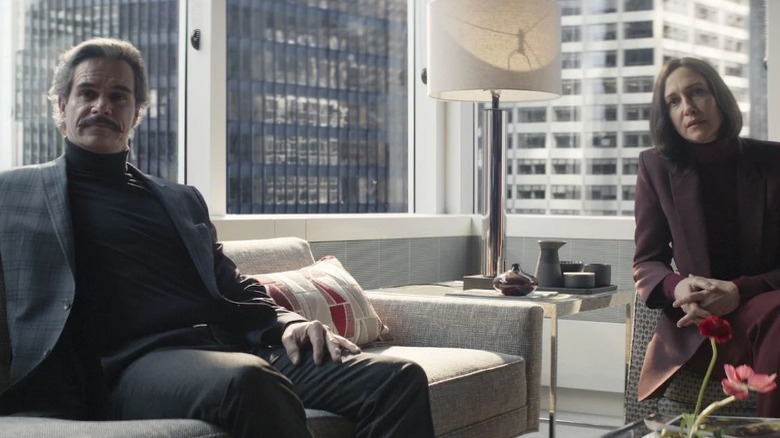 Disney+
Once Bishop and Barton team up, things really start rolling. Kate can be overbearing when she tries to act cool in front of her hero, but that's okay because it's played for laughs. Meanwhile, Jack Duquesne (Timothy Dalton) is so charismatic that you can't hate him, no matter how much Kate wants to. Dalton expertly walks the knife's edge between "villain pretending to be a nice stepdad" and "actual nice stepdad." Of course, it turns out he's the latter, and he's quite adorable.
This episode may not be as deep as some of the later ones, but it nails the offbeat tone of the series. It shows us all the mundane details that aren't often portrayed in Marvel movies, like shopping for "Avenger supplies." Hawkeye's escapade with the LARPers is a detour from the main plot, but it's a welcome one, especially the slow-motion sequence where Clint strides through the "battlefield" looking bored. It's nice to see that Marvel isn't afraid to put an Avenger in awkward or embarrassing situations.
Plus, it's hilarious how Clint is so casual with his captors at the end of the episode. It's not bluster -– he knows the Tracksuit Mafia isn't much of a threat, and he just wants to wrap this up and go home to his family. Most importantly, though, is that folks who have always wanted to see Jeremy Renner duct-taped to a carousel pony can now knock that off their bucket lists.
3. Partners, Am I Right?
The beginning of this episode feels like a bit of a cop-out after the cliffhanger in "Echoes," but we can forgive that because the awkward conversation between Clint, Kate, Jack, and Eleanor is way more interesting than a fight scene. Kate is terrible at keeping secrets, and in this episode, she's at her worst yet when she tells her mother, her stepdad, and a total stranger that she is working with an Avenger. The episode gives us lots of awesome trope subversions, like Kate getting stuck in the middle of a zipline. Plus, we get to see the LARPers again. Unfortunately, we don't get to see much of Echo or Yelena until the end, otherwise, we would have ranked this episode even higher.
It's understandable why some might feel antsy when the heroes throw a Christmas party while the bad guys are still out there. However, it's worth noting that the world's fate isn't at stake, for once. It's refreshing to see a Marvel property that gives its characters moments to breathe. "[These moments] are incredibly important, because it gives them a chance to stop and be human," director Bert told The Playlist Podcast. 
The Christmas party scene is excellent because it delivers some of the show's biggest laughs, like when we see Kate doodling a diagram onto the wall in permanent marker. However, it isn't afraid to get deep, too, such as when Clint admits he's not a hero, just a weapon.
2. Ronin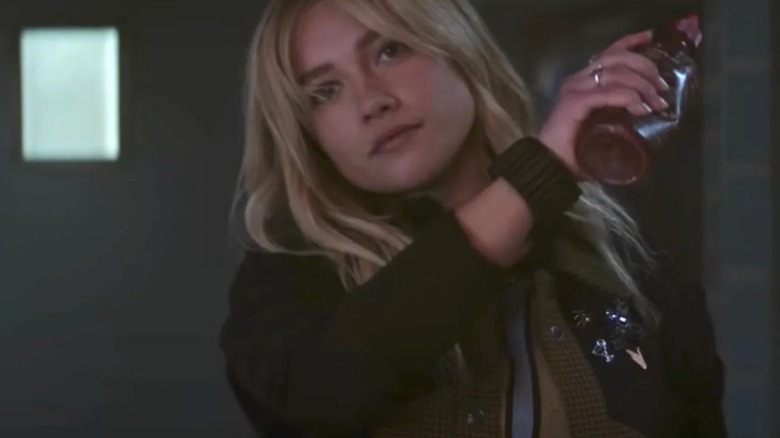 Disney+
Yelena steals the scene in Kate's apartment, although Hailee Steinfeld riffs off her nicely –- we love her explanation for why she only has one fork. Florence Pugh demonstrates an incredible range here, swinging from cheeky to unsettling, and she raises some fascinating questions about the definition of a hero. Alas, not all of Yelena's scenes are solid gold. The backstory with Yelena getting blipped is helpful for viewers who need a refresher, but it doesn't impact the story much.
"Ronin" shows how much Kate has grown. When Clint tells Kate it's too dangerous and she needs to go home, Kate listens rather than charging back into battle the moment Clint turns his back. We also loved seeing Clint and Echo face-off and then later exchange a half-signed conversation. It's not as intense as Sam Wilson's meeting with Karli in "The Falcon and the Winter Soldier," but it's precisely what the show needs. Also, it's gratifying to see "Hawkeye" confirm that Clint really did kill Echo's dad. A lesser show would have absolved Clint from the guilt by revealing that it was somebody else in the Ronin suit.
The cherry on top is when it is revealed that the two characters we last expected to be villains, Eleanor and Kazi, are up to no good. Beyond that, this episode confirms what all the "Daredevil" fans were hoping –- Kingpin is officially in the MCU -– but it doesn't pack quite as much punch as the other two villain reveals.
1. Echoes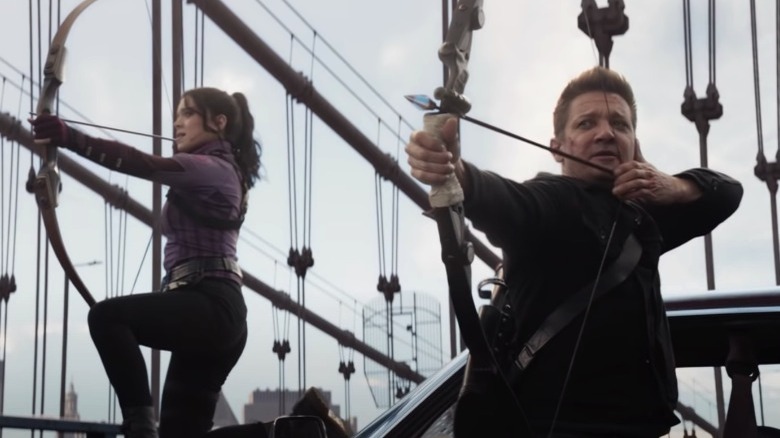 Disney+
"Echoes" is the best episode of "Hawkeye," largely thanks to Echo herself. Fans are loving Echo's portrayal, not least because she shows that her deafness and prosthetic leg don't stop her from kicking ass. There's no better way to introduce a villain, and Echo at least starts out as one, than showing us a backstory that makes us understand her –- maybe even root for her. Our hearts ache for young Echo (Darnell Besaw) when her father (Zahn McClarnon) tries to figure out how to tell her he couldn't afford deaf school for her.
This episode showcases some of Marvel's most offbeat action scenes, with Clint using a teddy bear as a weapon and running over a defenseless inflatable Santa. There's a really inventive shot that captures the car chase from a camera slowly revolving in the backseat. Also, did we mention that Christmas music plays throughout the whole thing? One of the most touching scenes in the entire series is when Clint struggles to hear his son Nathaniel (Cade Woodward) without a hearing aid, especially when Nathaniel tells him it's okay if he can't come home for Christmas. 
The only downside is that the last five minutes, which set up the episode's cliffhanger ending, seem anticlimactic after everything else that happened. However, having the opportunity to watch the christening of Lucky the Pizza Dog, who was almost named Dogfather, makes everything okay.