The Ending Of Emily In Paris Season 2 Explained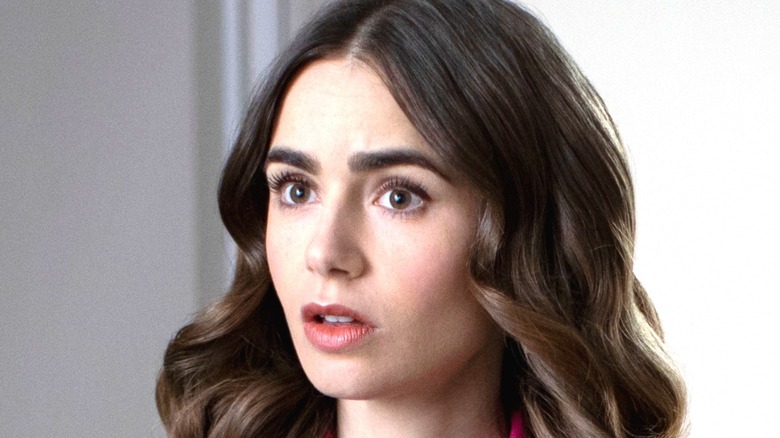 CAROLE BETHUEL/NETFLIX
Warning: Spoilers ahead for Season 2 of Netflix's "Emily in Paris"
When it comes to original series, Netflix loves to leave its viewers hanging with lingering questions. It's not a bad strategy — the constant use of cliffhangers ensures that viewers will call for renewals of their favorite shows. It's especially common practice in the drama and thriller shows, but even its more light-hearted options end with many questions left unanswered, and romcom series "Emily in Paris" isn't immune to the phenomenon. 
Netflix just released the second season of "Emily In Paris" starring Lily Collins as its titular character. The show follows Emily as she pivots her career to Paris to move up in the world. While her work at the marketing firm is always stressful and changing, her love life is a pretty close match. Emily falls into a love triangle in the first season with her downstairs neighbor Gabriel (Lucas Bravo) and his girlfriend (and her close friend) Camille (Camille Razat). Season 2 is all about Emily getting used to her independence in Paris, but the growing pains in her career and her love life remain. 
Season 2 also brings a new guy into Emily's life — Alfie (Lucien Laviscount), a handsome and sensitive British banker. But Gabriel's remaining presence in Emily's building means that those lingering feelings remain, even if she spends a lot of time trying to repair her friendship with Camille. Additionally, her American-based boss Madeline (Kate Walsh) comes into town and doesn't mesh well with Sylvie (Philippine Leroy-Beaulieu), leaving big question marks for Emily's next career move. 
Emily's messy romance web keeps getting bigger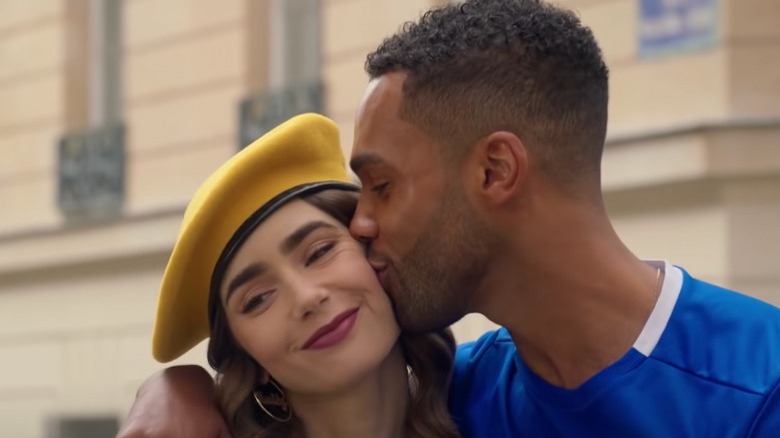 Netflix
Season 2 of "Emily In Paris" ends with one of those classic Netflix cliffhangers we were talking about. Alfie is going back to London but wants to make it work long distance with Emily. While their relationship seems solid (and doesn't involve any unsuspecting third parties), Emily just can't get Gabriel off her mind. She eventually caves and knocks on his door to profess her love, only to discover that Camille has moved in. Camille is aware that Gabriel and Emily hooked up, but not that Emily has developed these intense feelings for her boyfriend. Unsurprisingly, the encounter leaves Emily running away in tears. 
Meanwhile, Sylvie and the French Savoir office resign from their jobs to start a new marketing firm based in Paris. Emily is invited to join and must decide whether to keep her stable job and return to Chicago, or embark on this new and uncertain adventure. The season ends with Emily returning Sylvie's call to give her answer about her choice, leaving viewers wondering if the French way of life really has grown on Emily. 
Is Emily staying in Paris for good?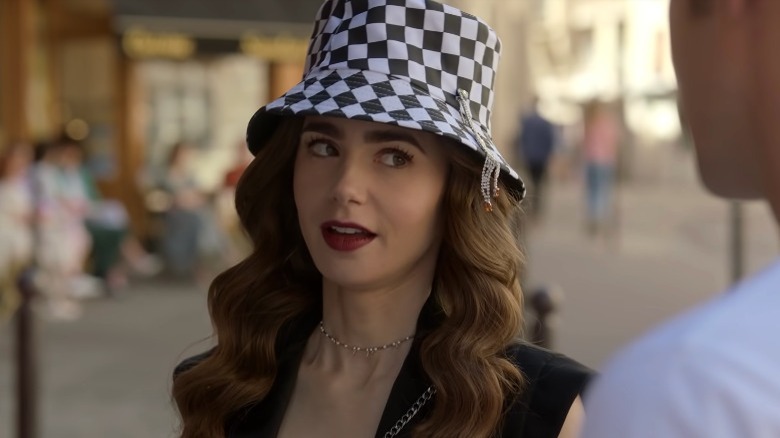 Netflix
The final episode of "Emily In Paris" Season 2 doesn't show what Emily chooses to do. It's left to be determined, meaning Netflix is vying for a third season. However, it seems unlikely at this point that Emily would ever think of returning to Chicago. Her working relationship with Madeline has deteriorated, as Emily's style of working has become definitively more French. 
Also, she's paved out this new life for herself — she has friends, positive interactions with clients, and more potential romantic partners than she needs. Emily ends Season 2 on a career high, so the natural next step would be this intense pivot to starting a new firm. Going into Season 3, Emily will likely stay in the city of love to figure out her owns wants and desires, personally and professionally. Unlike her introduction in Season 1, "Emily In Paris" is successfully showing the transformation of one woman from a wide-eyed tourist to a bonafide Parisian local.