Why Alfie From Emily In Paris Looks So Familiar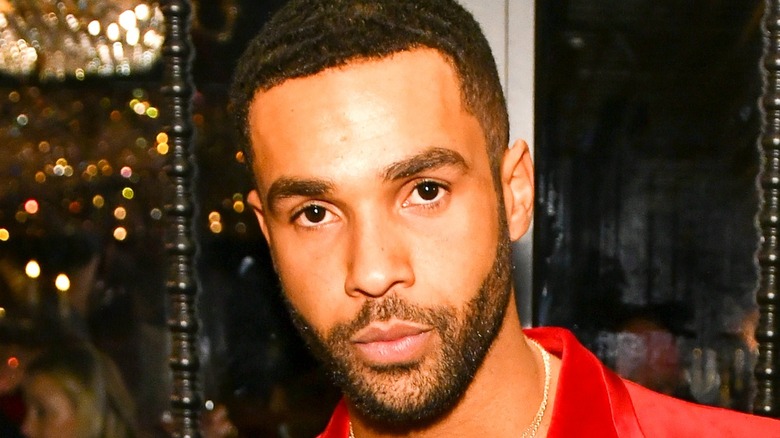 David M. Benett/Getty
The second season of Netflix's "Emily in Paris" is finally here, and it's bringing us all the delightfully frothy comedy, romance, couture, and Parisian sightseeing we've been craving. Still anchored by the bubbly lead performance of Lily Collins, the new season has retained the previous one's entire regular cast, and even upgraded William Abadie's turn as Antoine Lambert to series regular status (via Deadline).
But not all is familiar on "Emily in Paris" Season 2, as the new year also brings a fresh face to the show's ensemble. That would be none other than Alfie, the snarky, cynical Brit whose initially contentious relationship with Emily has all the makings of a classic rom-com plot. If you've been wooed by the extraordinarily charming, handsome, and witty actor who's bringing Alfie to life in a recurring capacity, you might be asking yourself where else you may have seen him. Here are a few possible answers to that question.
Lucien Laviscount got his start on a litany of British TV productions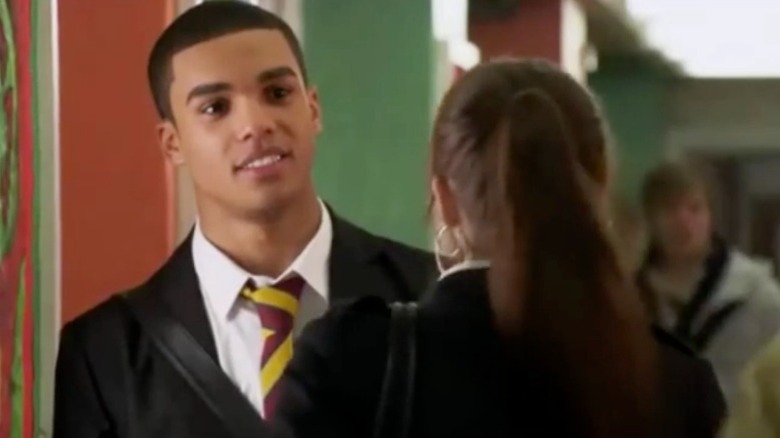 BBC One
British actor Lucien Laviscount was born in Burnley, England, and began his career as a child actor, appearing on commercials (via Lancashire Telegraph) and episodes of BBC shows (via Lancashire Telegraph). His first big break happened when he was 14, on the long-running kids' show "Grange Hill," where he played secondary school student Jake Briggs across two series and 13 episodes.
The "Grange Hill" role was quickly followed by a litany of new parts on British TV, including two major, multi-episode bows. The first was on the half-centennial ITV soap opera "Coronation Street," which saw him play high school swimming team captain and resident heartbreaker Ben Richardson for a total of 34 episodes in 2009. Then, Laviscount went back to high school for the role of the rebellious Jonah Kirby on BBC One's "Waterloo Road" (pictured above), where he was credited as a series regular, appearing in all but one of Series 6's 20 episodes.
He played Earl Grey on Scream Queens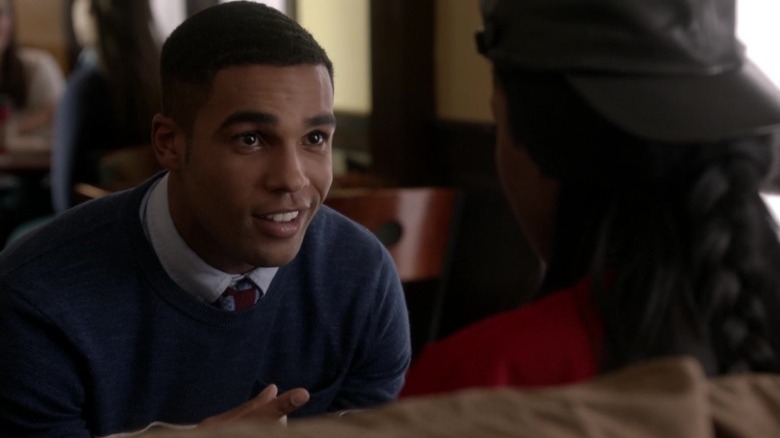 Fox
Following his "Waterloo Road" stint, Lucien Laviscount was a competitor on the U.K.'s "Celebrity Big Brother," finishing 5th. He then bounced for some time between small roles on shows like "Skins" and the original "Shameless." 2014 saw him cross over to the United States with guest spots on "Supernatural" and "Episodes," but it wasn't until 2015 that he was able to introduce himself to American audiences in a big way.
Laviscount played — appropriately — a British transplant, Earl Grey, on Season 1 of "Scream Queens," the Ryan Murphy-Brad Falchuk-Ian Brennan horror comedy series that aired on Fox between 2015 and 2016. First introduced as one of the members of the popular Dickie Dollar Scholars fraternity who becomes embroiled in the investigation into Boone Clemens' (Nick Jonas) murder, Earl takes on a bigger role in the series as his flirtation with Zayday Williams (Keke Palmer) blossoms into a tentative relationship. 
Of course, the show being what it was, it didn't take long for things to take a dark, twisty turn for Earl.
He was one of the leads of The Bye Bye Man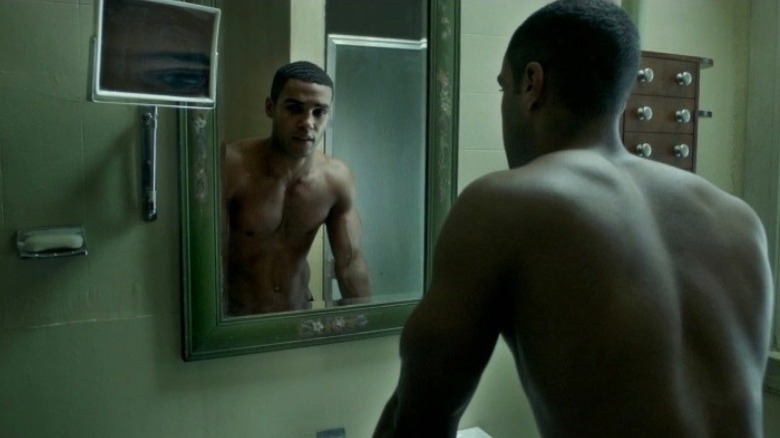 STX Entertainment
"The Bye Bye Man" was not the best-received horror movie in the world — in fact, it was positively savaged by critics, with an average score of 37% on Metacritic and a meager "C" on Cinemascore. But it did turn out to be a surprising over-performer at the U.S. box office despite all the bad buzz (via Deadline), so you could call it a sturdy kickoff to Lucien Laviscount's career as a Hollywood movie actor.
Laviscount plays John, one of the film's three college student protagonists, alongside Douglas Smith as Elliot and Cressida Bonas as Sasha. The three friends get dragged into a bizarre supernatural plot involving a mysterious figure with the ability to bend minds and induce gruesomely convincing hallucinations. As they attempt to reverse the curse that's been placed on them and uncover the truth of the Bye Bye Man, they find themselves doubting, fearing, and turning on each other, to increasingly horrific consequences.
He had his biggest role yet as Billy Ayres on Snatch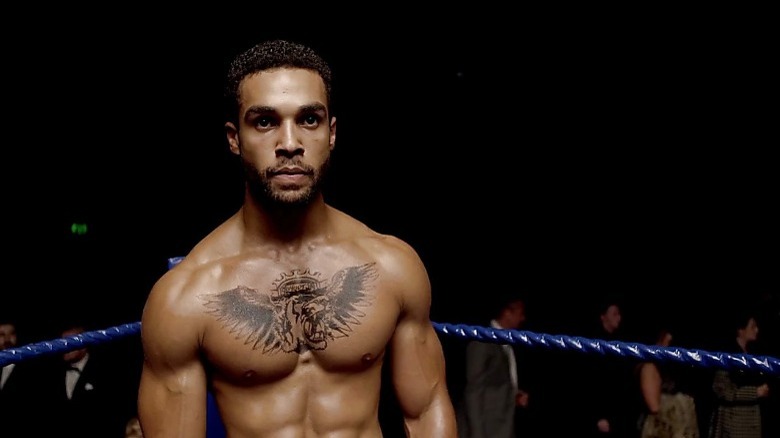 Crackle
Guy Ritchie's "Snatch" was one of the biggest hit movies of the turn of the 21st century, and its exploration of the intersection between dense heist-movie plotting and gritty crime caper dynamics made it uniquely suited to eventually get a TV adaptation. It finally did in 2017, when "Snatch," developed for TV by Alex De Rakoff, premiered on Crackle.
Although much attention was hogged by the presence of Rupert Grint as one of the series' two hustler leads, "Snatch" also provided Lucien Laviscount with arguably the most substantial role of his career yet. Laviscount played Billy "F****n" Ayres, a boxer on a long winning streak managed by protagonist Albert Hill (Luke Pasqualino). Asked to take a dive in the first episode, much like Mickey O'Neil (Brad Pitt) was in the original film, Billy is ultimately swallowed up by the gold-stealing plot that unfolds when the boys' plans go awry, thus jumpstarting the series' story of a trio of friends falling head-first into the world of organized crime. 
Laviscount's performance was well-received, and even earned him a U.K. National Film Award nomination for Best Supporting Actor (via IMDb).
He brought Archie Comics' Alex Cabot to life on Katy Keene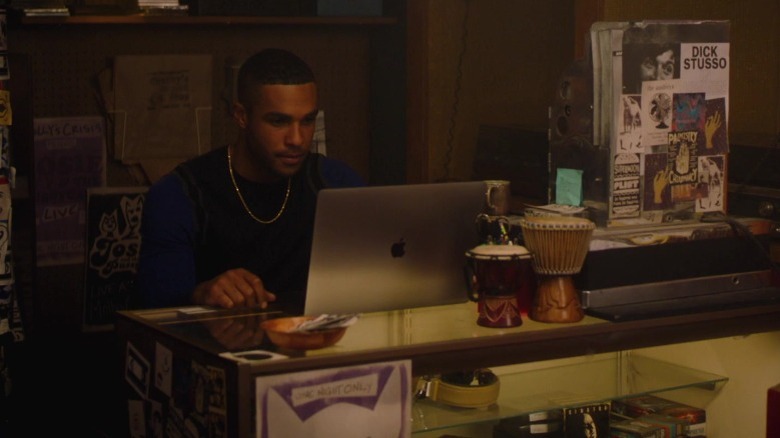 The CW
The ACU (Archie Cinematic Universe) was made intricate enough by the launch of Netflix's "Chilling Adventures of Sabrina" in 2017, which expanded upon the mythology of The CW's "Riverdale" by charting the goings-on in the neighboring town of Greendale. Then, in 2018, another show based on Archie Comics lore premiered, this time an official "Riverdale" offshoot: "Katy Keene."
Dropping the titular fashion designer character (played by Lucy Hale) first introduced on Season 4 of Riverdale into a New York City populated by characters from her own comic series as well as others like "Josie and the Pussycats," "Katy Keene" takes an approach to its source material not unlike the one charted by "Riverdale." Compared to its source material, the "Riverdale" characters are more serious, more somber, and considerably more attractive — and that is very much also the case for Alexander "Alex" Cabot, music exec at Cabot Entertainment, whom Lucien Laviscount plays as a troubled, struggling, yet tender and good-natured son of wealth. His relationship with Josie McCoy (Ashleigh Murray) is at the center of the ultimately short-lived spin-off.
Laviscount appears as a series regular in all 13 episodes.