The New Girl Scene That Had Fans In Tears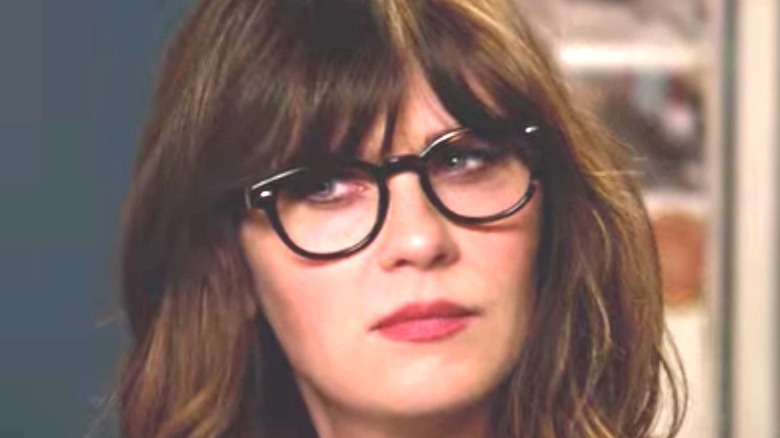 Fox/Netflix
The ensemble sitcom of the 2010s titled "New Girl" took fans through several wholesome moments, owing to its lovable characters. The show revolved around the "adorkable" teacher Jessica Day (Zooey Deschanel), and the three seemingly-regular but quirky men she moved in with. Together, they created bizarre yet memorable scenes as 30-somethings navigating their professional and dating lives.
With a regular cast that remained the same, barring a few characters shuffling in the mix, the characters were able to carve out their unique emotional arcs in the show's seven seasons. As a result, "New Girl" fans were spoiled for choices when it came to the show's most emotional scenes.
For a humorous show, "New Girl" was also able to serve some incredibly distressing moments. Jess and Nick's (Jake Johnson) breakup in Season 3, Nick's struggle as he came to terms with his father's death while planning his funeral, and the moment when Schmidt (Max Greenfield) came clean with Cece (Hannah Simone) about cheating on her all made for upsetting and even tear-jerking moments.
However, according to "New Girl" fans on Reddit, the most emotional scene of the show is something else entirely.
Cece and Schmidt's wedding is the most emotional New Girl scene
Cece and Schmidt became a popular "New Girl" couple from the instant flirty sparks started flying between them in Season 1. And at the end of Season 5, they got married.
In classic "New Girl" fashion, the wedding got delayed when Schmidt got stuck on a plane. On the eve of their wedding, Schmidt noticed how upset Cece was because of her mother's absence. Although he had been inundating Cece's mother with voicemails throughout the year, he decided to go to Portland to convince her. While Cece's mother made it to the wedding, Schmidt missed his own wedding party. Thankfully, later at the loft, Cece and Schmidt finally got married. Their intimate wedding scene drove several fans to tears.
Redditor u/littleolefee wrote, "I rewatch 'New Girl' very often and literally every single time Cece and Schmidt get married and the episode before it, I get so emotional. It's just so adorable and I love it. I love how Schmidt goes to Portland to convince Cece's mom to come to the wedding because it would mean so much to her. It makes my heart so warm."
Several fans on the "New Girl" subreddit shared their favorite moments from the episode, like Redditor u/chatendormi who said, "I just watched that episode again and I forgot how sweet it was! When he (Schmidt) gets off the elevator and the guys are there to clean him up. Love love love!"